RubberDucks Broadcasters Jim Clark and Marco LaNave to call Guardians Spring Training games
Fans can listen live for free on cleguardians.com, MLB.com and the MLB app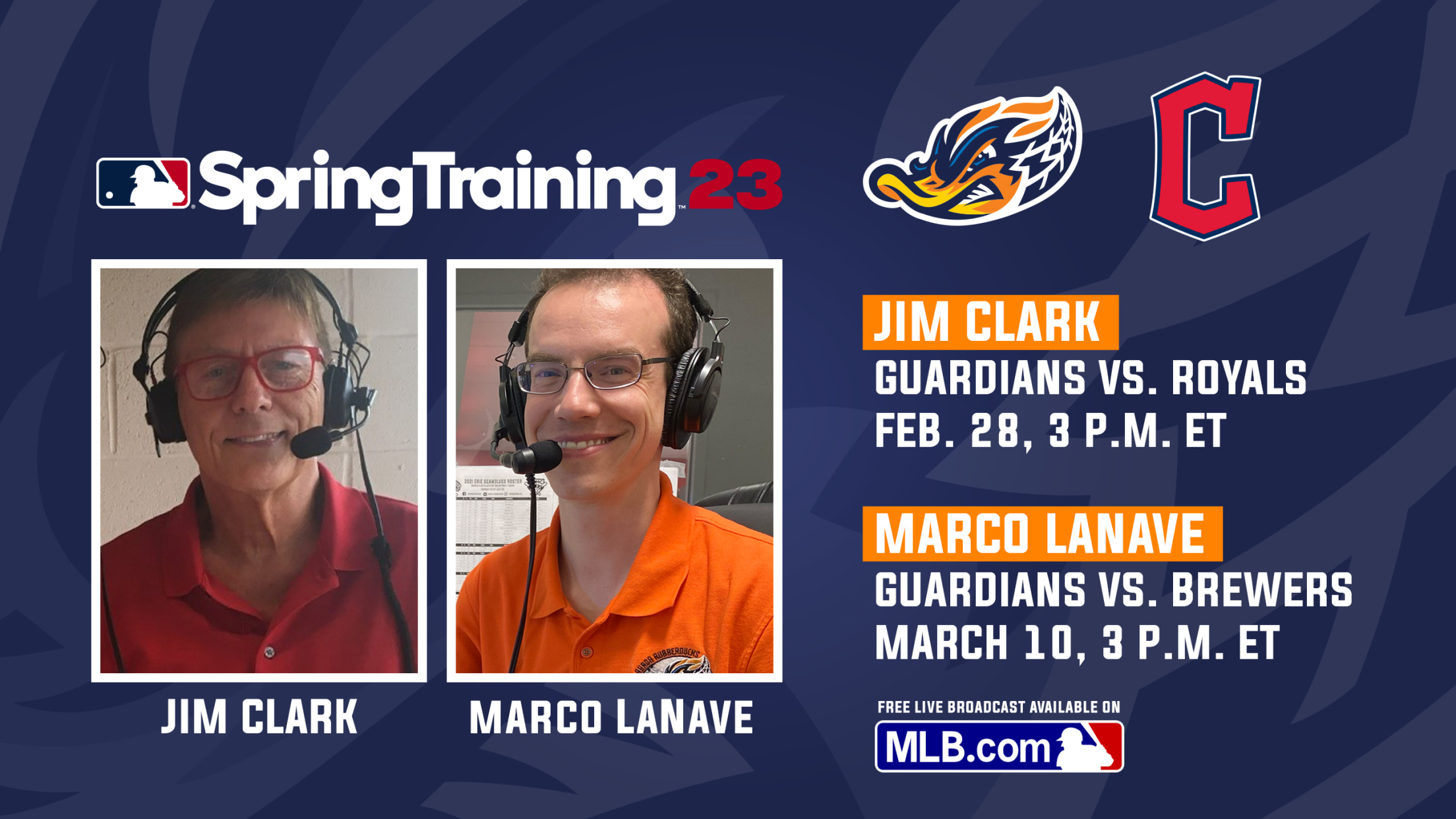 (AKRON, OHIO) February 23, 2023 – Before they call the action together on Opening Night at Canal Park on April 6, Akron RubberDucks broadcasters Jim Clark and Marco LaNave will each team up with Cleveland Guardians broadcaster Jim Rosenhaus to call a Major League Spring Training game in Arizona. Clark
(AKRON, OHIO) February 23, 2023 – Before they call the action together on Opening Night at Canal Park on April 6, Akron RubberDucks broadcasters Jim Clark and Marco LaNave will each team up with Cleveland Guardians broadcaster Jim Rosenhaus to call a Major League Spring Training game in Arizona.
Clark and Rosenhaus will call the Guardians game Tuesday, Feb. 28, in Goodyear against the Kansas City Royals, with a 3 p.m. ET broadcast available for free on CLEGuardians.com, MLB.com and the MLB app. On the same platforms, LaNave and Rosenhaus will call the game Friday, March 10, in Phoenix, against the Milwaukee Brewers, at 3 p.m. ET.
Clark enters his 30th season with the RubberDucks organization. His first season was 1990, the second year of the franchise in Northeast Ohio. He has been part of six league championships, Canal Park opening in 1997 and the 2016 Eastern League All-Star Game, while calling games of dozens of players on their way to Cleveland. He is also the author of the book, "Rally 'Round Cleveland - The Story of the 1974 Franchise-Saving Cleveland Indians". In 2019, Clark broadcasted his first Spring Training game and was inducted into the Greater Akron Baseball Hall of Fame.
"It's great to be going back to Spring Training to call a Guardians game with Jim Rosenhaus – a great tune-up for the season ahead. I give special thanks to Rosey, Jim Pfander and Ken Babby for making this happen," Clark said. "This is a wonderful way to kick off year number 30 in the booth. I look forward to joining Marco LaNave in Akron for another year of RubberDucks baseball."
LaNave makes his Spring Training broadcast debut in his fifth year with the RubberDucks and enters his 11th season of broadcasting minor league baseball. He called league championships with Akron in 2021 and the Single-A Quad Cities River Bandits in 2013. He was part of leading the rebranding launch of the now-Triple-A Jacksonville Jumbo Shrimp in 2016. He has also filled in as a sports anchor on WTAM 1100 in Cleveland.
"It is an honor to be part of a Guardians broadcast. I am thrilled for my partner Jim Clark and myself to have that chance this spring. I am especially grateful to Jim Rosenhaus and the Guardians, along with Jim Pfander, Ken Babby and the RubberDucks for making this possible," LaNave said. "Many recent RubberDucks make the Guardians one of baseball's best stories. I am excited to share an early glimpse of a much-anticipated baseball season for Northeast Ohio."
Clark and LaNave will call RubberDucks games this year on 640 WHLO, the iHeartRadio app, akronrubberducks.com and the MiLB First Pitch app. Opening Night is Thursday, April 6, at 6:35 p.m. ET against the Erie SeaWolves at Canal Park.
The Akron RubberDucks are the Double-A affiliate of the Cleveland Guardians. The RubberDucks season at Canal Park begins on Thursday, April 6, against the Erie SeaWolves at 6:35 p.m. Fans can purchase tickets by calling 330-253-5151 from 9 a.m. to 5 p.m. on weekdays, or visit akronrubberducks.com. For more information about the team, please call 330-253-5151, visit the website at akronrubberducks.com, Facebook page facebook.com/AkronRubberDucks, or on Twitter @AkronRubberDuck, and Instagram @akronrubberducks.