Nine Questions with Triston McKenzie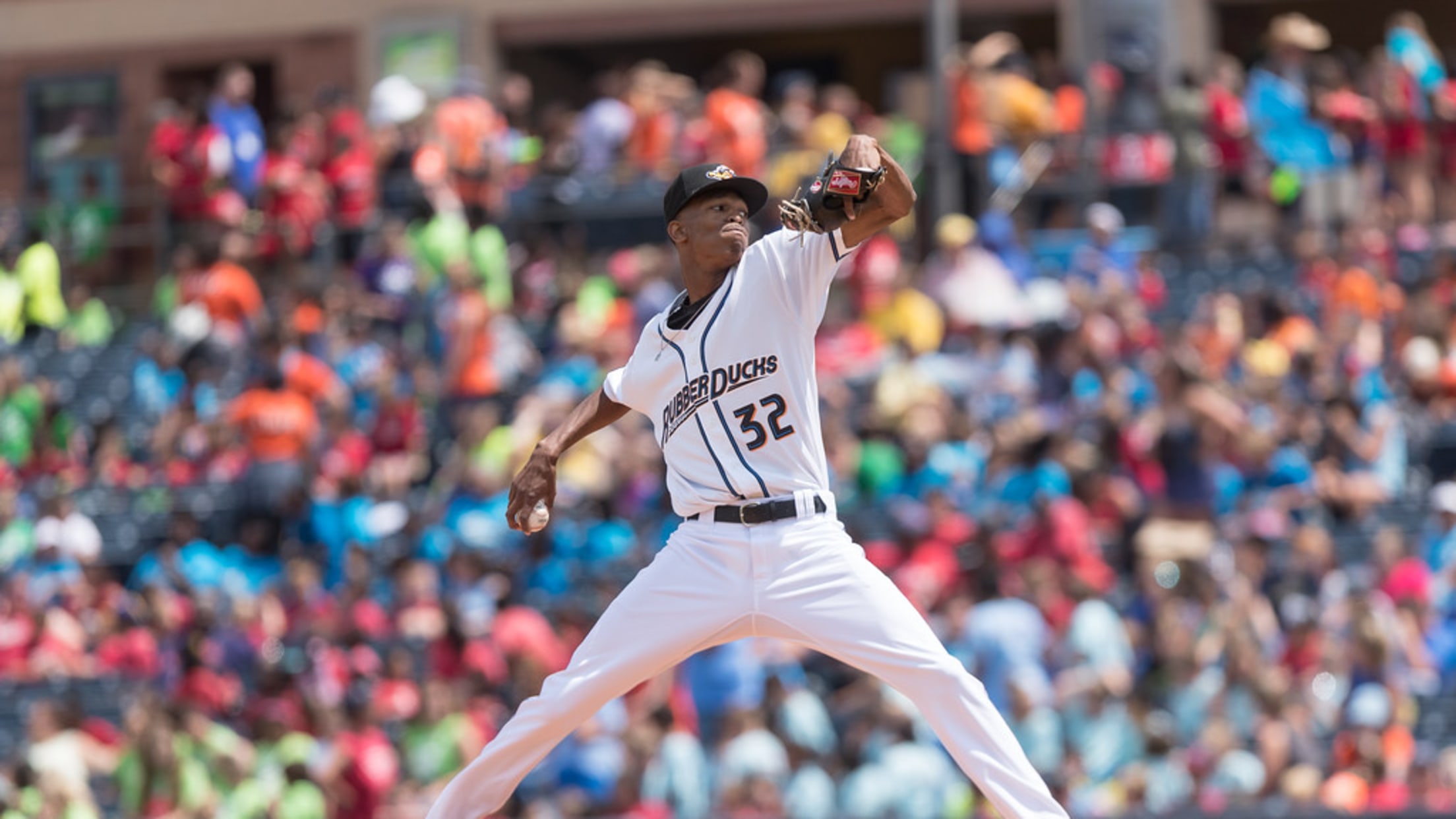 In celebration of Black History Month and "The Nine" initiative, the Akron RubberDucks sat down with 2018 RubberDucks pitcher and current Cleveland Guardians starter Triston McKenzie at the annual Hot Stove Banquet to discuss his career and those that inspired him. Akron RubberDucks: Triston, how do you remember getting into
In celebration of Black History Month and "The Nine" initiative, the Akron RubberDucks sat down with 2018 RubberDucks pitcher and current Cleveland Guardians starter Triston McKenzie at the annual Hot Stove Banquet to discuss his career and those that inspired him.
Akron RubberDucks: Triston, how do you remember getting into baseball as a kid?
Triston McKenzie: My parents put me into baseball. They wanted me to try some sports, kind of figure some stuff out. Trying basketball – it was cool for me. I enjoyed it. But I really found a sense of community, a sense of friendship [in baseball]. Even when I wasn't playing at the baseball field, my brother was playing at the baseball field. I always had fond memories of finding friends there, having a good time there, and I think I just fell in love with the game.
RubberDucks: Who was your biggest inspiration?
McKenzie: I'd say my dad is my biggest inspiration when it comes to baseball, in terms of just learning the game and moving forward like that. And I have several different favorite baseball players. I love the game.
RubberDucks: Who were some that you really enjoyed?
McKenzie: My top two were from opposite teams. I was a big Derek Jeter fan, just because of how he handled himself both on the field and off the field. You never really heard about him or any stories. You didn't hear about him anywhere, besides just going out there and doing his job, which I really admired from a little kid baseball standpoint, as well as just a respect standpoint for an adult human being. And then on top of that, as a pitcher, Pedro Martinez was one of my favorites to watch. He was electric.
RubberDucks: We're coming up on Black History Month and Jackie Robinson's birthday (January 31). First, on Jackie Robinson, what does he and his legacy mean to you?
McKenzie: I think he's one of the main reasons why I play baseball. I think many others forged a path for me as well. But he's a name that that comes to the forefront when you talk about Black players or just players of color in Major League Baseball. He means a lot to me. I dressed up as him for Halloween when I was like nine or 10. I did like multiple book report projects on him. He's very significant to the game of baseball, especially singularly to me. Because I don't think I'd be able to play the game that I love without him.
RubberDucks: You're part of an organization (Cleveland) that has the legacy of Larry Doby (broke the color barrier in the American League). What does that mean to you?
McKenzie: I really didn't understand as much as I feel like I should, until very recently. I got to go to the Negro League Baseball Museum and really delve into some Black history and really see what Larry Doby meant to the game. Looking back, I think Jack Robinson gets a lot of credit for being the first, but that's not to say that a majority of Black or African American, or just colored players in general, didn't face discrimination. They had to go through a lot of stuff being in just a turbulent time when it came to that.
RubberDucks: You mentioned Black players in the game now. We've seen [in Akron] some guys that you've pitched with over the years [in this organization], like Juan Hillman and Xzavion Curry. What is it like to be part of that group too?
McKenzie: I think representation is huge, especially when you're able to look around yourself and see it. For myself, to inspire guys that are [not only] guys that I play with, but the younger generation as well, to have guys like that around me is comforting to me. And I know it's comforting to those that are looking forward.
RubberDucks: Thinking about this last season with the Guardians and all the success you guys had, what was the highlight for you?
McKenzie: Josh [Naylor], I love you. Don't hate me. [Does Josh Naylor's baby-rocking celebration] Any time he did this, though. Everybody brings up the Yankee series. But like, early in the year when he hit the home run off Liam Hendriks. Just the energy that he brings to the guys. I think Josh [provided] core memories, like multiple throughout the year. I think he brings so much energy to the team. And it's not necessarily forced. It's all organic. It's all very natural. And I think the team loves it, and the team feeds off of it. And I enjoy playing with him behind me, and I love having him in the dugout.
RubberDucks: We're honored to have you here [for the Hot Stove Banquet] to help support the Akron Children's Hospital. What does it mean to you to be here and to support them the way you have?
McKenzie: I mean, Akron Children's is very crucial in my career. They design a jersey in Akron every year, and I got to pitch in it when I was here. The kids may not realize how much that means to us to be able to play in [those special] jerseys. We play in the same stuff all the time, so playing in a jersey that means something to them also means something to us. To interact with the kids, hopefully brighten up their day a little bit, and let them know that they helped me as much as I helped them, is huge.
RubberDucks: What excites you most about this upcoming season and being part of the Guardians organization at this time in your career?
McKenzie: I think last year gave us a lot to look forward to. My biggest excitement for this year is just seeing what we can bring to this year. I think we made some good additions, and I think everybody is kind of coming in, still with a chip on our shoulder, because I feel we still want to prove ourselves. So, I'm excited for that.
RubberDucks: Who has been your biggest mentor in the Guardians organization in developing to be the big league pitcher you are now?
McKenzie: I think there have been a lot. I think [former minor league pitching coordinator and major league assistant pitching coach] Ruben [Niebla] helped me a lot. He is with the Padres now. [Former minor league pitching coach and coordinator and current major league assistant pitching coach] Joe Torres has helped me. I try to take a lot from all our pitching coaches. [Pitching coach] Carl [Willis] has helped me a ton since I've been in the big leagues, in terms of how to carry myself, how to go about my routine, in terms of just communicating how I feel, how I go about being a big leaguer. I think there's a lot of guys that are instrumental in who I am today, and I pray that they continue to help me.
See the full interview with McKenzie on the RubberDucks YouTube page.
The Akron RubberDucks are the Double-A affiliate of the Cleveland Guardians. The RubberDucks season at Canal Park begins on Thursday, April 6 against the Erie SeaWolves at 6:35 p.m. Fans can purchase tickets by calling 330-253-5151 from 9 a.m. to 5 p.m. on weekdays, or visit akronrubberducks.com/. For more information about the team, please call 330-253-5151, visit the website at akronrubberducks.com, Facebook page facebook.com/AkronRubberDucks, or on Twitter @AkronRubberDuck, and Instagram @akronrubberducks.