Del Castillo Tallies Two Knocks in Win
Albright Tosses Five, Earns Second Straight Winning Decision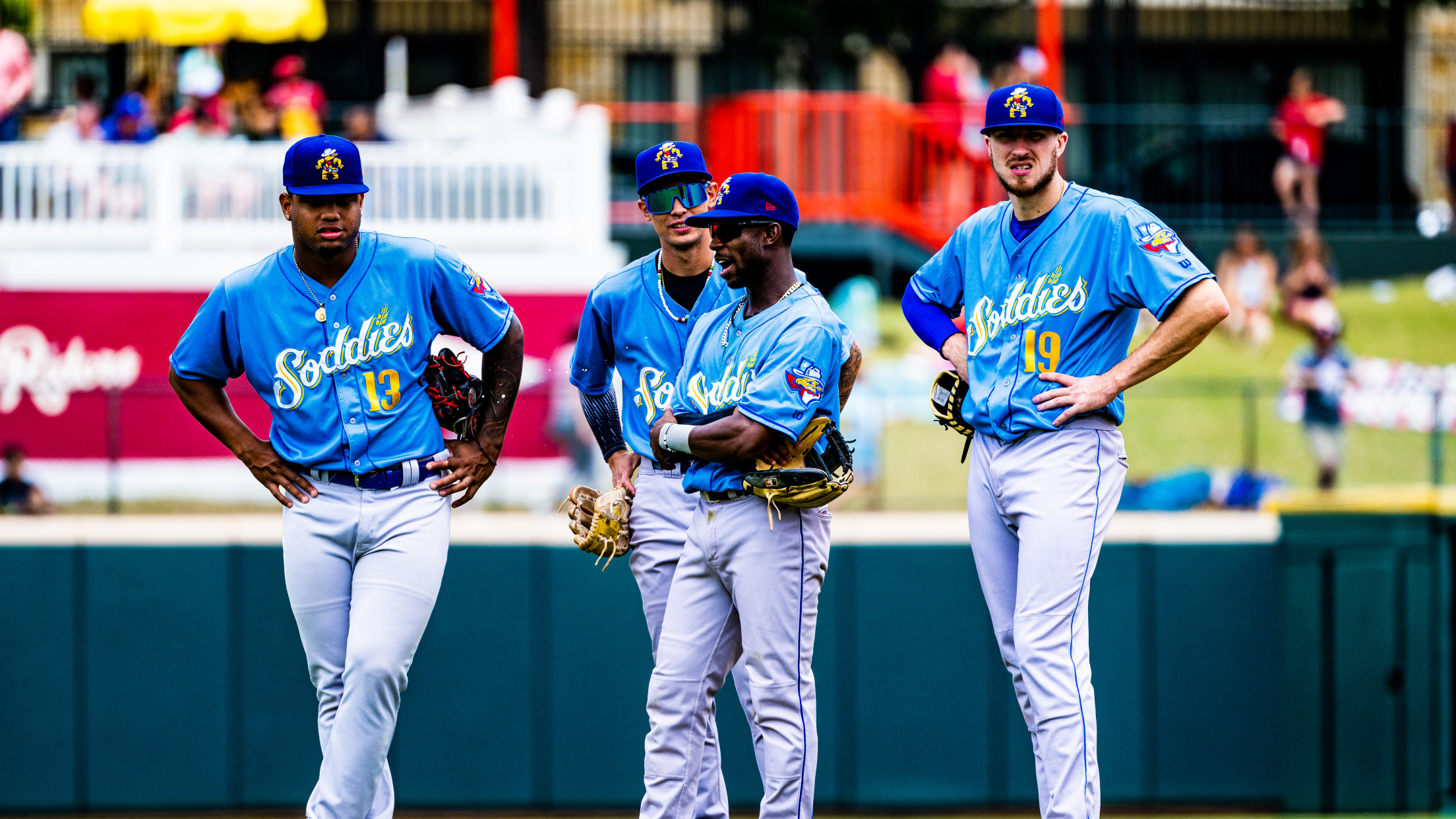 (Matt Smith / Press Pass Sports)
Frisco, Texas (May 19, 2023) – The Amarillo Sod Poodles clipped the Frisco RoughRiders, 2-1, in game four under the Friday night lights. Amarillo's pitching staff logged an exceptional night on the rubber with Adrian Del Castillo coming in clutch and driving in the go-ahead run. Amarillo was retired in
Frisco, Texas (May 19, 2023) – The Amarillo Sod Poodles clipped the Frisco RoughRiders, 2-1, in game four under the Friday night lights. Amarillo's pitching staff logged an exceptional night on the rubber with Adrian Del Castillo coming in clutch and driving in the go-ahead run.
Amarillo was retired in order in the top of the first to bring Luke Albright to the bump for his second start in Frisco this season.
Albright made quick work of the first batter he faced with a swinging strikeout, but allowed back-to-back base runners to reach on a walk and a hit. The right hander punched out his second batter of the frame and induced a groundout to avoid anymore damage.
The Soddies got their first score in the second inning. A.J. Vukovich slapped a ball into the outfield for a lead-off base hit. Del Castillo slugged a one-out single that pushed Vukovich over to third, but Del Castillo got into a pickle after making a wide turn at first base that resulted in an out. However, Vukovich was able to capitalize on the confusion and trot home and secure a 1-0 lead over Frisco.
Following 1-2-3 frames from both clubs, Frisco came back up to the dish in the bottom of the third. Sod Poodles third baseman, Kevin Vicuña, deflected a ball off his cleat that went into center field and resulted in a double. An RBI single trailed and brought the score even, but Amarillo was able to cut down the batter after he tried to stretch the knock into a two-bagger. A pair of walks and a hit juiced the bases but Albright fanned the next two batters to get out of the inning.
Amarillo resecured the lead in their next offensive opportunity. Vukovich got himself on second via a fielder's choice and his fifth stolen bag of the year. Del Castillo drove in Vukovich with an RBI single to gain a one run advantage over Frisco.
Albright fired consecutive shutout frames before coming off the slab and being relieved by Austin Pope in the sixth. The right hander walked off the hill with just one earned run allowed through 5.0 IP while tying a season-high of seven punchies.
Pope worked around a two-out double to hold the Riders scoreless and bring the Sod Poodles back up to hit in the seventh. Back-to-back one-out walks gave the Sod Poodles a chance to score, but a ground out and a back-pick to first base closed out the frame.
Pope fanned the next two batters he faced in the away frame. A single and a wild pitch got the tying run in scoring position but the right hander collected a groundout to hold the lead.
Michel Otanez took over pitching duties in the bottom of the eighth for Pope who dealt 2.0 scoreless innings while punching out three and scattering two hits.
Otanez pitched a scoreless frame with two punch outs and was replaced by Jake Rice for Frisco's final trip to the dish in the ninth. Rice slammed the door on Frisco and secured Amarillo's first win of the series and his second save on the campaign.
Amarillo returns to Riders Field tomorrow night as they look to keep up the momentum in game five. First pitch is scheduled to be delivered at 7:05 p.m.
NOTES:
DEL CA-STEAL MY HEART: Adrian Del Castillo drove in the winning run with two outs and finished the night 2-for-2 with a walk and an RBI, the sole RBI of the night for Amarillo. It was the lefty-bat's seventh RBI in 13 games this month who has now driven in six of his 11 runners when there's at least one out. He additionally now wields the second highest OBP (.328) and the second most RBI (6) on the club among players with 15 games played while playing on the road this season.
HOLD UP, LET HIM COOK: A.J. Vukovich turned in a 1-for-4 night at the plate while scoring both of Amarillo's runs. The Soddies have earned just 15 hits and nine runs through the first four games this series and Vukovich accounts for three of those knocks (20%) with as many runs scored (33%). Through his first 12 games played in the month of May, he has earned 13 hits and scored nine runs which are both ranked second on the club this month.
LUKE IS YOUR FATHER: Luke Albright started and delivered 5.0 innings of one run ball on four hits and as many walks while tying a season-high of seven strikeouts. The right hander has now fanned a club-best 40 batters this season with 17 coming from RoughRiders through three meetings with Frisco. Across four games in May, he has refused to appear in a game without punching out at least four batters, posting 24 punch outs in 19.0 IP (11.3 K/9) with his total punchies this month ranking third in the Texas League.
NICE LIKE RICE: Jake Rice relieved in the ninth inning and held the Riders scoreless while fanning two in route to his second save of the season which ties ninth in the Texas League. Both of Rice's saves have come on the road this season with his first being earned on 4/20/23 at NW Arkansas. The southpaw has appeared in the ninth inning three times this season and has yet to allow a hit across nine at bats while striking out five. Rice has now held his opponent hitless in 10 of his 13 relief appearances this season and wields a .182 BAA (8-for-44) while additionally punching out at least two batters in seven of those contests.
TWO OUTS? TWO BAGS: Ryan Bliss smashed his league-leading 14th double while down to two outs and turned in a 1-for-4 night at the plate. Bliss has now roped 11 of his 14 doubles while there's at least one out and just three while down two outs. Among club mates with at least 20 games played, Bliss totes the highest AVG (.353, 12-for-34) and ties A.J. Vukovich for the most doubles while batting with two outs. Bliss's double extended Amarillo's XBH streak to 13 games dating back to 5/5/23 at Corpus Christi. Four of the Sod Poodles' 15 hits (26%), one of their three homers (33%) and both of their doubles this series have come off of the former Auburn Tiger's bat.
WE STILL WON THOUGH: The Sod Poodles were able to secure the win while being out-hit by the RoughRiders, 6-4. Amarillo now improves to 3-15 this season when they are out-knocked with their last win coming in this fashion on 5/10/23 versus Midland when they were out-hit, 10-8.