Sod Poodles Blank Hooks to Even Series
Sod Poodles Second Shutout Win in 2023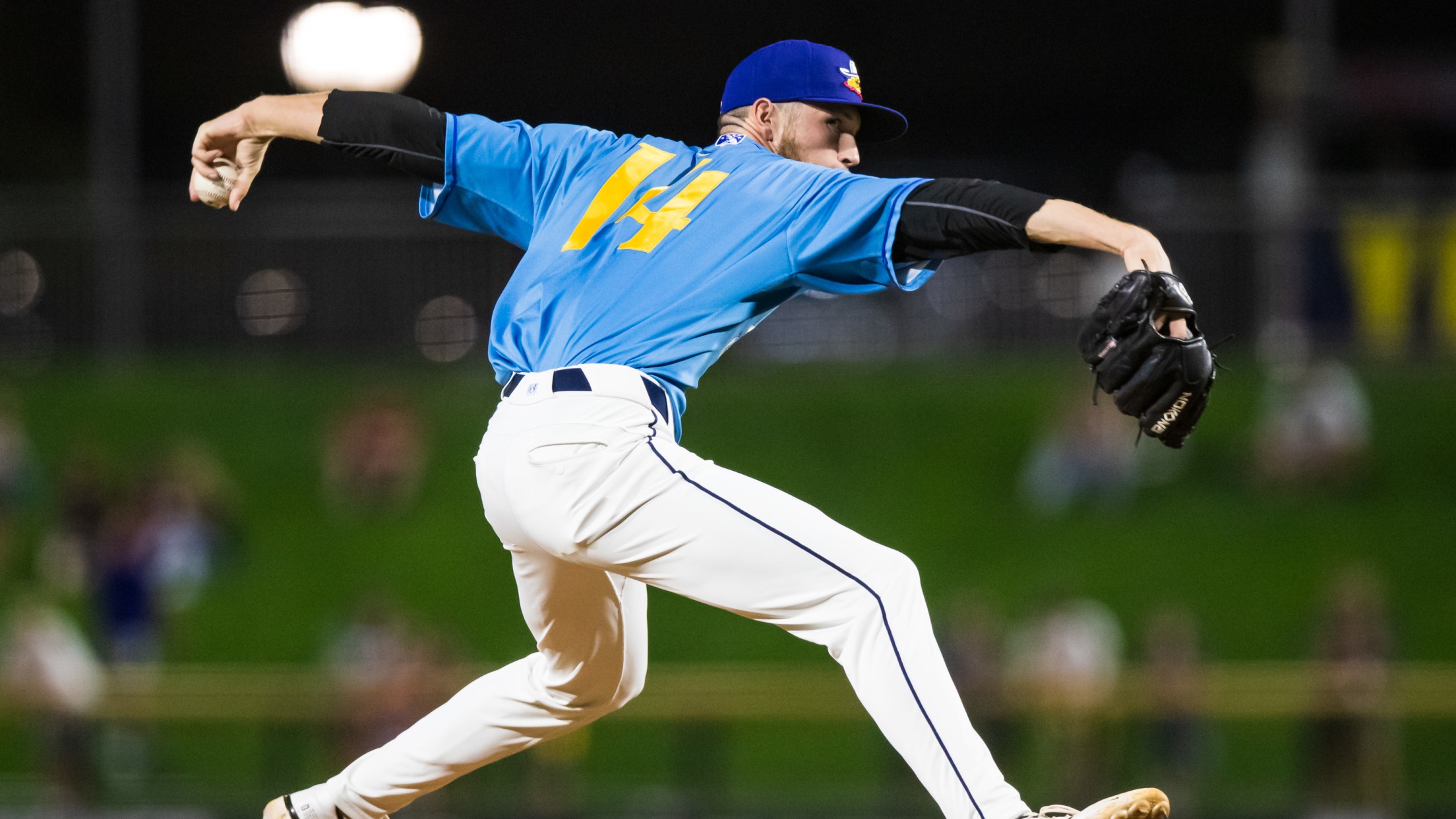 (John Moore)
Corpus Christi, Texas (May 3, 2023) – The Amarillo Sod Poodles plowed through the Hooks in shutout fashion for their second shutout win of the campaign. Their 3-0 win over Corpus Christi was aided by a Tristin English solo dinger in the top of the first and lights-out pitching performances
Corpus Christi, Texas (May 3, 2023) – The Amarillo Sod Poodles plowed through the Hooks in shutout fashion for their second shutout win of the campaign. Their 3-0 win over Corpus Christi was aided by a Tristin English solo dinger in the top of the first and lights-out pitching performances from Amarillo.
Amarillo made their mark in their first opportunity at bat. English muscled the Soddies in front of the Hooks by launching a solo nuke over the left field wall.
Jamison Hill dealt 2.2 scoreless frames before Corpus Christi was able to break Hill's hold in the bottom of the third. A one out base hit was strung together by a pair of walks to load the bags. Hill fanned the last Hook he faced but was relieved of duty by Austin Pope who shut down their offensive push with another punch out.
English mashed a gapper to lead off the Soddies' fourth inning but was left stranded on the base paths, maintaining the two spot in doubles on the club with seven.
Following a shutout inning from Pope, the Soddies tallied another run in the fifth. Jonathan Guzman poked a lead-off single and swiped second base. A throwing error on the play brought him around to third base with no outs. Nick Dalesandro successfully returned Guzman home with a chopper to the opposite side of the infield to give the Soddies a two run buffer.
Amarillo slapped their third extra base hit of the night in the top of the sixth after A.J. Vukovich came to bat with two outs, however he was left stranded for just their third man left on base through six innings.
Pope concluded his reign after the fifth inning, producing 2.1 scoreless innings while punching out five out of the eight batters he faced.
Juan Centeno's lead-off walk in the seventh followed by a swiped bag and smart base running was good enough to plate him with a wild pitch, elevating Amarillo's lead to 3-0.
Josh Green was the next arm out of the 'pen and dealt 2.0 scoreless frames while conceding just one hit and punching out as many before Kyle Backhus took the reins in the eighth inning.
Backhus followed suit and did not allow a run through 2.0 innings of work while logging an identical one hit and as many strikeouts as Pope. The left hander closed the contest out for Amarillo's 22nd franchise shutout win while also bringing the series in Corpus Christi even at one game apiece.
The Sod Poodles return tomorrow to Whataburger Field as they aim to take hold of their six-game set in game three. First pitch is slated for 6:35 p.m.
NOTES:
IN TRISTIN, WE TRUST: Tristin English went 2-for-4 with a home run, double, RBI and a run scored. English has now hit safely in 17 of his first 18 games played this season while reaching base in all of them, extending his Texas League-best active hit streak to 12 games with his 18 game on-base streak tying second. At the time of the final out, English posted the second most dingers (6), third most RBI (20), sixth most total bases (47) and eighth most runs (14) while tying second for doubles (7) and first for XBH (13) across all D-backs minor leaguers. Within the Texas League, English is notching the fifth highest average (.333, 22-for-66), sixth highest OBP (.436), overall highest SLG (.712) and OPS (1.148) while tying third in homers, fourth in RBI and eighth in doubles.
THE BISHOP OF ROME: Austin Pope tossed 2.1 scoreless frames while scattering one hit and fanning five of the eight batters he faced while earning the win, his first since 9/13/2022 @ SA. Pope has not dealt five strikeouts in a relief appearance since 9/2/2019 (MIS) in his debut season when he relieved 4.0 innings and punched out six batters. The right hander has now held his opponent scoreless eight times in 12 relief appearances dating back to 9/6/2022 versus ARK while punching out 22 batters in 19.2 IP across the stretch (10.3 K/9).
THE CENTENO SLIDE: Juan Centeno went 2-for-3 with a walk, a run scored and a swiped bag for his second steal of the season. Through 16 professional seasons dating back to 2007, Centeno has logged multiple swiped bags in a season just six times with his most being three which he accomplished in 2011 with the St. Lucie Mets. The former World Series champion has now poked multiple hits in seven of his eight games that he has knocked in this season through 15 games played, good for the second most two-hit nights on the club behind Ryan Bliss who has eight.
IT'S ALWAYS GREENER: Josh Green delivered 2.0 scoreless innings while allowing one hit and fanning as many batters. Green has held his opponent scoreless in five of his first eight relief appearances this season while now producing 3.1 consecutive scoreless innings dating back to 4/28/23 versus FRI. Dating back to 8/14/2022, the righty has held his opponent scoreless nine times in 15 games.
THE BACKHUS DOOR: Kyle Backhus shut the door on the Hooks and produced 2.0 scoreless frames while allowing a hit and punching out as many, earning the save in the process. Backhus is notching six straight appearances without letting up an earned run, good for tied fifth in the Texas League in this category while extending his consecutive scoreless inning streak to 8.2 innings. Dating back to 9/7/2022 versus ARK, the southpaw has conceded just one run in 12 relief appearances (16.0 IP) while punching out 19 (10.6 K/9). The Texas-native's four saves is good for the most in the Diamondbacks organization and in the Texas League this season.