Sod Poodles Drop Finale, Split Series with RoughRiders
Vukovich Homers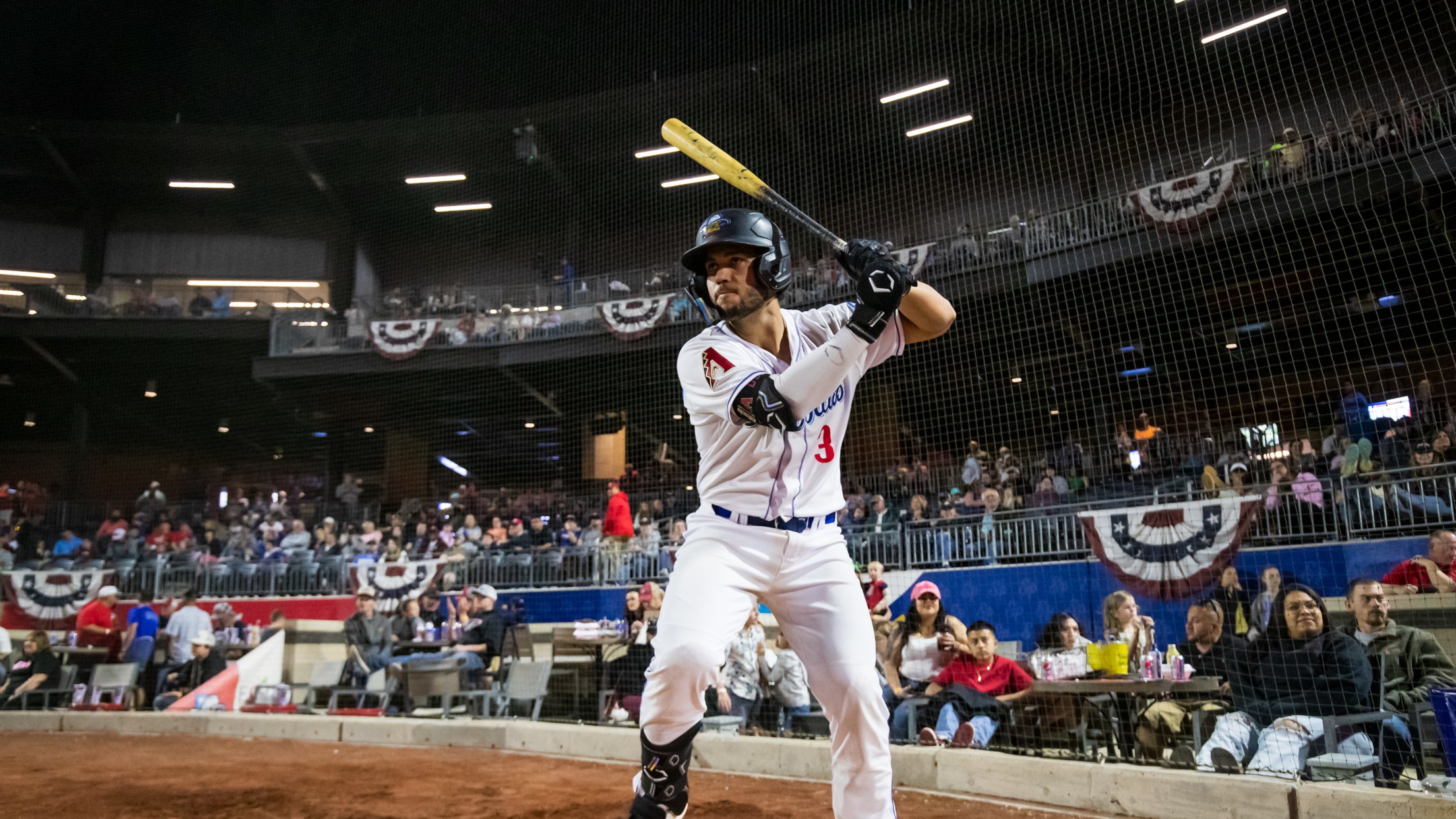 Amarillo, Texas (April 30, 2023) – The Amarillo Sod Poodles dropped their six-game series finale on Sunday afternoon, 12-7, and split their series with the RoughRiders. The Soddies and the Riders were neck and neck in the hit column with each club posting double-digits, however, four errors committed by Amarillo
Amarillo, Texas (April 30, 2023) – The Amarillo Sod Poodles dropped their six-game series finale on Sunday afternoon, 12-7, and split their series with the RoughRiders. The Soddies and the Riders were neck and neck in the hit column with each club posting double-digits, however, four errors committed by Amarillo and timely hitting by the RoughRiders were the deciding factors.
The Riders jumped to an early 2-0 lead in their first hitting opportunity, reeling in a pair of runs without logging a hit. Amarillo's defense committed two errors that effectively led to both runs scoring.
Frisco got another runner on base in the next away frame but he was shortly cut down by Soddies' Nick Dalesandro who caught him trying to swipe third base.
However, an attempt to catch another runner at third in the next top inning ended with the ball sailing into left field for another Frisco score, advancing another Rider into scoring position. A groundout was enough to get the fourth run across the dish before Amarillo could secure a hit.
The Sod Poodles plugged their first run and hit in the bottom of the third. Neyfy Castillo logged a one-out hit and a Dalesandro sacrifice bunt got him into scoring position. A ball roped into left field from Roby Enriquez secured Castillo's return home, tightening Frisco's lead to just three runs.
The RoughRiders extended their lead to 5-1 after a pair of no-out walks and a base hit plated another in the fourth.
Amarillo burned their second run into the scorebook in the next frame. Adrian Del Castillo poked a one-out hit to lead the charge, his 100th career knock. A Tim Tawa laced ball into left and an RBI single from Guzman in the next at-bat brought home Del Castillo.
Another two-run away frame trailed in the fifth. A pair of singles strung together by a two RBI double gave Frisco some insurance.
Amarillo brought the Frisco lead back down to just three runs in their next opportunity at the dish. Dalesandro got things rolling with a lead-off double and was moved over to third thanks to an Enriquez warning track flyout. A.J. Vukovich reacted by sending a ball 417 feet over the left field wall to recapture the two runs allowed in the previous frame.
Another came around for Frisco in the sixth. A walk and two swiped bags brought a Rider onto third with two-outs. However, an unfortunately placed, 102 mph come-backer ricocheted off the body of Jake Rice and was enough to give Frisco a four-run advantage.
The Sod Poodles finally brought the game back to just a two-run deficit in their next at-bat. After Deyvison De Los Santos was plunked to lead off the inning, Jonathan Guzman mashed a home run which was good for his first in a Sod Poodles uniform.
It quickly became an 11-run ball game for the Riders after a pair of singles and a walk loaded the bags in the seventh with one out. One run came via a free pass, but after two Riders scored on a double and another was in route to the dish, Guzman gunned a ball from the warning track to catch the trailing runner to close the inning.
A sacrifice fly ball earned Frisco their 12th run of the game which was made up for with a Vukovich RBI single in the bottom of the ninth.
However, the scoring would end there as Amarillo dropped their six-game finale at HODGETOWN and split the series with the RoughRiders.
The Sod Poodles will take a road trip to Corpus Christi on Tuesday for another six-game set with game one being scheduled for 6:05 p.m.
NOTES:
BILLBOARD TOP 100: DH Adrian Del Castillo went 1-for-4 with a run scored with his base hit marking his 100th career knock. The Lefty-bat began the year poking a hit in six out of his first nine contests and clipping .264 (9-for-34) before entering a slump where he has logged just three hits in his last 25 at bats dating back to 4/22/23.
HEEEERE'S JONNY: LF Jonathan Guzman went 2-for-3 with a home run, three RBI, a walk and a run scored while defensively cutting a RoughRider down at the plate from the warning track to close out an inning. Guzman's two-run bomb was his first in a Sod Poodles uniform and his first since 7/13/2022 (REA). Across 422 career at-bats at the Double-A level, the D.R.-native has swatted just four long balls. Guzman's three-RBI performance was his first since 5/28/2022, not being able to achieve this feat for 89 straight contests.
A VUCLEAR BOMB: 1B A.J. Vukovich went 3-for-5 with a home run, three RBI and a run scored, the sole three-hit performance on the club. Vukovich has now logged five homers in 29 games at the Double-A level while also going nine-straight without one. The righty-bat has posted four multi-RBI performances this season, all of the three-RBI variety. Dating back to 8/25/2022 with Hillsboro, the former fourth round draft pick has earned a hit in 30 of his last 38 games with 12 multi-hit and 11 multi-RBI outings.
NICKY TWO-BAGS: C Nick Dalesandro went 2-for-4 with a double and a run scored while also catching a runner stealing defensively. Dalesandro's double was his second on the season, having earned one on 4/27/23 but, before then, his most recent two bagger was posted on 8/28/2022.