Sod Poodles Fall to RockHounds 16-6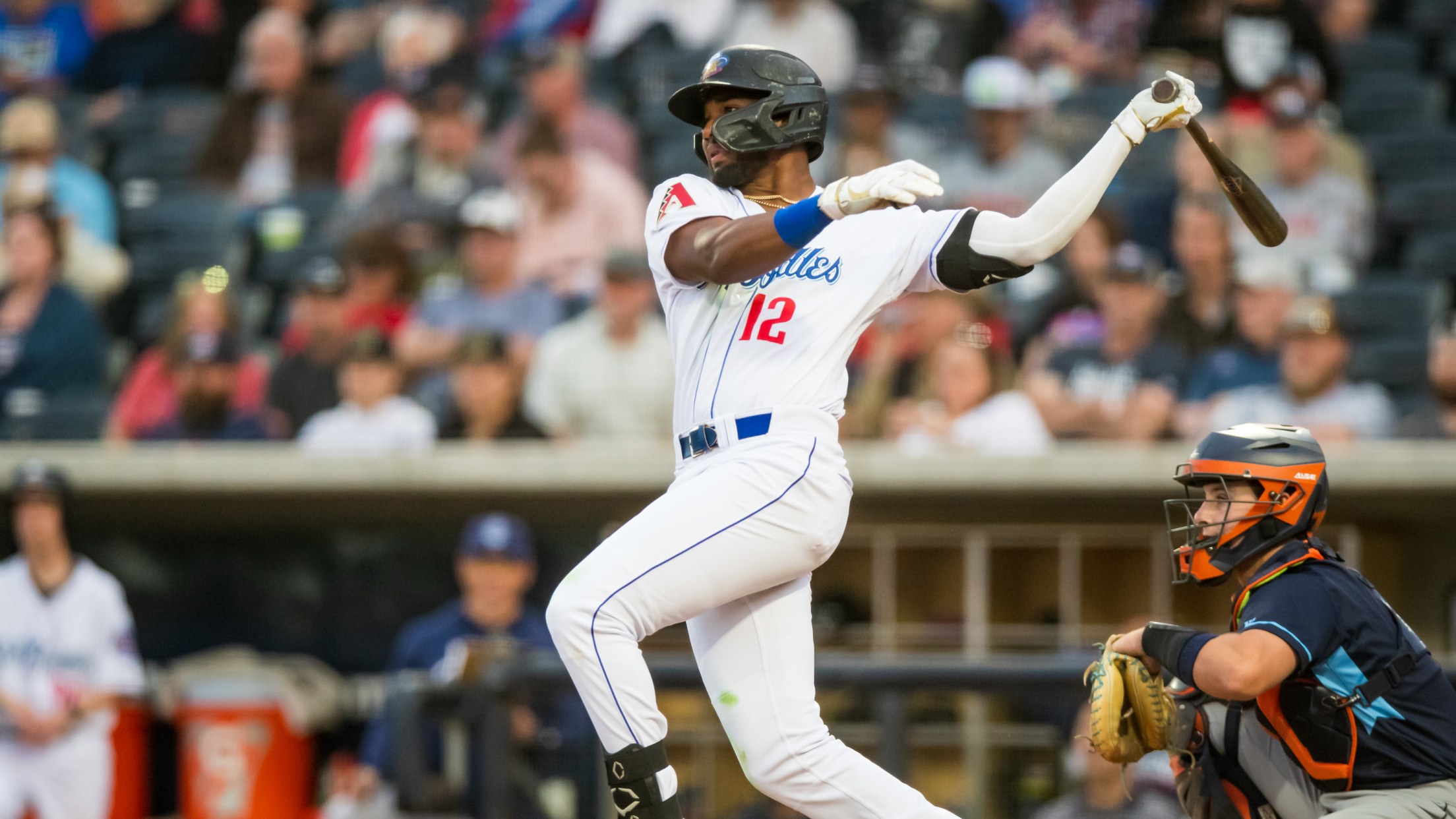 Amarillo, Texas (May 11, 2023) – The Soddies dropped game three of their six-game homestand, 16-6, to the Midland RockHounds who now hold the series lead, 2-1. Amarillo logged 13 hits but was unable to react in time to the 10-run hole. Amarillo secured their first two runs in the
Amarillo, Texas (May 11, 2023) – The Soddies dropped game three of their six-game homestand, 16-6, to the Midland RockHounds who now hold the series lead, 2-1. Amarillo logged 13 hits but was unable to react in time to the 10-run hole.
Amarillo secured their first two runs in the bottom of the first. Deyni Olivero dealt a 1-2-3 inning in the away frame and Ryan Bliss led off the home frame with a base knock. A pair of groundouts brought Juan Centeno to the plate who drew a two-out walk. Deyvison De Los Santos drove in the first score with an RBI single and Tim Tawa plated the second with a stand-up RBI double down the right field line for an early two run buffer over Midland.
The RockHounds responded with one of their own in the next frame. A pair of singles put runners on the corners with one out which was trailed by a deep fly ball to center field that was good enough to push one across.
Following a scoreless third from Olivero, the RockHounds secured the lead in the top of the fourth. A pair of runners reached on singles which was reacted to with a three-run homer to make it 4-2.
Amarillo tallied one in their next opportunity at the plate. While down to the final out of the inning, Neyfy Castillo pimped a 405-foot solo bomb over the right field wall to loosen Midland's grip on the Soddies.
Olivero came out in the fifth and surrendered a walk and three doubles with two runners crossing the dish before being relieved of duty by Jeff Bain. Bain allowed a base hit but retired three straight RockHounds, two via the strikeout, to end the frame.
Ryan bliss led off the bottom half with a base hit and Jordan Lawlar trailed with another. Roby Enriquez poked an RBI single to shorten the RockHounds' lead to just three runs.
Midland made it a 9-4 game in the top of the sixth after hitting a pair of RBI doubles but Amarillo brought it back to a three run deficit in their next offensive opportunity.
A walk and a couple of singles loaded the bags with Lawlar at the plate but he was issued a walk to bring home one run and trigger a pitching change from Midland. Yet another Sod Poodle was walked in by Midland's new reliever in the next at bat before the inning was drawn to a close.
Bain was taken out after a scoreless seventh inning, walking off the mound having tossed 3.0 innings of relief and allowing two earned on just four hits while fanning four. Kyle Backhus was the Sod Poodle to answer the call and come on in relief.
Backhus held the RockHounds to just one hit in the eighth but conceded four runs from a fielder's choice and a three-run home run in the top of the ninth before being relieved. Hugh Fisher came out of the bullpen and allowed two earned on three hits through 0.2 innings of labor before drawing a close to the frame.
Two Sod Poodles got on board in the next frame but the club was unable to recover from the deficit and dropped game three to the RockHounds.
The Sod Poodles return to HODGETOWN for a Friday night game four as they look to even out their six-game set. First pitch is slated for 7:05 p.m.
NOTES:
THE TAWA OF TERROR: Tim Tawa went 2-for-5 with a double and an RBI. Tawa has now logged two-baggers in consecutive games for the first time since doing so from 6/30-7/1/2022. Tawa now wields the first place spot in doubles across all D-backs minor leaguers in the month of May with four while also tying for third in XBH (4). Among fellow Texas Leaguers, the Stanford alum's doubles is good for tied third this month.
CASTILLO AWAY: Neyfy Castillo posted a 2-for-5 night while slamming a home run and picking up an RBI and a run scored. Castillo's bomb was his first in 17 games dating back to 4/18/23 @ NWA and his second this season with his multi-knock night marking his third through 23 games. Both of the D.R. native's bombs have now come while the team is trailing in runs during a contest and off of starting pitchers.
RYAN SENDS BALLS FLYIN': Ryan Bliss walked off the diamond with a 3-for-5 night and two runs scored. Bliss is leading the Texas League in AVG (.407, 48-for-118), hits, OPS (1.087) and total bases (78) while coming in fifth for OBP (.426). The righty-bat additionally holds the crown, within the Diamondbacks organization in the month of May, for AVG (.400, 14-for-35), HR (3), H (14), SLG (.743), OPS (1.175), XBH (6) and TB (26) while tying first for runs scored with eight.
A STRING OF ROBY-RIES: Roby Enriquez turned in a 1-for-4 night at the plate with a walk while driving in two RBI for the sole multi-RBI performance on the club. The lefty-bat has now posted multi-RBI nights twice through eighth games this month. He also extended his on base streak to 11 games which ties first on the club with Jordan Lawlar for the longest on base streak this season. While at home this season, Enriquez has drove in six of his nine RBI and poked 13 of his 21 knocks.