Sod Poodles Muscle in Front of RockHounds Early, Secure Game Two
Amarillo Improves to 6-0 In Game Two of Series in 2023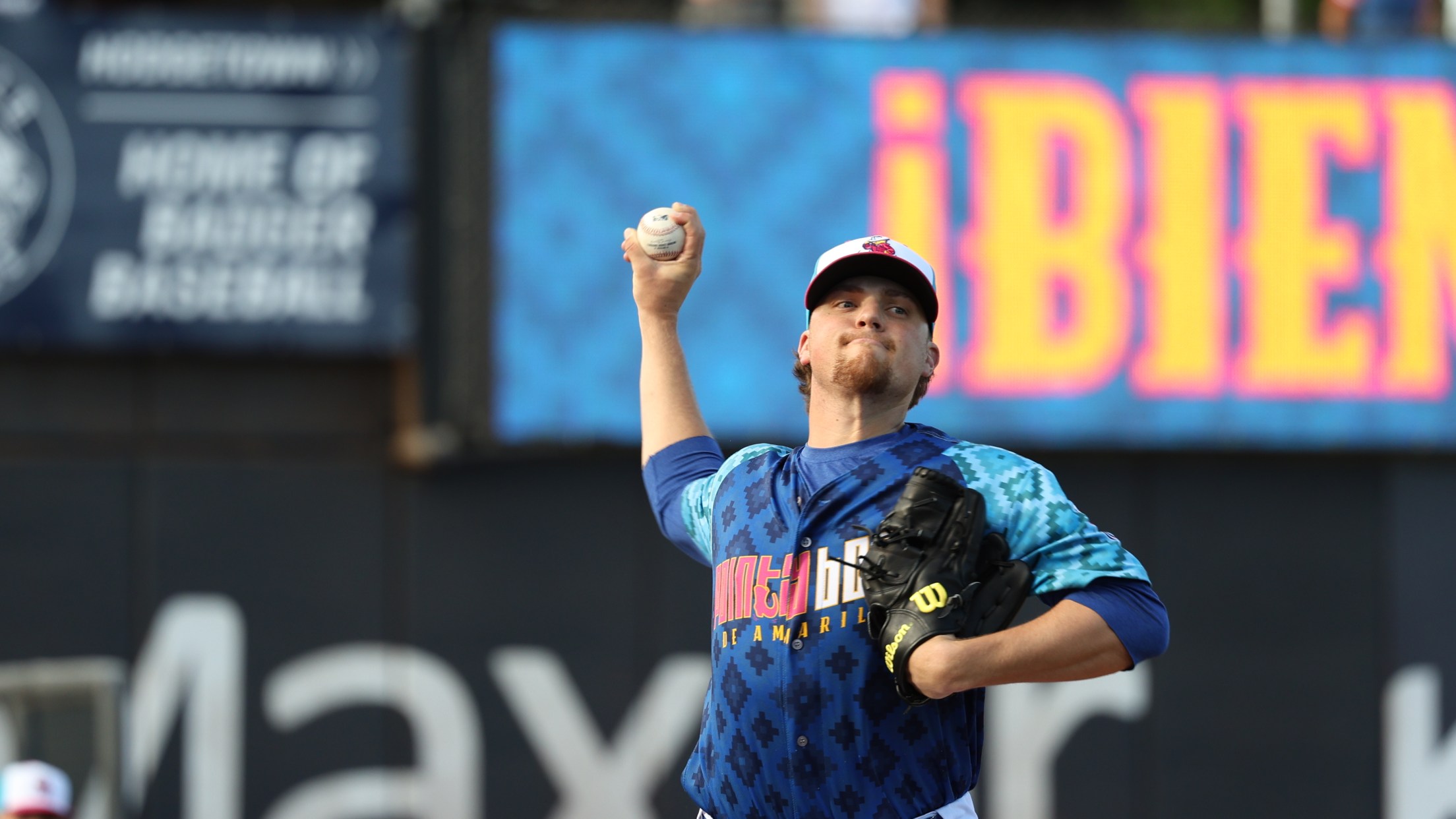 (Roy Wheeler / Press Pass Sports)
Amarillo, Texas (May 10, 2023) – The Amarillo Sod Poodles clipped the RockHounds, 6-3, and evened their series in game two following dominant outings from the Amarillo pitching staff. The Sod Poodles plugged five of their six runs on five hits in the first two innings. The Soddies tallied their
Amarillo, Texas (May 10, 2023) – The Amarillo Sod Poodles clipped the RockHounds, 6-3, and evened their series in game two following dominant outings from the Amarillo pitching staff. The Sod Poodles plugged five of their six runs on five hits in the first two innings.
The Soddies tallied their first score early. In Amarillo's first at-bat of the contest, Ryan Bliss clobbered a ball 368 feet over the left field wall, his second time launching a dinger out of the gate this season.
Following Soddies starter Chad Patrick's second consecutive scoreless frame, another four Sod Poodles were pushed across the plate in the bottom of the second. Tim Tawa ignited the scoring with a two RBI double and an RBI single from Nick Dalesandro brought him home. Two more doubles off the bats of Bliss and Jarrod Watkins plated another pair of Sod Poodles to make it 5-0.
Patrick was relieved of duty by Austin Pope in the top of the fifth after holding his opponent scoreless for 4.2 innings. However, two runners inherited by Austin Pope came around via a two RBI single and Patrick was tagged with two earned runs. Patrick's final line read 4.2 IP, 4 H, 2 R, 2 ER, 3 BB, 6 K.
Pope was taken off the hill in the top of the seventh and was replaced with Andrew Saalfrank. The New York native was pulled following 1.2 scoreless frames of relief, scattering four hits and punching out one batter in the process.
The Soddies secured an insurance run in the form of a suicide squeeze in the bottom of the eighth. A pair of singles to start the frame from Bliss and Jordan Lawlar trailed by a wild pitch transformed them into scoring threats. Adrian Del Castillo laid down a perfect sacrifice bunt to safely bring home Bliss in squeeze fashion and give the Soddies a four run buffer over Midland.
Saalfrank tossed an identical 1.2 scoreless innings as his predecessor while punching out three and scattering a hit before being relieved in the top of the ninth by Christian Montes De Oca.
Montes De Oca allowed one run to cross in the final frame but held tough and shut down the late-game rally, securing game two for the Sod Poodles, 6-3, and evening the series at one game apiece.
The Soddies return for their third of a six-game set at HODGETOWN on Thursday. Deyni Olivero is slated to toss with a 7:05 p.m. scheduled first pitch.
NOTES:
ABSOLUTE BLISS MISSILE: Ryan Bliss went 3-for-4 with a home run, double, two RBI and two runs scored. Bliss has now hit safely in 41 of his last 47 contests dating back to 8/4/2022 with Hillsboro and extended his current hit streak to five games. Bliss's homer came in the first at-bat of the game which was his second time accomplishing this in 2023. Bliss is just one of four Soddies to homer in the first AB of a contest and now just one of three to do so multiple times in franchise history. Additionally, the righty bat logged his club-best 17th multi-hit effort this season and is currently slashing .398/.419/.664.
TIMMY TWO BAGS: Tim Tawa went 1-for-3 with a double, RBI and a run scored. Tawa is now slashing .280/.308/.400 through six games in the month of may with three of his four doubles on the campaign coming in those contests. His double tonight is good for tied third on the club among active Sod Poodles with his number of doubles this month tying first on the club.
JARRY!JARRY!JARRY!: Jarrod Watkins went 1-for-3 with a double, RBI and a run scored. Watkins is now 2-for-4 in his first two games at the Double-A level and in a Soddies uniform, poking two XBH in his first two AB's which is the first time he has done so for a new team in his career. Dating back to his three-bagger logged on 4/28/23 with Hillsboro, Watkins has now poked three XBH in his last 10 games.
MY NAME'S...NOT...RICK: Chad Patrick started for the Soddies and delivered 4.2 innings while surrendering just two earned runs on four hits and three walks, punching out six in the process. Patrick has tossed at least 4.0 IP and held his opponent to two earned runs or less while additionally fanning at least six batters three times this season. The right hander now has the fourth most punchouts on the club with 25 in six games.