Soddies Sunk in Pitcher's Duel, Drop Game One
Albright Ties Season-High, Fans Seven Batters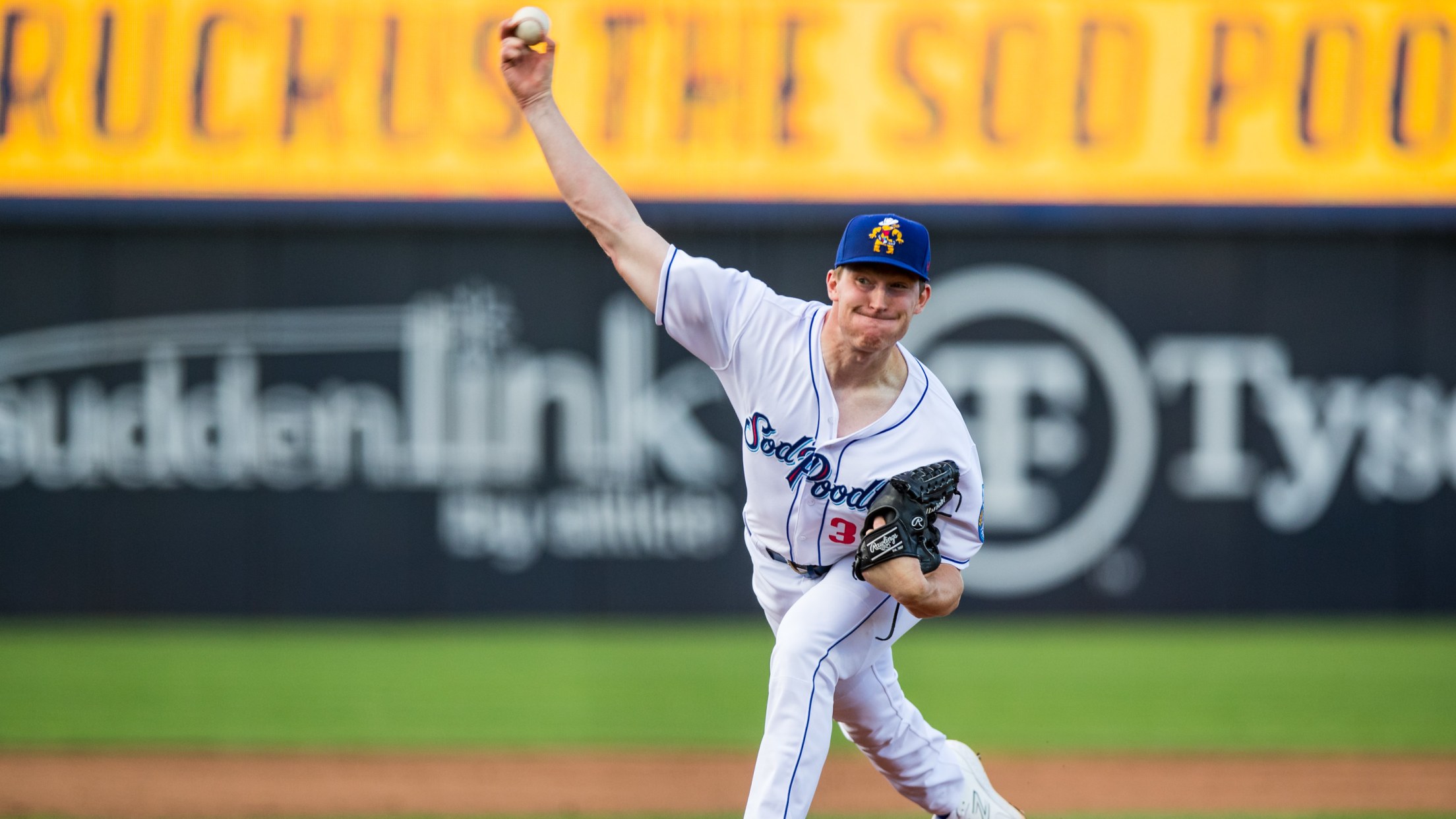 (Press Pass Sports)
Corpus Christi, Texas (May 2, 2023) – The Amarillo Sod Poodles fell to the Hooks, 3-1, in a pitcher's duel Tuesday night. RHP Luke Albright shoved on the bump but was unable to get the run support needed to overcome the Hooks with the Soddies logging just five hits. Amarillo
Corpus Christi, Texas (May 2, 2023) – The Amarillo Sod Poodles fell to the Hooks, 3-1, in a pitcher's duel Tuesday night. RHP Luke Albright shoved on the bump but was unable to get the run support needed to overcome the Hooks with the Soddies logging just five hits.
Amarillo was able to produce one of those hits early in the second inning. A.J. Vukovich mashed his second career Double-A two-bagger but the club was unable to secure his return home. Vukovich was one of just four Soddies to reach base safely through the first five innings with Roby Enriquez reaching twice via a single and a hit-by-pitch.
Albright held the Hooks scoreless through 5.0 innings while scattering one hit and dealing seven punchies, his first outing this season without allowing a run.
Ryan Bliss was a headlight for Amarillo's offense, producing a lead-off base hit in the top of the sixth inning for Amarillo's third hit of the night. Tristin English followed up with a gapper to bring home Bliss and break the stalemate.
Hugh Fisher relieved Albright in the top of the sixth and loaded the bases with one out via a walk, a plunk and a base hit. The Hooks answered with a bases-clearing double to take the lead.
Fisher was soon relieved by RHP Jeff Bain who finished the inning without allowing anymore damage from the Hooks' bats.
Mitchell Stumpo was the next arm to come out of the Amarillo 'pen to make his first appearance for the Soddies this season. Stumpo worked around a one-out walk and struck out the side to bring Amarillo's bats up for their final act.
Deyvison De Los Santos poked a one out knock but that would be the extent of Amarillo's efforts in the ninth inning as they dropped game one at Whataburger Field.
The Soddies will be back Wednesday as they look to take the advantage in their six-game set. First pitch is slated for 6:35 p.m.
NOTES:
AN ALBRIGHT FUTURE: RHP Luke Albright allowed just one hit through five scoreless frames, walking two and striking out seven. This was Albright's first scoreless appearance this season and his first time tossing 5.0 scoreless innings since 7/7/2022 (HIL) when he went 7.0 IP and struck out seven. Through five game starts (17.2 IP) in 2023, Alrbight has punched out 22 batters for an 11.5 K/9. Additionally, the right-hander now leads the club among dedicated starters in innings pitched.
TWO BAGS, TWO TIMES: LF A.J. Vukovich went 1-for-4 with a double for Amarillo's first hit of the game. Vukovich's two-bagger was just his second in his Double-A career and his fifth XBH of the campaign in 19 games. Among club mates with at least 15 games played this season, Vukovich's double elevates his slugging percentage to .438 which is good for the fourth highest on the team.
MUCHO INGLESA: 1B Tristin English went 1-for-3 with a double, RBI and a walk. English's go-ahead RBI double was his 11th XBH and 19th RBI in 17 games this season. At the time of the final out, across all D-backs minor leaguers, English posted the third most RBI (19), ninth most walks (12), sixth most TB (41) and tied fourth for XBH (11) and doubles (6) while also tying eight for hits (20). Additionally, English has reached base in every contest this year and is tied second for the longest active on-base streak in the Texas League while holding the crown for the longest active hit streak with 11.
DOES HE EVER MISS?: 2B Ryan Bliss went 1-for-4 and scored Amarillo's sole run of the contest. Bliss has now hit safely in 18 of his 19 games played this season while clipping a Texas League-best .402 AVG (35-for-87) while also leading the league in knocks. Bliss wields the second highest average in the Diamondbacks organization and additionally holds down the four spot in OBP (.416), second place in hits and third place in both SLG (.609) and total bases (53). Dating back to 8/4/2022, the second baseman has failed to hit in a contest just five times in 41 games played while slapping 61 total hits and 23 XBH.