Barons and Rain Drench Lookouts in 7-2 Win
The Barons began a new road series in Chattanooga tonight with a rain and run soaked Game 1 against the Lookouts. After two scoreless innings to start the contest, the Barons opened the scoring in the top of the third with Alex Destino's fourth home run of the season. The
Barons Drop Series Finale 4-0 to Trash Pandas
Birmingham only takes one of six from Rocket City
The Trash Pandas topped the Barons 4-0 in the Sunday series finale. Rocket City struck first in the first inning. After slapping an RBI single yesterday, Orlando Martinez did the same on Sunday. This one brought in Ryan Aguillar, who singled to start the game. One inning later, the Trash
 A Pitching Duel Doomed the Barons to Another Late Inning Collapse
The Trash Pandas sent Ky Bush out on the mound, and he did not disappoint. However, neither did the Barons' starter, Kaleb Roper. On Roper's eighth start of the season, almost everything went his way. Unfortunately, though, in the top of the third, a fly ball could not be corralled
Birmingham Drops Game 4 to Rocket City, 8-2
Following Thirsty Thursday's blowout victory, Birmingham turned to the opener to keep the wins rolling. However, in their way stood the Los Angeles Angels' no. 1 overall prospect, Sam Bachman. Although the Pandas' former first-round missed spring training due to injury, he appeared in mid-season form on Friday night. Granted,
Barons Demolish Trash Pandas 16-4
After a disappointing 12-2 loss on Wednesday, Birmingham bounced back with a 16-4 trouncing of Rocket City on Thursday. Sean Burke was immense in his five innings to start. The righty gave up two runs and struck out eight batters in his first win of the season. His run support
Barons Drop 6-5 Heartbreaker to Trash Pandas
The Barons dropped the first game of their homestand against the Trash Pandas 6-5. Birmingham starter Scott Blewett got off to a shaky start. The righty allowed one run in each of the first two innings. In the first frame, Zach Humphreys tripled as the second batter of the game.
Barons Host Interstate Rival Trash Pandas at Regions Field, May 17-22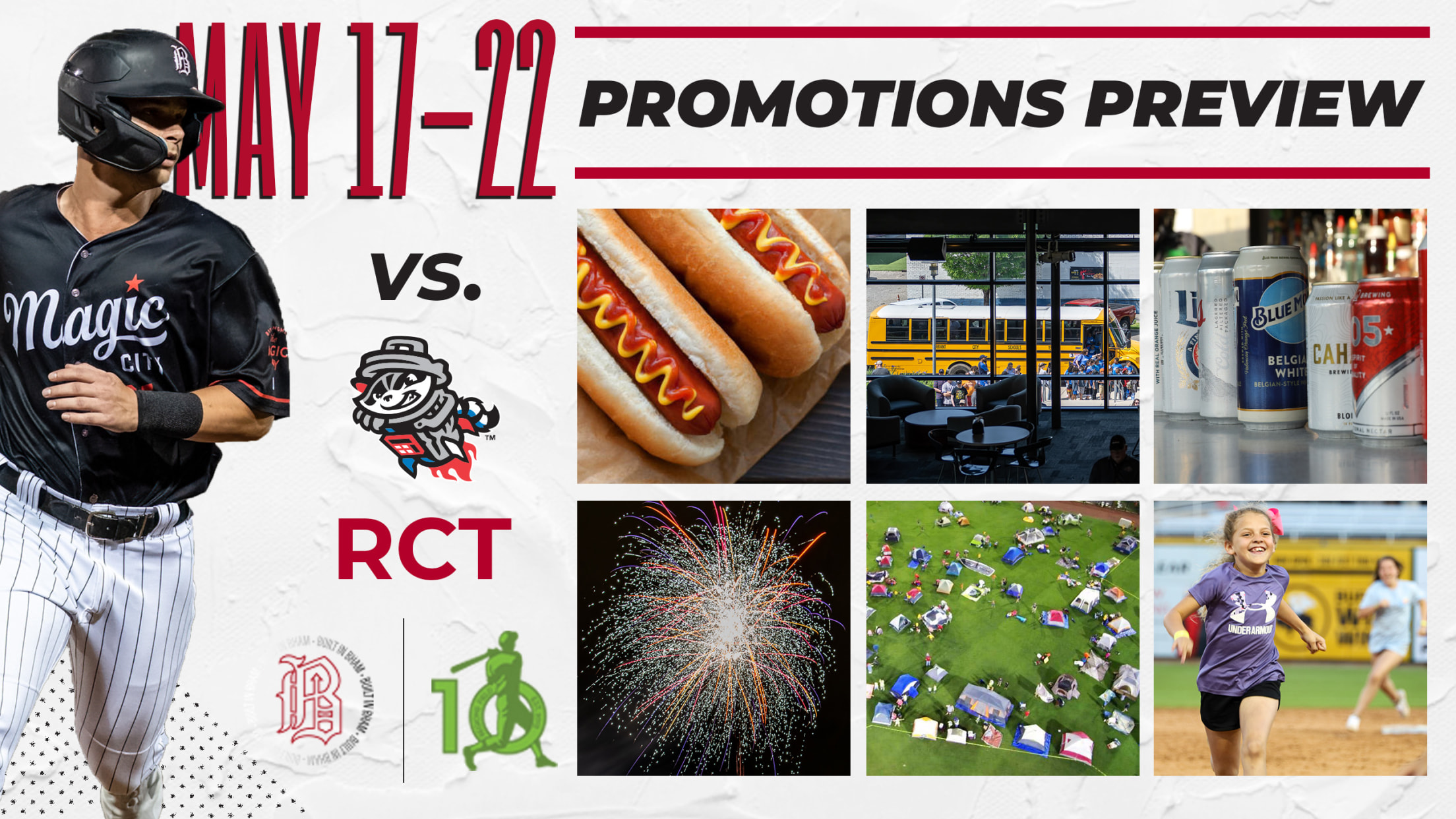 After a six-game road set against Biloxi, the Birmingham Barons return home for a series against the Rocket City Trash Pandas. From Tuesday, May 17th until Sunday, May 22nd the Barons will be playing their fourth home stand of the season versus the Anaheim Angels' Double-A affiliate. The home stand
Shuckers' Home Runs Terrorize Barons Pitching Staff in 8-3 Series Finale Loss
The series finale at MGM Park in Biloxi unwittingly turned into an impromptu, mid-game home run derby as the Shuckers continued their onslaught against Barons pitchers, recording a franchise record six home runs in their 8-3 win on Sunday. Sunday's contest began well enough for the Barons and starting RHP
Birmingham Shut Down by the Long Ball in 13-3 Loss to Biloxi
In his AA baseball debut, Sean Burke came out firing. Burke started out strong by easily setting down the Shuckers in the first on just seven total pitches. Then, the 6'6" right-handed pitcher improved by striking out the side in the second. Furthermore, his streak extended into the third where,
Barons Offense Unable to Overcome Pitching Woes in 9-4 Loss to Shuckers
While the Barons managed to hang in the game offensively through five innings, a fortuitous sixth inning for the Shuckers secured the 9-4 win this Friday the 13th. Xavier Fernandez opened the scoring in the first inning with his first home run of the year, getting the Barons an early
Barons Top Shuckers in Game 3, 5-3
The Barons picked up their second win of the series against the Shuckers at MGM Park Thursday night by a final score of 5-3. Birmingham's first run came off a bases-loaded walk issued by Biloxi's RHP Justin Bullock in the top of the second, but the Shuckers would quickly respond
Barons With Offensive Overload in Game 2 Against Shuckers 
On Wednesday morning, the Barons broke into the score column first for the 18th time in 29 games this season. It only took Lenyn Sosa three pitches to do so as he launched a wall-scraping homer over the right-field fence. The Shuckers would answer relatively quickly, though. After Scott Blewett
Barons Comeback Comes Up Short in Walk-Off Loss to Shuckers
For just the second time this season, the Barons faced a non-divisional opponent in the Biloxi Shuckers. However, in their last meeting in Birmingham, the Barons stifled the once 8-1 Shuckers by defeating them in five of the six outings. Last time, it was Birmingham ending Biloxi's hot start, but
Barons Drop Smokies Series Finale 9-2
The Barons lost the final bout of a six game set to the Smokies 9-2. After a clean first inning, Jason Bilous encountered a great deal of trouble in the second. The right-handed pitcher allowed five runs on five hits. That second inning was rocky enough to boot him from
Birmingham Handles Tennessee 6-2 in Series Penultimate 
The Barons took their second win of the Smokies series with a 6-2 win. Birmingham got an outstanding start from left-handed pitcher Steven Moyers. He went 5.2 IP, which was just the third time all season that a Barons starter made it to the sixth. Two of those appearances came
Birmingham Unable to Come Back in 9-5 Loss to Tennessee
Like the night before, the Tennessee Smokies and Birmingham Barons were off to the races relatively early. However, Friday night's rendition of the six-game set favored the Smokies. After just nine pitches, Tennessee quickly racked up two base knocks that resulted in an early run. Overall, the story of the
Barons Beat Smokies 15-6 for First Series Win
After dropping consecutive games to start the home stand, the Birmingham Barons bounced back by obliterating Tennessee on Thursday night. On this Cinco de Mayo and Thirsty Thursday, the Barons remained focused on the mission of getting back into the win column. From the game's first pitch, the black and
Barons Drop Game 2 to Smokies
The Barons took their second consecutive loss at the hands of the Smokies 10-4. Birmingham scored first off an Alex Destino single to bring in Lenyn Sosa, who led the first inning off with a double. Chase Strumpf answered the call quickly for Tennessee with a solo shot in the
Barons Comeback Falls Short in Game 1 Loss to Smokies
The Barons took a tough loss in the opening game of the home stand against the Smokies 3-2. All of the Tennessee runs were scored in the first inning. Darius Hill smacked his second homer of the season to lead off the game. Shortly after that, Christopher Morel was plated
Barons Back Home Against Tennessee Smokies, May 3-8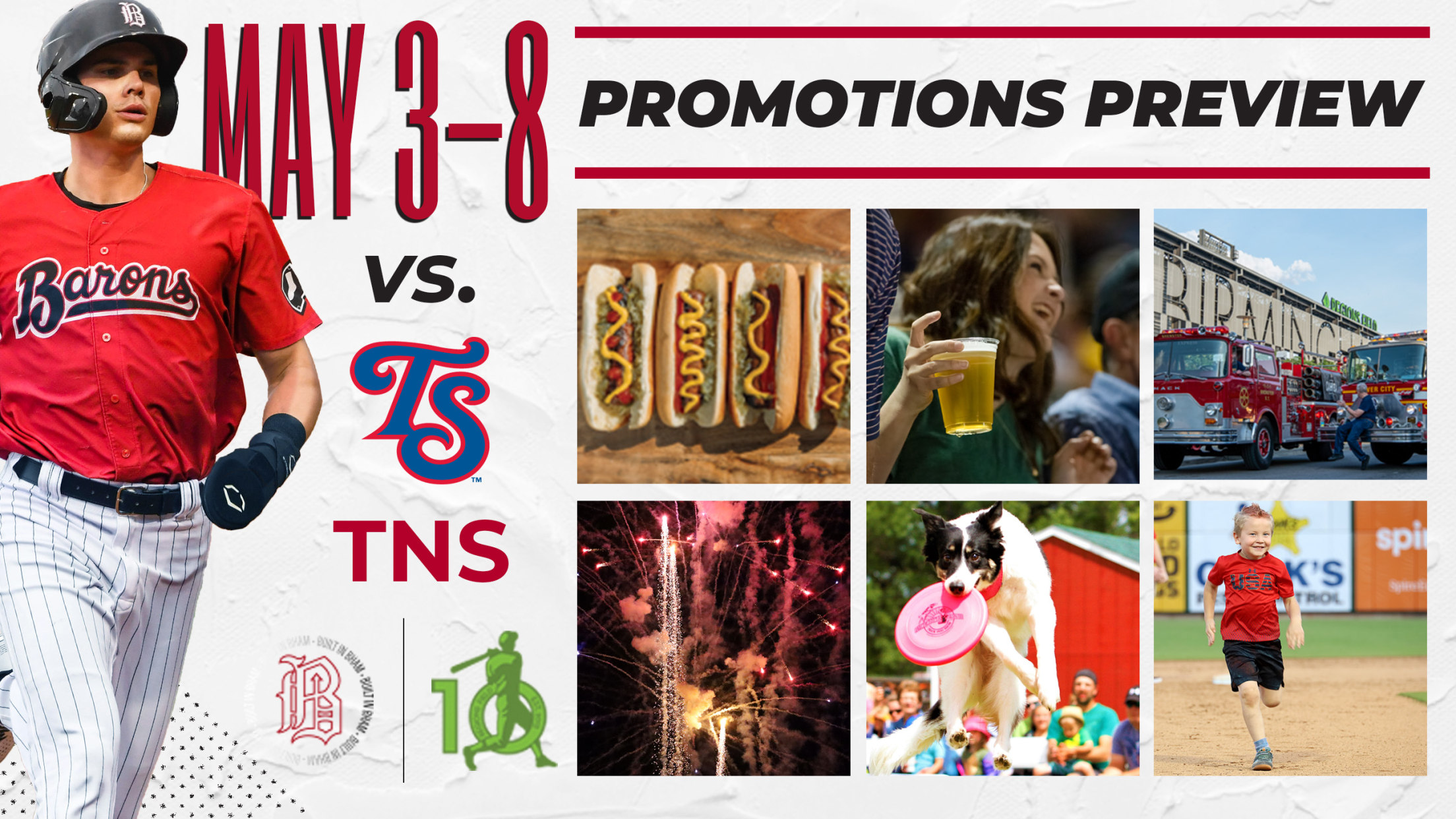 After a road trip to Rocket City, the Birmingham Barons are back in the Magic City this Tuesday, May 3rd until Sunday, May 8th for the third home stand of the year. The Barons will be hosting the Tennessee Smokies, the Double-A affiliate of the Chicago Cubs. The home stand
Barons Win Final Game in Series Against Shuckers
The Barons capped off their best series of the season with a 7-3 win over the Shuckers. Birmingham took five of the six games in the series. Davis Martin got the start for the Barons, throwing four innings and only giving up one run. That run came in the first
Birmingham Secures Series Win with 5-4 Victory Over Biloxi
The Barons slipped past the Shuckers in the penultimate game of the 6-game set 5-4. Birmingham got hits from each of their first six hitters in the lineup. The scoring got going in the second inning. J.J. Muno singled to left field to bring in Craig Dedelow. That was Muno's
Barons Drop Game 4 of Series, Snapping Win Streak
The Barons three game win streak was snapped with a 6-5 loss to the Shuckers, the third straight one run game between the two. Biloxi struck first in the opening frame. Felix Valerio singled to centerfield off of Birmingham starter Kaleb Roper. The righty then threw a wild pitch, allowing
Birmingham Takes Game 3 For Third Straight Win 
The Barons are up to three wins in a row after a 4-3 victory over the Shuckers. Birmingham got five strong innings from starter Jason Bilous. The righty only gave up a run in the first inning, but settled down from there. Bilous retired eight of the final nine batters
Barons Win Second Straight Over Shuckers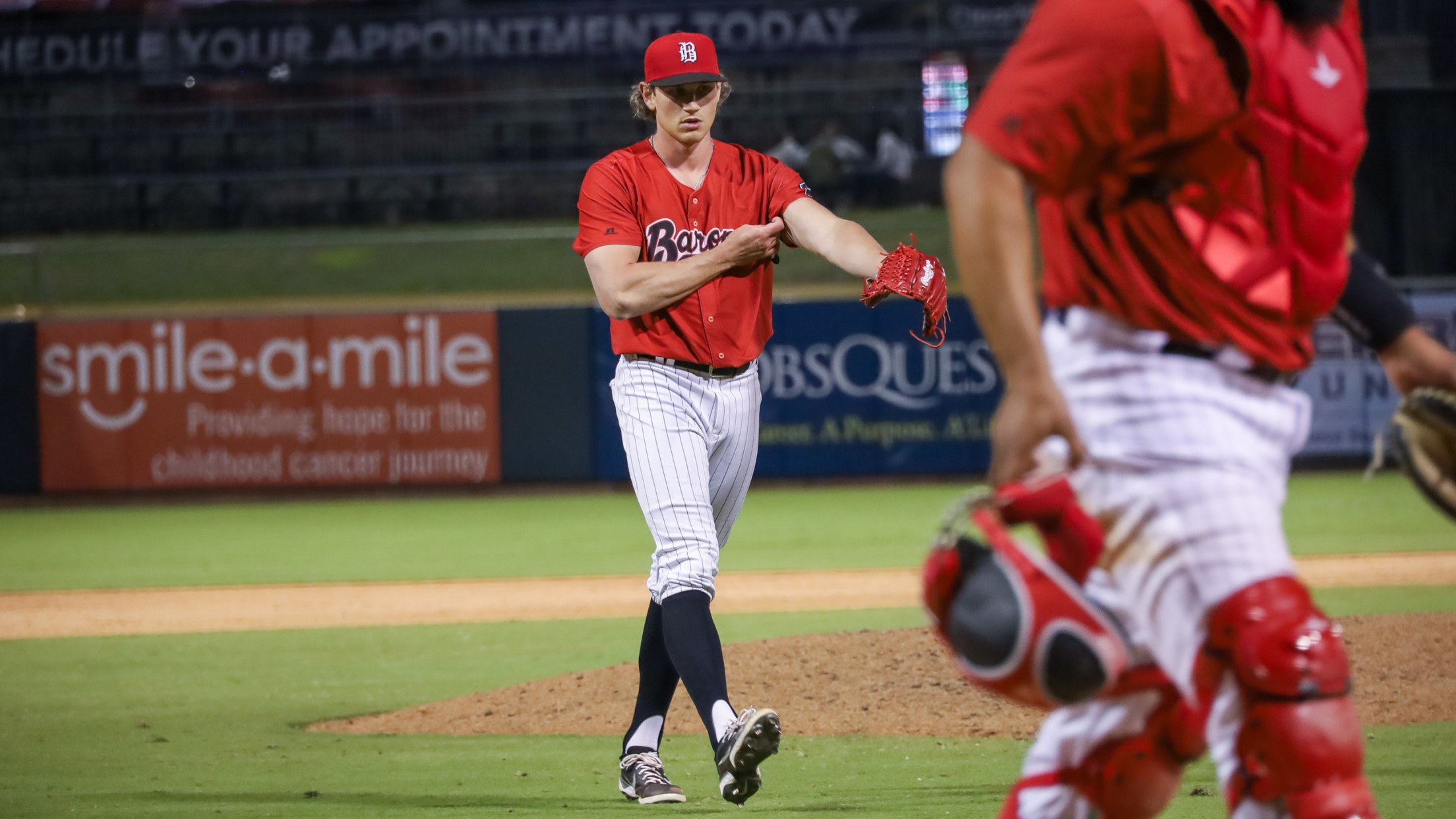 The Barons have made it two in a row for the first time all year with a narrow 6-5 win over the top-team in the Southern League, the Biloxi Shuckers. Birmingham batting was early and often. The Barons scored two runs in each of the first two innings. Seven of