Baysox Nearly Blanked By Senators on Wednesday Night
BOX SCORE BOWIE, MD – Despite a collective nine-hit effort, the Bowie Baysox narrowly avoided their second shutout of the season, as they fell 3-1 to the Harrisburg Senators on Wednesday evening at Prince George's Stadium. The Baysox pitching staff had an effective night. However, right-handed starter Chayce McDermott struggled
Stallings Slams The Door In Baysox Win Over Senators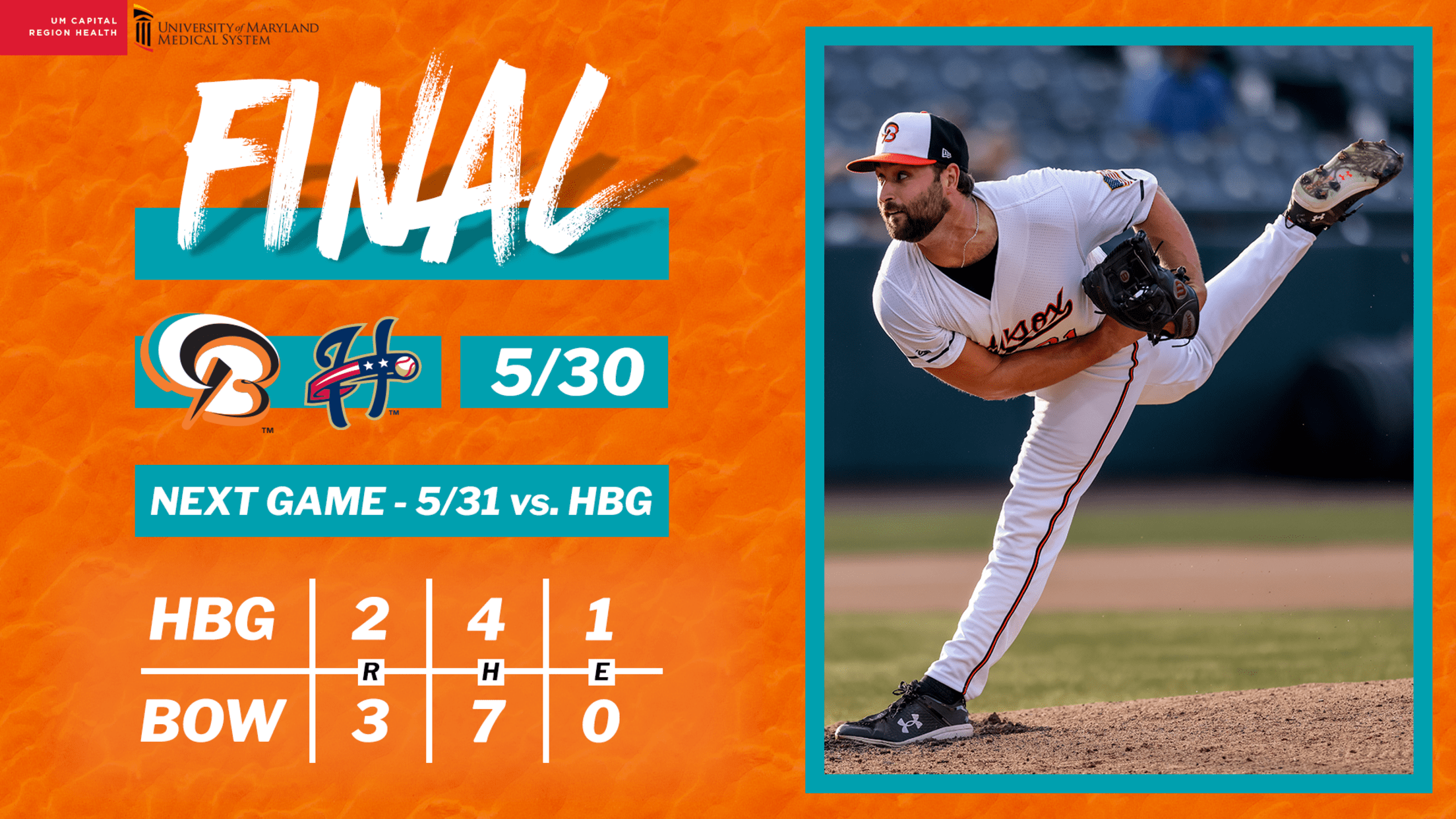 BOX SCORE BOWIE, MD – Right-hander Garrett Stallings provided five dominant shutout innings, as the Bowie Baysox opened up their six-game series against the Harrisburg Senators with a 3-2 victory on Tuesday night. Stallings entered out of the bullpen for Bowie, in the back end of a tandem with right-hander
Four Runs Not Enough As Bowie Squanders Series Finale in Akron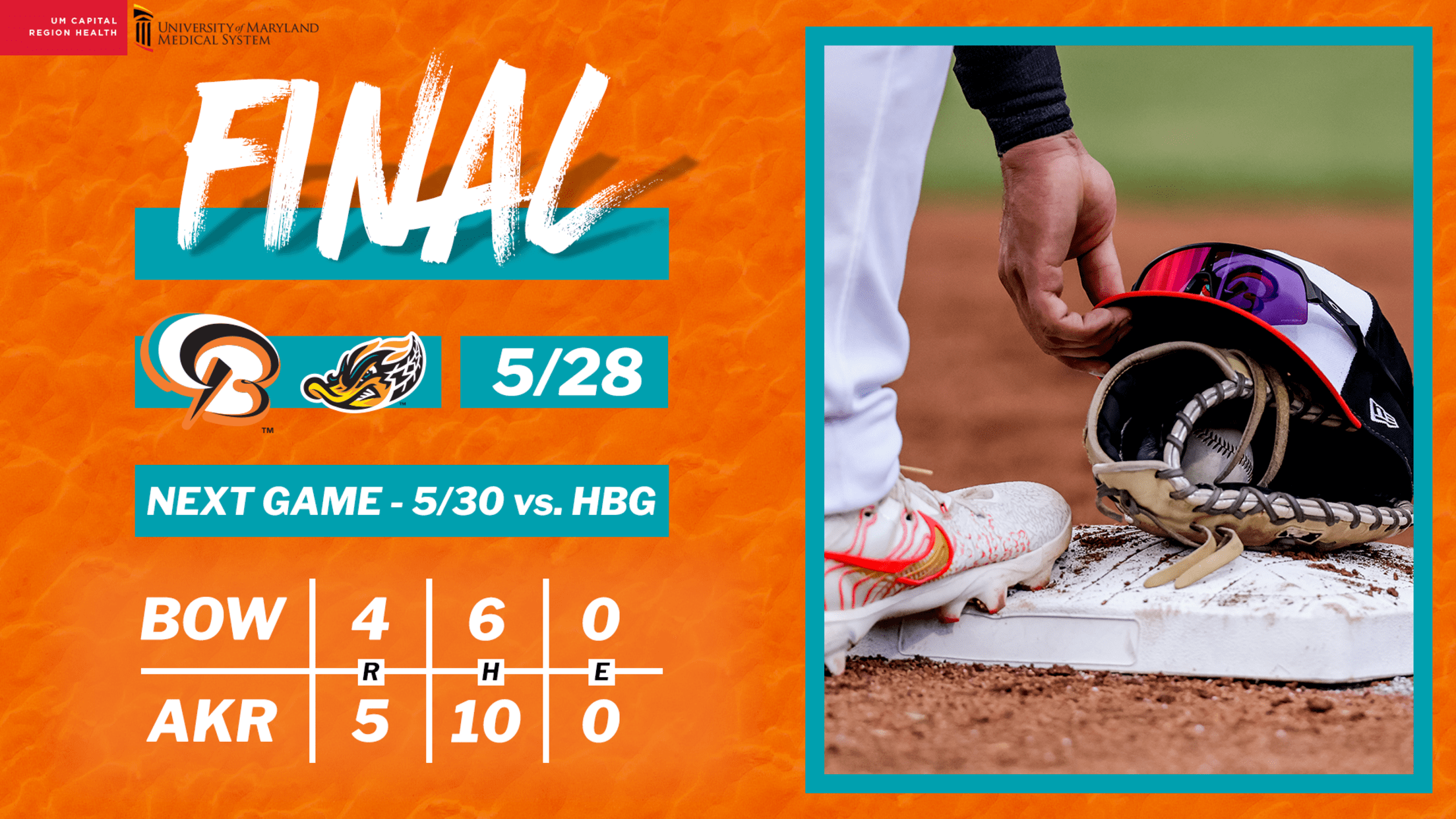 BOX SCORE AKRON, OH – Trying to cap their most successful series of the season with a win on Sunday night, the Bowie Baysox were instead dealt a gut-punch loss by the Akron RubberDucks. Bowie had belted ahead to a 4-0 lead in the first half of their finale at
Pitching Staff Stays Strong as Bowie Collects Fourth Win Over Akron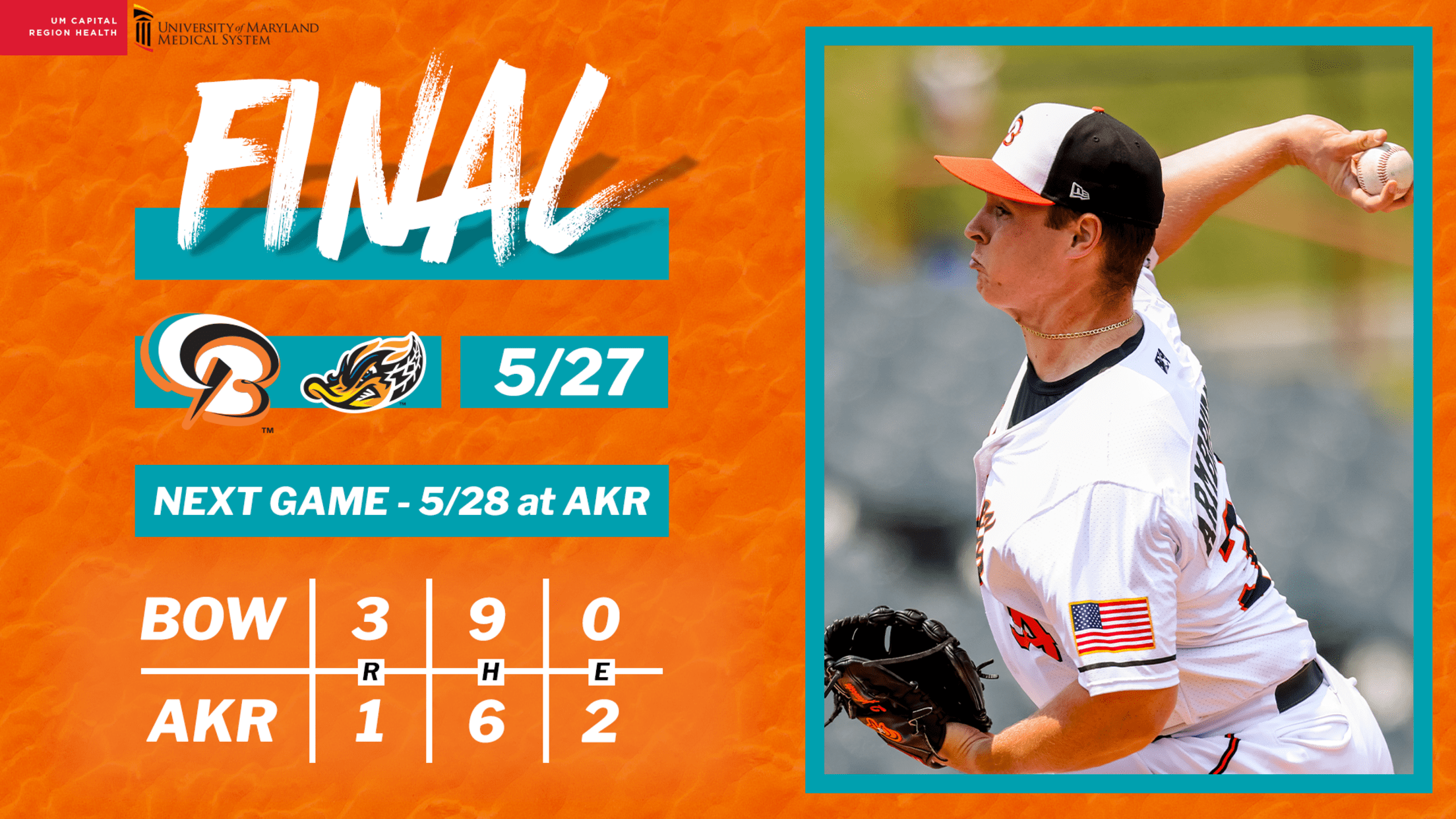 BOX SCORE AKRON, OH – Continuing what has shaped out to be their most successful series of the season, the Bowie Baysox captured their fourth win of the week on Saturday night, taking down the Akron RubberDucks 3-1. Justin Armbruester fired five scoreless innings to lower his staff-leading ERA to
Baysox Outlast RubberDucks to Win Thrilling Friday Night Affair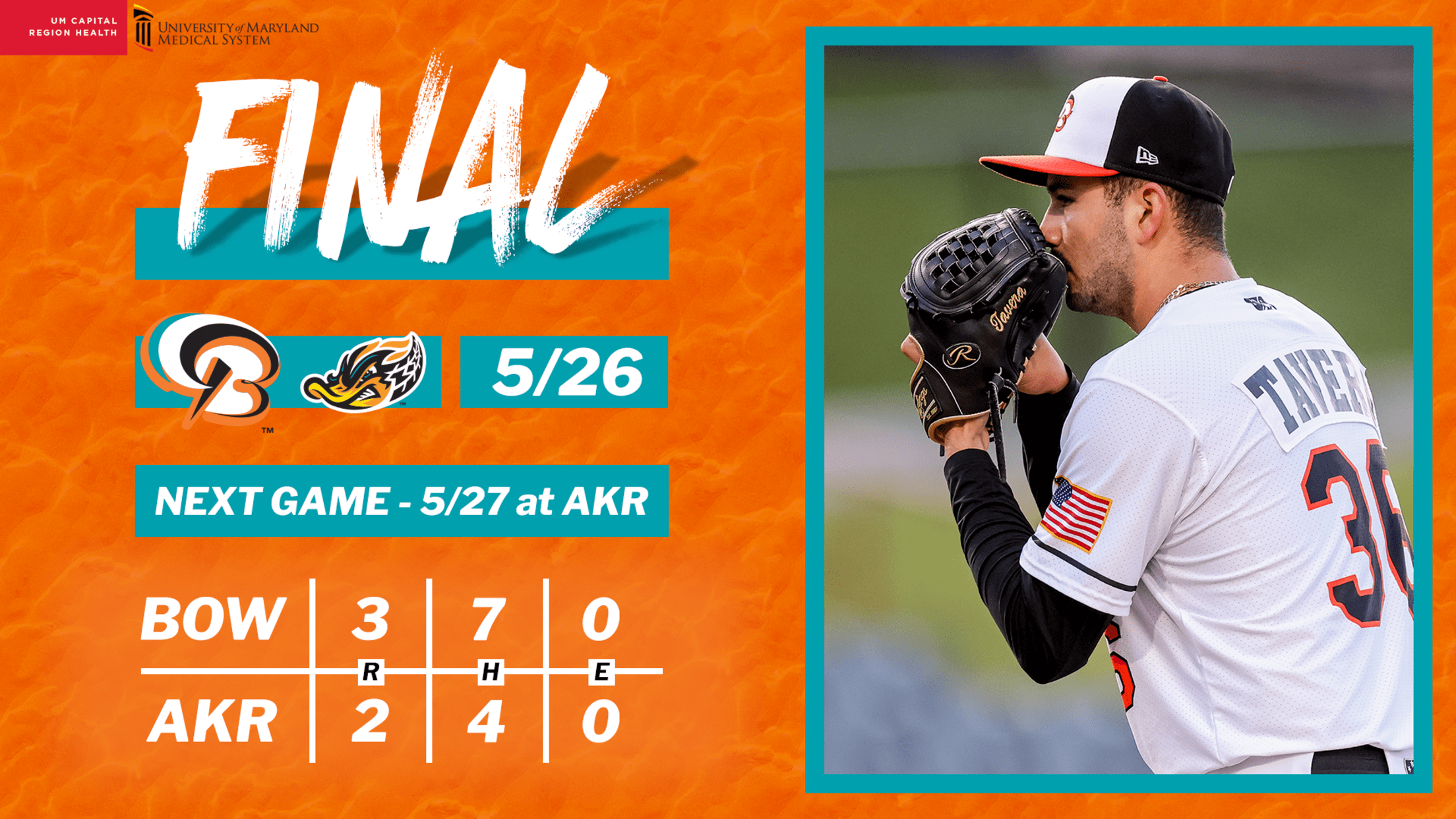 BOX SCORE AKRON, OH – A thrilling night in Ohio, the Bowie Baysox prevailed in a one-run contest with the Akron RubberDucks on Friday. After pushing ahead to an early three-run lead, backed by five hitless innings from Carlos Tavera, the Baysox held on just enough to win their third
Slow Offense Overshadows Strong Pitching as Bowie Falls to Akron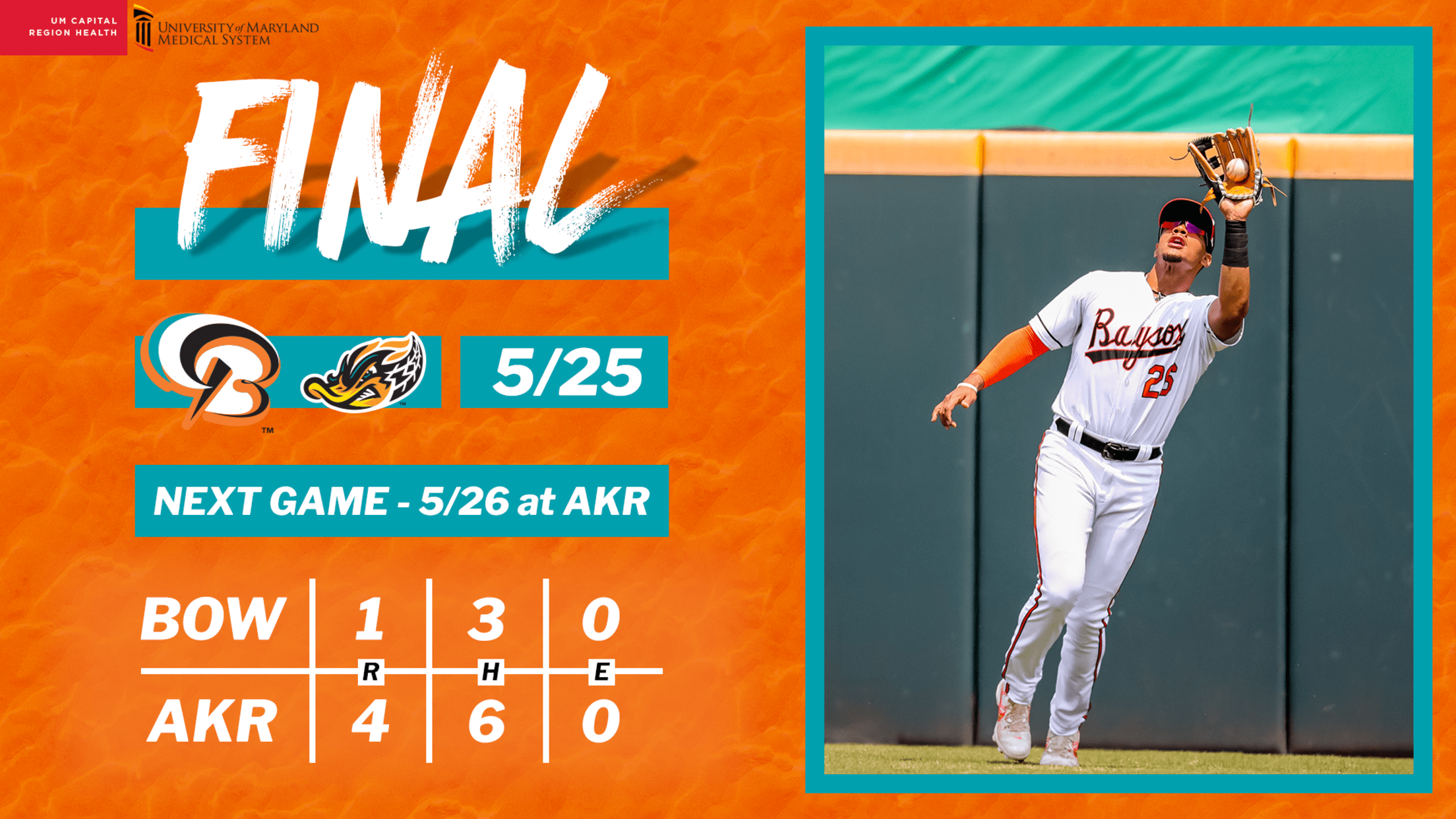 BOX SCORE AKRON, OH – Chasing history again, the Bowie Baysox were instead served a tough loss by the Akron RubberDucks on Thursday. After starting the fifth nine-inning no-hitter in franchise history on Friday, Chayce McDermott opened with another five hitless innings, but was eventually on the wrong end of
Bowie Blanks Akron to Win Third-Straight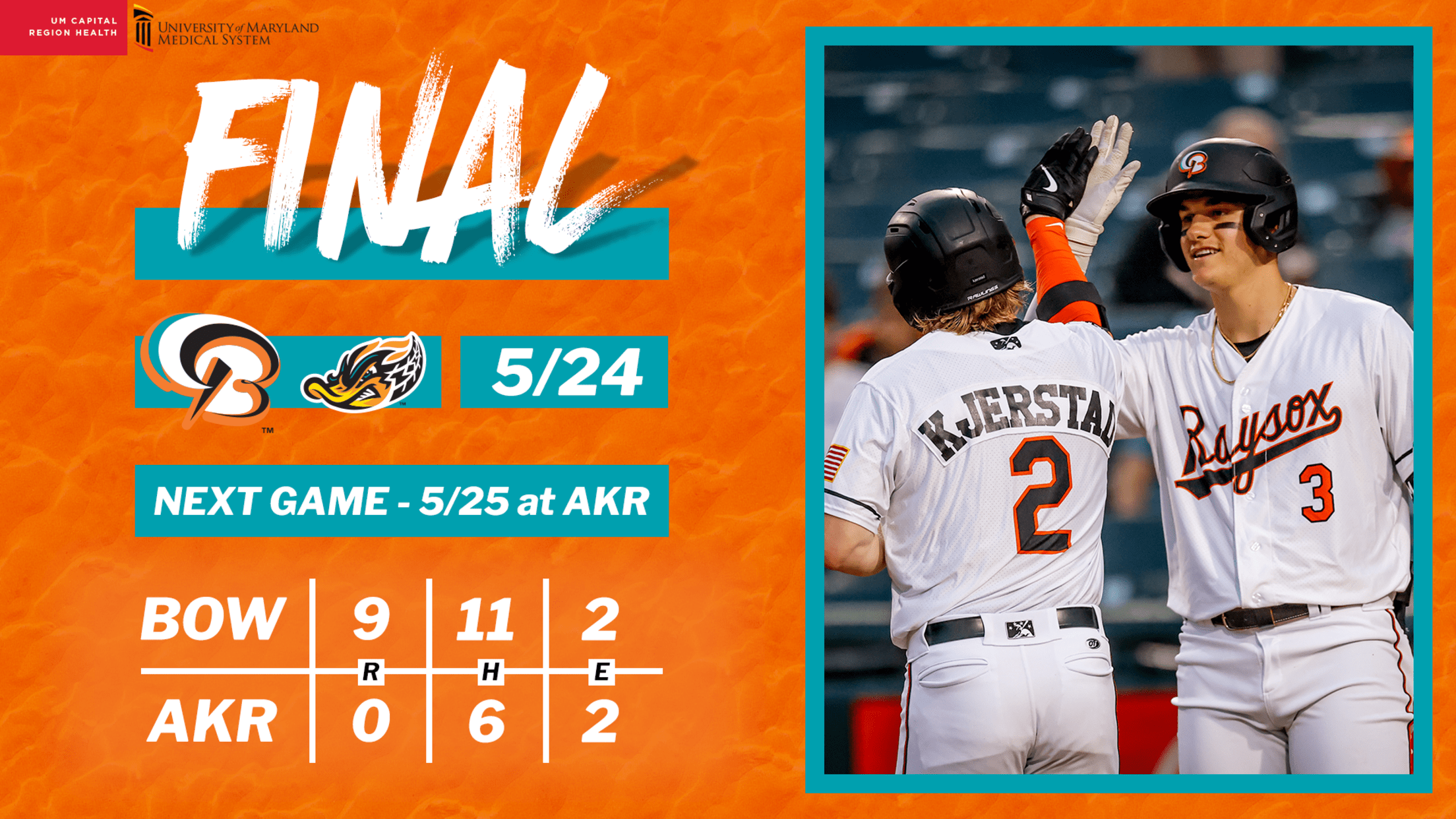 BOX SCORE AKRON, OH – Finally starting to stir after a slow start to the season, the Bowie Baysox put together one of their most dominant wins on Wednesday, as they took down the Akron RubberDucks 9-0 at Canal Park. Garret Stallings and Peter Van Loon combined for the fourth
Baysox To Offer Free Kids Clinic For PLAY BALL Weekend on June 11
BOWIE, MD – The Bowie Baysox are excited to announce a Free Kids Clinic on Sunday, June 11 as a part of MiLB's PLAY BALL Weekend 2023. PLAY BALL Weekend is a league-wide initiative for clubs to engage with their surrounding communities and youth, and the Baysox are excited to
Early Attack on an Early Morning Leads to a Bowie Win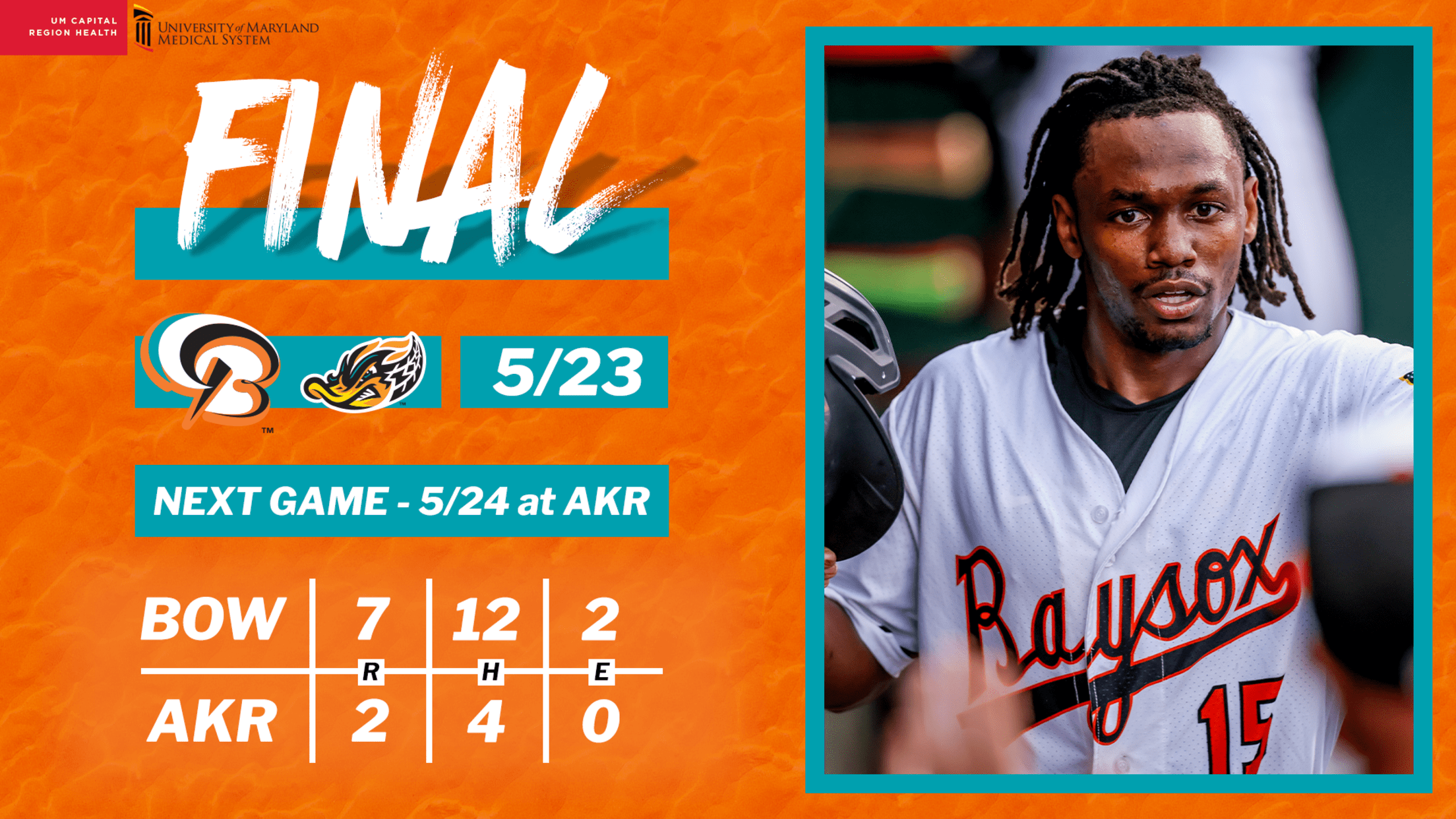 BOX SCORE AKRON, OH – An early morning game became a convincing win for the Bowie Baysox on Tuesday, as Bowie took down the Akron RubberDucks 7-2 in Akron. Coupled with their series-ending win over Altoona on Sunday, it is only the second time this season that Bowie has won
Mayo Instrumental in Baysox Matinee Victory Over The Curve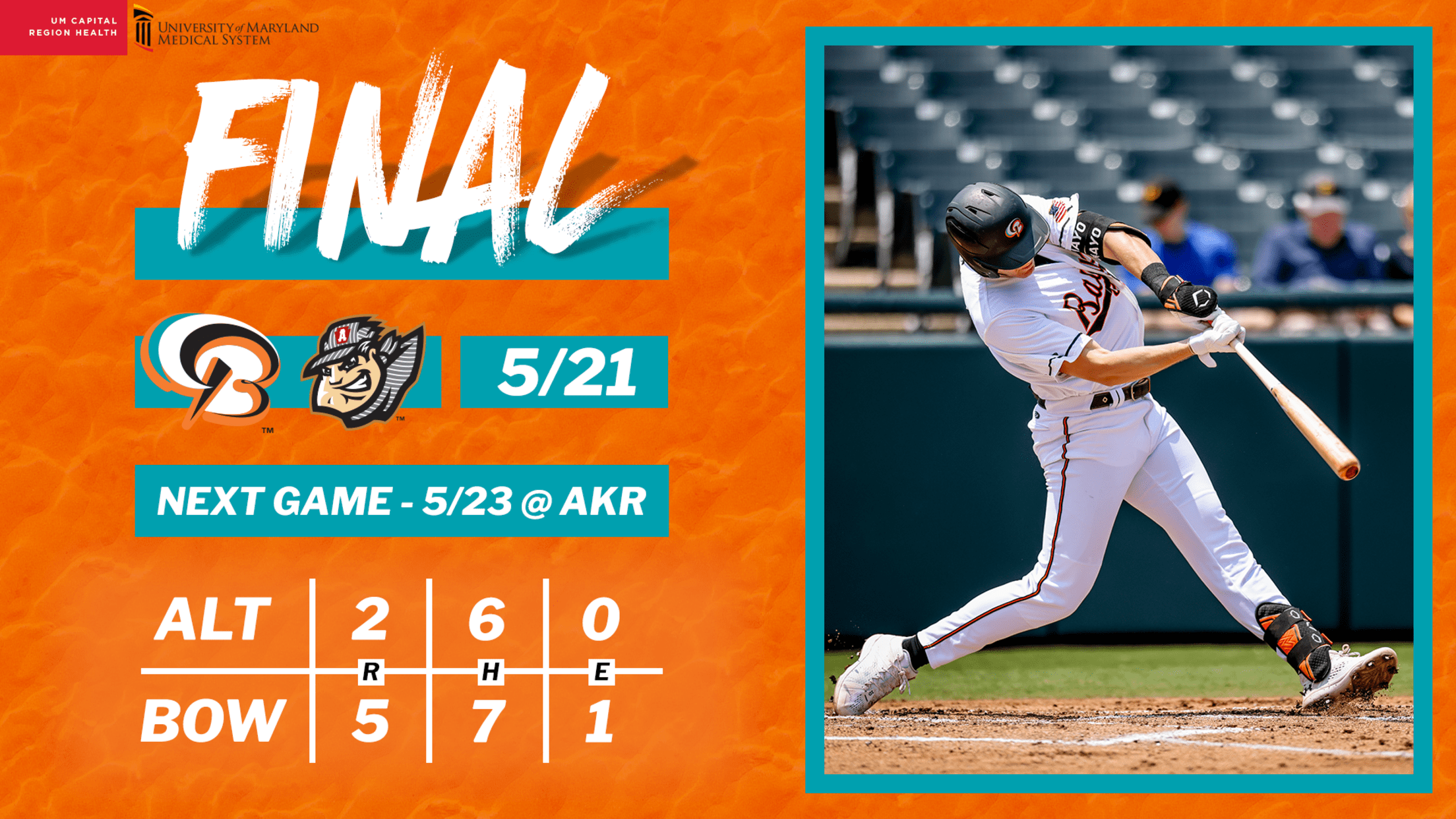 BOX SCORE BOWIE, MD – Three RBI from Coby Mayo, including a two-run home run, powered the Bowie Baysox to a 5-2 victory, salvaging a split in their six-game set with the Altoona Curve Sunday afternoon. Mayo's fifth long ball of the season – the third against the Curve and
Baysox Comeback Hopes Washed Out By Curve In Rain Shortened Saturday Night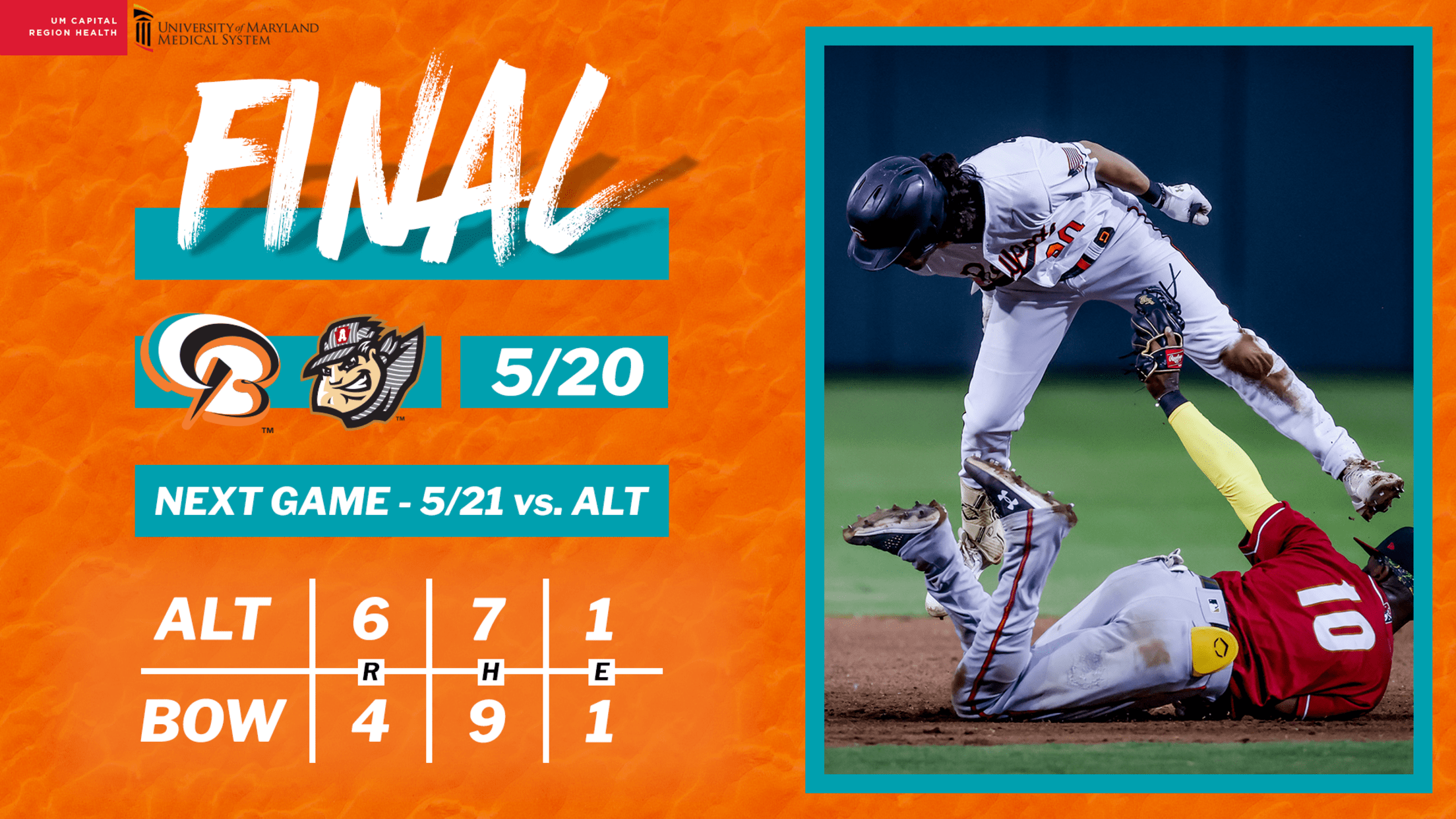 BOX SCORE BOWIE, MD – Two hits from Billy Cook, including a two-run double, could not propel the Baysox to victory, as Bowie fell 6-4 to the Altoona Curve in a rain-shortened contest on Saturday night at Prince George's Stadium. Altoona jumped on Bowie starter Houston Roth within the first
History Made in Bowie on Friday as Three Pitchers Hurl No-No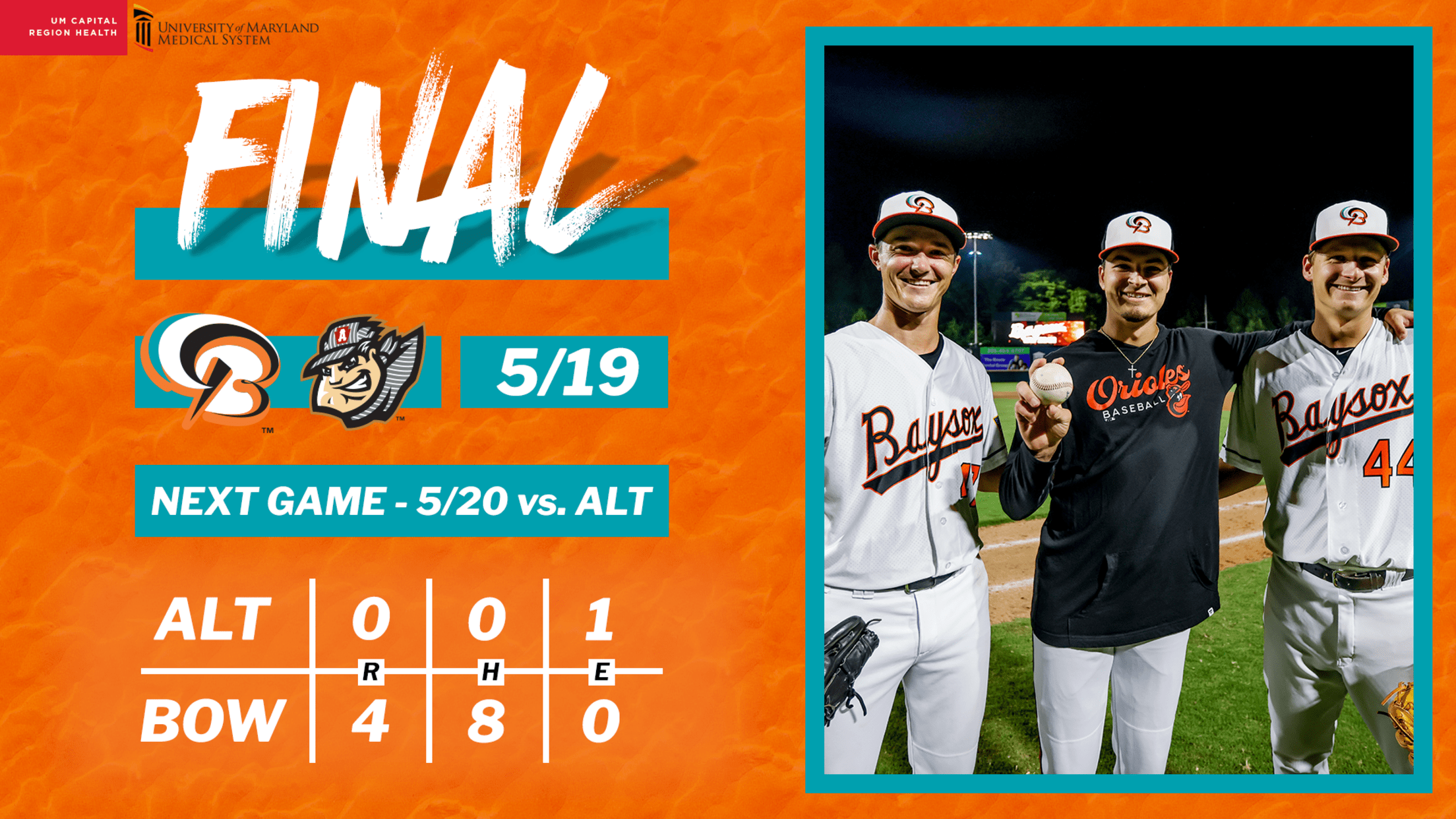 BOX SCORE BOWIE, MD – Chayce McDermott, Nolan Hoffman, and Easton Lucas found themselves facing down history on Friday night as they each climbed the mound for the Bowie Baysox. The three pitchers combined to deliver the fifth nine-inning no hitter in team history, highlighting a 4-0 win over the
Colossal Comeback Effort Comes Up Just Short As Baysox Fall To Curve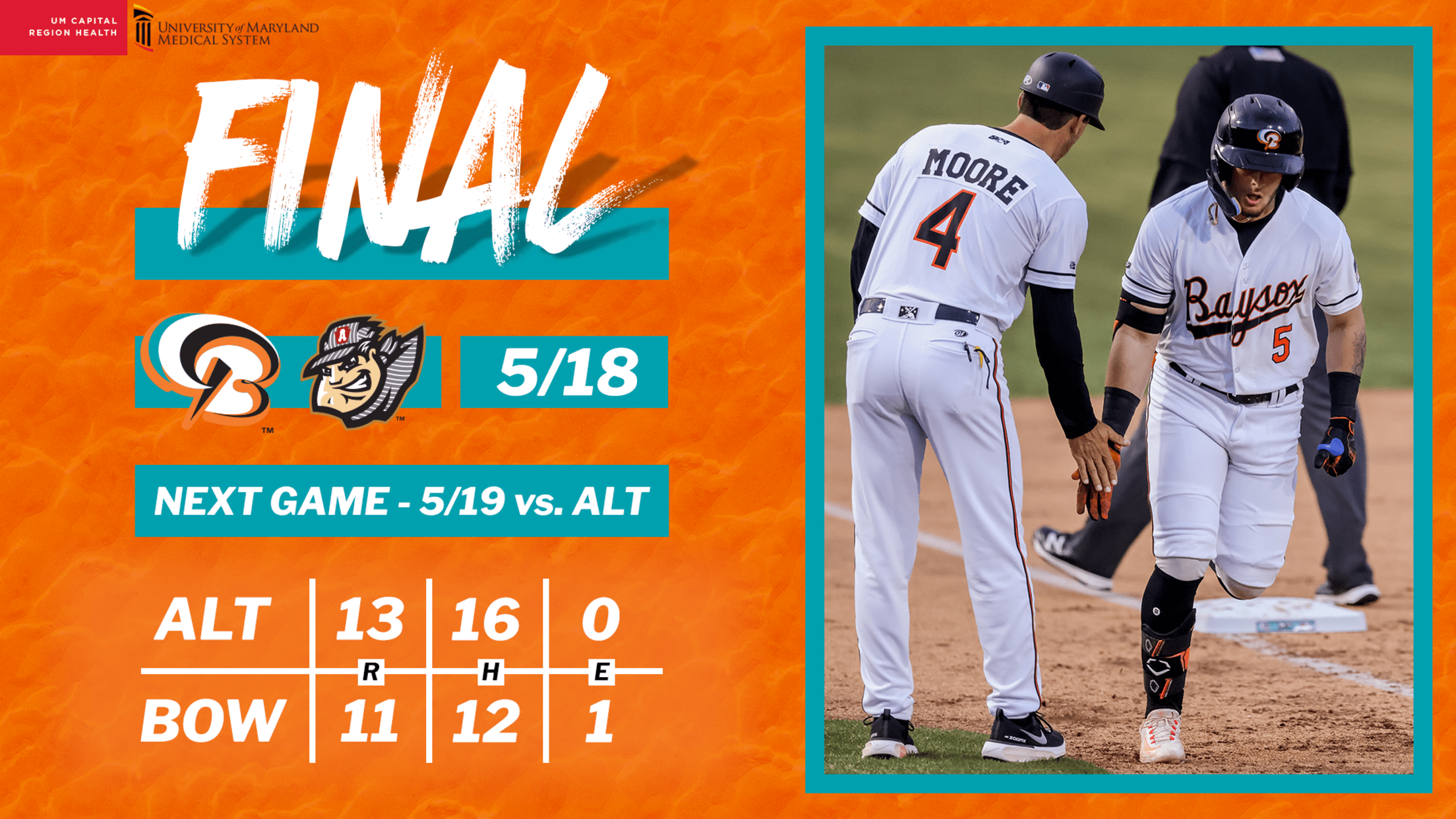 BOX SCORE BOWIE, MD – Despite a furious comeback and a seven-run eighth inning that included a grand slam from Cesar Prieto, the Bowie Baysox fell just short to the Altoona Curve by a 13-11 final on Thursday night. After two scoreless frames to kick off the night for right-handed
Baysox Momentum Derailed by Curve In Wednesday Night Defeat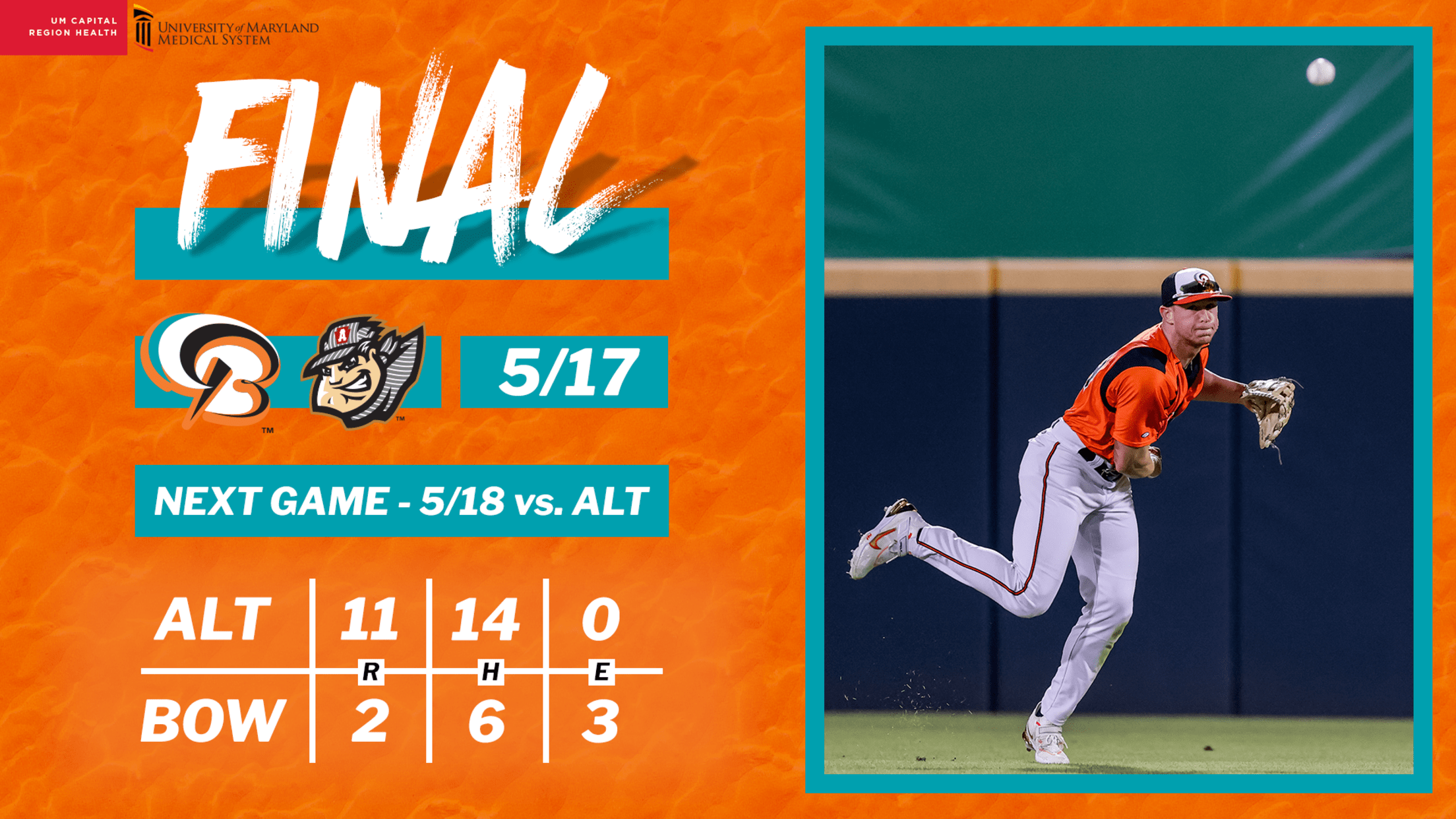 BOX SCORE BOWIE, MD – The Bowie Baysox dropped the second of their six-game set with the Altoona Curve by a 11-2 final on Wednesday night at Prince George's Stadium. The Curve opened it up early on, with three runs in the top of the first inning against Baysox left-handed
Walk-off Wild Pitch Completes Comeback Win for Bowie Over Altoona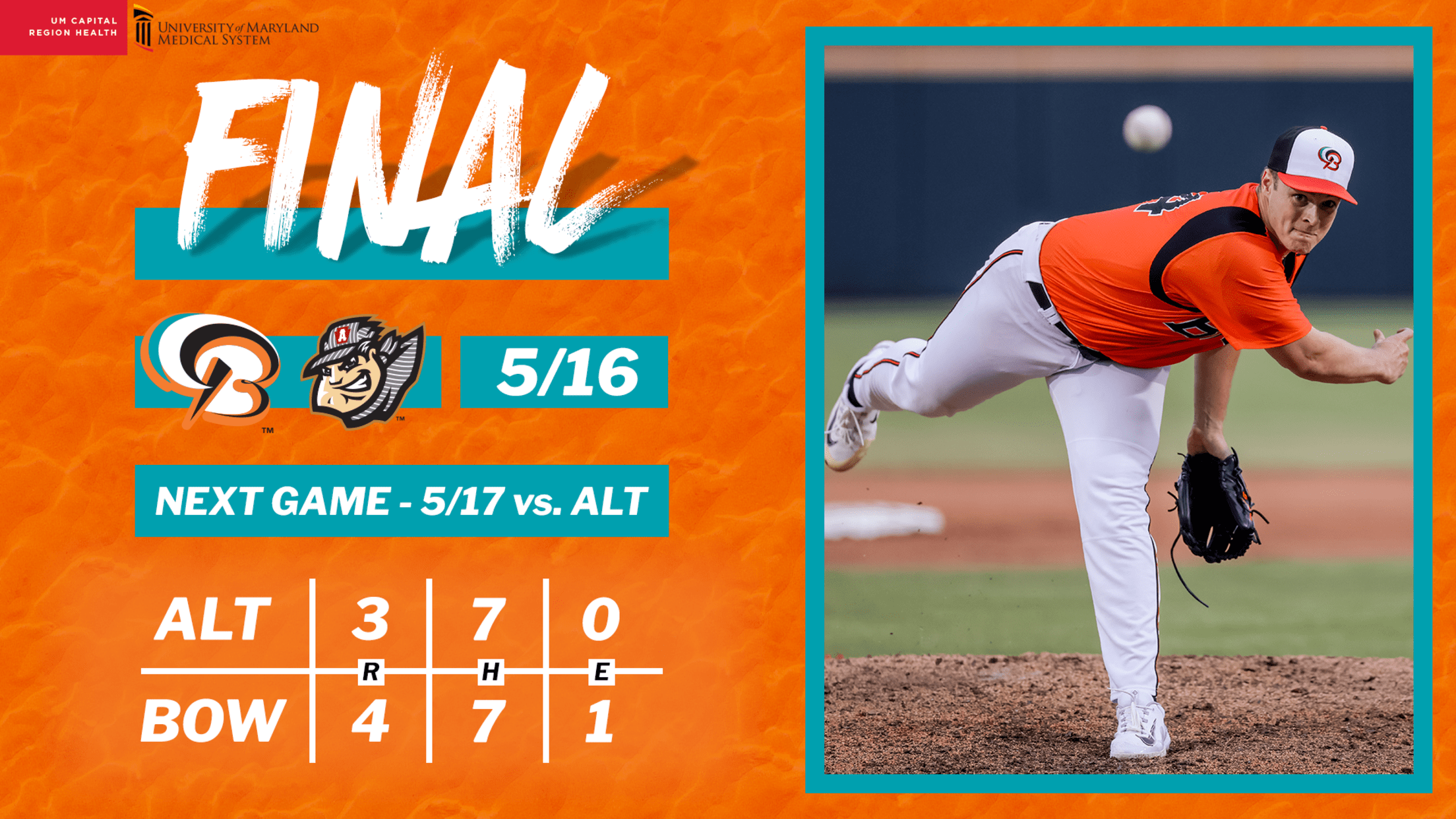 BOX SCORE BOWIE, MD – After six strong innings from Justin Armbruester, the Bowie Baysox rallied from behind to walk-off the Altoona Curve, 4-3, on a wild pitch, Tuesday night from Prince George's Stadium. The first three frames were about as brisk of a pitcher's duel as one could ask
BAYSOX TO HOST COMMANDERS OWNERSHIP CHANGE CELEBRATION THURSDAY, MAY 18TH
All Fans Wearing Team Gear Receive a Day of Game Box Seat for Half Price
The Bowie Baysox, Double-A Affiliate of the Baltimore Orioles, will host a celebration of the Commanders ownership transition! Join the Baysox on Thursday, May 18th for the festivities. "Longtime fans of the Washington franchise are celebrating the news of a sale of the team", Baysox General Manager Brian Shallcross said.
Bowie Dealt First Shutout Loss of the Season in Finale at Harrisburg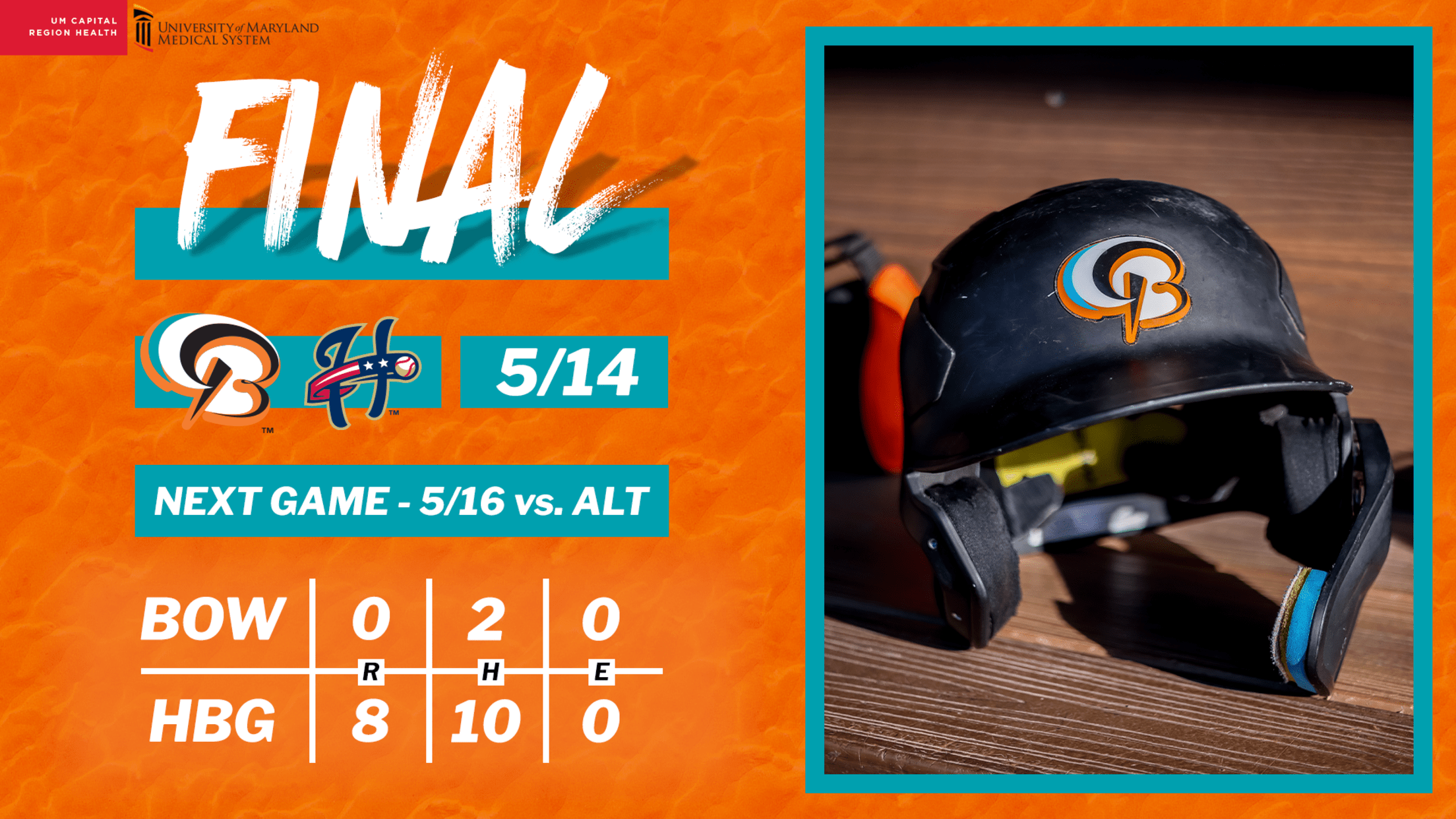 BOX SCORE HARRISBURG, Pa. – The Bowie Baysox dropped the finale of their six-game series with the Harrisburg Senators by a 8-0 final score on Sunday afternoon from FNB Field. Only collecting two hits, it was the first shutout loss of the season for the Baysox. Harrisburg opened the scoring
Bowie Dealt Third Walk-Off Loss of the Season on Saturday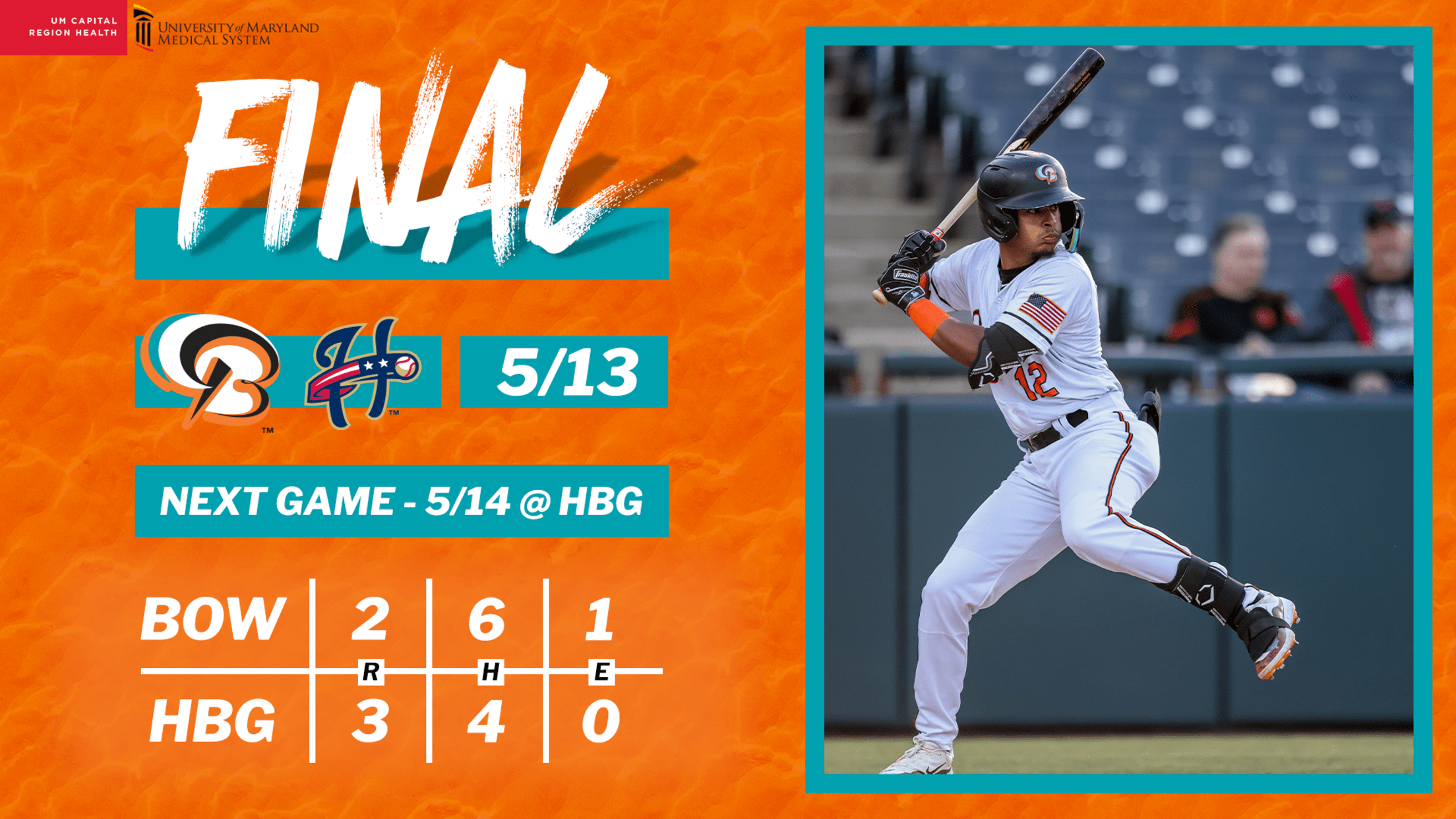 BOX SCORE HARRISBURG, PA – Extra innings continue to plague the Bowie Baysox in 2023, as they dropped their second-consecutive game to the Harrisburg Senators 3-2 in 10 innings on Saturday night. Overcoming an early deficit, the Baysox were forced to settle for extra innings despite putting multiple runners into
Early Lead Lost as Bowie Drops Third Game to Harrisburg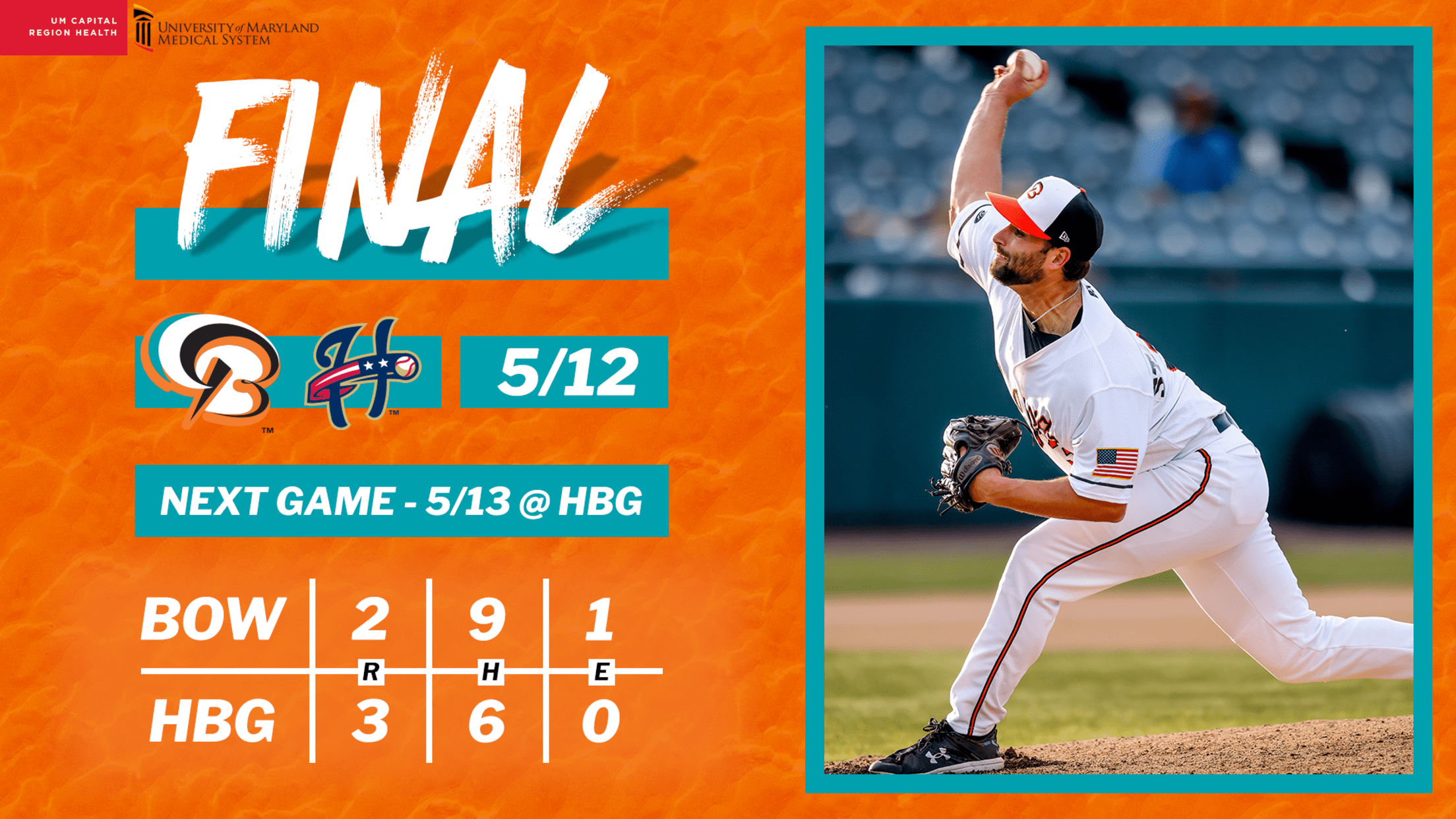 BOX SCORE HARRISBURG, PA – An early multi-run lead was not enough for the Bowie Baysox on Friday night, as they fell to the Harrisburg Senators 3-0. Garrett Stallings strung together five strong innings for Bowie, while three different batters notched multi-hit performances, but a late Harrisburg attack on Peter
Early-Rising Baysox Blast Past Senators on Thursday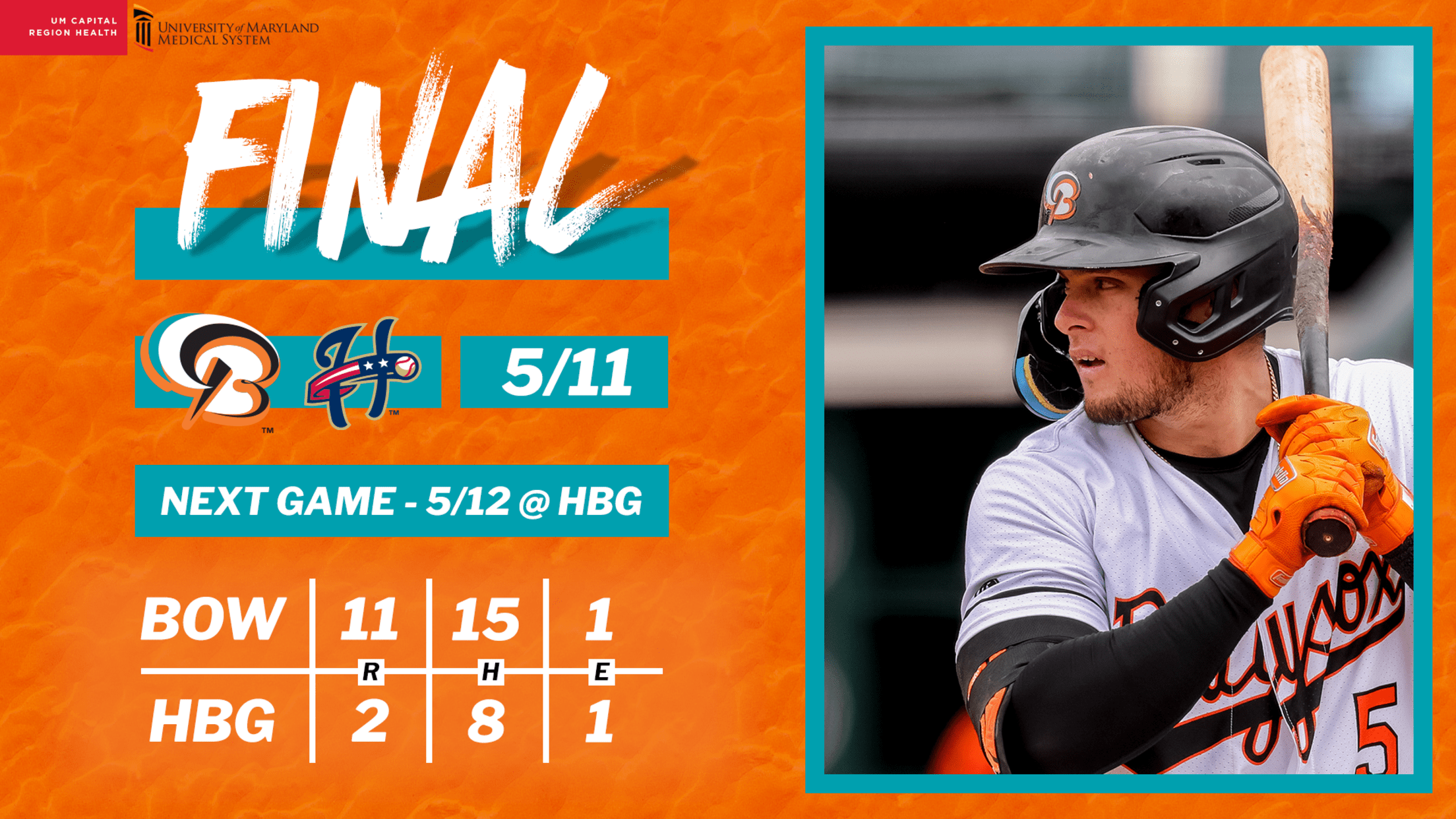 BOX SCORE HARRISBURG, PA – The Bowie Baysox hit the ground running on Thursday morning, cruising to an 11-2 win over the Harrisburg Senators. All nine Baysox batters reached base on the afternoon, with 11 extra-base hits mixed in. The tone of the morning was set exactly at 11:00 a.m.
Late Chances Fall Short as Bowie Drops Second Game in Harrisburg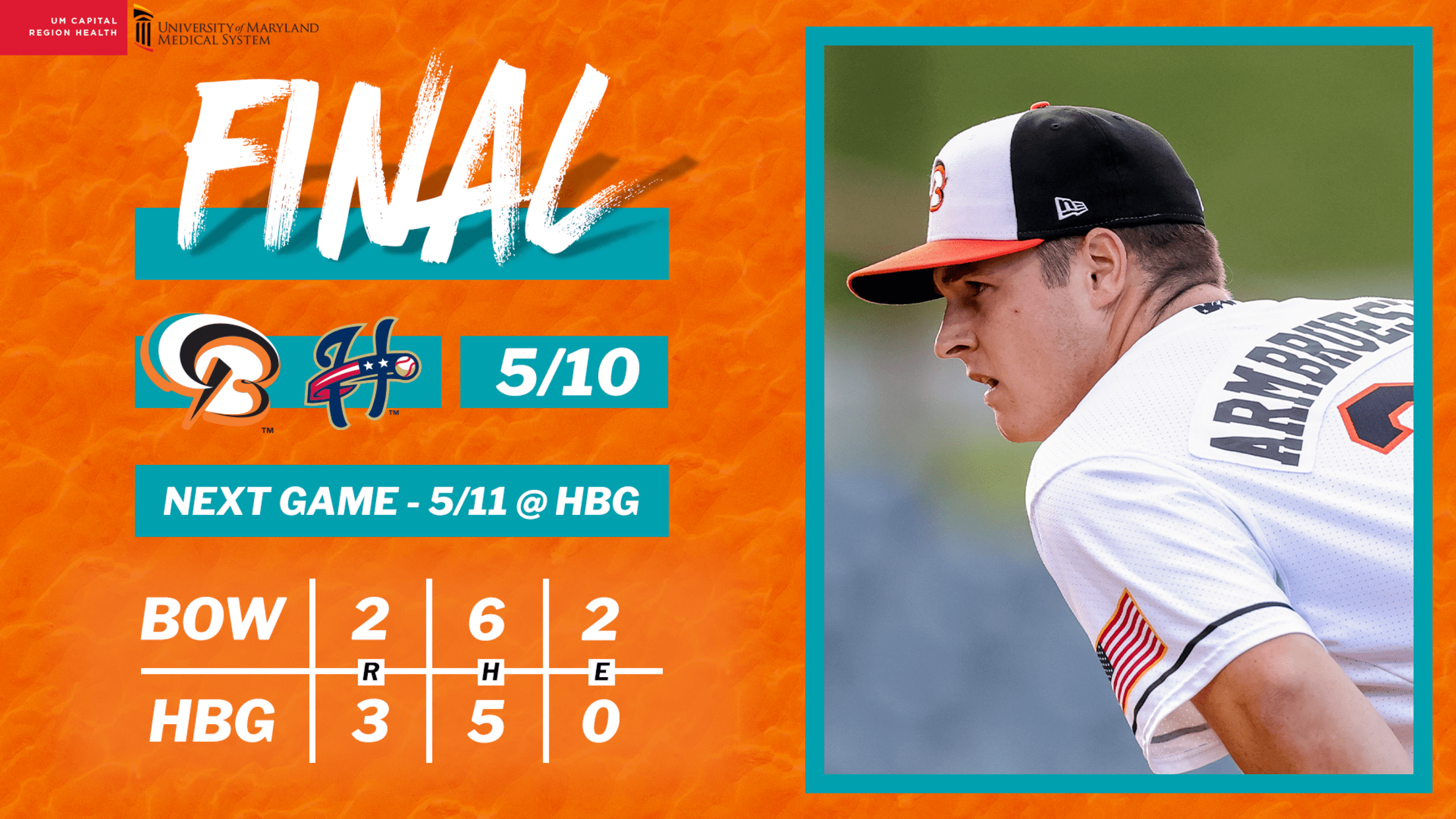 BOX SCORE HARRISBURG, PA – For the second-consecutive night, the Bowie Baysox found themselves leading in the hit column, but on the wrong end of the final score, as they fell to the Harrisburg Senators 3-2 on Wednesday. Bowie stranded eight more runners on base over the course of the
Bowie Falters With Timely Hitting in Series-Opening Loss to Harrisburg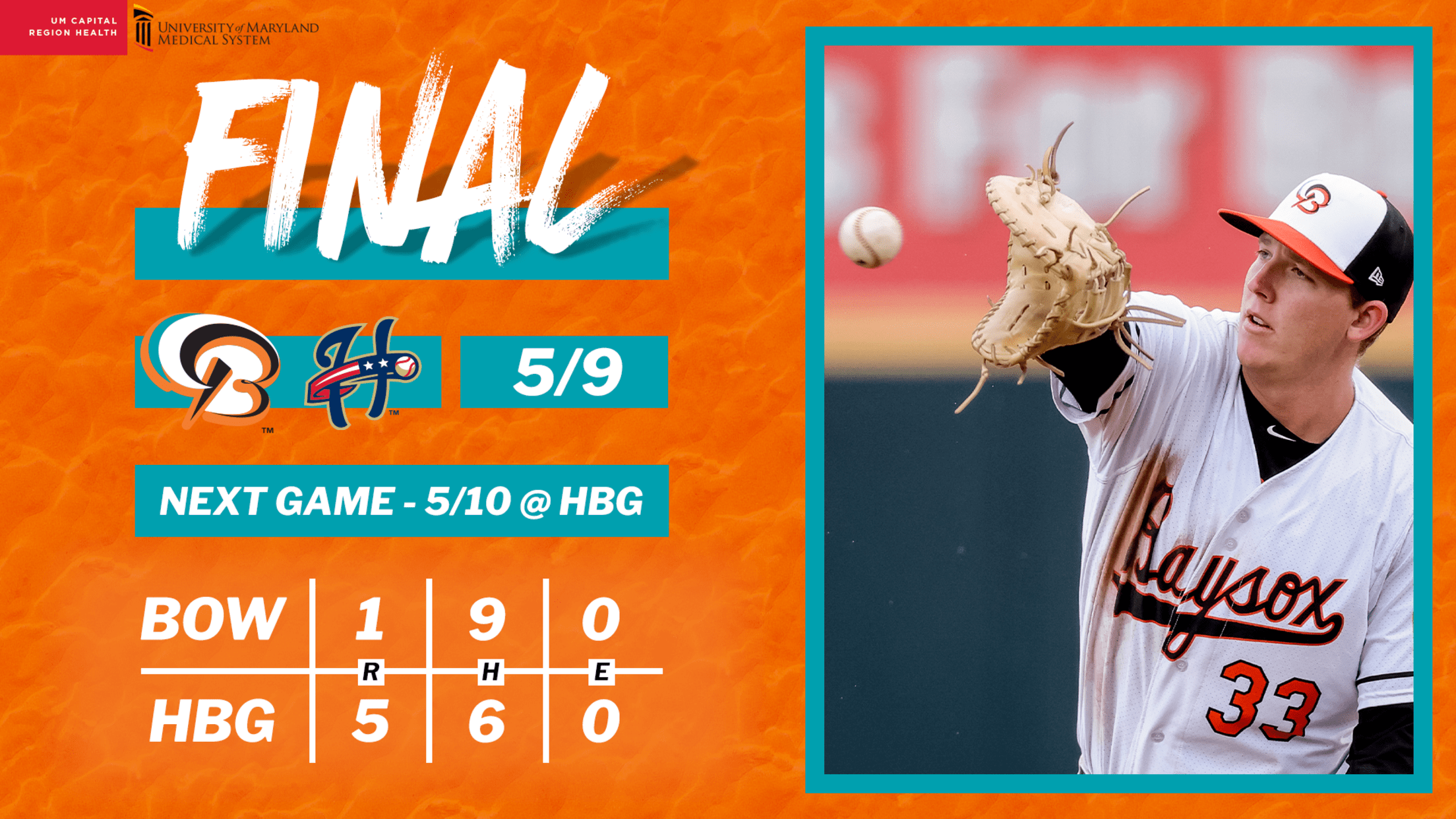 BOX SCORE HARRISBURG, PA – Timely hitting was fairly one-sided on Tuesday night, as the Bowie Baysox began a six-game road trip with a 5-1 loss to the Harrisburg Senators. Bowie collected three more hits than Harrisburg, but went 0-for-8 with runners in scoring position, and left nine runners on
Baysox Blast Their Way To A Win Over The SeaWolves In Homestand Finale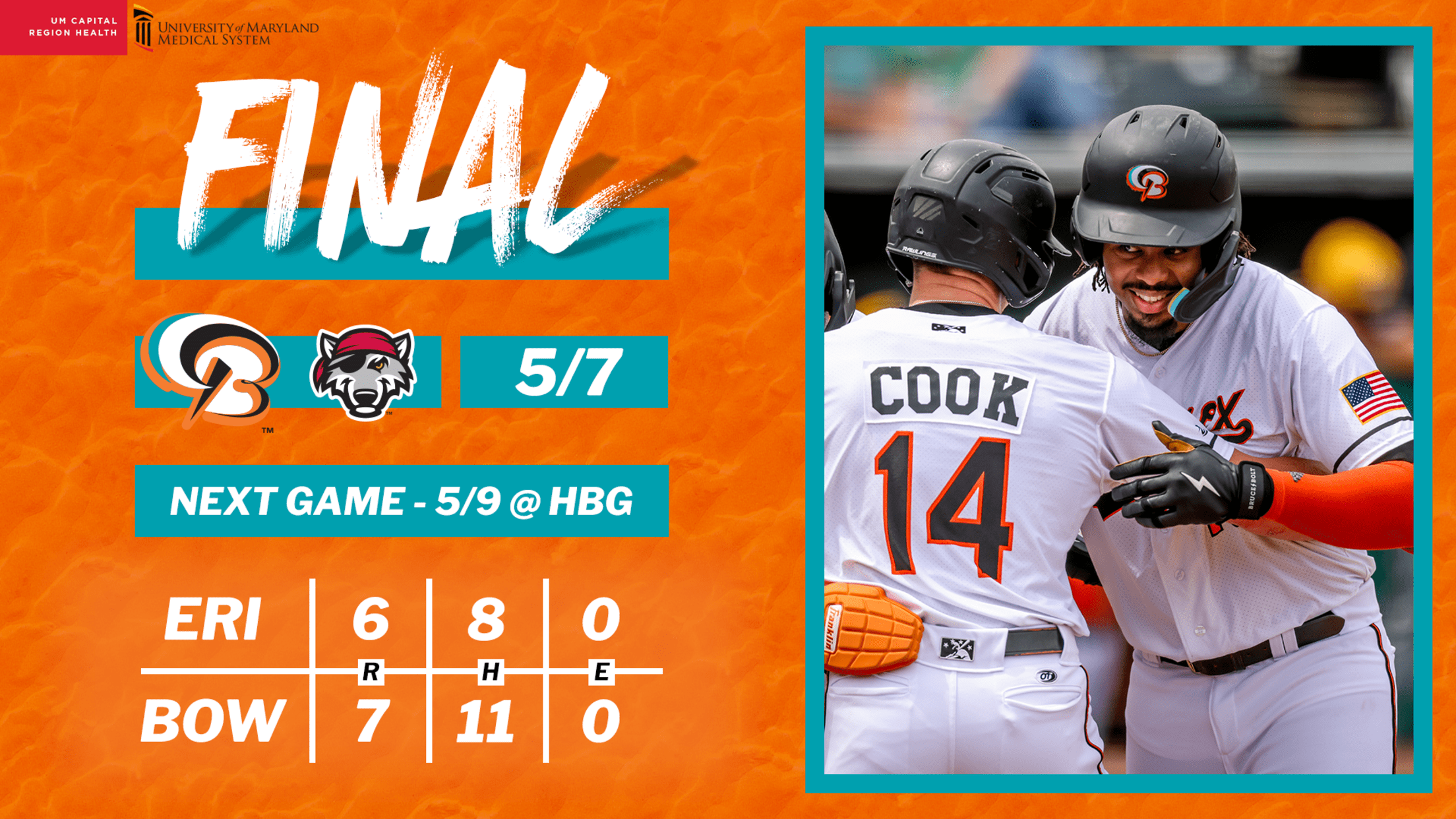 BOX SCORE BOWIE, MD – Three-run home runs from Gilbert Lara and Billy Cook powered the Bowie Baysox to a 7-6 victory over the Erie SeaWolves on Sunday afternoon to end their season-long 11-game homestand. In a rematch of Tuesday's starting pitching matchup, Baysox right-hander Chayce McDermott squared off against
SeaWolves Six-Run Third Sinks Baysox In Saturday Night Affair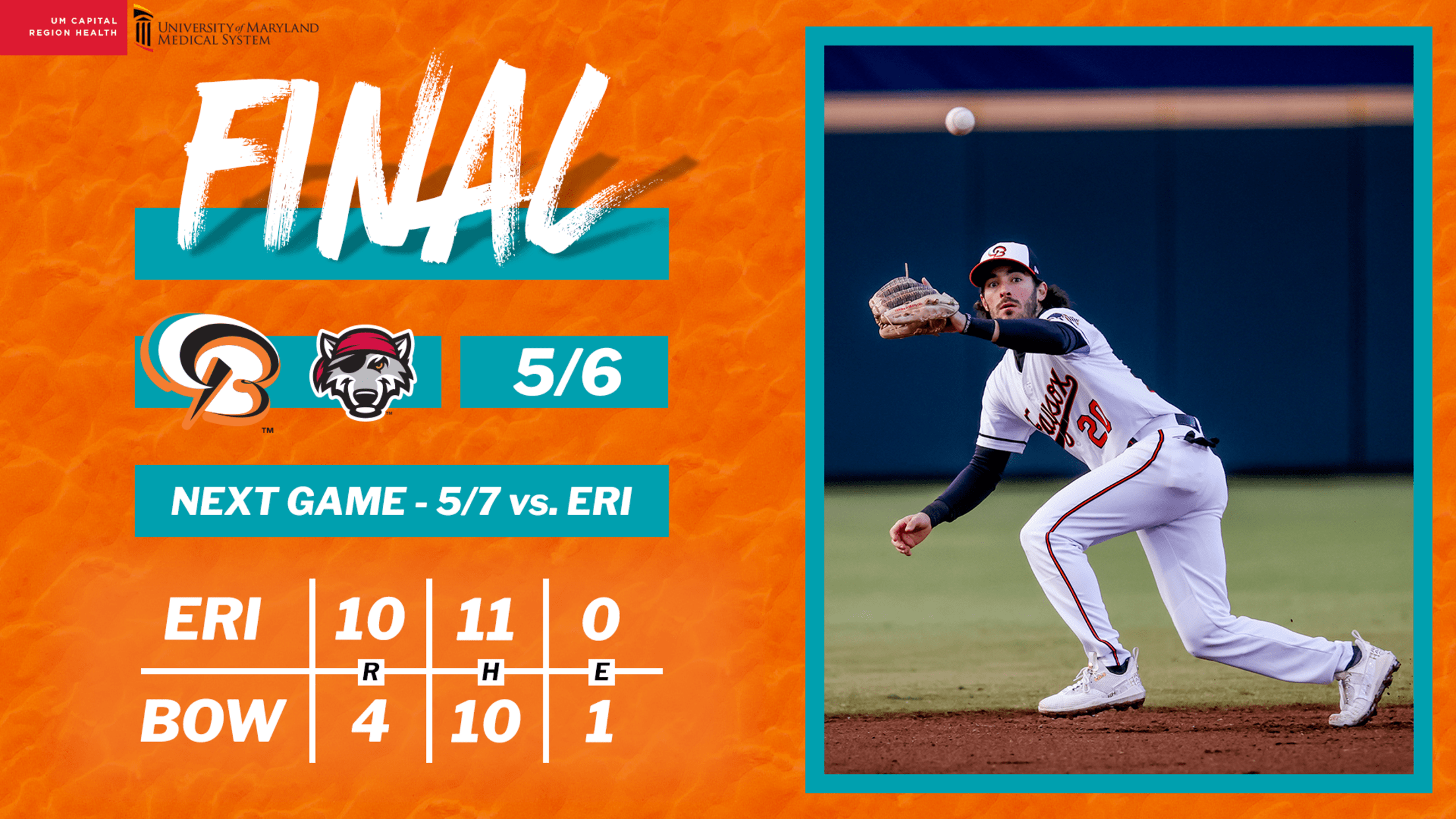 BOX SCORE BOWIE, MD – Despite a three RBI performance from Billy Cook, which included a home run, the Bowie Baysox fell to the Erie SeaWolves by a 10-4 final on Saturday night, in part thanks to a six-run third inning. Cook's first RBI of the evening was part of
Big Night From Kjerstad, Rodriguez Not Enough As Bowie Falls to SeaWolves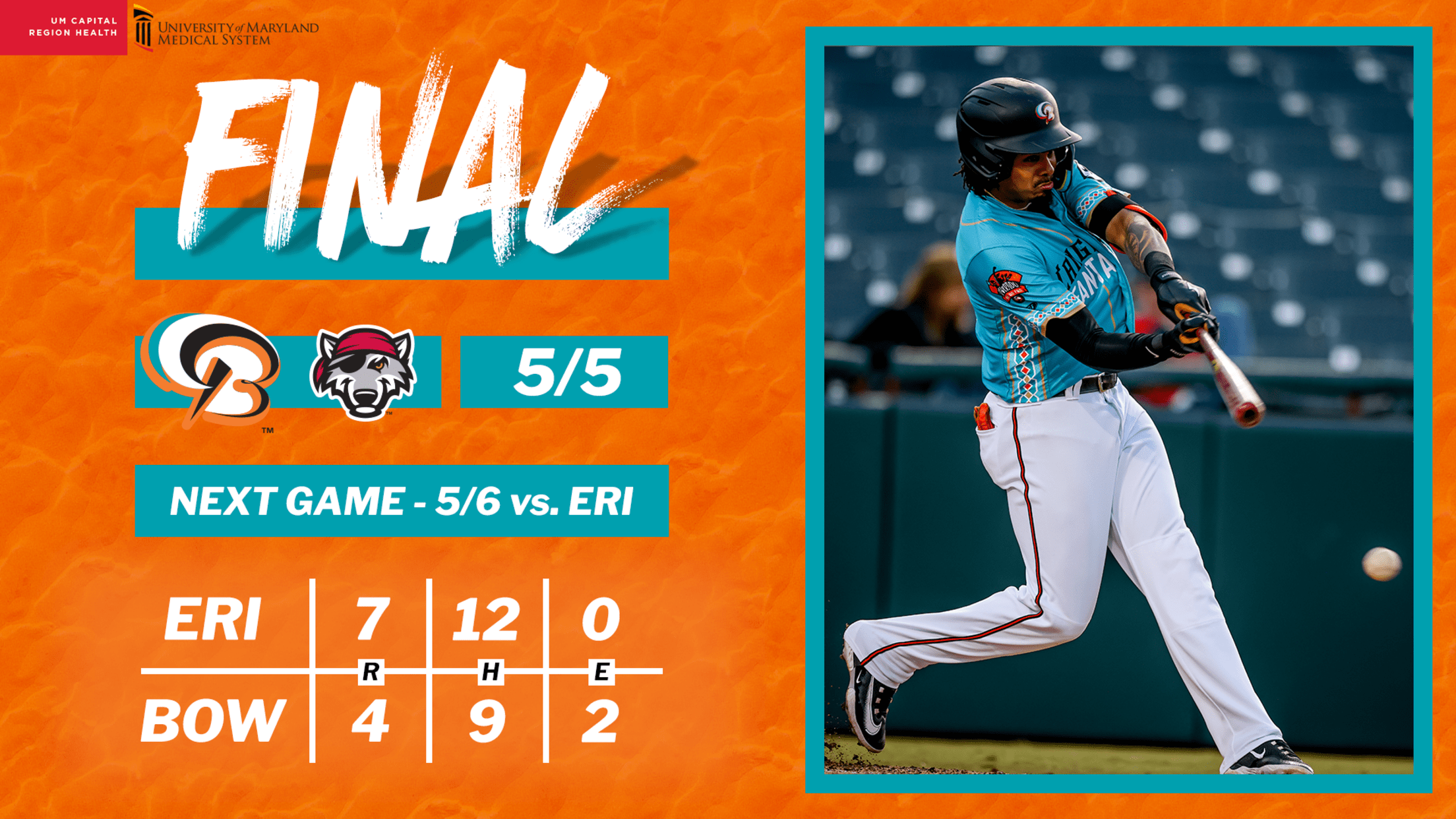 BOX SCORE BOWIE, MD – Heston Kjerstad clobbered his eighth home run of the season, but the Bowie Baysox were not able to battle all the way back, as they fell in a back-and-forth affair with the Erie SeaWolves, 7-4. Erie struck first, as they have in the three previous