Hot Rods Walk Off Crawdads in Front of Sellout Crowd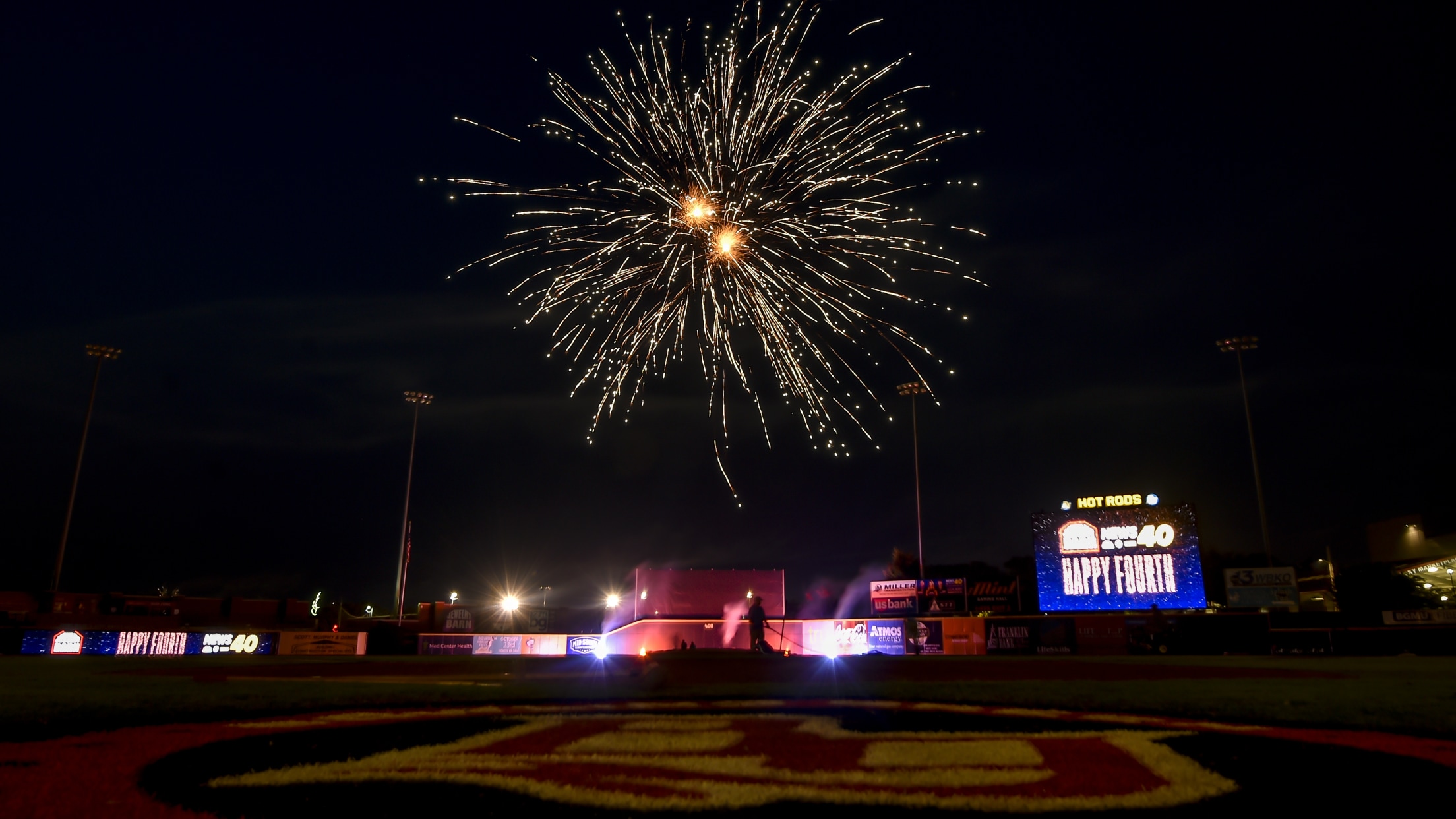 Bowling Green, Kentucky– The second-largest crowd in Bowling Green Ballpark history witnessed late-inning dramatics in the Bowling Green Hot Rods (5-4, 46-28) come from behind, 4-3 victory over the Hickory Crawdads (6-4, 43-33) on Monday night. The Hot Rods have an off day on Tuesday before resuming the six-game series
Bowling Green, Kentucky– The second-largest crowd in Bowling Green Ballpark history witnessed late-inning dramatics in the Bowling Green Hot Rods (5-4, 46-28) come from behind, 4-3 victory over the Hickory Crawdads (6-4, 43-33) on Monday night. The Hot Rods have an off day on Tuesday before resuming the six-game series against Hickory on Wednesday with a 6:35 PM CT first pitch.
The Crawdads took a 3-0 lead over the first seven innings of Monday's contest, keeping the Hot Rods offense at bay before Diego Infante sent the sellout crowd of 6,483 into a frenzy. Mason Auer led off the inning with a single and Alika Williams followed with the same, while a throwing error on the play allowed Auer and Williams to move into second and third. With one out, Infante hammered a deep home run to left-center field, tying the game 3-3.
In the ninth, Nate Soria doubled to left and Ronny Simon hit a ground ball to short that slipped under the glove of Crawdads shortstop Chris Seise. The error allowed Soria to score giving the Hot Rods a 4-3 walk-off win.
Nathan Wiles went 5.0 innings in a no-decision, holding Hickory to one run on three hits with six strikeouts. Anthony Molina (8-1) earned the win after 4.0 innings with two runs on four hits and three strikeouts.
Notes: Monday's crowd of 6,483 is the second-largest in Bowling Green Ballpark history… It was the largest crowd on July 4 in team history… The Hot Rods played a regular season on a Monday for the first time since 2019… Monday's win was the fifth walk-off win of the season for the Hot Rods… Ronny Simon has been involved in the final play of three of those wins… Infante hit his 10th homer of the season… He is the second player in BG to reach double-digit homers this year… Wiles set a new career-high with 5.0 innings pitched… He also tied a career-high with six strikeouts… Manzardo has a 25-game on-base streak… It's tied for the seventh-longest in team history… The record is 31… The Hot Rods and Crawdads continue their series on Tuesday … First pitch is set for 6:35 PM CT… Bowling Green will send RH Logan Workman (2-2, 3.86) to the mound against Hickory RH Ricky Vanasco (2-2, 5.01)… The game is available to watch on MiLB.tv… Fans can listen to the game on Talk 104.1 FM and 930 AM WKCT… Audio streaming is also available via the MiLB First Pitch app on Android and IOS, or go to the Hot Rods website at www.bghotrods.com... Fans can get their tickets by calling 270-901-2121 or visiting www.bghotrods.com.
###
Hot Rods Baseball