Montgomery, Williams Lead BG to Win in Series Finale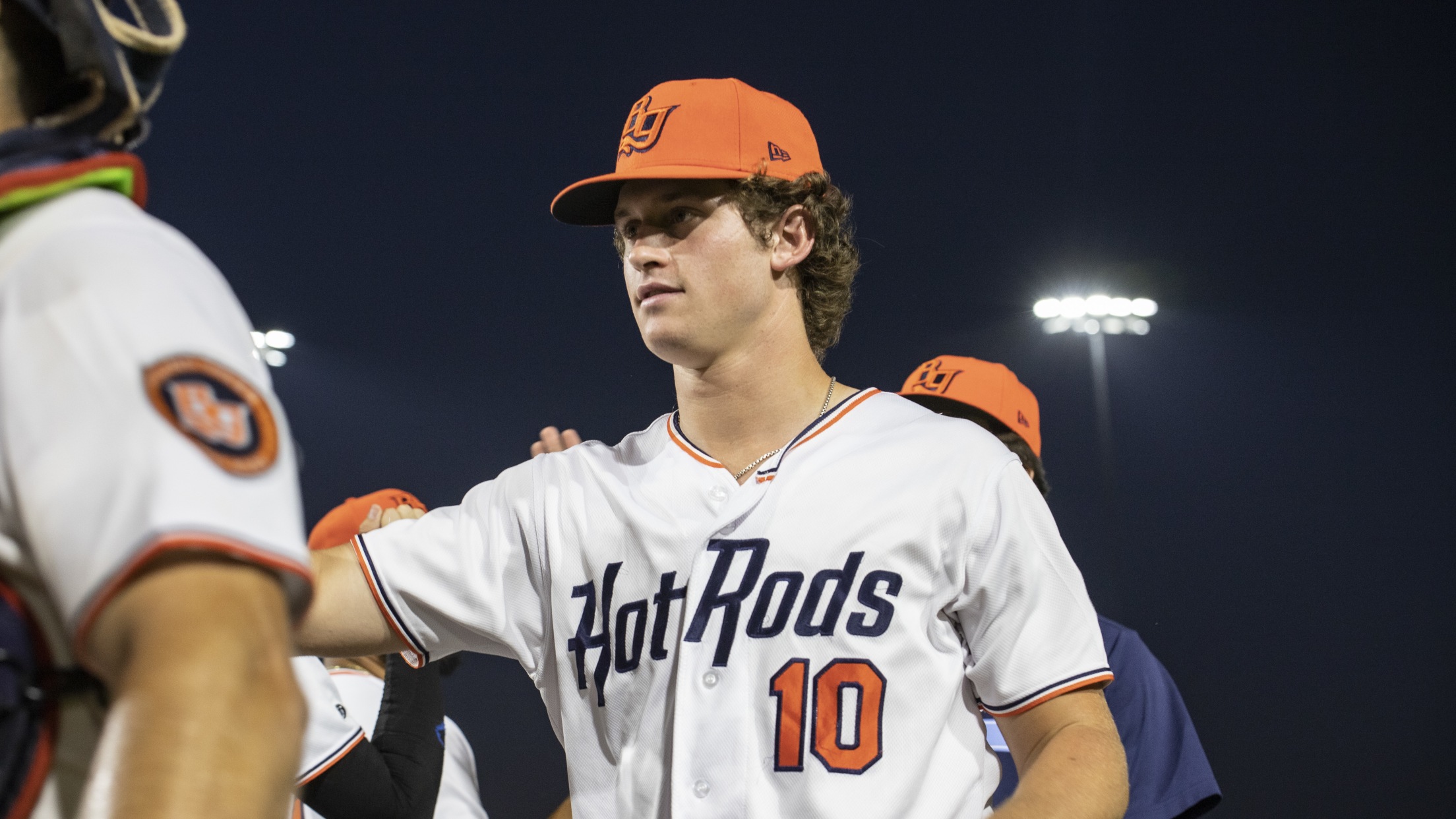 Asheville, North Carolina– Mason Montgomery struck out nine while Alika Williams had three hits in the Bowling Green Hot Rods (4-4, 45-28) 9-5 win over the Asheville Tourists (5-3, 31-41) to close out a five-game series and 12-game road trip. The Hot Rods return to Bowling Green Ballpark on Monday
Asheville, North Carolina– Mason Montgomery struck out nine while Alika Williams had three hits in the Bowling Green Hot Rods (4-4, 45-28) 9-5 win over the Asheville Tourists (5-3, 31-41) to close out a five-game series and 12-game road trip. The Hot Rods return to Bowling Green Ballpark on Monday for the Jewelry Barn Fourth of July Spectacular, welcoming in the Hickory Crawdads. First pitch will be at 6:35 PM CT with the biggest fireworks show in Southcentral Kentucky on display following Monday's game. Fans can still get their tickets by calling 270-901-2121 or visiting www.bghotrods.com.
The Tourists started off the game with homers in the first and second to take a 2-0 lead. After going down in order the first time through the lineup, the Hot Rods offense responded in the fourth against Asheville starter Ryan Gusto. Ronny Simon and Pedro Martinez led off the frame with walks and Williams singled to load the bases. Kyle Manzardo singled off the wall in center to make it a 2-1 game and Diego Infante's sacrifice fly tied the game to score Martinez.
Mason Auer reached on an infield single moving Williams to third, while a wild pitch allowed him to score to make it a 3-2 game with BG taking the lead and Manzardo moving to third. Heriberto Hernandez singled bringing home Manzardo to make it a 4-2 Hot Rods lead.
Simon led off the fifth with a bang, welcoming Tourists reliever Ernesto Jaquez with a solo homer to extend the BG lead to 5-2. Martinez was hit by a pitch and scored with two outs when Infante singled to make it 6-2. Luis Leon hit a two-run homer in the sixth to extend the lead to 8-2, with the Tourists getting runs back in the sixth and seventh to cut BG's advantage to 8-4. Each team scored a run in the eighth to make it a 9-5 with BG going on to win by the same score.
Montgomery (3-2) allowed two runs on three hits with a walk and nine strikeouts over 5.0 innings in a win. Kyle Whitten allowed two runs on four hits over 2.0 innings with two walks and a strikeout. Sean Mullen threw the final 2.0 frames, allowing a run on two hits with a walk and two strikeouts.
Notes: Montgomery struck out at least nine for the sixth time this season… Manzardo extended his on-base streak to 24 games… Simon has a seven-game hit streak… Infante extended his hitting streak to eight games… Williams had his 13th multi-hit game of the year… It was also his third three-hit game… Infante has 18 multi-hit games this year… He also had his seventh multi-RBI game of 2022… Leon drove in two runs for the second time since joining the Hot Rods… The Hot Rods take on the Hickory Crawdads in a six-game series beginning Monday at Bowling Green Ballpark… The Hot Rods will celebrate with the Jewelry Barn Fourth of July Spectacular… First pitch is set for 6:35 PM CT… The game will be followed by the largest fireworks display in Southcentral Kentucky… Fans can still get their tickets by calling 270-901-2121 or visiting www.bghotrods.com... Neither team has named a starter… Monday's game will be available to stream via MiLB.tv... Fans can listen to the game on Talk 104.1 FM and 930 AM WKCT… The broadcast is also available via the MiLB First Pitch app on Android and IOS, or at www.bghotrods.com
###
Hot Rods Baseball