Homestand Preview: RiverDogs Host GreenJackets in Final Full Homestand of First Half
Six-Game Series Capped by Weekend that Includes Marvel Defenders of the Diamond Night and Perros Santos de Charleston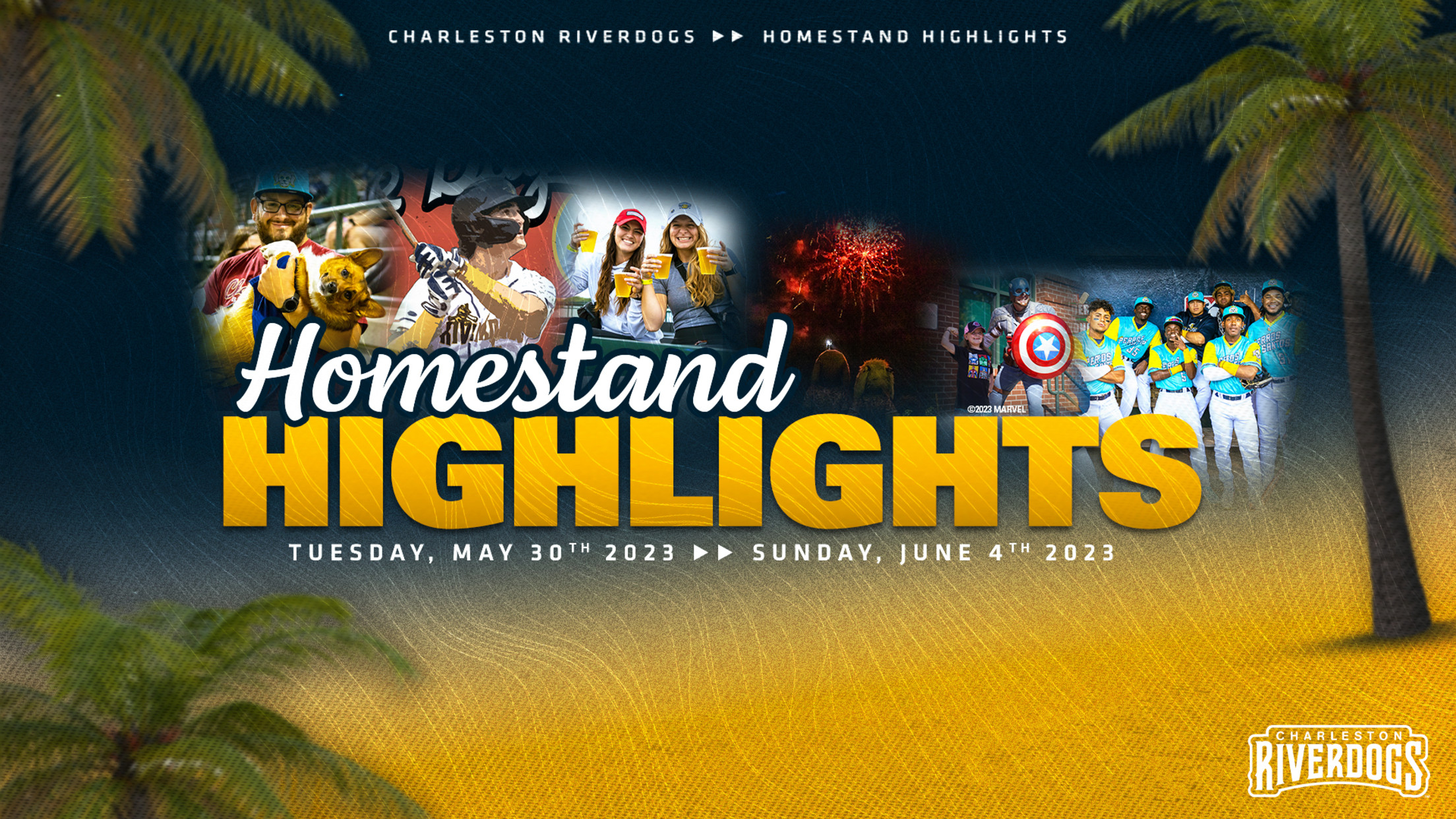 With a two-week road trip looming in the future, the RiverDogs only have nine home games remaining in the first half of the 2023 season. Beginning on Tuesday, June 30, the RiverDogs will welcome the Augusta GreenJackets, an Atlanta Braves affiliate, for the final six-game series of the half. The
With a two-week road trip looming in the future, the RiverDogs only have nine home games remaining in the first half of the 2023 season. Beginning on Tuesday, June 30, the RiverDogs will welcome the Augusta GreenJackets, an Atlanta Braves affiliate, for the final six-game series of the half. The series includes a busy weekend with Marvel Defenders of the Diamond Night on Saturday and Perros Santos Night on Sunday.
Below is a list of all the fun the RiverDogs have planned for the week:
*Tuesday, May 30, 7:05 p.m: Dog Day presented by Twisted Tea/Corgi Night: *It's time to let your dogs cheer on our Dogs. We wouldn't dare end the tradition of bringing your four-legged friend to a game once per homestand! For the third season in a row, the RiverDogs and Twisted Tea invite you to bring your pup to The Joe for each Tuesday home game. This week will feature a pre-game parade of corgis along the concourse! Pay attention to the field as Czabin serves as our bat dog in the bottom half of innings! We'll also celebrate the launch of Breeze Airways' latest nonstop flight to Charleston, WV by giving away four free round-trip tickets to one lucky winner. In addition, enjoy $2 hot dogs and beer. Tuesday games are presented by 96.9 The Wolf.
*Wednesday, May 31, 7:05 p.m. For the Love of the Game Night/Wildcard Wednesday presented by Wicked Weed: *We only do this once per so season, so make sure to take advantage! We are making a limited number of $2 tickets available for this midweek game. To get your $2 tickets, go directly to riverdogs.com and use code DOGPOUND. This week's Wicked Weed wildcard theme is "For the Love of the Game". The idea behind this night is to enjoy the beautiful game of baseball with minimal distractions. There will be a reduction in promotions, minimal music and public address announcements and more time to enjoy the natural sounds of the sport. If you prefer baseball games as they were in the early days, this is the night for you. Wednesday games are presented by 105.5 The Bridge.
*Thursday, June 1, 7:05 p.m.: Thirsty Thursday™ presented by Budweiser: *There is a reason Thursday night at The Joe provides one of the best atmospheres in Minor League Baseball. As always, $1 beers are available throughout the ballpark all night long thanks to Budweiser. Also, make sure to take advantage of our BeatBox Batters Box drink special in a 24oz bat-shaped cup! In addition, we'll have live music in the Ashley View Pub courtesy of DJ DollaMenu. Finally, we'll have cornhole boards set up on the concourse and a cornhole long shot contest behind section 120. Mikel Simmons from the hit Bravo show "Southern Hospitality" will be singing the National Anthem. Thursday games are presented by 95sx and Z93 Jamz.
*Friday, June 2, 7:05 p.m.: Boeing Red Shirt Friday/Fireworks Friday presented by REV Federal Credit Union: *Every Friday night at The Joe, the RiverDogs will team up with Boeing to shine a spotlight on active duty and retired military members and their families, while the team wears their red alternates on the field. Fans are encouraged to wear red to the game as well. Following the contest, make sure to stay in your seats for another post-game fireworks show made possible by REV Federal Credit Union! This week's show will be set to a soundtrack of Motown hits. Friday games are presented by 103.5 WEZL and CBS Live 5.
*Saturday, June 3, 6:05 p.m.: Marvel Defenders of the Diamond Night/Saturday Show at The Joe presented by Breeze Airways: *There have been plenty of heroic achievements on the field at The Joe over the years, but this night will take it to another level. Make sure to come to the ballpark for Marvel Defenders of the Diamond Night, where the RiverDogs will take the field in custom Marvel jerseys that will be available to fans via auction during the game. Make sure to come dressed to save the day and find out if your costume is good enough to win our Marvel costume contest. In addition, there will be a post-game tennis ball toss on the field where you'll have a chance to leave with one of the custom jerseys, a replica Captain America shield or a RiverDogs Defenders of the Diamond prize pack! We also pay tribute to our real-life defenders, as we celebrate the 75h anniversary of the Air Force Reserves, and specifically Joint Base Charleston's 315th Air Lift Wing, alongside Boeing. You never know what kind of fun is in store when you walk into the ballpark on a Saturday Show at The Joe, thanks to Breeze Airways. Saturday games are presented by 101.7 Chuck FM/92.5 Kickin' Country and FOX 24.
*Sunday, June 4, 5:05 p.m.: Perros Santos Night presented by Berkeley Electric Cooperative/MUSC Health Family Sunday/Festival De Lectura Celebration: *The RiverDogs will celebrate the vibrant Latin American culture in Charleston by suiting up as Los Perros Santos de Charleston for the second time this season as part of Minor League Baseball's Copa de la Diversión initiative. In partnership with Berkeley Electric Cooperative, the Joe will have a fiesta-like vibe all night with Spanish PA announcers and food specials. During this game, we will also celebrate students who have reached their goals as part of the "Festival De Lectura" with the Berkeley County School District. The baseball-themed interactive literacy program is focused on English Language learners in the school district. Parking is free and kids can stick around after the game to run the bases on every Family Sunday presented by MUSC Health. Before, during and after each Sunday home game, we will make it all about the kids. From the video board to between innings contests and even the opportunity to run the bases, Sundays are sure to be a memorable day for the whole family. Make sure to join the MUSC Children's Health Kids Club for added perks. Sunday games are presented by Star 99.7/Mix 95.9 and ABC News 4.
Tickets for all home games remain available. Visit riverdogs.com to secure your seats now. Season tickets, Dog-E Coin plans, and group tickets, including options to the Segra Club at Riley Park, are already available at riverdogs.com/tickets or by contacting the RiverDogs front office at 843-577-3647 (DOGS). The Segra Club is also open for events year-round. Visit segraclub.com for more information.