Williams Named RiverDogs "Top Dog" for 2022 Season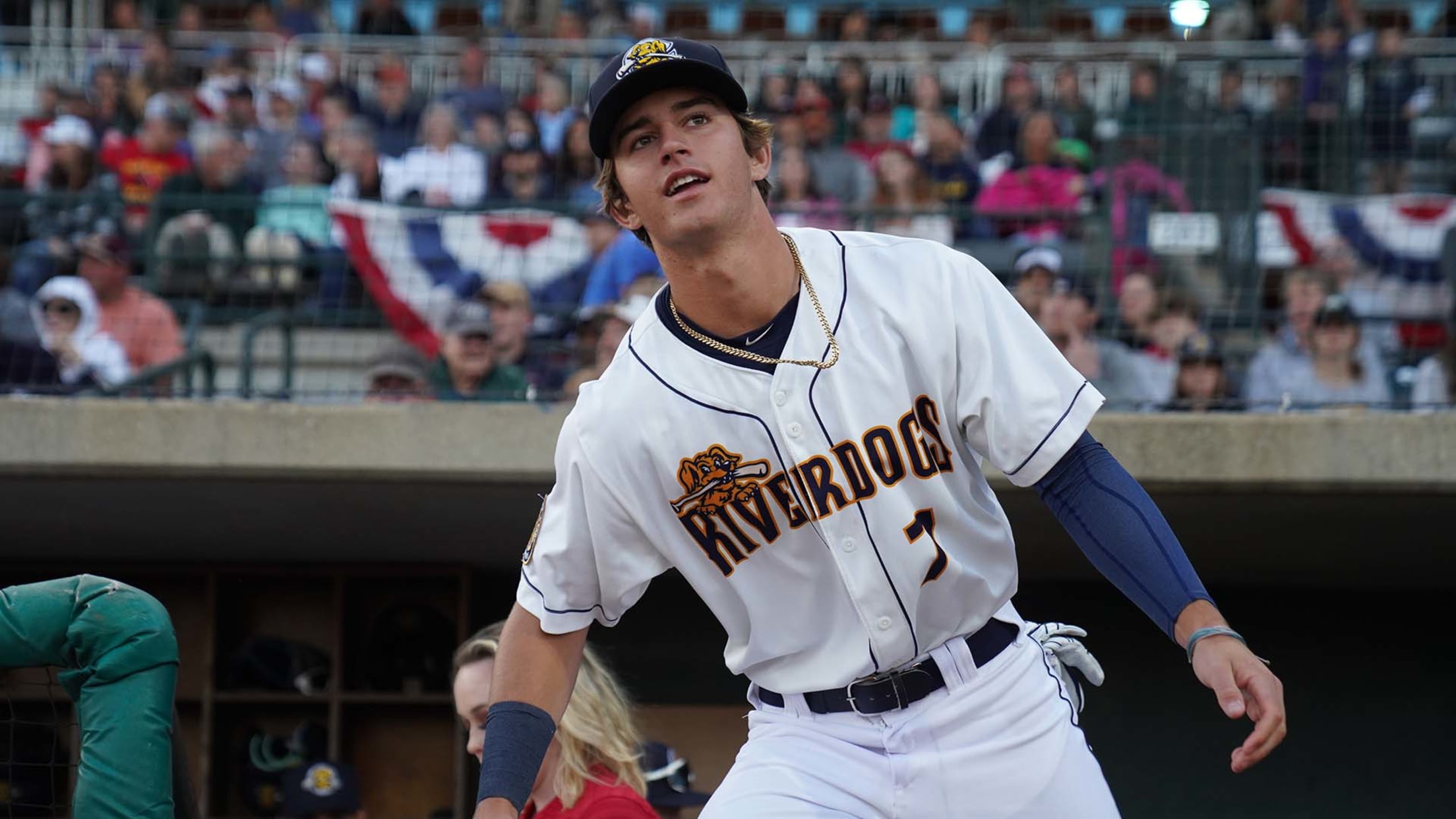 Following the final home game of the regular season on Sunday evening, the Charleston RiverDogs named shortstop Carson Williams "Top Dog" for the 2022 season. Fans voted on the winner from a pool of five finalists that also included Austin Vernon, Mason Auer, Oneill Manzueta and Bobby Seymour. The 19-year-old
Following the final home game of the regular season on Sunday evening, the Charleston RiverDogs named shortstop Carson Williams "Top Dog" for the 2022 season. Fans voted on the winner from a pool of five finalists that also included Austin Vernon, Mason Auer, Oneill Manzueta and Bobby Seymour.
The 19-year-old Williams joins a group of other RiverDogs standouts, such as Josh Hamilton, B.J. Upton, Jorge Mateo and Canaan Smith who have each received the award in previous seasons. Pitcher Taj Bradley was selected as 2021 Top Dog and is now ranked as the #21 prospect in all of baseball by MLB Pipeline.
Williams has been with the RiverDogs since the opening night of the season. As of Sunday morning, he has played 108 games this season, 103 of them at shortstop. The native of San Diego is hitting .251 with 18 home runs and 67 runs batted in. He has also collected 21 doubles, 10 triples and stolen 28 bases. Defensively, he has committed just 13 errors in 384 chances.
His home run total is tied for the Carolina League lead with two other players. Williams is also tied for first in triples, second in total bases and extra-base hits, third in slugging percentage, tied for third in RBI, fifth in runs scored and seventh in OPS.
The Rays selected Williams with their first-round pick in the 2021 MLB Draft out of Torrey Pines High School. Following the draft, he played in 11 games last season with the FCL Rays. During that period, he batted .282 with four doubles a triple and eight runs batted in. MLB Pipeline has Williams slotted as the #3 prospect in the Rays organization and the #85 overall prospect in baseball.
The RiverDogs will close the regular season with six games in Columbia beginning on Tuesday night. The team is on the verge of clinching a berth in the playoffs for a second straight season.
Playoff tickets are on sale now for just $5 at riverdogs.com. The Segra Club is also open for events year-round. Visit segraclub.com for more information. The brand new RiverDogs Food Truck is available for your next event! Contact the RiverDogs front office at 843-577-3647 (DOGS) for more information.