Dragons 2023 Preview, Part 5:  Third Basemen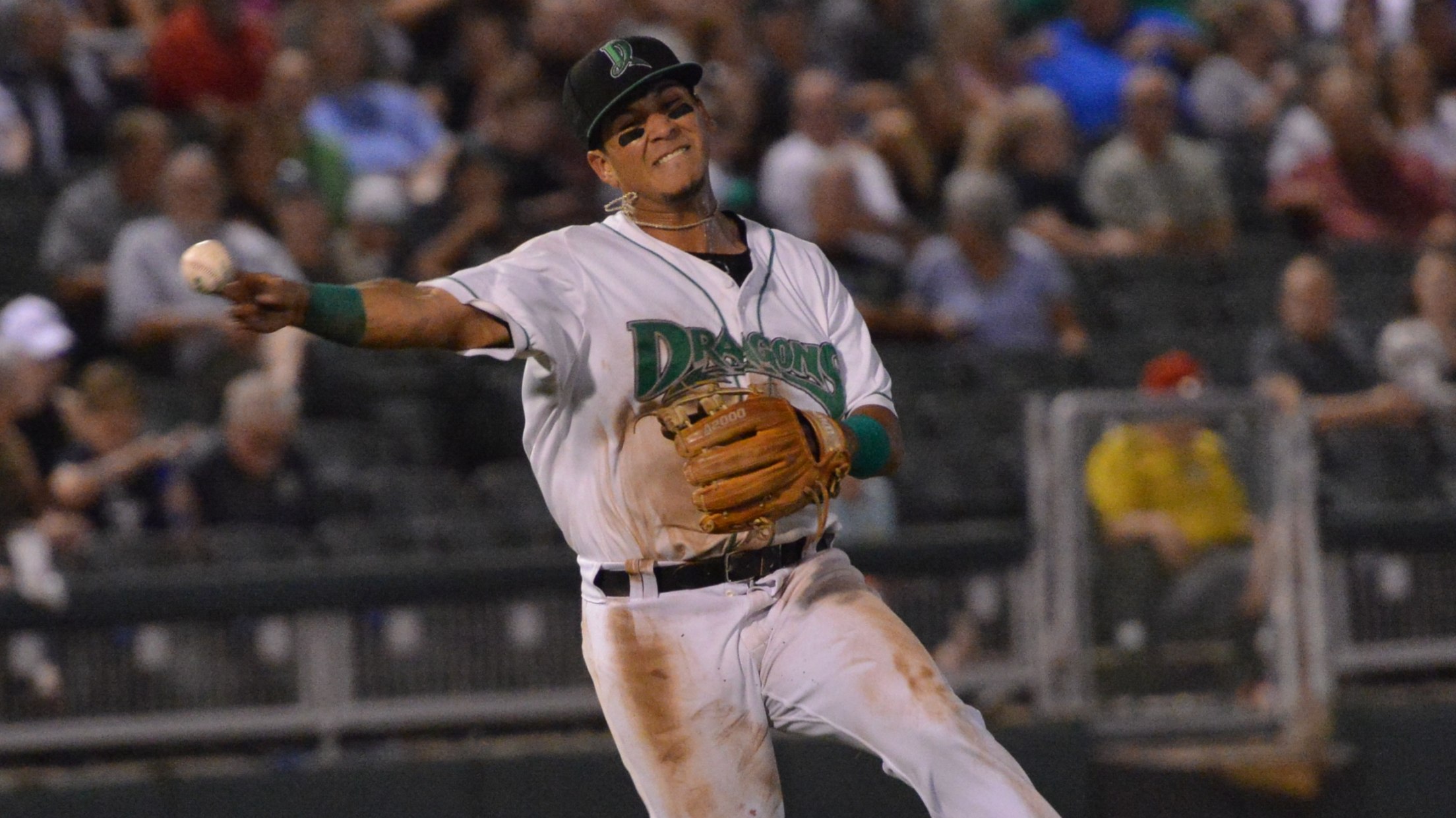 Steven Leyton
On Monday, the Dayton Dragons opened their 2023 spring training game schedule in Goodyear, Arizona against the Lake County Captains, the High-A affiliate of the Cleveland Guardians. A total of 17 spring games are scheduled in March and early April, plus several intrasquad games, all in the Phoenix area. As
On Monday, the Dayton Dragons opened their 2023 spring training game schedule in Goodyear, Arizona against the Lake County Captains, the High-A affiliate of the Cleveland Guardians. A total of 17 spring games are scheduled in March and early April, plus several intrasquad games, all in the Phoenix area.
As noted in our shortstop preview, players often start the spring training process a level higher than they end up due to the influx of players coming down from big league camp once the Reds begin making cuts from their major league roster. As players are trimmed from major league camp, they move to the minor league side. The Reds began the spring with 66 players in big league camp. After a round of cuts on Tuesday that included former Dragons Elly De La Cruz and Matt McLain, their roster stands at 48 players. They will finish with 26. With each round of cuts, there is a trickle-down effect on the minor league rosters. The Dragons lineup on Monday included only a couple of players that are likely to open the year in Dayton, and a lot of guys who will start with Single-A Daytona. The lineup for Double-A Chattanooga had several potential 2023 Dragons, including Tyler Callihan, Austin Hendrick, Austin Callahan, and Daniel Vellojin.
There are approximately 178 players currently in Reds minor league camp competing for jobs with the Reds four full-season farm clubs including the Dragons.
The Dragons annual home opening night game at Day Air Ballpark is scheduled for Tuesday, April 11th against the Great Lakes Loons at 7:05 p.m. The Dragons will open their 23rd season in the Midwest League with a road series at the Lake County Captains in Eastlake, Ohio beginning Thursday, April 6th at 6:35 p.m.
Dragons single-game tickets and season ticket plans are available now. The season ticket plans feature the Dragons new Business Club and Family Club and are loaded with special benefits. Call the Dragons at (937) 228-2287 or go to daytondragons.com/tickets for more information.
This is part five of an eight-part series previewing the 2023 Dragons. Players listed here are candidates for positions on the Dragons season-opening roster.
This preview is an unofficial projection of possible roster candidates. Minor League rosters are not established until April 4. Spring training variables including performance, injuries, trades, and additional player acquisitions will impact the roster accordingly.
The Third Basemen
Click links on each name for career stats and player information.
Candidates: Austin Callahan, Steven Leyton
In 2022, the Dragons opened the season with former Detroit Tigers second round draft pick Nick Quintana playing third base. Quintana, who had been acquired in a trade for former Dragon Tucker Barnhart, enjoyed the best season of his professional career in 2022 and played such exceptionally strong defense that Midwest League managers voted him the league's best defensive third baseman. Quintana was promoted to Double-A Chattanooga at the midpoint of the season, and Tyler Callihan took his spot at third base in Dayton. Callihan, who was profiled in our second base preview, is expected to return to the Dragons and could see some action at third as well as second. In fact, in the spring training opener on Monday, Callihan started the game at first base.
Austin Callahan was the starting third baseman with Daytona in 2022 and should move up to the Dragons. Tyler Callihan and Austin Callahan spell their last names slightly differently. Austin Callahan, a native of Fremont, Nebraska, was drafted by the Reds in the 18th round in 2021 out of Hutchinson Community College in Kansas, where he enjoyed a huge season that spring. He spent two years at Hutchinson, and in 2021, Austin Callahan batted .422 with 21 home runs in 54 games, posting an OPS of 1.364. His home run total was the third highest in school history, and he earned honorable mention All-American honors.
In 2022, Callahan opened the season in Reds extended spring training and was promoted to Daytona on June 3rd, taking over as the Tortugas third baseman. He had an outstanding month of July when he batted .328 with three home runs in 19 games with a .989 OPS. By season's end, he was the only Daytona player among those with at least 200 at-bats to record more hits than strikeouts. He finished the season with a batting average of .256 and five home runs in 59 games, playing in a league that was very tough on hitters. He has been an under-the-radar prospect in the Reds system, but his tremendous month of July with Daytona in 2022 provides optimism for a player who could emerge in Dayton in 2023.
Steven Leyton is currently playing with the Nicaraguan national team in the World Baseball Classic. Leyton has been playing professionally since 2016, spending four years in the Arizona Diamondbacks organization before being selected by the Reds in 2020 in the Minor League portion of the Rule 5 draft. Leyton has been a valuable utility player throughout his career, playing third base, shortstop, and second base.
In 2022, Leyton actually played for all four Reds full-season affiliates, spending most of the year at Daytona, but also seeing time with Dayton, Chattanooga, and Louisville. He enjoyed his best season at the full-season level and at times, played extremely well. When Leyton joined the Dragons, he arrived without much fanfare. But his play on the field was sparkling. He made defensive plays at all positions in the infield that were seldom seen anywhere in the Midwest League in 2022. He got red-hot at the plate. After his first 19 games, he was hitting .329 with three home runs and a .935 OPS. He looked so good that one scout commented that he thought the unheralded Leyton was the Dragons best player. A 1-for-12 finish dropped his final batting average to .293 in 23 games.
For the year over all four levels, Leyton hit a career-high 11 home runs and posted a .471 slugging percentage, very high for a slick-fielding utility infielder. His biggest value is his ability to play second, short, or third, and play them all at an extremely high level. He would be a valuable member of the Dayton team if he returns in 2023, again likely in a utility role. He is profiled here at third base but would play multiple positions.
Next up: Outfielders
More Information:The Dayton Dragons are the affiliate of the Cincinnati Reds and play 66 home games at beautiful Day Air Ballpark, in the heart of the Water Street District. Contact the Dragons by calling at (937) 228-2287, emailing at [email protected], or go to daytondragons.com. For more information, please visit the following links:
#