Dragons 2023 Preview, Part 8: Relief Pitchers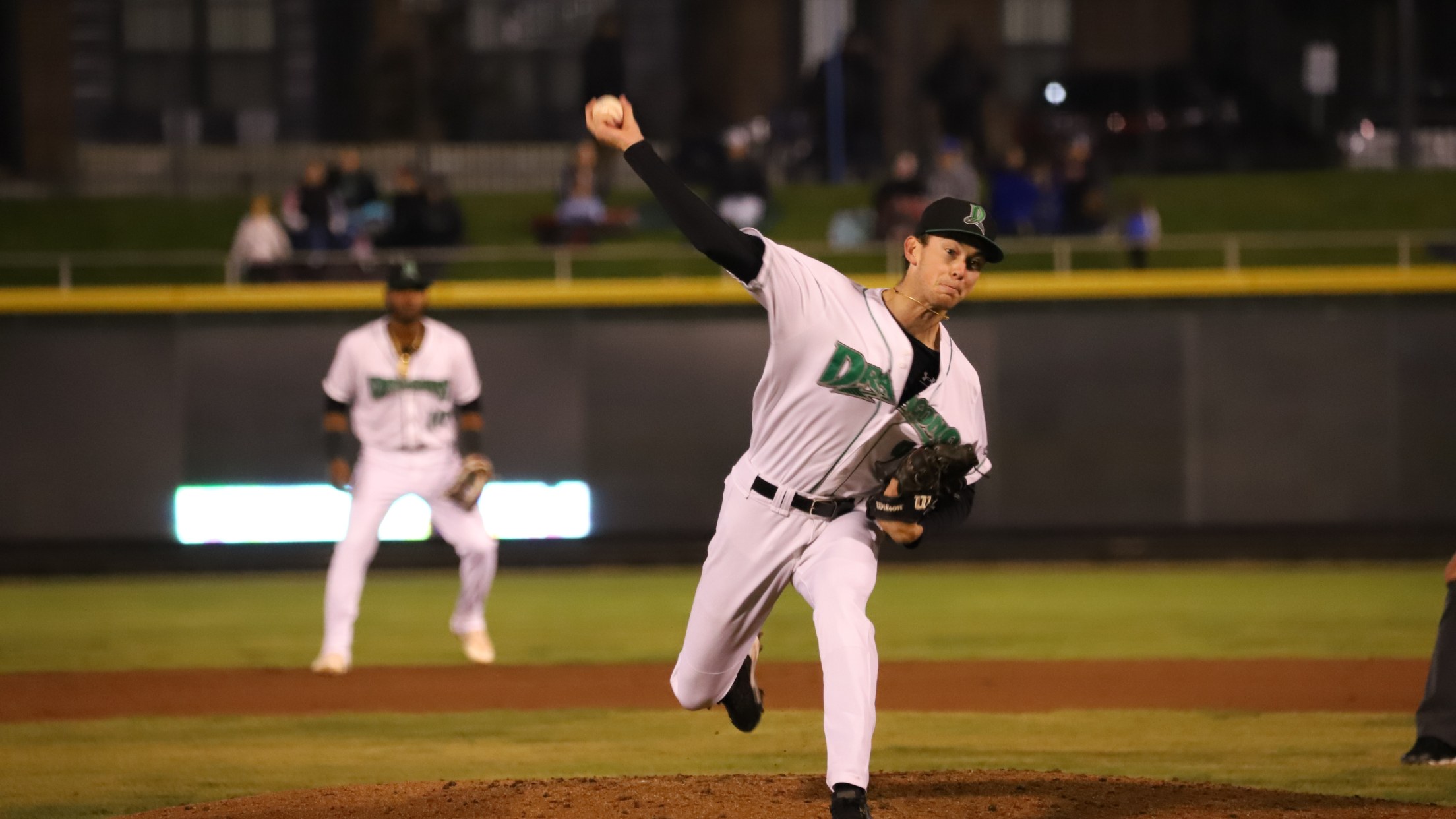 Carson Rudd
As Reds minor league players continue with their pre-season schedule in Arizona, the number of days before the start of the Dayton Dragons season is steadily falling. The Dragons open the Midwest League season on April 6 at Lake County, two weeks from yesterday. The Dragons will take the field
As Reds minor league players continue with their pre-season schedule in Arizona, the number of days before the start of the Dayton Dragons season is steadily falling. The
Dragons open the Midwest League season on April 6 at Lake County, two weeks from yesterday.
The Dragons will take the field at Day Air Ballpark for their 23rd home opening night game on Tuesday, April 11th against the Great Lakes Loons at 7:05 p.m. Dragons single-game tickets and season ticket plans are available now. The season ticket plans feature the Dragons new Business Club and Family Club and are loaded with special benefits. Call the Dragons at (937) 228-2287 or go to daytondragons.com/tickets for more information.
This is the finale to an eight-part series previewing the 2023 Dragons. Players listed here are candidates for positions on the Dragons season-opening roster.
This preview is an unofficial projection of possible roster candidates. Minor League rosters are not established until April 4. Spring training variables including performance, injuries, trades, and additional player acquisitions will impact the roster accordingly.
The Relief Pitchers
Click links on each name for career stats and player information.
Candidates: Dennis Boatman, Owen Holt, Jayvien Sandridge, Ryan Cardona, Luis Mey, Hunter Parks, Carson Rudd, Frainger Aranguren, Kevin Abel, Trey Braithwaite.
The Dragons opening night roster has typically featured 10 relievers in recent seasons. This is the positional group that is most difficult to predict, and while we profile 10 players here, it is almost a certainty that some players not on this list will be making their way to Dayton when the players leave Arizona on April 4. Each year, there are usually at least a couple of relievers who earn spots with the Dragons from off the radar.
Injury Updates: Bobby Nightengale of the Cincinnati Enquirer reported this week that starting pitcher Chase Petty, the highest-rated pitcher in the Reds system and the projected ace of the
Dragons 2023 starting rotation, "will be delayed in his start to the season because of injury." Nightengale says that "if Petty progresses as expected, he's expected to debut at the end of April or early May." Meanwhile, Nightengale also reports that Bryce Bonnin, the Reds third round draft pick in 2020, will miss the entire 2023 season with a shoulder injury. Bonnin spent parts of both the 2021 and 2022 seasons with the Dragons. Finally, Nightengale reports that hard-throwing reliever Andrew Moore, who was acquired in the trade last season that sent Luis Castillo to Seattle, could miss the first half of the 2023 season with an injury. Moore was expected to start the year with the Dragons and would have been included in today's preview.
Dennis Boatman looked strong in a brief stint with the Dragons at the end of the 2022 season. Boatman started his college career at UCLA but redshirted during his freshman season and then transferred to Sacramento City College. The Reds drafted Boatman in the 17th round in 2021.
Boatman spent most of the 2022 season at Daytona. The hard-thrower used a fastball that averaged 94-96 mph and appeared in 20 games, posting a 3.38 ERA with the Tortugas. He struck out 42 batters in 29.1 innings and limited opposing hitters to a combined average of .212. He was promoted to Dayton for the final month and had a 3.14 ERA with the Dragons in nine appearances. He is ranked as the Reds #39 prospect by Fangraphs.
Owen Holt had an outstanding 2022 season in the Reds organization. Holt has an interesting background as a former star quarterback in high school in Houston, Texas who went to Harvard University as a football player. After two years, he decided to switch to baseball, but when Covid wiped out the 2020 and 2021 seasons in the Ivy League, Holt enrolled at Alvin Community College so he could pitch while simultaneously taking on-line classes at Harvard to continue toward his degree. The Reds drafted Holt in the 16th round in 2021 out of Alvin.
In 2022, Holt started the year at Daytona and had a long scoreless streak over 11 consecutive relief appearances. He was promoted to the Dragons late in the season. His combined ERA between the two clubs was 2.42 as he allowed opponents to bat just .193 against him. Holt's fastball averaged 92-95 mph at Daytona, but he has the ability to throw even harder, considering he pitched only a few innings of college baseball before turning professional in 2021.
Jayvien Sandridge is a hard-throwing left-hander who had a sensational year at Daytona in 2022 before finishing the season with the Dragons. Sandridge spent two partial seasons in the Orioles system in 2018-19 before being released during Covid, one of many players to meet that fate during the pandemic. Sandridge was signed by the Reds as a free agent in 2021.
In 2022, Sandridge made 17 relief appearances at Daytona and posted a great ERA of 1.46, striking out a whopping 43 batters in 25 innings while giving up a miniscule 12 hits. His fastball averaged 93-96 mph at Daytona and he also possesses a sharp breaking ball. He was promoted to the Dragons on July 26 and continued where he left off at Daytona, allowing just three hits and one run in his first six outings covering nine innings, but one bad inning caused his final ERA to bloat to 5.63. Sandridge has big league stuff but will try to improve his command.
Ryan Cardona was a 19th round draft pick by the Reds in 2021 out of Marist College. He spent the entire 2022 season at Daytona, making seven starts and 18 relief appearances while posting an ERA of 3.36. He struck out 92 batters in 75 innings and held opponents to a combined .207 average. His fastball averaged 89-92 mph.
Luis Mey is one of the hardest throwers in the Reds system and perhaps in all professional baseball. He spent the 2022 season at Daytona where he averaged 98-100 mph with his fastball. Mey, a native of the Dominican Republic, appeared in 34 games, all out of the bullpen, and posted an ERA of 5.65 with 58 strikeouts in 43 innings. He is rated by Fangraphs as the Reds #42 prospect.
Hunter Parks was one of the top five junior college prospects in the 2021 draft, according to Perfect Game. He played at Florence-Darlington Technical College in Florence, South Carolina, where he helped his team to the JUCO World Series, going 6-0 with a 1.90 ERA in 2021. The Reds drafted Parks in the eighth round that year and he spent all of 2022 at Daytona. Parks made 14 starts and 11 relief appearances with the Tortugas, going 4-6 with a 4.70 ERA. His fastball averaged 92-95 mph. He could also be a candidate for the Dragons starting rotation.
Carson Rudd opened the 2022 season with the Dragons and pitched well at times before some struggles led to a transfer to Daytona. With the Dragons, the product of Stanford University allowed no runs in 11 of his 20 relief appearances but struggled with inconsistency. His ERA in Dayton was 8.88, though he notched 33 strikeouts in just 24 innings. He found success at Daytona, posting an ERA of 2.77 in 26 innings, allowing only 12 hits as opponents batting just .135 against him, with 38 strikeouts. Rudd, a non-drafted free agent signing by the Reds in 2020, has the ability to show improvement with the Dragons in 2023. His fastball last year with Daytona averaged 93-95 mph.
Frainger Aranguren bounced around the Reds farm system in 2022, filling a need wherever one arose in the bullpen, working with the Dragons, Daytona, and the ACL Reds. He pitched well for the Dragons, posting an ERA of 2.91 in 22 innings with a 4-1 record. The native of Venezuela is 26 years old, so he would be among the Midwest League's oldest players if he returns to the Dragons.
Kevin Abel has battled injuries going back to a sensational start to his college career at Oregon State University. He was selected as the national Freshman of the Year at OSU in 2018 by both Baseball America and D1Baseball.com, when he went 8-1 with a 2.88 ERA and was selected to the College World Series All-Tournament Team. He tossed a nine-inning two-hit shutout in the CWS clincher over Arkansas to carry the Beavers to the national title that season. Abel made three starts in 2019 before undergoing Tommy John elbow surgery and did not pitch in 2020. He returned in 2021 and was All-PAC 12 Honorable Mention, going 3-5 with a 3.62 ERA in 16 starts. The Reds drafted Abel in 2021 in the seventh round.
Abel spent most of the 2022 season at Daytona, though an injury delayed his start until June 18. He was 1-3 with a 6.97 ERA, but he notched 52 strikeouts in just 31 innings, showing potential. Abel's fastball averaged 90-92 mph at Daytona as he continues his return from injuries. He is ranked as the #46 prospect in the Reds organization by Fangraphs.
Trey Braithwaite might be the most likely reliever from the Reds 2022 draft class to earn a spot with the Dragons. The 25-year-old was taken in the 16th round a year ago and allowed just one run in eight innings in his brief professional debut. Braithwaite pitched for the U.S. Naval Academy for four seasons from 2018-21, tying the program record for career saves, and transferred to West Virginia as a fifth year senior in 2022. With WVU, he earned First Team All-Big 12 honors when he posted an ERA of 1.70 with eight saves in 22 appearances. He throws hard. His fastball averaged 94-96 mph at Daytona in 2022.
Some other possibilities for the Dayton bullpen could include Jean Correa and Brett Lockwood, who both finished the year at Daytona in 2022. Reds 2022 draft picks Zach Maxwell (sixth round, Georgia Tech), Brody Jessee (10th round, Gonzaga), and Joseph Menefee (20th round, Texas A&M) were all relievers in college and could be candidates. There could also be a possibility that a reliever off the 2022 Dragons staff could return, at least to start the season.
All Dragons home and road games in 2023 can be heard on WONE 980 AM and via the Dragons Mobile App as well as daytondragons.com.
More Information:The Dayton Dragons are the affiliate of the Cincinnati Reds and play 66 home games at beautiful Day Air Ballpark, in the heart of the Water Street District. Contact the Dragons by calling at (937) 228-2287, emailing at [email protected], or go to daytondragons.com. For more information, please visit the following links:
#