Clearwater clips Daytona, 8-4, on Wednesday
Jay Allen II reaches base five times, Blake Dunn picks up a pair of hits in season debut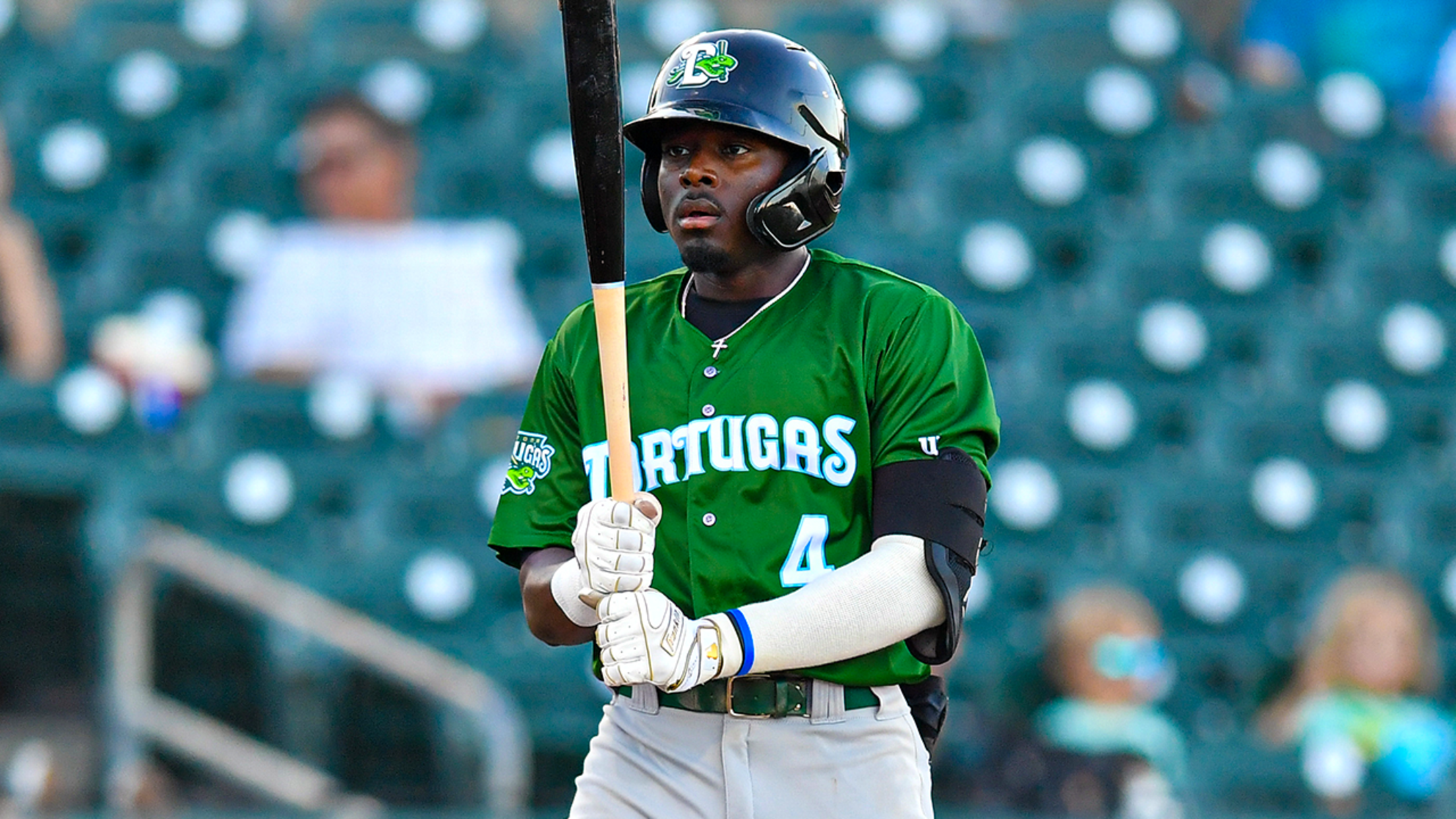 CF Jay Allen II reached base five times and stole a career-high three bases, but it was not enough, as the Clearwater Threshers clipped the Daytona Tortugas, 8-4, on Wednesday night at BayCare Ballpark. (Ryan Dowd)
CLEARWATER, Fla. — CF Jay Allen II took the baton from SS Gus Steiger's performance on Tuesday by reaching base five times and stealing three bags. LF Blake Dunn added a pair of knocks in his season debut, as well, but the Clearwater Threshers clipped the Daytona Tortugas, 8-4, on
CLEARWATER, Fla. — CF Jay Allen II took the baton from SS Gus Steiger's performance on Tuesday by reaching base five times and stealing three bags. LF Blake Dunn added a pair of knocks in his season debut, as well, but the Clearwater Threshers clipped the Daytona Tortugas, 8-4, on Wednesday night at BayCare Ballpark.
Daytona (13-16) jumped out to an early lead. Steiger (1-5, 2 R, SO) began the top of the first by reaching via an infield single to third and took second with one out on a stolen base. After Allen (2-2, R, 3 BB) reached on an infield hit to second, DH Jamal O'Guinn (1-4, RBI, BB, SO) stepped in.
On the first pitch of the at-bat, Allen made a break for second base. The throw down was cut off in front of the bag, because Steiger hauled towards home on the toss to second. The relay back to the dish was late and both runners were safe on the double steal, giving the Tortugas a 1-0 lead.
The advantage did not last long, though. CF Yhoswar García (2-5, R, 3B, 3 RBI, SO) singled to short with one out and advanced to second on a wild pitch before stealing third. Following a walk to 2B Hao Yu Lee (0-2, 3 BB), RF Jadiel Sánchez (1-4, R, HR, 2 RBI, SO) lofted a sacrifice fly to center to tie the game at one.
In the second, Clearwater (14-12) took the lead for good. 1B Micah Yonamine (0-3, R, 2 BB, SO) and DH Jamari Baylor (1-3, R, RBI, BB) earned walks to start the bottom of the second, while SS Erick Brito (1-4, R, SO) slapped a one-out hit into right to load the bases. 3B Kendall Simmons (1-4, R, RBI, BB, 2 SO) would coax a walk to chase home a run and put the Threshers ahead 2-1.
Following a pitching change, García walloped a 2-0 pitch down the left-field line. A diving effort towards the chalk line came up empty, as the ball glanced off the webbing and rolled behind the fielder. All three baserunners scored, as García slid into third with a three-run triple, giving Clearwater a 5-1 cushion.
The Tortugas started to chip away in the middle frames. Dunn (2-4, R, 2B) started the fourth with a double down the line in left and promptly scored on a two-bagger to right from C Hayden Jones (1-4, 2B, RBI, SO). An inning later, Allen drew a free pass with one out and swiped second before crossing on a base-hit to right from 1B Michel Triana (1-5, RBI, 4 SO) to cut Daytona's deficit to 5-3.
In the home half, Clearwater snatched those two runs back. Sánchez clocked a one-out pitch onto the berm in right field for a solo home run. His third home run of the campaign ballooned the Threshers' lead back to three, 6-3. C Arturo De Freitas (2-3, 2 R, 3B, 2 BB) kept the attack going with a triple off the left-center field wall before being brought home on a single to center by Baylor.
Ahead 7-3, the Threshers added one last tally in the seventh. A single by De Freitas and a walk to Yonamine put a pair of men on before a fielder's choice erased the latter at second. LF Wilfredo Flores (1-4, RBI, SO) punched a single through the hole on the left side to put Clearwater up five.
In the ninth, Daytona picked up a final run. Steiger reached on an error and advanced to second on an infield knock by Allen. O'Guinn ripped a single through the middle to chase home Steiger and pull the 'Tugas within 8-4.
LHP Gabriel Cotto (4.0 IP, 5 H, 2 R, 2 ER, 3 BB, 5 SO) did not last the requisite five innings to qualify for the victory in his start for Clearwater. RHP Malik Binns (2.0 IP, BB, 3 SO) worked a pair of hitless innings of relief, earning his third victory.
Tortugas RHP Alex Johnson (1.1 IP, 2 H, 5 R, 5 ER, 4 BB, SO) was unable to escape the second inning. The 21-year-old was saddled with his second loss of the season.
The Tortugas will attempt to return to the win column on Thursday. RHP Javi Rivera (1-1, 3.32) is anticipated to make his third start of the year for Daytona. RHP Jean Cabrera (NR), who is projected to make his season debut for Clearwater. Coverage on the Tortugas Radio Network will begin on the MiLB First Pitch app and www.daytonatortugas.com at 6:15 p.m. leading up to the 6:30 p.m. first pitch from Bay Care Ballpark.
After the six-game road swing, the Tortugas will return to Jackie Robinson Ballpark on Tuesday, May 17, to open up a series against the Dunedin Blue Jays, the Florida State League affiliate of the Toronto Blue Jays. It will be a Breast Cancer Awareness Night presented by Radiology Associates Imaging. The Tortugas will don special pink-clad uniforms that will be auctioned off at the end of the season with all proceeds to raise money and awareness in the fight against breast cancer. It is also a Silver Sluggers Night by Conviva, featuring special team store and concession stand deals for members, plus more. The series opener features Taco Tuesday with options at the concession stands starting at just $3.
Season tickets, multi-game plans, group packages, and single-game tickets are currently available and can be purchased online at www.daytonatortugas.com or by calling the Tortugas' Ticket Office at (386) 257-3172.
ABOUT THE DAYTONA TORTUGAS
The Daytona Tortugas are the Single-A Affiliate of the Cincinnati Reds and a member of Minor League Baseball's Florida State League. The Tortugas play at Jackie Robinson Ballpark in downtown Daytona Beach, Fla. Jackie Robinson Ballpark also plays host to Bethune-Cookman University, the Jackie Robinson Ballpark Museum, and many community events and initiatives of all sizes throughout the year.