Daytona's hopes dashed in 5-4 extra-inning defeat to St. Lucie
Austin Hendrick extends on-base streak to 12-straight, as Mets rally to stun Tortugas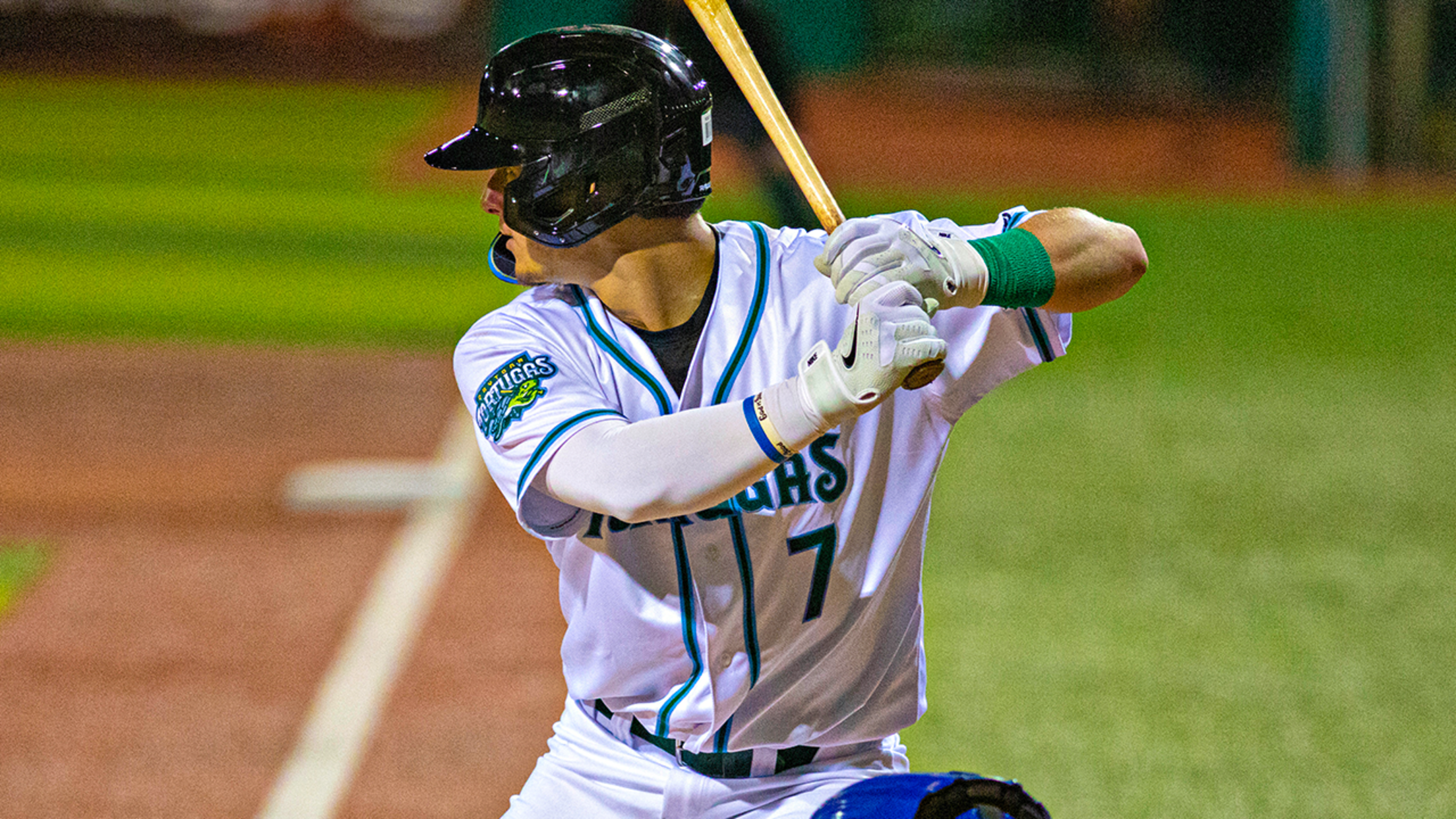 RF Austin Hendrick extended his on-base streak to 12-straight games with an RBI single on Tuesday, but the St. Lucie Mets rallied to stun the Daytona Tortugas, 5-4, in 10 innings at Clover Park. (Aldrin Capulong)
PORT ST. LUCIE, Fla. — It was deja vu all over again. For the fifth time in seven road games, the Tortugas were forced to watch as the other team celebrated on the diamond. LF Stanley Consuegra's solo home run in the ninth inning tied it and C Drake Osborn's
PORT ST. LUCIE, Fla. — It was deja vu all over again. For the fifth time in seven road games, the Tortugas were forced to watch as the other team celebrated on the diamond. LF Stanley Consuegra's solo home run in the ninth inning tied it and C Drake Osborn's single in the 10th frame ended it, as the St. Lucie Mets came from behind to stun Daytona, 5-4, in 10 innings on Tuesday night at Clover Park.
The Tortugas (8-8) held a 4-3 advantage entering the bottom of the final regulation frame. After jumping ahead of the leadoff batter 0-2, Consuegra (2-4, R, HR, RBI, SO) worked the count even. On a 2-2 delivery, the Mets' 21-year-old served a towering line drive off towards the videoboard in left-center field for a solo home run. Consuegra's first long ball of the season tied the game at four.
St. Lucie (10-7) had an opportunity to win it in the ninth after a two-out double by RF Carlos Dominguez (2-3, R, 2B, BB, SO), a walk to 1B Raul Beracierta (1-3, R, 2B, BB), and a passed ball. Despite having men at second and third, RHP José Franco (4.0 IP, 3 H, R, ER, BB, 7 SO) buckled down and earned a swinging strikeout to force extra innings.
Daytona pushed the automatic runner to third on a bunt and received a two-out walk, but a ground out to first ended the inning without a run.
The Mets' half of the 10th inning did not last long. With DH Omar De Los Santos (2-4, 2 R, HR, 3 RBI, 2 SO) at second as the auto baserunner, Osborn (1-4, RBI, SO) punched a line drive off the left-field wall for a hit. De Los Santos easily crossed from second to give the Mets a 5-4 victory.
In the second inning, the Tortugas squirted out to an early lead. A trio of walks to C Hayden Jones (1-3, R, RBI, 2 BB, SO), DH Andruw Salcedo (0-3, R, BB, SO), and CF Jay Allen II (1-4, R, BB) loaded the bags for RF Austin Hendrick (1-5, RBI, SO). The 20-year-old ripped a single into right to give Daytona the lead 1-0.
After a bases-loaded walk to 3B Michel Triana (0-4, RBI, BB, 2 SO) forced in another tally, 1B Ruben Ibarra (1-4, RBI, 2 SO) scalded a single into left field. Allen II scored easily from third, but Hendrick was thrown out at the plate attempting to cross from second base, keeping the Tortugas' advantage to 3-0.
LF Jamal O'Guinn (1-2, R, 2 BB) ignited a rally for Daytona in the fifth with a one-out walk. After taking second on a ground out, Jones brought him in with a single to right.
St. Lucie cut the Tortugas' advantage to 4-3 in the home fifth. Dominguez began the inning with a single and moved to third on a double to right from Beracierta. De Los Santos would follow with a three-run home run to left, his third of the year.
Neither starter received a decision on Tuesday. Daytona's RHP Sam Benschoter (5.0 IP, 4 H, 3 R, 3 ER, BB, 6 SO) struck out six over a career-high five innings, while St. Lucie's RHP Franklin Sanchez (1.1 IP, 2 H, 3 R, 3 ER, 4 BB, SO) was unable to escape the Tortugas' three-run second.
RHP Grant Hartwig (1.0 IP, BB) posted a scoreless 10th to earn his third win already this season for the Mets. Despite not permitting an earned run yet this year, Tortugas RHP Dennis Boatman (0.0 IP, H, R) was saddled with his second defeat of the campaign.
The Tortugas will attempt to put Tuesday's contest behind them, as RHP Reynardo Cruz (0-0, 7.56) is expected to take the hill in game two of the series on Wednesday. The Mets are scheduled to counter with their Opening Night starter, LHP Keyshawn Askew (0-0, 1.64). Coverage on the Tortugas Radio Network will begin on the MiLB First Pitch app and www.daytonatortugas.com at 5:55 p.m. leading up to the 6:10 p.m. first pitch from Clover Park.
After the six-game road swing, the Tortugas will return to Jackie Robinson Ballpark on Tuesday, May 3, to open up a series against the Jupiter Hammerheads, the Florida State League affiliate of the Miami Marlins. It will be a Breast Cancer Awareness Night presented by Radiology Associates Imaging. The Tortugas will don special pink-clad uniforms that will be auctioned off at the end of the season with all proceeds to raise money and awareness in the fight against breast cancer. It is also a Silver Sluggers Night by Labcorp, featuring special team store, concession stand deals for members, and more. The series opener features Taco Tuesday with options at the concession stands starting at just $3.
Season tickets, multi-game plans, group packages, and single-game tickets are currently available and can be purchased online at www.daytonatortugas.com or by calling the Tortugas' Ticket Office at (386) 257-3172.
ABOUT THE DAYTONA TORTUGAS
The Daytona Tortugas are the Single-A Affiliate of the Cincinnati Reds and a member of Minor League Baseball's Florida State League. The Tortugas play at Jackie Robinson Ballpark in downtown Daytona Beach, Fla. Jackie Robinson Ballpark also plays host to Bethune-Cookman University, the Jackie Robinson Ballpark Museum, and many community events and initiatives of all sizes throughout the year.