'Birds Valiant Comeback Falls Just Short Against RiverDogs
Noelberth Romero drives in two while collecting two hits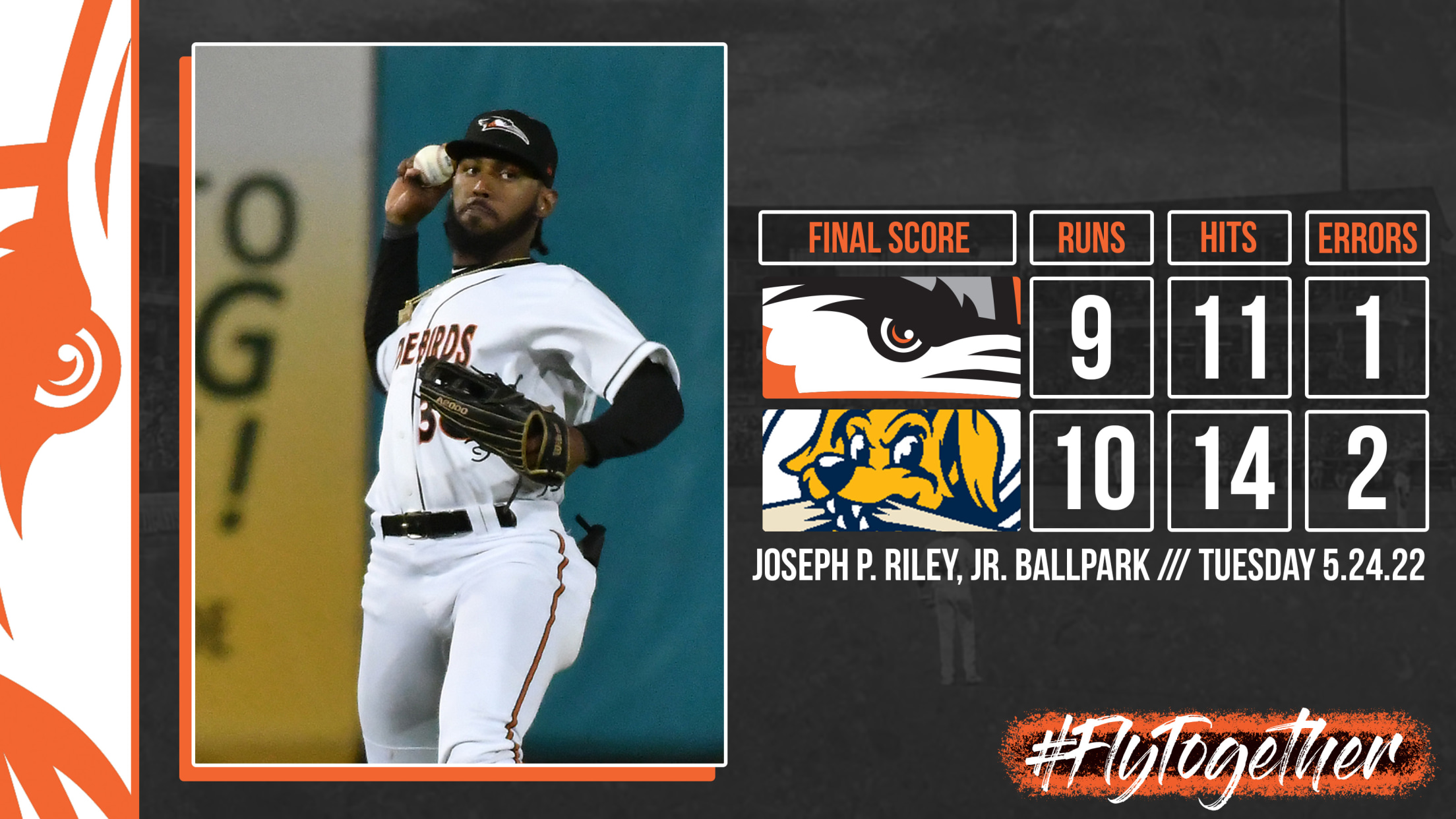 CHARLESTON, S.C. – After trailing by as many as eight, the Delmarva Shorebirds nearly pulled off a miraculous comeback but fell 10-9 to the Charleston RiverDogs on Tuesday night at Joseph P. Riley, Jr. Ballpark. The Shorebirds (15-25) got off to a less than ideal start as the RiverDogs (27-13)
CHARLESTON, S.C. – After trailing by as many as eight, the Delmarva Shorebirds nearly pulled off a miraculous comeback but fell 10-9 to the Charleston RiverDogs on Tuesday night at Joseph P. Riley, Jr. Ballpark.
The Shorebirds (15-25) got off to a less than ideal start as the RiverDogs (27-13) pulled away early in the second inning.
After an error began the second, Bobby Seymour swatted a two-run homer, his fifth of the season to start the scoring. Mason Auer then went back-to-back with him, smashing a solo homer, his second of the campaign to make it 3-0. The inning appeared to settle down after a double play, but Charleston scored four more times with two outs on an RBI single from Carson Williams, two-run single for Dru Baker, and then a wild pitch that scored Baker to make it 7-0.
The Shorebirds got on the board in the third when Ryan Higgins doubled, was balked to third, and then scored on a wild pitch.
Charleston got that run back plus one in the fourth. RBI singles from Baker and Auer opened the RiverDogs edge to 9-1.
The 'Birds scratched out another run in the seventh on a Moisés Ramirez RBI single only to see Charleston answer in the bottom half on an Abiezel Ramiriez RBI triple to restore the eight-run lead.
In the eighth, Trendon Craig kicked off a Delmarva rally with a one-out walk. Isaac Bellony then singled before Noelberth Romero singled as well with a subsequent fielding error allowing both runners to score with Romero going to third. Isaac De León then drove in Romero. Ryan Higgins singled De León to third who then scored on a Brayan Hernandez RBI groundout to make it 10-6.
Down to their last three outs, the 'Birds put up a fight in the ninth. With two outs and a runner on at first, Bellony reached on a two-base error putting two runners in scoring position. Romero drove both in with a base hit and then went to second on a wild pitch before scoring on a De León base knock, cutting the deficit to 10-9 and bringing the go-ahead run to the plate in the form of Higgins. Higgins launched a fly ball to left that came up just short on the warning track, ending the 'Birds comeback hopes.
Sandy Gaston (1-2) picked up the win out of the bullpen for the RiverDogs. Gaston fired two no-hit frames, walking one and striking out two.
Conor Grady (2-3) suffered the loss for the Shorebirds after allowing seven runs (two earned) on six hits and a walk in 1.2 innings.
The Shorebirds continue their series with the RiverDogs on Wednesday, May 25. Carter Baumler (Season Debut) is scheduled to go for Delmarva against Antonio Jimenez (1-2, 3.49) for Charleston. First pitch from Joseph P. Riley, Jr. Ballpark is slated for 7:05 p.m. with pregame coverage beginning at 6:50 p.m. on theshorebirds.com with Sam Jellinek on the call.
ABOUT THE DELMARVA SHOREBIRDS
The Delmarva Shorebirds were founded in 1996 and have been the Class-A affiliate of the Baltimore Orioles since 1997. The Shorebirds have won two South Atlantic League championships in 1997 and 2000 and were named the MiLB.com Minor League Team of the Year in 2019 after going 90-48 in the regular season. Based in Salisbury, Maryland, the Shorebirds are proud to represent the entire Delmarva Peninsula and have hosted two SAL All-Star Games in 1999 and 2011. The Shorebirds are owned by 7th Inning Stretch, LP, based in Stockton, California headed by Chairman Tom Volpe and President Pat Filippone.