Shorebirds Even Series with Wood Ducks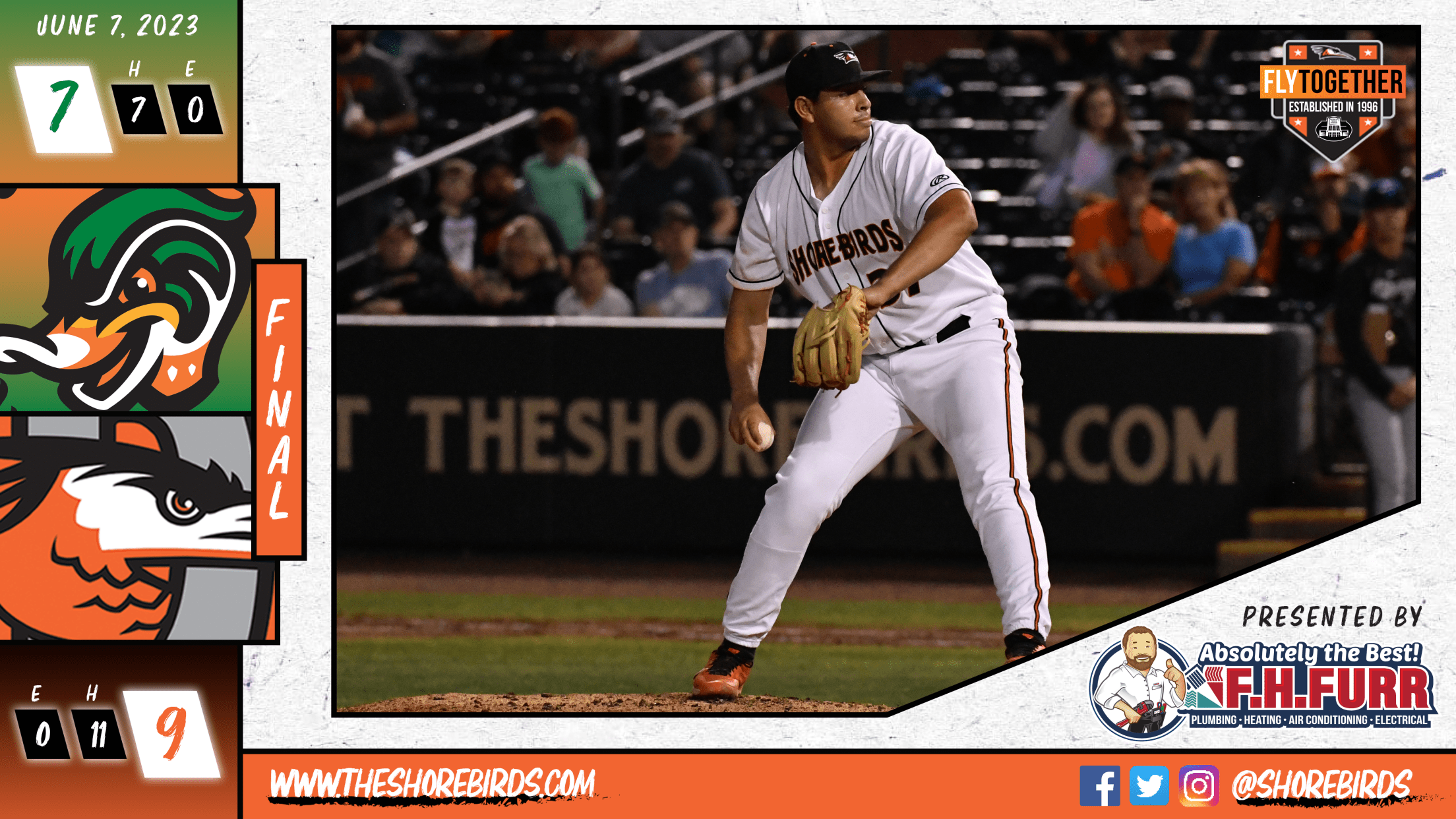 Delmarva Holds off Down East in High Scoring Affair Shorebirds Even Series with Wood Ducks SALISBURY, MD: The Delmarva Shorebirds (25-27) evened their series against the Down East Wood Ducks (29-20) with a 9-7 victory on Wednesday night. The Wood Ducks scored the first run of the game in the
Delmarva Holds off Down East in High Scoring Affair
Shorebirds Even Series with Wood Ducks
*SALISBURY, MD: *The Delmarva Shorebirds (25-27) evened their series against the Down East Wood Ducks (29-20) with a 9-7 victory on Wednesday night.
The Wood Ducks scored the first run of the game in the top of the second inning on a solo home run by Gleider Figuereo, making it 1-0 Down East after two innings.
Delmarva would respond in the bottom of the third on a two-out, two-run triple by Carter Young to score Brayan Hernandez and Angel Tejada, putting the Shorebirds ahead 2-1. Isaac Bellony then doubled home Young to give Delmarva a 3-1 edge.
Down East would even the score in the next half inning on a two-run single by Figuereo, making it a 3-3 game.
Elio Prado helped the Shorebirds reclaim the lead as he used the power swing to send his fourth homer of the season over the wall in left field, putting Delmarva back on top 4-3.
The offense added insurance in the next two frames. In the sixth, a run scored on a wild pitch, and Elio Prado drew a bases-loaded walk to up the lead to 6-3. They then scored three runs in the seventh with an RBI single by Stiven Acevedo, followed by a two-run single by Anderson De Los Santos to give the Shorebirds a strong lead of 9-3.
But the Wood Ducks would make things interesting late on as Cam Cauley hit a grand slam in the top of the eighth with two outs to all of sudden pull Down East within two at 9-7.
After recording the final out in the eighth inning, Yaqui Rivera faced trouble in the ninth as the Wood Ducks put two runners on with one out, but the right-hander responded by getting the next two outs with a grounder to second and a strikeout of Danyer Cueva to get the Shorebirds to finish line with a 9-7 victory.
Alfred Vega (2-1) earned the win in relief for Delmarva with Yaqui Rivera (5) picking up the save. Damian Mendoza (2-3) was the losing pitcher for Down East.
There were several notable performances on Wednesday night, starting with Carter Young who picked up two more hits with a double and triple, driving in two runs with his three-bagger. Elio Prado drove in two, including his solo home run in the fifth. Anderson De Los Santos collected multiple hits for the second straight game with two runs coming in on his knock in the eighth. And Alfred Vega dealt 2.1 scoreless innings out of the bullpen, he has not allowed a run in four consecutive appearances that have covered 14.1 innings.
The Shorebirds will go for back-to-back wins on Thursday night as Wyatt Cheney draws the start against Joseph Montalvo for the Wood Ducks. First pitch is at 7:05 p.m.