Wood Ducks Take Advantage of Defensive Miscues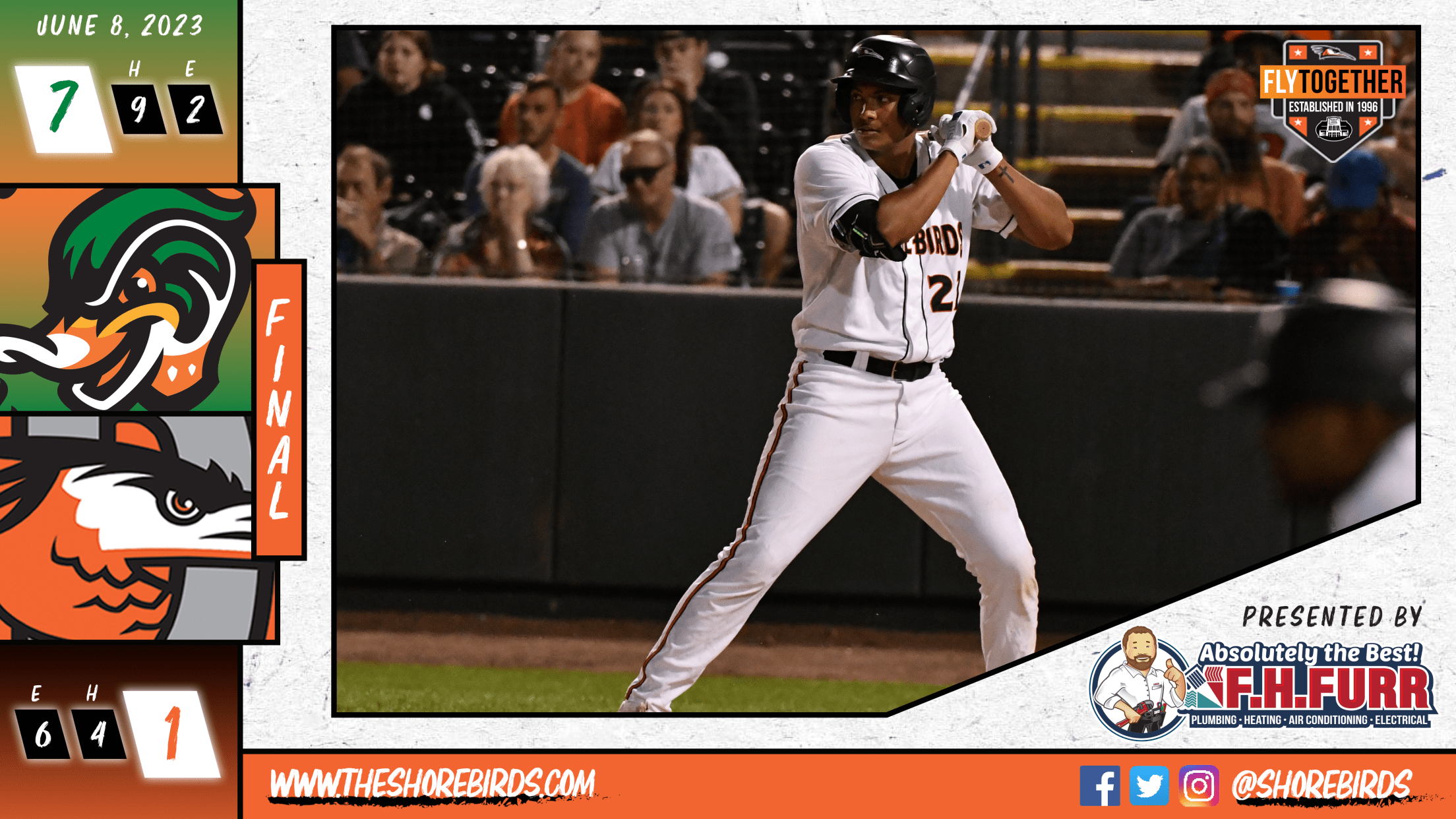 Early Errors Haunt Delmarva in Game 3 Defeat Wood Ducks Take Advantage of Defensive Miscues SALISBURY, MD: The Delmarva Shorebirds (25-28) could not manufacture back-to-back wins against the Down East Wood Ducks (30-20) as the Texas Rangers' affiliate handily won Thursday's matchup by a score of 7-1. Down East would
Early Errors Haunt Delmarva in Game 3 Defeat
Wood Ducks Take Advantage of Defensive Miscues
SALISBURY, MD: The Delmarva Shorebirds (25-28) could not manufacture back-to-back wins against the Down East Wood Ducks (30-20) as the Texas Rangers' affiliate handily won Thursday's matchup by a score of 7-1.
Down East would score the first run of the game on an error by Ramon Rodriguez on a throw to third base. Cam Cauley touched home on the miscue to give the Wood Ducks a 1-0 lead.
They would add four more runs in the next inning as they capitalized on three more Delmarva errors to put the Shorebirds in a 5-0 hole.
Down East looked to blow the game open in the fifth as they loaded the bases with nobody out with an error, a single, and a walk. But Jared Beck rallied to put up a zero by striking out the next three Wood Ducks to keep the score 5-0.
Delmarva then capitalized on the momentum by scoring in the bottom of the fifth on a broken-bat single by Luis Gonzalez to score Angel Tejada, making it a 5-1 game.
The visitors would get that run back plus another as they opened the top of the sixth with back-to-back triples by Danyer Cueva and Yosy Galan. After Galan drove in Cueva with his three-bagger, Ian Moller scored Galan with a groundout to put the Wood Ducks ahead 7-1.
Jared Beck and Cesar Alvarez would hold that deficit in place by not allowing in runs for the rest of the night. However, the Shorebirds were never able to get their bats going and Down East would go on to win 7-1.
Joseph Montalvo (5-0) earned the win for the Wood Ducks with Wyatt Cheney (2-5) taking the loss for Delmarva.
The Shorebirds will look to even the series again on Friday night as Deivy Cruz takes the mound against Rangers' prospect arm Brock Porter. First pitch is at 7:05 p.m.