Basallo and Bellony Lead Delmarva in Comeback Win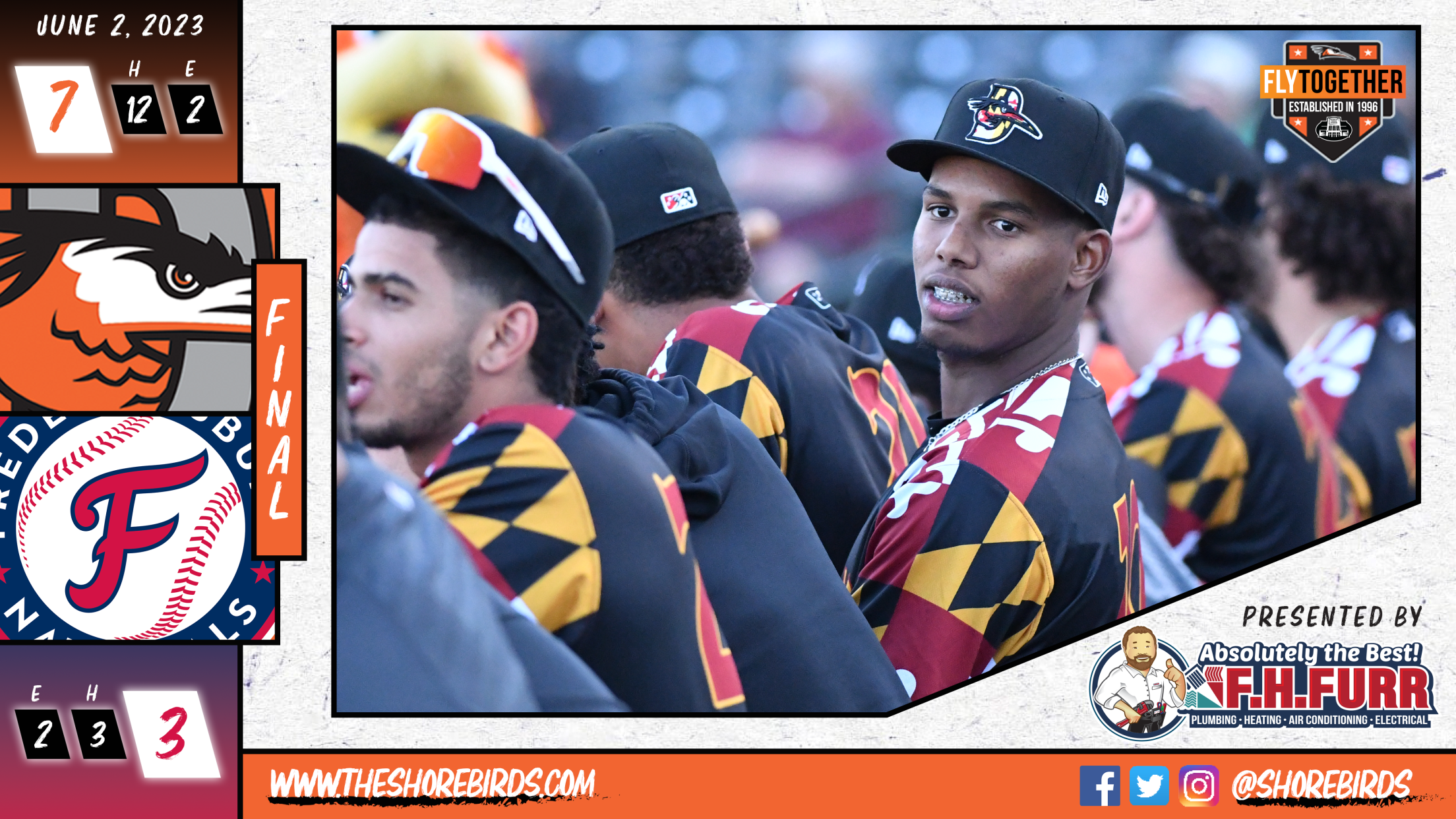 Shorebirds Defeat Nationals to End Losing Skid Basallo and Bellony Lead Delmarva in Comeback Win FREDERICKSBURG, VA: The Delmarva Shorebirds (24-24) put an end to their five-game losing streak on Friday night as they topped the Fredericksburg Nationals (21-26) by a score of 7-3. The Shorebirds found themselves playing from
Shorebirds Defeat Nationals to End Losing Skid
Basallo and Bellony Lead Delmarva in Comeback Win
*FREDERICKSBURG, VA: *The Delmarva Shorebirds (24-24) put an end to their five-game losing streak on Friday night as they topped the Fredericksburg Nationals (21-26) by a score of 7-3.
The Shorebirds found themselves playing from behind early as the Fred Nats scored three times in the bottom of the second inning to put themselves ahead 3-0.
Delmarva then began their comeback effort in the top of the fifth as they struck for four runs. Carter Young got it started by bringing home, Victor Gonzalez on a fielder's choice error to make it 3-1. Samuel Basallo then tied the game on a two-run single against Major League rehabber Sean Doolittle as Elio Prado and Carter Young each touched home. The Shorebirds then grabbed the lead on an RBI single by Isaac Bellony on a 3-0 pitch to cap off the inning with Delmarva now ahead 4-3.
Wyatt Cheney played a major part in Friday's game. The reliever entered the game in the fourth and would shut down the Nationals by dealing five innings of shutout baseball, tossing the longest outing of his professional career to help Delmarva hold the lead.
The offense provided some insurance for him in the seventh as Samuel Basallo cranked his fifth home run of the season. His solo shot pushed Delmarva's lead to 5-3.
In the eighth, Victor Gonzalez flared a single just inside the right-field line to bring in Angel Tejada, making it a 6-3 game.
They'd add one more run in the ninth for good measure with Isaac Bellony driving home Carter Young for his fourth hit of the game, extending the Shorebirds' advantage to 7-3. Hugo Beltran retired the side in order in the bottom of the ninth to secure a 7-3 win for Delmarva, ending their five-game losing skid.
Wyatt Cheney (2-4) earned the win for the 'Birds with Sean Doolittle (0-1) taking the loss for Fredericksburg.
Samuel Basallo reached the 40 RBI mark by driving in three runs on Friday night, including one on his fifth home run of the year in the seventh inning. Isaac Bellony stayed hot for Delmarva with his four hits, driving in two runs in the process. Toby Welk, Erinson Placencia, and Victor Gonzalez each contributed two hits as well in the victory.
The Shorebirds will now look to start up a winning streak on Saturday night as Anderson De Los Santos toes the slab for Delmarva against Luke Young for the Nationals with first pitch at 6:05 p.m.