Delmarva Walked Off for Third Time by Fredericksburg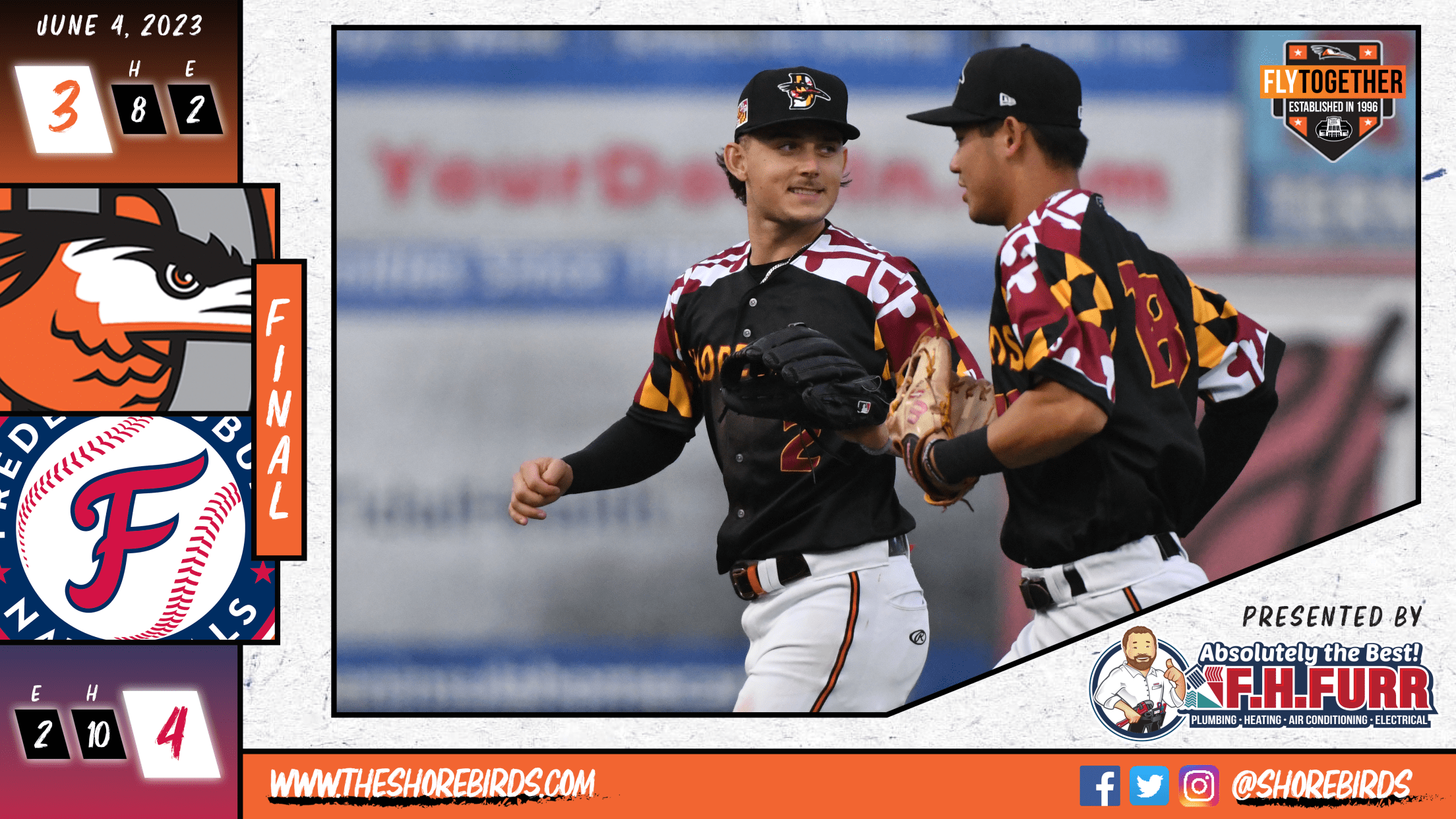 Shorebirds Edged by Nationals in Series Finale Delmarva Walked-Off for Third Time by Fredericksburg FREDERICKSBURG, VA: The Delmarva Shorebirds (24-26) were walked off by the Fredericksburg Nationals (23-26) in Sunday's series finale by a score of 4-3. The Fred Nats produced the game's first run in the bottom of the
Shorebirds Edged by Nationals in Series Finale
Delmarva Walked-Off for Third Time by Fredericksburg
FREDERICKSBURG, VA: The Delmarva Shorebirds (24-26) were walked off by the Fredericksburg Nationals (23-26) in Sunday's series finale by a score of 4-3.
The Fred Nats produced the game's first run in the bottom of the fourth inning on an RBi double by Murphy Stehly to Score Sammy Infante, making it 1-0 Nationals.
They added to their lead in the next frame with another RBI double, this time by Johnathon Thomas to push their advantage to 2-0.
Delmarva fought back in the top of the sixth inning as they got on the board with an RBI groundout by Isaac Bellony to make it a 2-1 game. They then tied things up with a long sacrifice fly by Anderson De Los Santos as Samuel Basallo scored from third base, evening the game at two apiece.
Fredericksburg grabbed the lead back in the next half inning on a throwing error that allowed Paul Witt to score from third, giving the Nationals a 3-2 lead after six.
The Shorebirds counterpunched again in the top of the seventh as Samuel Basallo scored the tying run on an opposite-field double as Elio Prado touched home on the play, squaring the game at three.
It remained a 3-3 tie into the bottom of the ninth and the Fred Nats instantly put the pressure on by loading the bases with nobody out. Armando Cruz immediately took matters into his own hands for Fredericksburg as he singled on the first pitch of his at-bat to score the winning run, handing the Shorebirds their third walk-off defeat of the week.
Brad Lord (1-0) earned the win in relief for the Nationals with Darlin Alcantara (3-2) taking the loss for Delmarva.
Carter Young provided a great showing offensively with a 4/4 day at the plate, a single-game best for hits in his career. Samuel Basallo added two knocks himself with a single and double with his two-bagger in the seventh adding to his league-best RBI total of 41.
Delmarva will look to reset the gears after dropping six of seven to the Nationals as they return to host the Down East Wood Ducks starting on Tuesday night with first pitch at 7:05 p.m.