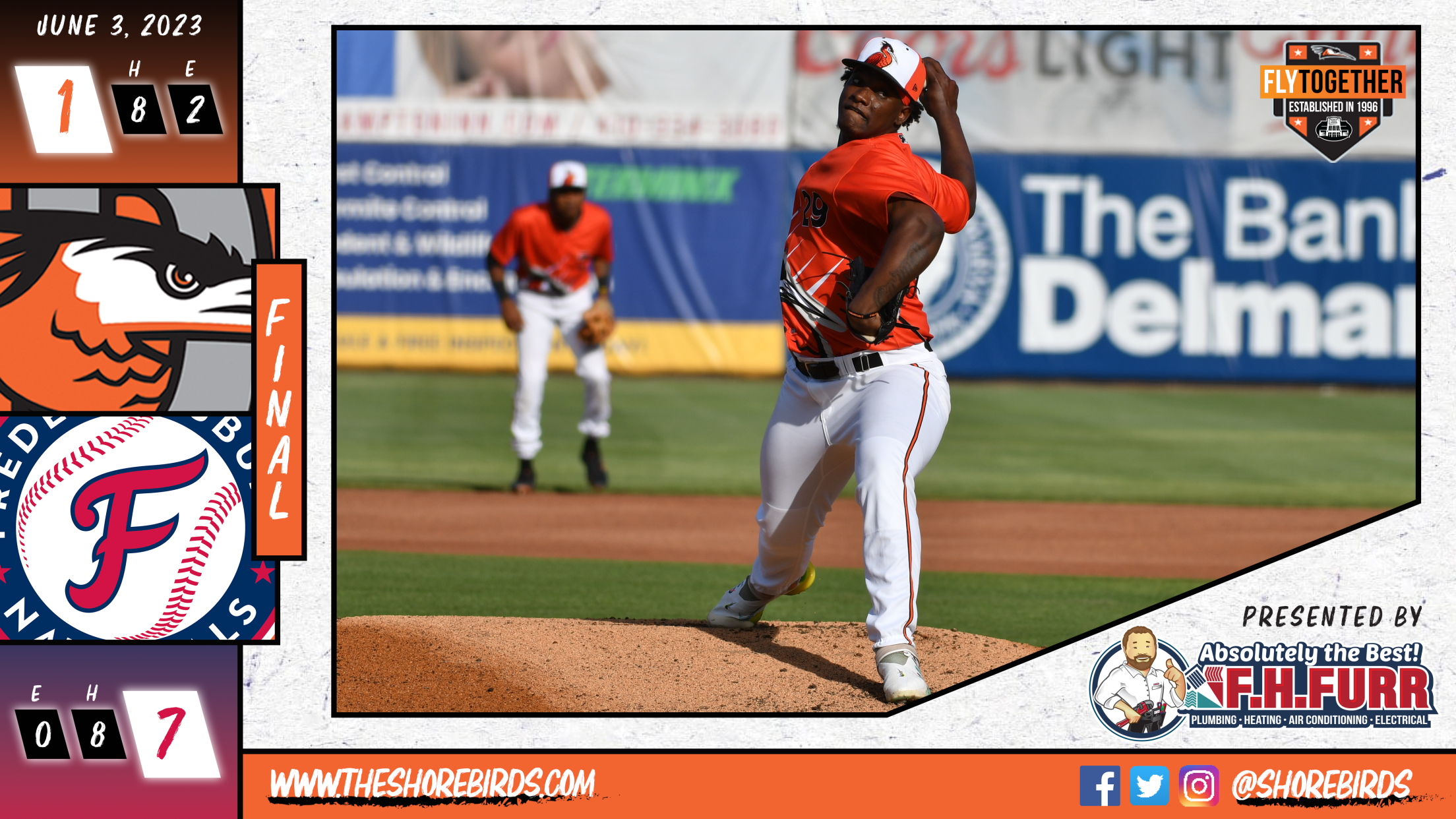 Shorebirds Unable to Overcome Early Deficit in Saturday Defeat Fred Nats Take Game Six FREDERICKSBURG, VA: The Delmarva Shorebirds (24-25) were unable to rattle off back-to-back wins against the Fredericksburg Nationals (22-26) as they were defeated 7-1 on Saturday night. Fredericksburg started the scoring right away in the first on
Shorebirds Unable to Overcome Early Deficit in Saturday Defeat
Fred Nats Take Game Six
*FREDERICKSBURG, VA: *The Delmarva Shorebirds (24-25) were unable to rattle off back-to-back wins against the Fredericksburg Nationals (22-26) as they were defeated 7-1 on Saturday night.
Fredericksburg started the scoring right away in the first on an RBI double by Paul Witt to give the Nationals an early 1-0 lead.
They then struck for four unearned runs in the bottom of the second inning with Sammy Infante and Brady House each picking up RBIs in the frame to put Delmarva in a 5-0 hole.
The Nationals added single tallies in the next two innings on a wild pitch in the third, followed by a home run by Brady House in the fourth to extend the Delmarva deficit to 7-0.
Delmarva would look to start up a rally in the top of the fifth as Adam Crampton singled home Erison Placencia to pull the Shorebirds within six at 7-1.
In the sixth, Delmarva would load the bases with two outs, but Luis Gonzalez bounced out to first to end the inning. They put up another threat in the seventh with a pair of two-out base runners, but the Fred Nats would escape again with no runs scoring to hold the 7-1 lead into the seventh inning stretch.
The Shorebirds got strong work from Deivy Cruz out of the bullpen as the lefty dealt four innings, allowing just one run and matching his season-high with six strikeouts on the night.
But Delmarva was unable to break through late against Fredericksburg pitching as the Nationals would hold on to win 7-1.
Juan Abreau (1-0) picked up the win in relief for the Nationals with Juan De Los Santos (1-5) taking the loss for Delmarva.
The Shorebirds will look to finish their seven-game series on a winning note on Sunday afternoon as Bradley Brehmer gets the ball against Jarlin Susana for the Nationals with first pitch at 1:35 p.m.