Collard Greens Walk It Off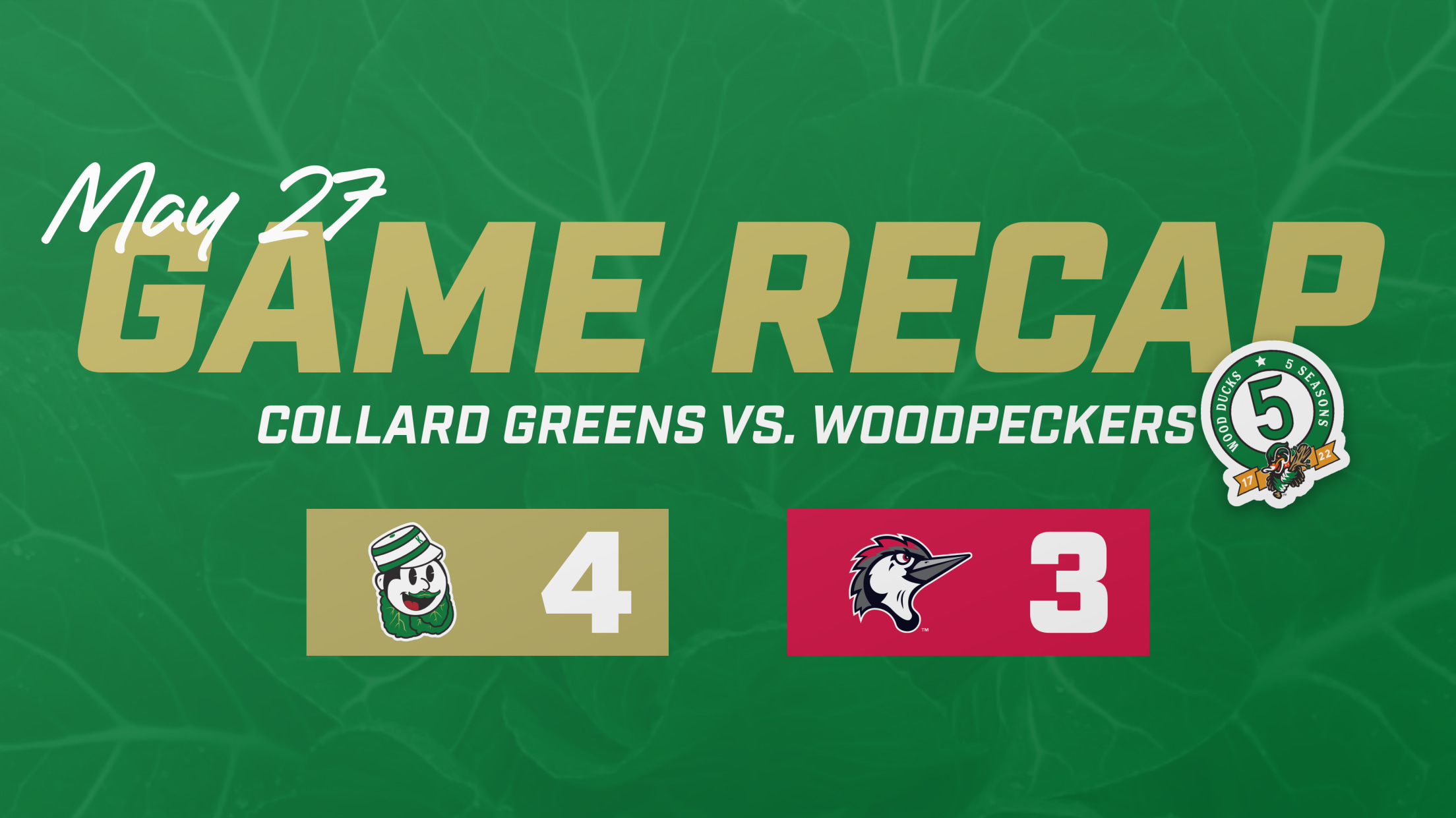 Collard Greens Walk It Off By: Noah Salgado It was another pitching duel here at Grainger Stadium between Josh Stephan of the Kinston Collard Greens and Deylen Miley of the Fayetteville Woodpeckers with a whole lot of strikeouts and 3 up 3 down innings. Stephan finished with 9 K's and
Collard Greens Walk It Off
By: Noah Salgado
It was another pitching duel here at Grainger Stadium between Josh Stephan of the Kinston Collard Greens and Deylen Miley of the Fayetteville Woodpeckers with a whole lot of strikeouts and 3 up 3 down innings. Stephan finished with 9 K's and Miley with 7. The Collard Greens were able to strike first off Maximo Acosta's run. He got on with a base hit single and was able to get home on wild pitches to put them up 1-0. Alex Santos relieves Miley of his duties in the bottom of the 6th who also comes in dealing. He finished with 7 strikeouts as well. After six scoreless innings for Josh Stephan, he gives up a 3-run homer by Tyler Whitaker to give the Woodpeckers a 3-1 lead. In the bottom of the 8th Jose Acosta brings them within one on a solo home run that inched by the foul pole in right field. The Collard Greens head into the bottom of the 9th with a chance to walk it off and they do just that. Abimelec Ortiz is up to bat with two outs and Yosy Galan on first. Alex Santos gives Ortiz a pitch up high, and Abi Ortiz takes every piece of it deep to right field for the 2-RUN WALK OFF HOME RUN! Kinston wins it 4-3.
The Wood Ducks (19-24) and Fayetteville Woodpeckers (19-24) continue their series tomorrow, on Saturday, May 28th, with the Woodies leading the series 3-1, as the first pitch is set for 5:00 p.m. in Kinston, NC at Grainger Stadium.
Fans can purchase tickets on woodducksbaseball.com, by calling the Wood Ducks Team Offices at (252) 686-5164 or in the Wood Ducks Team Offices located at Grainger Stadium (Mon-Fri – 9am - 4pm). Make sure to follow your Down East Wood Ducks on Instagram, Twitter, TikTok and Facebook so you don't miss anything!