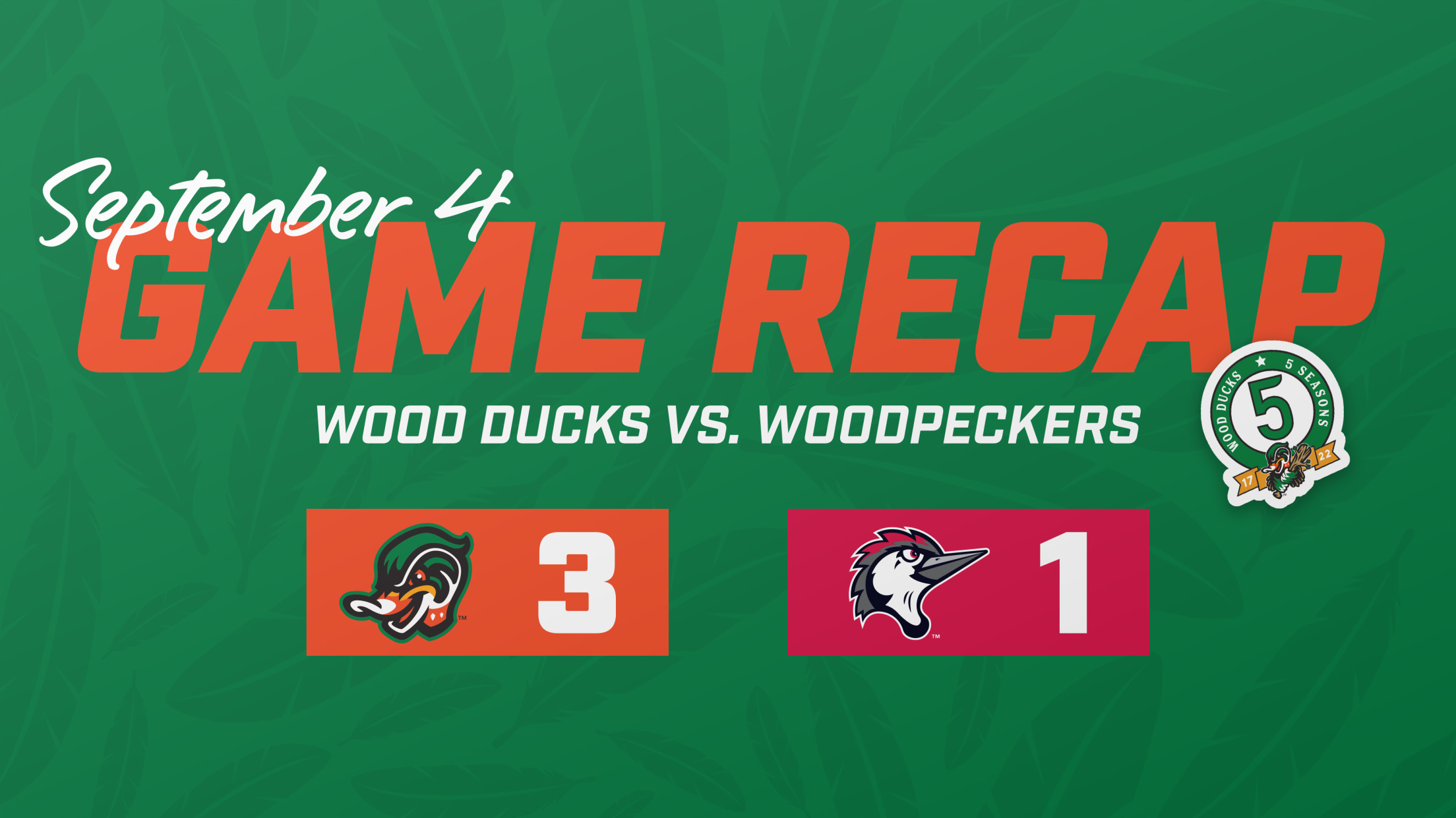 9/4/22 Game Recap by Jackson Pass The final game of the year at home for the Wood Ducks ended in a dramatic fashion. The first three innings, both starters had a pitching duel going on, as Aidan Curry ended his day in the fourth, throwing 3.1 with six strikeouts, and
9/4/22 Game Recap
by Jackson Pass
The final game of the year at home for the Wood Ducks ended in a dramatic fashion. The first three innings, both starters had a pitching duel going on, as Aidan Curry ended his day in the fourth, throwing 3.1 with six strikeouts, and Guilfoil for the Woodpeckers going 3.2 innings, allowing one hit and racking up six strikeouts, before turning the ball over to Schroeder. The Woodies scored two runs with two outs on Schroeder after Schroeder walked four of the six batters he faced, with RBI walks going to JoJo Blackmon and Jose Rodriguez.
The Woodies added one more run to the board on an RBI double from Abi Ortiz with Galan on second. The dramatic bottom of the ninth, with the Woodpeckers trying to mount a two out 3-0 rally, started with a walk to McGowan, where he reached second on a defensive indifference and a RBI single by Garcia scored McGowan, making it 3-1. With the tying run at the plate a blooper was hit into center field by Zach Cole that was originally called a hit that dropped before a diving Marcus Smith caught the ball, but was overturned as a flyout. The Woodpeckers manager was then tossed from the game arguing the overturned call. The Woodies win 3-1. Woodies pitching was great on the day, with Anthony Hoopii-Tuionetoa getting the save on the night.
The Wood Ducks (64-62) and Fayetteville Woodpeckers (52-73) end the final homestand of the season and the Woodies go on to play the final series of the season against Delmarva away on Tuesday, September 6th at 7:00pm.
Make sure to follow your Down East Wood Ducks on Instagram, Twitter, TikTok and Facebook so you don't miss anything! Thanks fans for all your support this year and we will see you in 2023 for another great season of Woodies baseball.