Woodies Fall Short in Extras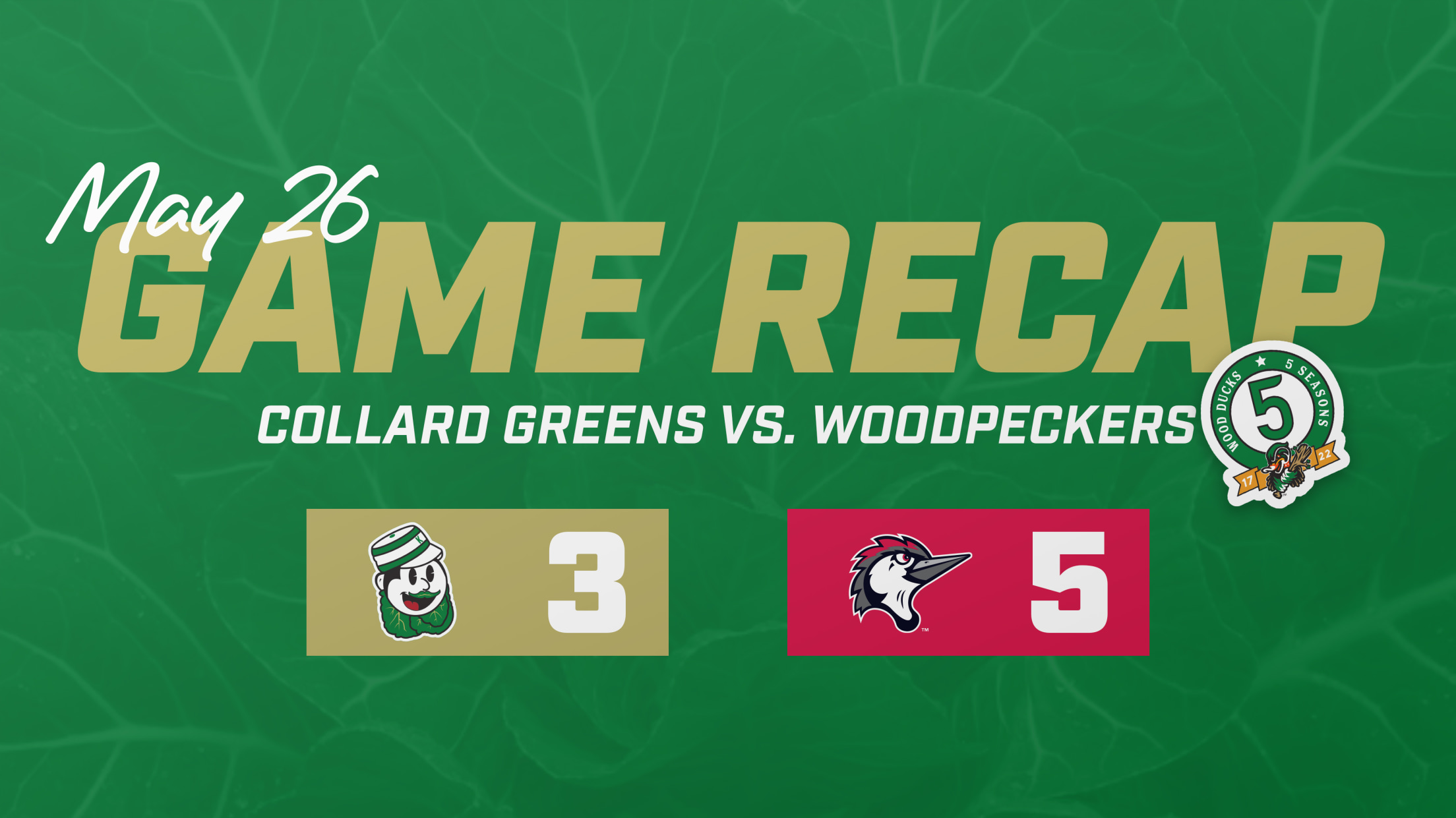 5/26/2022 Game Recap by: Noah Salgado The game was off to a defensive start led by Robby Ahlstrom of the Down East Wood Ducks and Carlos Calderon of the Fayetteville Woodpeckers. It was not until the top of the 3rd that runs were scored. Bases were loaded for the Woodpeckers
5/26/2022 Game Recap
by: Noah Salgado
The game was off to a defensive start led by Robby Ahlstrom of the Down East Wood Ducks and Carlos Calderon of the Fayetteville Woodpeckers. It was not until the top of the 3rd that runs were scored. Bases were loaded for the Woodpeckers when Joey Loperfido hit a single scoring two runs giving them a 2-0 lead. Abimelec Ortiz of the Wood Ducks answered on the first at bat in the bottom of the 3rd with a moonshot of a homerun over the scoreboard in right field. Yenci Pena gets on base and is brought in by Maximo Acosta on an RBI to tie the ballgame 2-2.
Things settle down a bit until the top of the 5th when Leosdany Molina hits a line drive to right field, scoring Kenedy Corona who reached on an error in his at bat. That gives the lead back to the Woodpeckers 3-2. Once again, Abimelec Ortiz comes up big with a line drive single to right field. He steals second and then is able to get home to score a run on a pair of back-to-back wild pitch's tying the ballgame 3-3. Dylan MacLean comes out of the duck blind and onto the field to take over on the mound for Robby Ahlstrom who finished a strong outing with 8 strikeouts. It was a quick inning for MacLean and the Wood Ducks going 3 up 3 down.
Both teams go scoreless in the 7th and 8th inning. Anthony Hoopii-Tuioneta subs in to pitch for the Wood Ducks in the top of the 9th. He has a strong outing striking out all three batters. The game continues to be scoreless which leads them into extras. In the top of the 10th, Kenedy Corona scores himself and the placement runner Victor Mascai on a 2-run homer to left field. Giving the Woodpeckers the lead 5-3. The Wood Ducks are unable to answer the call losing a close, hard fought battle in extra innings 5 to 3.
The Wood Ducks (18-24) and Fayetteville Woodpeckers (19-23) continue their series tomorrow, on Friday, May 27th, with the Woodies leading the series 2-1, as the first pitch is set for 7:00 p.m. in Kinston, NC at Grainger Stadium.
Fans can purchase tickets on woodducksbaseball.com, by calling the Wood Ducks Team Offices at (252) 686-5164 or in the Wood Ducks Team Offices located at Grainger Stadium (Mon-Fri – 9am - 4pm). Make sure to follow your Down East Wood Ducks on Instagram, Twitter, TikTok and Facebook so you don't miss anything!