Gamel Gives Bulls 6-5 Walk-Off Win
LF Ben Gamel homers, clubs game-winning double as Durham wins 4th straight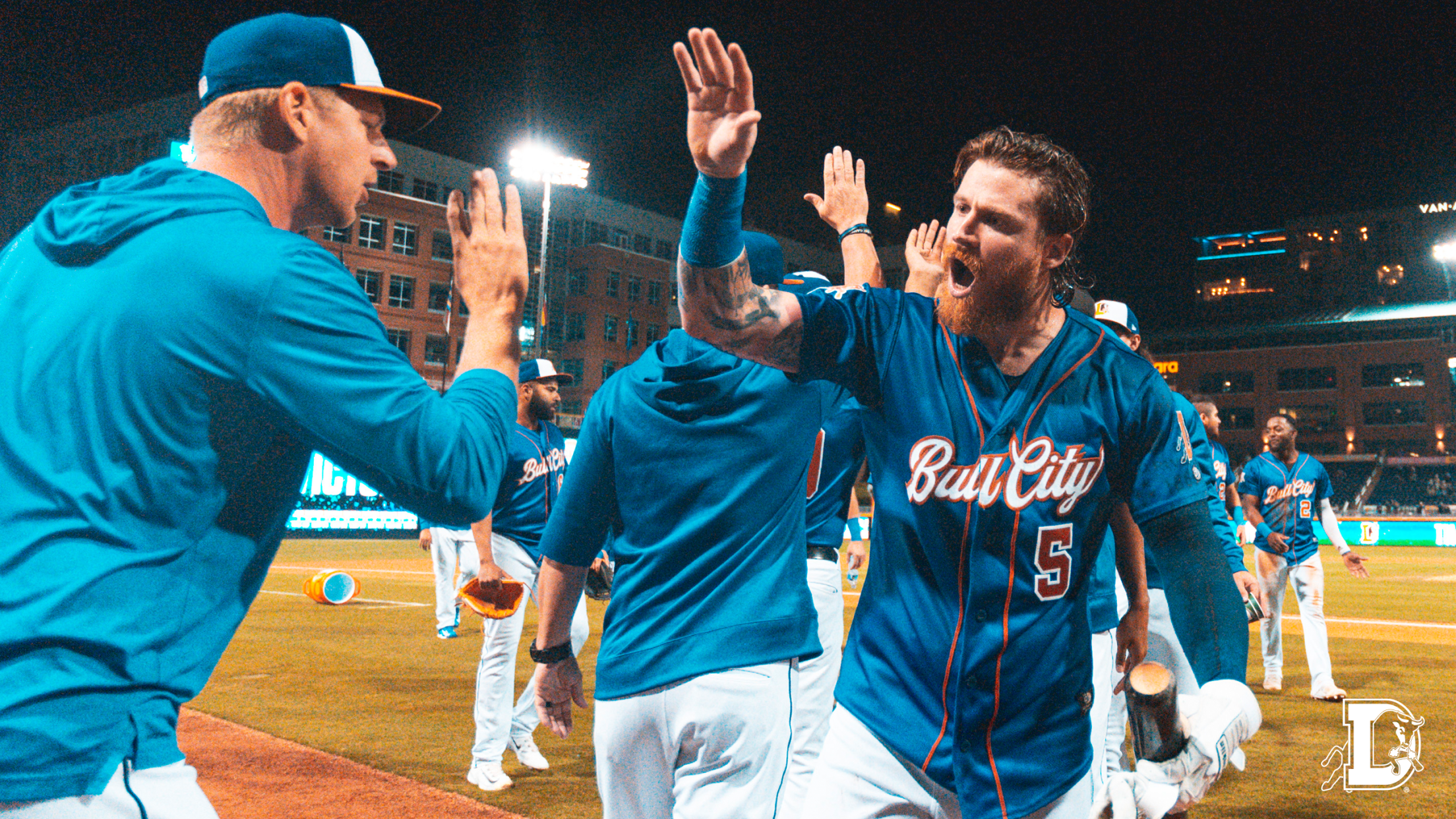 (Kelly Teseny (Durham Bulls))
Bulls first baseman Jonathan Aranda recorded two hits and drove in two runs, while left fielder Ben Gamel homered and smashed the game-winning RBI double as Durham earned their fourth straight win in a 6-5 victory over the Jacksonville Jumbo Shrimp on Thursday evening at Durham Bulls Athletic Park. Entering
Bulls first baseman Jonathan Aranda recorded two hits and drove in two runs, while left fielder Ben Gamel homered and smashed the game-winning RBI double as Durham earned their fourth straight win in a 6-5 victory over the Jacksonville Jumbo Shrimp on Thursday evening at Durham Bulls Athletic Park.
Entering the last of the ninth tied at 5-5, 2B Vidal Brujan drew a walk and then stole second, before 3B Osleivis Basabe and 1B Kyle Manzardo reached via free passes as well to load the bases and set the scene for Gamel. On a 1-2 pitch with one out, Gamel ripped his game-ending double to right-center to cue the celebration.
The Bulls opened the scoring in the initial frame courtesy of Aranda's RBI single to right, before C Nick Dini's sacrifice fly made it a two-run advantage. Aranda would then bring across another tally in the subsequent inning with his second run-scoring single of the night to extend the margin to three before Gamel's longball in the third made it 4-0. Jacksonville plated then single tallies in the fifth and seventh innings before taking the lead via a three-run eighth, before Durham took advantage of a wild pitch to even the contest and lead to Gamel's heroics in the ninth.
Gamel (2-5, R, 2B, HR, 2 RBI) and Aranda (2-3, R, 2 RBI, 2 BB) each posted two-hit efforts while driving in two runs to lead the Bulls offense. Gamel has also collected at least one hit in each of his last seven games dating back to May 24.
Durham reliever Luis Patino (1.0 IP, SO) earned the victory with a scoreless frame of support. Jacksonville Johan Quezada (0.1 IP, H, R, ER, 3 BB) suffered the defeat.
The two teams are set to face off again on Friday evening, with first pitch scheduled for 6:35pm. RHP Chris Gau is anticipated to get the nod for the Bulls, while LHP Enmanuel De Jesus is anticipated to toe the rubber for the Jumbo Shrimp.
Tickets for that game and all 2023 Durham Bulls home games are available, and can be purchased at DurhamBulls.com, or by calling 919.956.BULL.