Manzardo Mashes 4 Hits, Bulls Batter 'Shrimp 13-2
Kyle Manzardo matches career-high with 4 knocks, Nick Dini homers in rout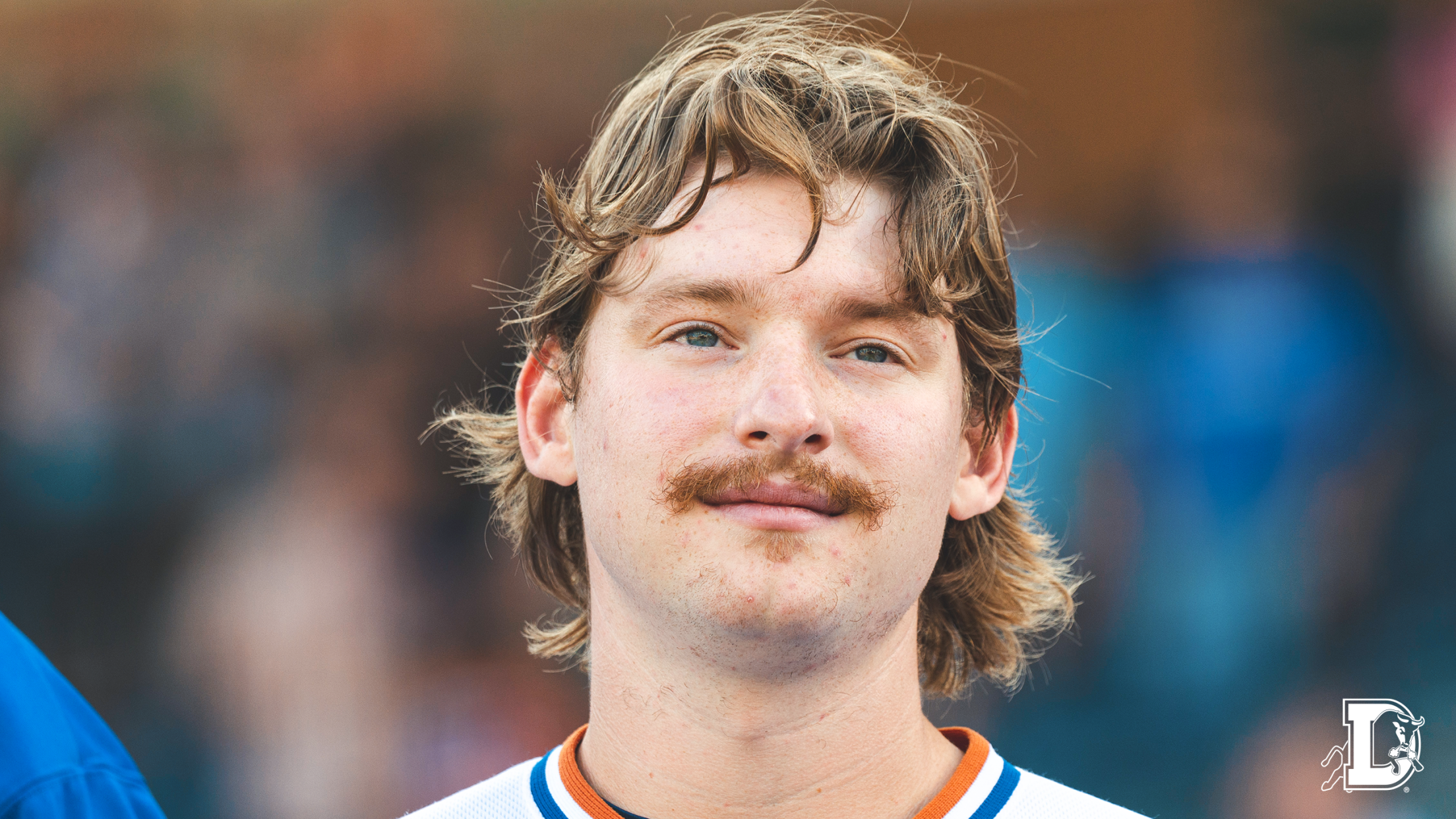 (Kelly Teseny (Durham Bulls))
Bulls first baseman Kyle Manzardo matched a single-game career-high with four hits, including two doubles, while designated hitter Nick Dini homered and center fielder Kameron Misner drove in three runs as Durham smashed a season-high seventeen hits in a 13-2 victory over the Jacksonville Jumbo Shrimp on Monday evening at
Bulls first baseman Kyle Manzardo matched a single-game career-high with four hits, including two doubles, while designated hitter Nick Dini homered and center fielder Kameron Misner drove in three runs as Durham smashed a season-high seventeen hits in a 13-2 victory over the Jacksonville Jumbo Shrimp on Monday evening at Durham Bulls Athletic Park.
The Bulls scored in six of their eight innings at bat, starting with Manzardo's first hit, an RBI single, in the opening frame. After the Jumbo Shrimp evened the game in the top of the second, Durham countered with a three-spot in the bottom half, highlighted by C Rene Pinto's RBI single.
Both teams would then swap a single tally in the fourth prior to the Bulls' four-run fourth that featured run-scoring doubles by Manzardo and Dini, in addition to an RBI single by RF Ruben Cardenas to make it 9-2. Misner would later bring across two scores as part of a three-run sixth, before Dini put an exclamation mark on the night with his 406-foot solo homer in the seventh.
All nine hitters in Durham's starting lineup recorded at least one hit, with Manzardo (4-6, 1 R, 2 2B, 2 RBI) leading the way with his four knocks. Dini (2-5, 3 R, 1 2B, 1 HR, 2 RBI, 1 BB), Cardenas (2-5, 1 R, 1 2B, 1 RBI), C Rene Pinto (2-3, 1 R, 1 2B, 2 RBI, 1 BB) and 3B Tristan Gray (2-4, 3 R, 1 2B, 1 BB) added multi-hit efforts of their own as well.
Bulls southpaw reliever Jose Lopez (2.2 IP, 4 SO) earned the victory, combining with Shawn Armstrong (1.0 IP, 1 H, 1 SO), Javy Guerra (1.0 IP, 1 SO) and Hector Perez (1.0 IP, 1 BB, 1 SO) for the final 5.2 scoreless frames in support of Jacob Lopez (3.1 IP, 4 H, 2 R, 2 ER, 2 BB, 4 SO). Jacksonville starter Ronald Bolanos (3.2 IP, 10 H, 9 R, 9 ER, 3 BB, 4 SO) suffered the defeat.
Following an off day on Tuesday, the two teams are set to face off again on Wednesday for a doubleheader, with game two set to make up for a rainout earlier this season in Jacksonville. Both games will be seven innings in length, with the second contest starting approximately 30 minutes after the conclusion of game one. First pitch of game one is set for 5:30pm, with gates opening at 5:00pm.
Tickets for that day and all 2023 Durham Bulls home games are available, and can be purchased at DurhamBulls.com, or by calling 919.956.BULL.