Redbirds Top Bulls 15-5
Aranda tallies 3rd straight 3-hit game, Manzardo goes deep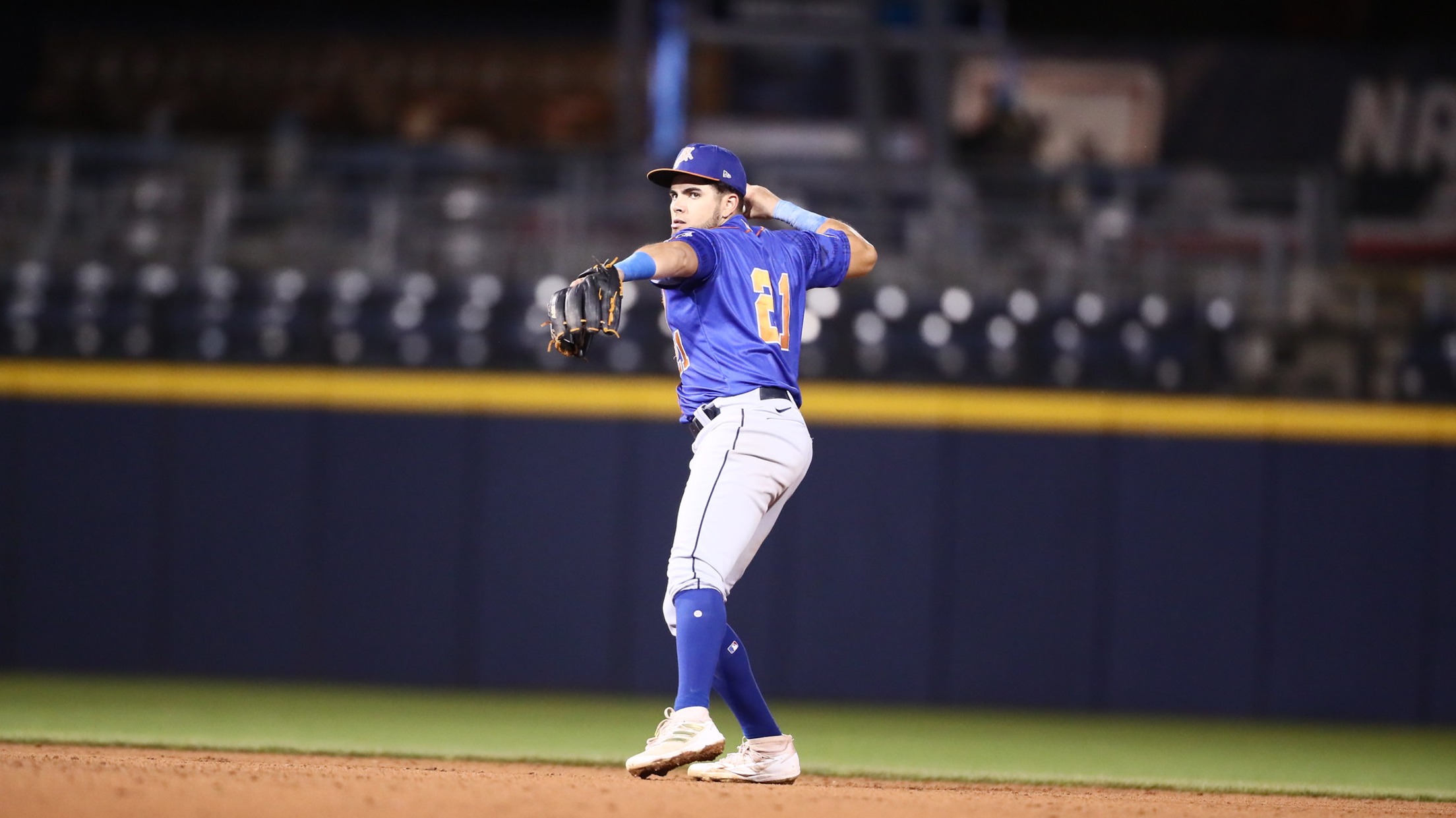 (Casey Gower)
Bulls first baseman Kyle Manzardo clubbed two hits, including a three-run home run, and second baseman Jonathan Aranda recorded his third consecutive three-hit effort, while Redbirds center fielder Ryan Koperniak and catcher Ivan Herrera combined for six hits, including two longballs, and drove in eight runs in Memphis' 15-5 victory
Bulls first baseman Kyle Manzardo clubbed two hits, including a three-run home run, and second baseman Jonathan Aranda recorded his third consecutive three-hit effort, while Redbirds center fielder Ryan Koperniak and catcher Ivan Herrera combined for six hits, including two longballs, and drove in eight runs in Memphis' 15-5 victory over Durham on Thursday evening at AutoZone Park.
The Redbirds jumped ahead early with a four-spot in the opening frame before Bulls RF Ruben Cardenas got Durham on the board with a solo homer to left in the fourth. Memphis would answer with two tallies in the last of the fourth before Manzardo mashed his ninth big fly of the season to make it a 6-4 contest.
The Redbirds, however, would counter with a trio of scores of their own in the last of the fifth to extend the advantage back to five before adding two more in the seventh to make it 11-4. Aranda would later drive in a run with his third hit of the evening in the top of the eighth before Memphis added four more insurance runs in the eighth.
Aranda (3-5, R, RBI) led the Bulls with his three knocks, with Manzardo (2-5, R, HR, 3 RBI) and DH Tristan Gray (2-5, 2B) adding multi-hit efforts of their own. Koperniak (3-5, 4 R, HR, 5 RBI) and Herrera (3-5, 2 R, HR, 3 RBI) led the Redbirds order with their three hits apiece. Aranda over his last three games has totaled nine hits in 13 at-bats, adding three doubles. Going back further he has tallied 11 knocks over his most recent 17 at-bats.
Memphis right-hander James Naile (1.1 IP, 4 H, 3 R, 3 ER, 2 BB, 2 SO) earned the victory in support of Jake Woodford (3.0 IP, 5 H, R, ER, 3 SO), who pitched with the Redbirds as part of an MLB Rehab Assignment. Durham righty Chris Gau (0.2 IP, 3 H, 4 R, 4 ER, 3 BB, SO) suffered the defeat.
The two teams are set to continue their six-game set on Friday evening, with first pitch scheduled for 8:05pm. RHP Nathan Wiles is anticipated to get the nod for Durham and be opposed by RHP Thomas Parsons.
The Bulls return to Durham Bulls Athletic Park on Tuesday, June 13 to begin a 12-game homestand, beginning with a six-game series versus the Charlotte Knights, the Triple-A affiliate of the Chicago White Sox. First pitch of that contest is set for 6:35pm.
Tickets for that game and all 2023 Durham Bulls home games are available, and can be purchased at DurhamBulls.com, or by calling 919.956.BULL.