SeaWolves Announce 2023 Education Initiatives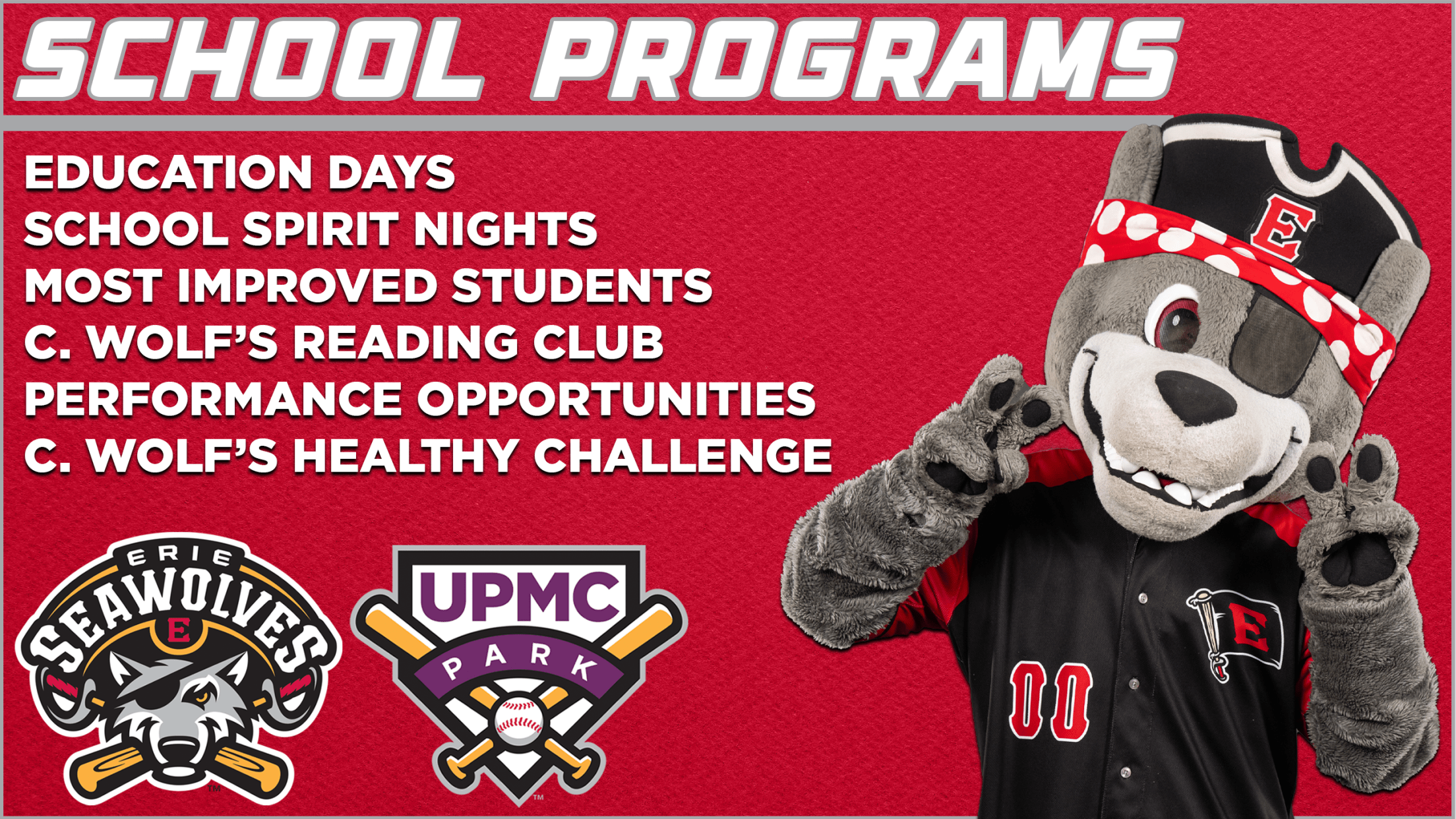 The SeaWolves today announce the team's 2023 Education Initiatives. C. WOLF'S HEALTHY CHALLENGE PRESENTED BY UPMC HEALTH PLAN C. Wolf's Healthy Challenge, in partnership with UPMC Health Plan, is a program for area schools that reinforces healthy student choices including eating right and exercise. C. Wolf will visit area schools
The SeaWolves today announce the team's 2023 Education Initiatives.
C. WOLF'S HEALTHY CHALLENGE PRESENTED BY UPMC HEALTH PLAN
C. Wolf's Healthy Challenge, in partnership with UPMC Health Plan, is a program for area schools that reinforces healthy student choices including eating right and exercise. C. Wolf will visit area schools to present an assembly focused on making positive, healthy choices. If a student completes three tasks from each list of healthy choices, he/she will receive two tickets to a SeaWolves home game courtesy of UPMC Health Plan.
Each assembly lasts about 30 minutes and time slots are available in February or March. C. Wolf's Healthy Challenge visits are typically limited to elementary schools within 45 minutes of UPMC Park. Schools located more than 45 minutes away may be considered if multiple nearby schools can be visited on the same day.
C. WOLF'S READING CLUB PRESENTED BY ERIE COUNTY COMMUNITY COLLEGE
The SeaWolves have partnered with Erie County Community College to present C. Wolf's Reading Club. C. Wolf's Reading Club is a free and fun program open to all elementary and middle schools in the Erie region. The program challenges students to read eight extracurricular books (or hours for students in grades 4-8) from February through the end of March. If students complete the challenge by reading eight books or hours, they receive a free ticket to a SeaWolves game and will be honored at the game. Students can turn in their completed reading chart to their designated teacher or librarian to receive their reward.
C. Wolf and a SeaWolves representative can visit your school to kick off the program and get students excited about reading. Each school can designate a Reading Club Night to have their student readers recognized on the field together as a group before the game. Reading Club kickoff visits are typically limited to schools located within 45 minutes of UPMC Park. Schools located more than 45 minutes away may be considered if multiple nearby schools can be visited on the same day.
MOST IMPROVED STUDENT DAYS
The Most Improved Student program recognizes students that have shown improvement in various areas during the 2022-2023 school year including social, behavioral and academic categories. The SeaWolves will accept nominations from February 1, 2023 until March 31, 2023 at seawolves.com.
Teachers may nominate up to three students per class. Selected students will receive two free tickets to attend one of two Most Improved Student games at UPMC Park on either April 29 or May 23. Honorees will be recognized on the field before the game.
SCHOOL SPIRIT DAYS
School Spirit Days are fundraising opportunities for schools in the greater Erie region. Each participating school will receive a special offer code good for one or more select SeaWolves game dates at UPMC Park. $5 from each ticket purchased using the code will be donated to the school's PTA/PTO or educational foundation. Six School Spirit Days are slated for the upcoming season with the first on Friday, April 14.
PERFORMANCE OPPORTUNITIES
Schools can showcase their band, choir, or theatre program with a performance opportunity at UPMC Park. Each selected group will receive one free ticket per performer. Additional tickets for family and friends may be purchased in advance at $10 per person. All dates and performances are subject to availability. Performance opportunities include: The Star-Spangled Banner (pre-game), Color Guard (pre-game), Band/Choir Performance (pre-game, 10-minute maximum), and Take Me Out to the Ballgame (middle of the 7th inning).
For more information on the SeaWolves' Education Initiatives for the 2023 season, click here or contact the SeaWolves' Director of Fan Engagement, Laina Banic, at 814-456-1300 x204 or via email.
SeaWolves Ticket Memberships, Paw Pack flexible ticket books, group and hospitality outings are now available for the 2023 season by visiting SeaWolves.com or by calling 814-456-1300.