Bullpen Shuts Down Emeralds, AquaSox Win 6-4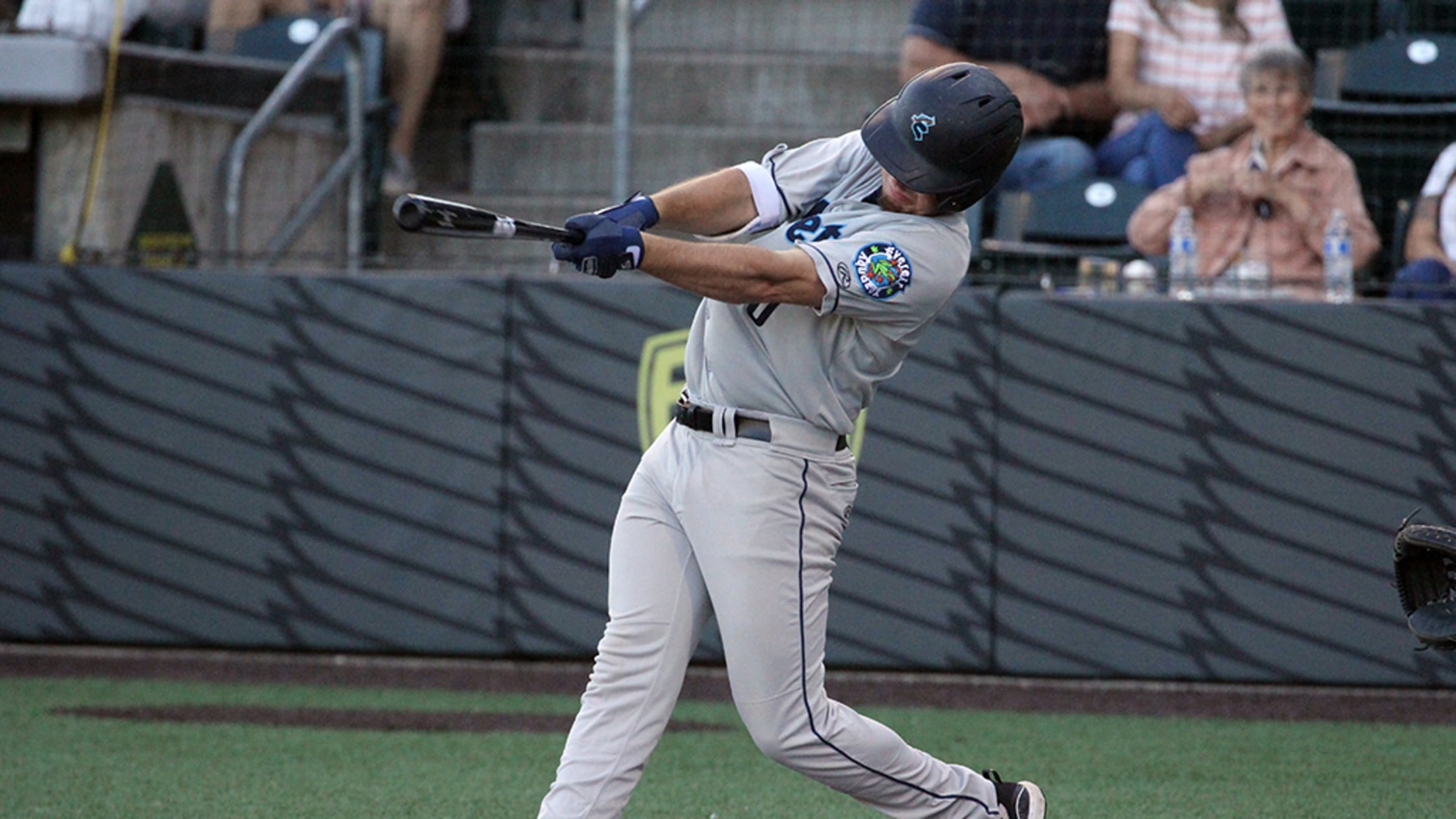 EUGENE, OR – Five different relief pitchers combined for 8.1 innings of shutout baseball as the Everett AquaSox overcame a 4-2 first inning deficit to defeat the Eugene Emeralds, 6-4. The AquaSox jumped out to an early 2-0 lead in the first inning when Trent Tingelstad hit a two out
EUGENE, OR – Five different relief pitchers combined for 8.1 innings of shutout baseball as the Everett AquaSox overcame a 4-2 first inning deficit to defeat the Eugene Emeralds, 6-4.
The AquaSox jumped out to an early 2-0 lead in the first inning when Trent Tingelstad hit a two out double into left field that scored Noelvi Marte and Alberto Rodriguez. That early lead would be short lived as Eugene answered back in the bottom of the first inning.
AquaSox starting pitcher Juan Mercedes retired the first two batters he faced before allowing the next six hitters to all reach base with five singles and one walk. Carter Aldrete's single scored Casey Schmitt, and the Emeralds tied the game at 2-2 when Robert Emery walked with the bases loaded to score Jairo Pomares. Rodolfo Bone was the sixth consecutive batter to reach base when he drove in Aldrete and Luis Toribio with a single, giving the Emeralds a 4-2 lead and causing AquaSox Manager Eric Farris to pull Mercedes from the game. Reliever Fred Villarreal then came in and retired the first batter he faced, getting Najee Gaskins to fly out to left field to finally end the inning.
Villarreal would pitch two more scoreless innings, giving way to Tim Elliott who pitched a scoreless fourth and fifth inning. Leon Hunter Jr would continue the trend, keeping the Emeralds off of the board in the sixth and seventh innings before Peyton Alford and Isaiah Campbell each contributed an inning of shut out baseball.
While the AquaSox bullpen was doing their part, the offense did just enough to erase the deficit and eventually take the lead. Andy Thomas hit an RBI double in the third inning, scoring Marte and trimming the Emeralds lead to 4-3. The Sox tied the game at 4-4 in the fifth inning when Rodriguez hit a double off of the right center field fence scoring Thomas.
The game remained tied until the first pitch of the seventh inning when Victor Labrada hit a leadoff home run over the right center field wall for a 5-4 Everett lead. Rodriguez added on one more insurance run later in the inning when he doubled down the left field line, scoring Marte for the game's final run as the AquaSox went on to win, 6-4.
Campbell struck out the side in the ninth inning and has yet to give up a run in nine relief appearances since being moved to the bullpen. He has only allowed two hits over nine innings, walking only one batter while striking out 14. Elliott pitched his second consecutive hitless outing during the series, playing for the first time since an injury sidelined him April 30th. Elliott didn't allow a hit or walks and struck out five batters over three relief innings in Eugene this week. Alford has not allowed a hit or a run over his last three appearances, walking five and striking out eight over five innings. Hunter Jr. picked up the victory, improving to 5-2 and lowering his ERA to 1.97, becoming the first AquaSox pitcher to reach the five-win mark this season.
Thomas remains red hot over the past four games: eight-for-fourteen, with two walks, a double and three home runs during that stretch with a slash line of .571/.625/1.286. He had been 0-for-14 over the previous four games. Rodriguez has five doubles and one home run over his last six games, going 8-for-25 with a .320 batting average and .640 slugging percentage. He has hit the second most doubles in the Northwest League this season (21), trailing the league leader by only one. Marte is hitting .341 over his last 11 games with a double, three home runs, 14 runs and 10 RBI. He also has doubled his season stolen bases total over the past five games, stealing five bases in five games after only stealing five bases during his first 62 gams of the season.**
CLICK HERE FOR BOX SCORE**
PICTURED ABOVE: Trent Tingelstad
PHOTO CREDIT: Connor Watrous
The AquaSox return to Funko Field for a Fireworks Extravaganza on Monday July 4. RHP Bryce Miller (3-3, 2.97 ERA) will start for the AquaSox while RHP Nick Frasso will start and make his Canadians debut. First pitch is scheduled for 7:05 p.m. with the pregame show beginning at 6:50 p.m. Tune in to 1380 AM/95.3 FM KRKO for all of the action.
ABOUT THE EVERETT AQUASOX:
The Everett AquaSox are the High-A affiliate of the Seattle Mariners who were ranked number one by Baseball America's 2022 Organization Talent Rankings. The roster is highlighted by shortstop Noelvi Marte. Marte is currently ranked number 11 on MLBs top 100 list and ranked number two on the Mariners top 30 prospects list. Joining Marte in Everett from the Mariners top 30 prospect list are: Outfielder Alberto Rodriguez (#8), lefthanded pitcher Adam Macko (#11), right-handed pitcher Bryce Miller (#23), and outfielder Victor Labrada (#26). Group tickets, family outings and ticket packages for the 2022 season are selling fast but still available for purchase. For more information on how you can be a part of our team this season call our office at (425) 258-3673 or visit AquaSox.com for more information.