Woodpeckers Outfielder Zach Cole Named Carolina League Player of the Week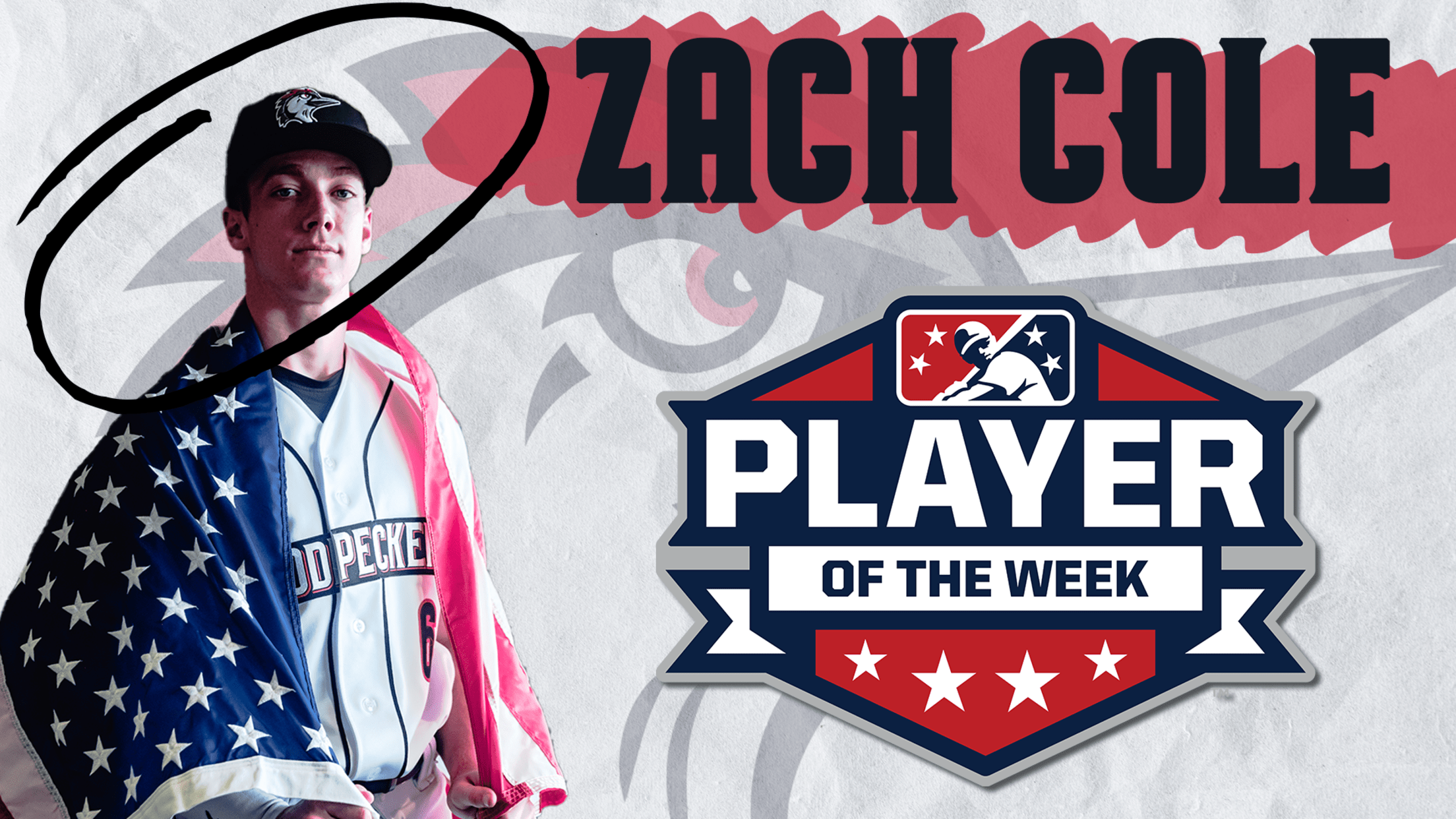 Fayetteville, NC - The Fayetteville Woodpeckers, in conjunction with Minor League Baseball, have announced that outfielder Zach Cole has been named the Carolina League Player of the Week for the week ending on May 7th, 2023. This is the first time during the 2023 season that a Woodpeckers' position player
Fayetteville, NC - The Fayetteville Woodpeckers, in conjunction with Minor League Baseball, have announced that outfielder Zach Cole has been named the Carolina League Player of the Week for the week ending on May 7th, 2023. This is the first time during the 2023 season that a Woodpeckers' position player has earned a weekly league award.
Cole had a huge showing at the plate across a six-game road series against the Salem Red Sox, going 9-for-21 (.428) with 2 HR, 4 doubles, 7 RBI, 4 runs scored and 3 stolen bases. Over the span of five games he played, he tallied three multi-hit games, three multi-RBI games and became the first player this season to homer twice in a game.
His first big performance of the week came in game three of the series on Thursday night. Cole connected for a pair of doubles and drove in two runs in a 7-0 shutout of Salem . He followed it up on Friday with a career night, blasting a two-run home in the fifth inning off Brock Bell and a solo home run in the following at bat off Jonathan Brand. The multi-homer game was the first in Cole's professional career and the ninth in Fayetteville franchise history.
The final impact game of Cole's series came on Saturday night with Fayetteville and Salem tied 2-2 in the series. With a runner on second and Railan Perez on the mound, Cole punched an RBI double down the left field line to provide the Woodpeckers with a 4-2 lead in an eventual 5-3 victory. He finished the game 2-for-4 with 2 RBI, his third straight multi-hit game in the series.
In total, Cole contributed to 11 of Fayetteville's 24 runs on the week, while his 7 RBI marked the most by a player over a single series this year. He now ranks third in the Carolina League in HR (5), fifth in RBI (21), sixth in doubles (6), and eighth in stolen bases (10)
The Houston Astros acquired the 22-year-old outfielder in the 10th round of the 2022 MLB Draft out of Ball State University where he played for three seasons.
Cole and the Woodpeckers return home to Segra Stadium to host the Kannapolis Cannon Ballers on Tuesday, May 10th for a six-game homestand. Season tickets, group options, and single-game tickets are all on sale now at fayettevillewoodpeckers.com and by visiting the Truist Box Office next to the main entrance of the ballpark.