McCade Brown fans 10, Visalia walks-off on Fresno 4-3
The 10 strikeouts is the most by a Grizzlies pitcher this season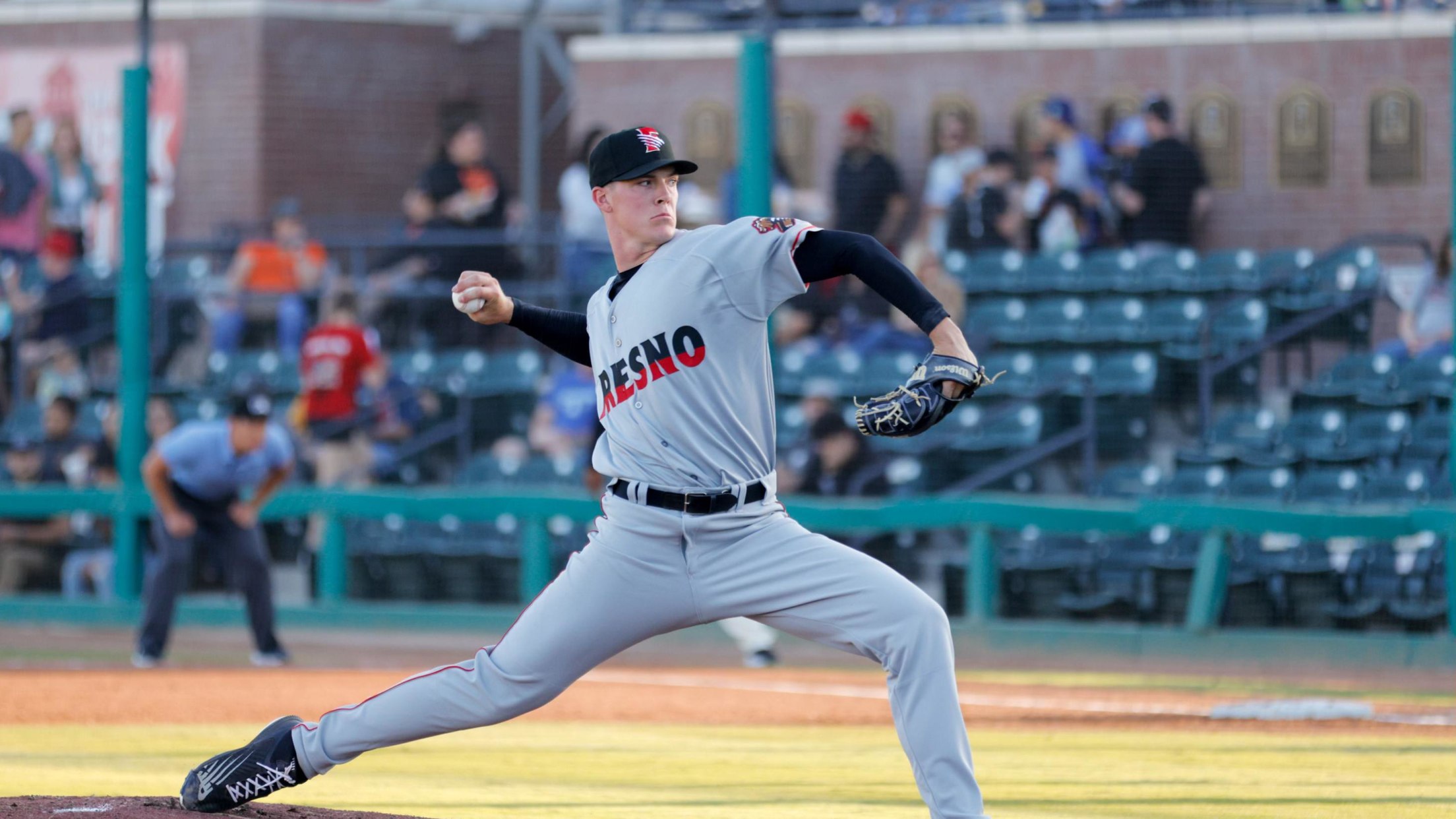 Visalia, CA (Thursday, May 12) – The Fresno Grizzlies (18-12) saw their nine-game road win streak come to an end at the hands of the Visalia Rawhide (9-21) 4-3 Thursday evening from Valley Strong Ballpark. With the loss, Fresno is now 21-6 against Visalia while outscoring the Rawhide 163-111 over
Visalia, CA (Thursday, May 12) – The Fresno Grizzlies (18-12) saw their nine-game road win streak come to an end at the hands of the Visalia Rawhide (9-21) 4-3 Thursday evening from Valley Strong Ballpark. With the loss, Fresno is now 21-6 against Visalia while outscoring the Rawhide 163-111 over those 27 contests. Of those six losses, four have been one-run walk-off defeats.
Both clubs traded scores in the fifth and sixth innings before Visalia's walk-off in the bottom of the ninth. Aiverson Rodriguez gave Fresno a 1-0 advantage with a double in the top of the fifth before Glenallen Hill Jr. tied the contest with a solo blast in the bottom of the frame. The squads swapped punches with a pair of two-run blasts in the sixth. Hunter Goodman launched his team-leading seventh homer to deep left field while Deyvison De Los Santos hammered a pitch to right-center.
Despite having a runner in scoring position in the top of the ninth, the Grizzlies came up empty after a Braiden Ward strikeout to conclude the inning. Minutes later, the Rawhide capitalized on an error to lead off the frame with a walk-off double by Oscar Santos, plating Jacen Roberson.
McCade Brown took a no-decision after five stellar innings. The righty allowed one earned run on two hits and a pair of walks while striking out 10 in his second Fresno outing. The 10 punchouts were a career-high for the Indiana product and a team-high for the Grizzlies this season. Jarrod Cande (0-1) suffered the touch-luck defeat after three frames of work. Cande fanned a career-best five batters and did not issue a walk.
Visalia starter Avery Short also did not factor in the final line after five-plus innings of two-run ball. He permitted three hits and struck out five. David Sanchez (1-2) secured the win after fanning the only batter he faced. The teams are back in action tomorrow night from Valley Strong Ballpark.
Top Performers: Fresno Grizzlies (Colorado Rockies)
• RHP McCade Brown (5.0 IP, 2 H, 1 R, 1 ER, 2 BB, 10 K)
• 1B Hunter Goodman (2-3, HR, 2 RBI, R, HBP)
• 2B Aiverson Rodriguez (1-2, 2B, RBI, 2 BB)
Top Performers: Visalia Rawhide (Arizona Diamondbacks)
• 1B Deyvison De Los Santos (1-3, HR, 2 RBI, R, BB)
• RF Glenallen Hill Jr. (1-3, HR, RBI, R)
• C Oscar Santos (1-4, 2B, RBI)
On Deck:
Friday, May 13 @ Visalia Rawhide, Fresno RHP Brayan Castillo (0-2, 6.14) vs. Visalia RHP Peniel Otano (0-2, 3.79), 6:30 pm PT
ON THAT FRES-NOTE:
Warming Bernabel saw his 12-game hitting streak come to an end despite reaching base twice.