Riders split Arkansas series with 8-2 win
Ragans throws six scoreless, strikes out nine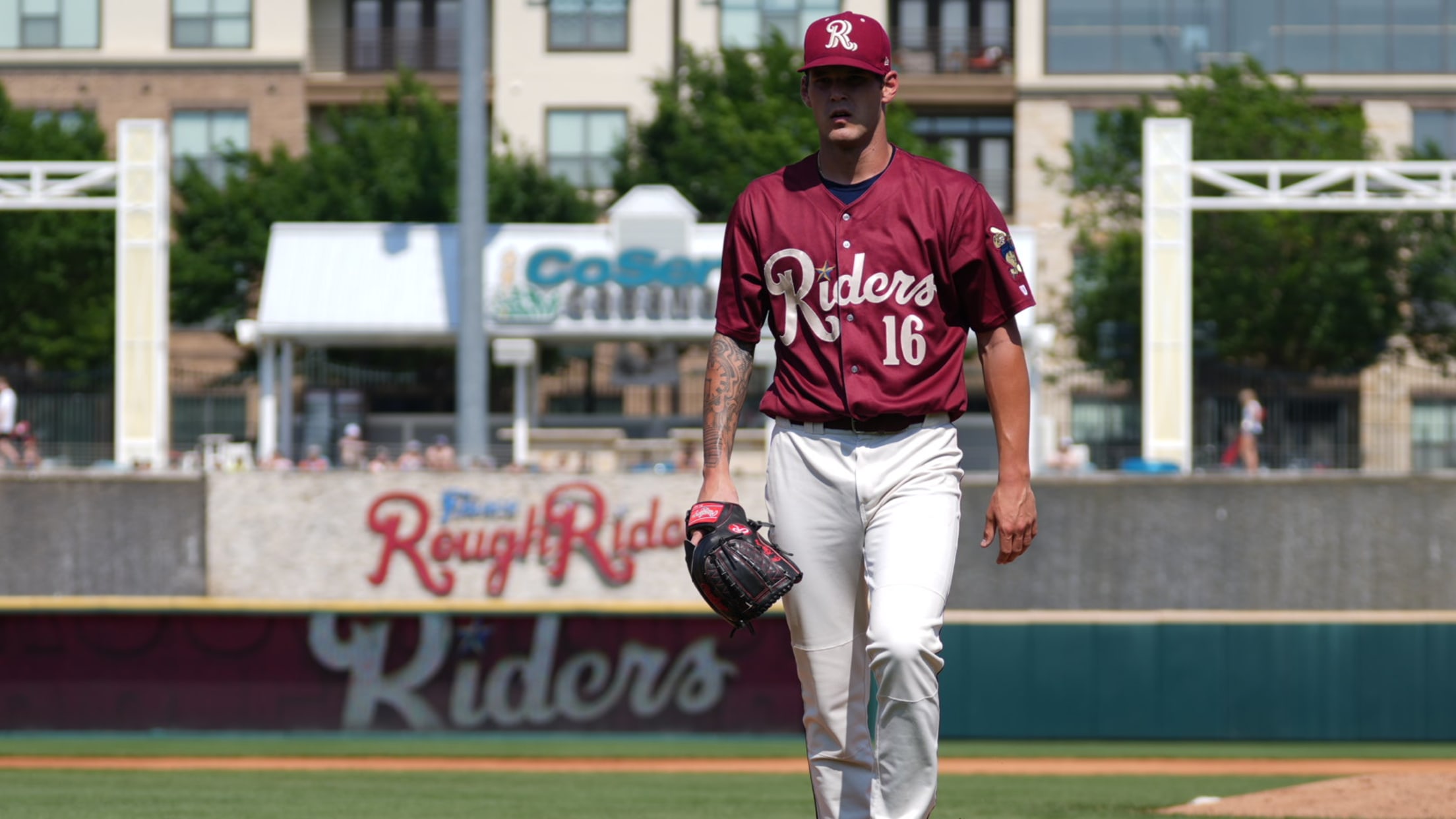 FRISCO, Texas (May 8, 2022) – Frisco RoughRiders starter Cole Ragans struck out a season-high nine batters in his six-inning scoreless start on Mother's Day, defeating the Arkansas Travelers 8-2. Sunday marked back-to-back quality starts for RoughRiders pitchers, with Jack Leiter also throwing six scoreless on Saturday night. Box score
FRISCO, Texas (May 8, 2022) – Frisco RoughRiders starter Cole Ragans struck out a season-high nine batters in his six-inning scoreless start on Mother's Day, defeating the Arkansas Travelers 8-2. Sunday marked back-to-back quality starts for RoughRiders pitchers, with Jack Leiter also throwing six scoreless on Saturday night.
The RoughRiders (17-10) finished the weekend against Arkansas (12-15) with a combined 23 strikeouts, four walks, and no earned runs. Ragans (2-1) leads the Riders with strikeouts (31) and innings pitched (24.0).
Frisco hopped on right-hander Levi Stoudt (3-3) in the bottom of the first inning with a Jonathan Ornelas base hit, one of his three on Sunday. Justin Foscue followed it up with his second home run of the season, a two-run shot, to give the Riders an early 2-0 lead.
The Riders plated three more runs in the second behind a two-run single from Ezequiel Duran, his first of two in Sunday's game, to make it a 5-0 lead. Duran finished with 12 hits in his 5 games against Arkansas, featuring four multi-hit games and a four-hit game on May 6th.
The bottom of the fifth began with lead-off singles from Duran and Blaine Crim, setting up first-baseman Trey Hair's double to score Duran from third. Sandro Fabian grounded a ball to the Travelers infield to score Crim from third, and Hair came around on a wild pitch to push the Riders' lead to 8-0.
Arkansas brought in two unearned runs on Riders lefty Tyler Thomas in his first inning relieving Ragans in the seventh, cutting the score to an 8-2 Riders lead.
Right-handers Chase Lee and Fer Ozuna finished the game with the final 2.1 innings, allowing no runs on no hits.
The Sunday win splits the first series of the season for Frisco, sending them back on the road to oppose the Tulsa Drillers in a six-game series, beginning Tuesday, May 10th at 6:05 p.m.
The RoughRiders return to Riders Field on Tuesday, May 17th to host the Corpus Christi Hooks for the first time this season.
For tickets and more information about the Frisco RoughRiders, visit RidersBaseball.com or call 972.731.9200.
About the RoughRiders
The Frisco RoughRiders are the Double-A affiliate of the Texas Rangers. The team was founded in 2003 and has finished first among all Double-A franchises in attendance for 15 consecutive seasons (2005-2019). In August 2014, the RoughRiders were purchased by an ownership group led by Chuck Greenberg. Since then, the new ownership group, together with the City of Frisco, has spearheaded numerous major franchise enhancements, investing over $8 million in a wide array of facility upgrades and improvements, including a state-of-the-art HD video board, sound system, Bull Moose Saloon, InTouch Grille, Riders Outpost Team Store and the world's largest water feature in a sports facility, the massive Lazy River. These enhancements earned the Riders and the City of Frisco Ballpark Digest's prestigious "Best Ballpark Renovation" award for two consecutive years (2015 and 2016). More than 170 former RoughRiders players have gone on to play Major League Baseball. For more information on the Frisco RoughRiders, please visit RidersBaseball.com or contact [email protected].