Pirates Announce Hoppers 2023 Coaching Staff
(Greensboro, NC) The Pittsburgh Pirates announced today that Robby Hammock will be the new manager for the 2023 Greensboro Grasshoppers. Returning to Greensboro to join Hammock will be pitching coach Fernando Nieve, hitting coach Rubén Gotay, integrated baseball performance coach Justin Orton and development coach Collin Wilber. Casey Lee will
Rodriguez Named Honus Wagner Player-of-the-Year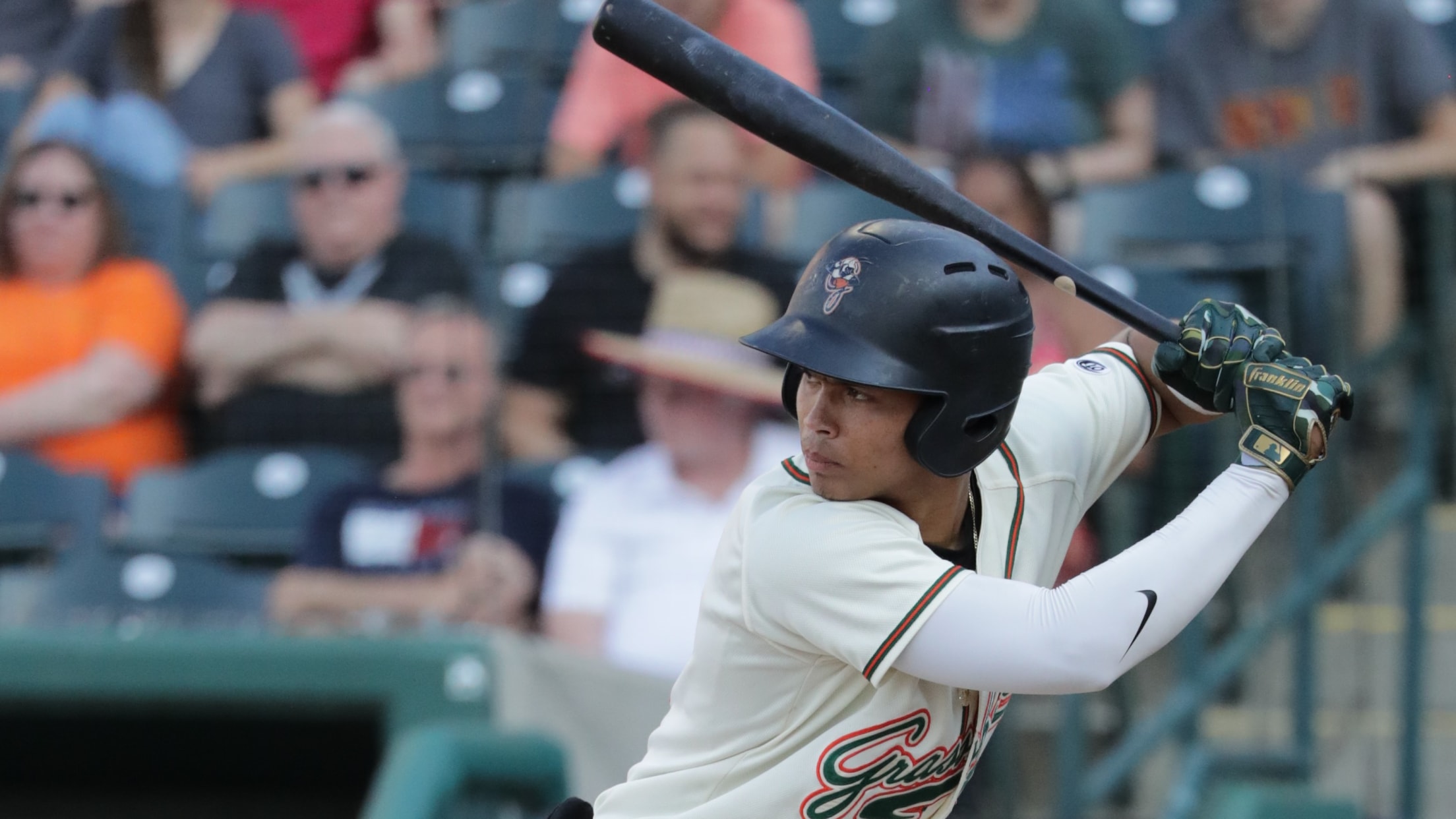 The Pittsburgh Pirates today named Endy Rodriguez the organization's Honus Wagner Player-of-the-Year and Quinn Priester the organization's Bob Friend Pitcher-of-the-Year. The announcement was made by Director of Coaching and Player Development John Baker. The 22-year-old Rodriguez led all Pirates minor leaguers in batting average (.323), OBP (.407), slugging (.590), OPS
Rodriguez Named League's Top MLB Prospect and Most Valuable Player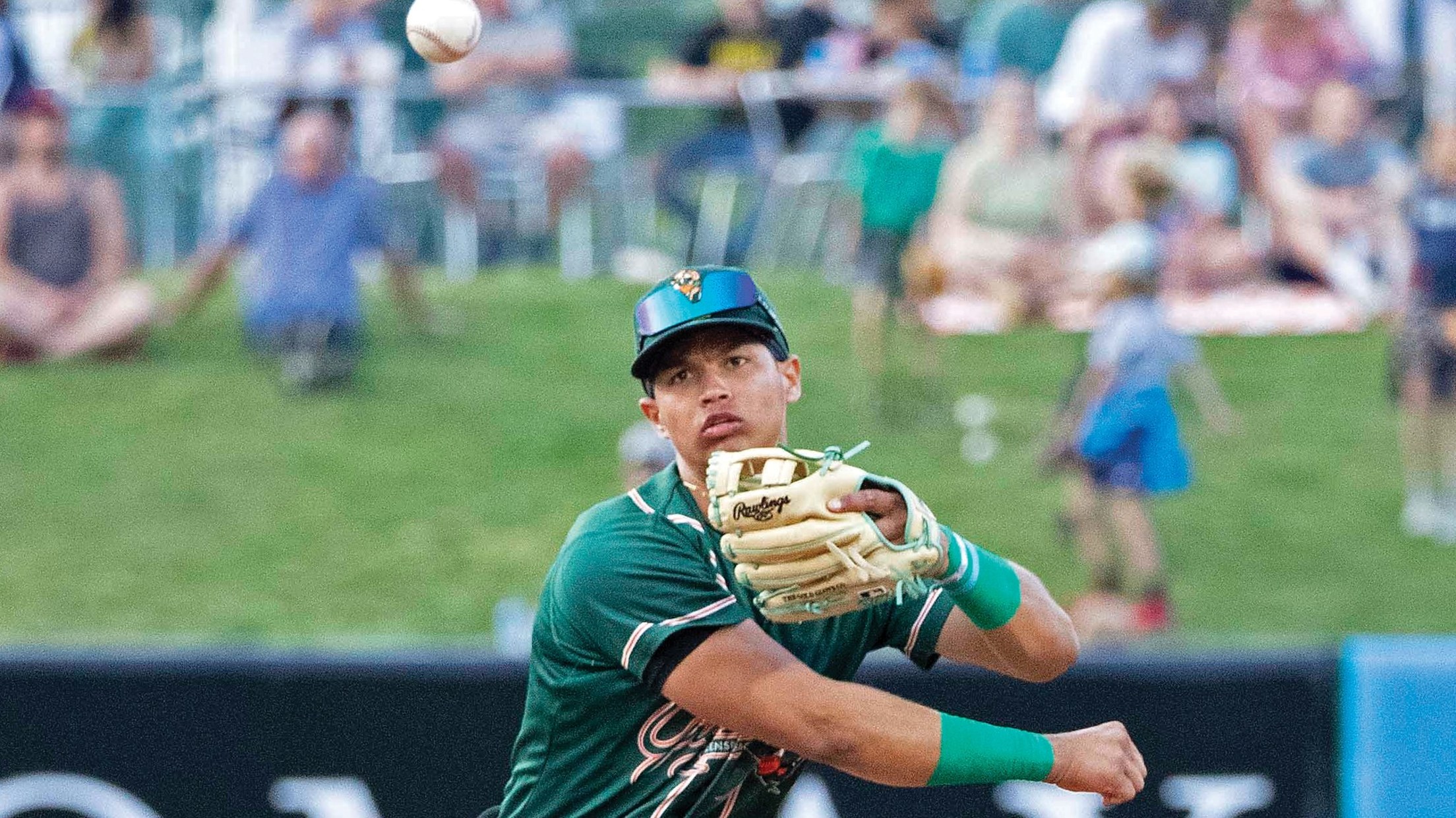 Minor League Baseball™ (MiLB™) today announced the league awards and All-Star teams for the three leagues that make up the High Class-A classification. Votes were cast by league managers. Greensboro's Endy Rodriguez was named to the South Atlantic League's Post-Season All-Star team (catcher), and also took home the league's top
 Gonzalez Named Teammate of the Year
The Pittsburgh Pirates today named Jacob Gonzalez and Luis Ortiz the organization's Manny Sanguillen Teammates-of-theYear. In addition, Jonathan Prieto was named the organization's Danny Murtaugh Coach-of-the-Year. The announcement was made by Director of Coaching and Player Development John Baker. The 24-year-old Gonzalez ranked second among all Pirates minor leaguers (minimum
Gorski and Samaniego Honored by Pirates
The Pittsburgh Pirates today announced the organization's award-winners for the Wille Stargell Slugger-of-the-Year, Kent Tekulve Reliever-of-the-Year, Bill Mazeroski Defender-of-the-Year and Omar Moreno Baserunner-of-the-Year. The announcements were made by Director of Coaching and Player Development John Baker. Matt Gorski was named the Wille Stargell Slugger-of-the-Year after hitting 24 home runs in
Justin Meis perfect in home finale as Hoppers win I-40 rivalry
Meis and Santiago Florez combine on 1-hit shutout, and Greensboro hits three home runs to win season series vs. Dash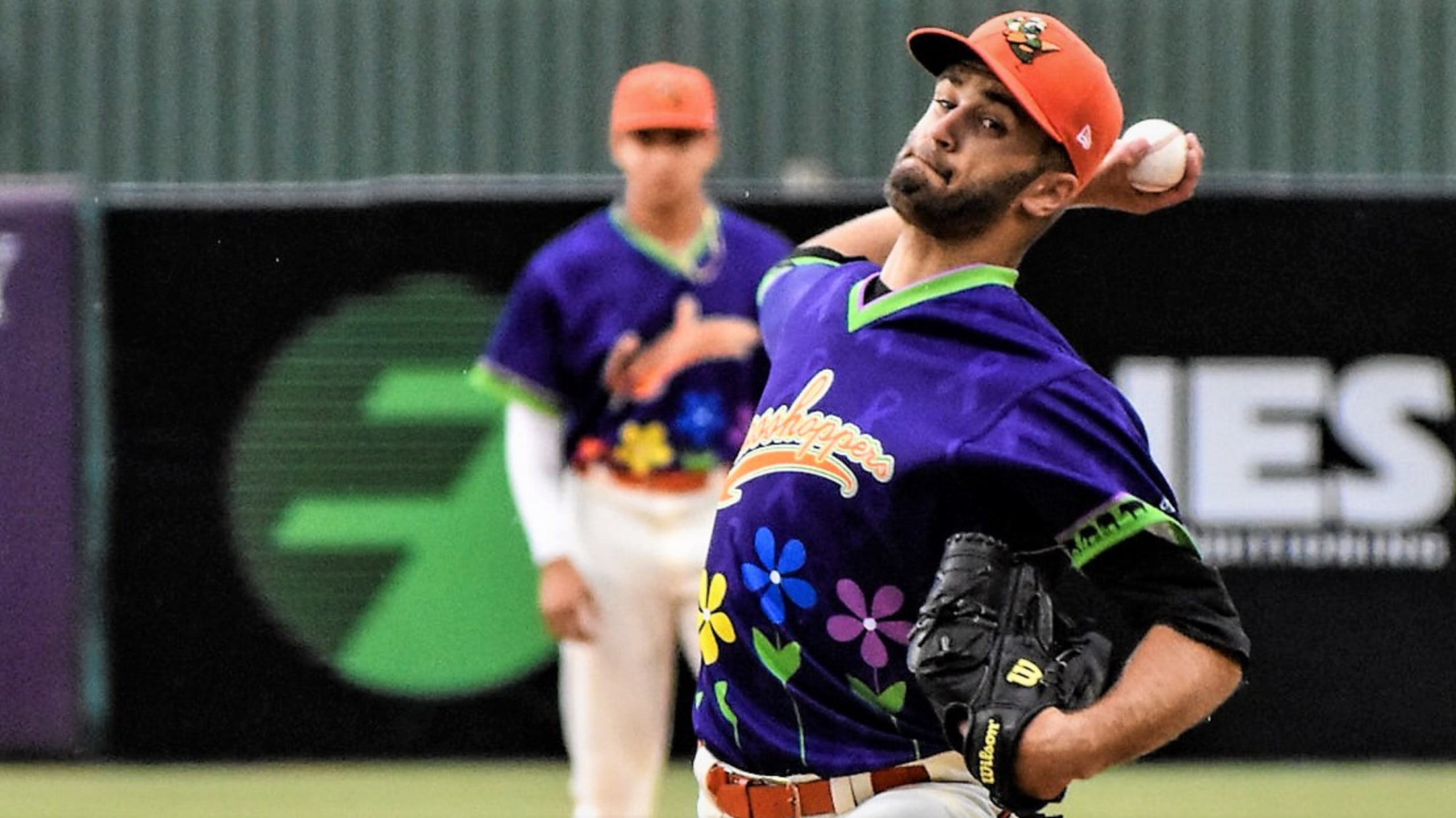 GREENSBORO ― Justin Meis pitched seven perfect innings and combined with Santiago Florez on a one-hit shutout in the Grasshoppers' final home game of the season, and Greensboro won the "Battle of I-40" rivalry series with a 6-0 victory over the Winston-Salem Dash at First National Bank Field on Sunday
Jackson Glenn's walk-off hit lifts Hoppers to I-40 lead
Cameron Junker wraps up Greensboro's dominant pitching performance in 3-2 win over rival Winston-Salem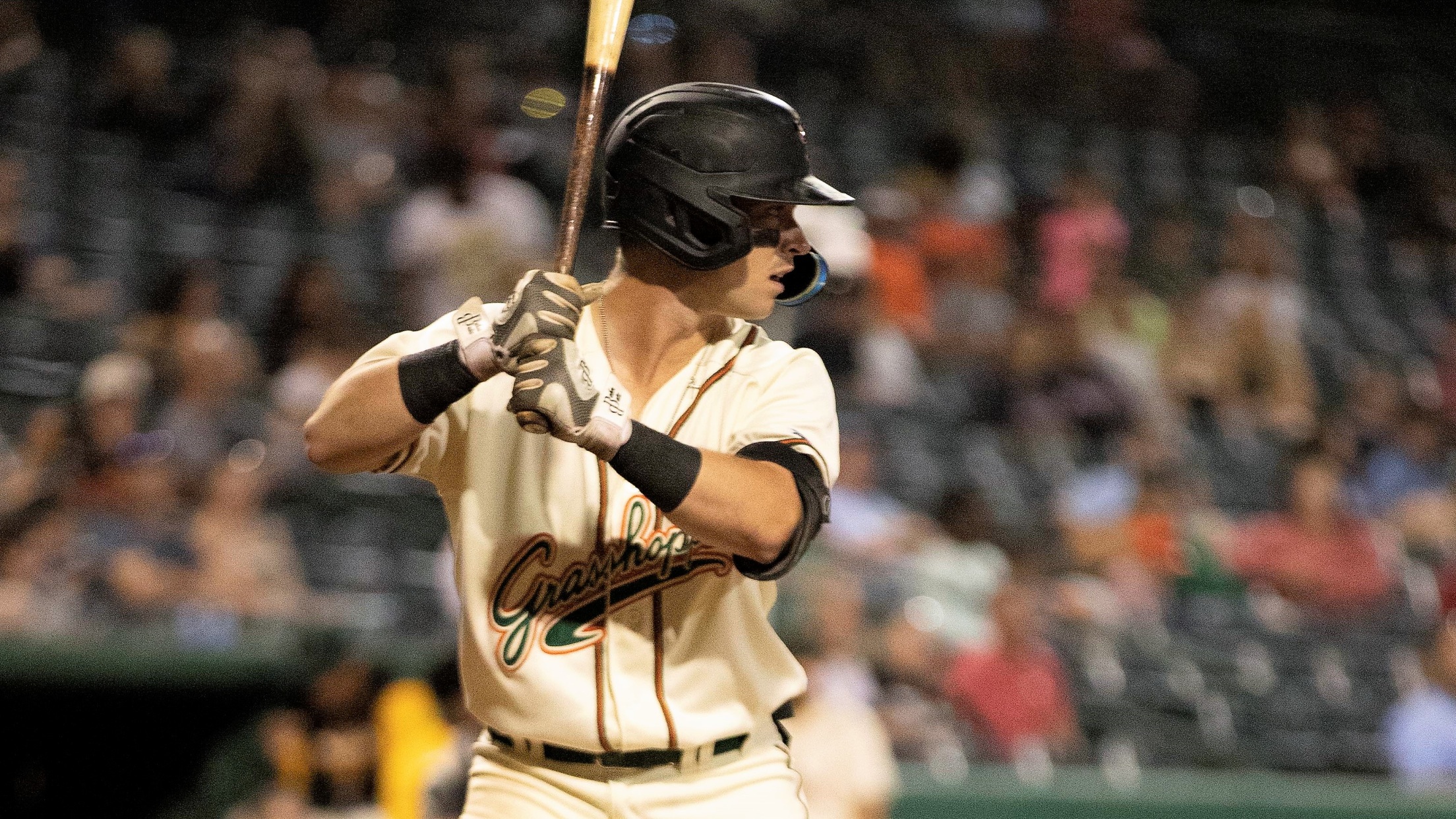 GREENSBORO ― Jackson Glenn lifted a flyball over the head of a drawn-in outfielder for a game-winning double in the bottom of the 10th inning as the Greensboro Grasshoppers defeated the Winston-Salem Dash 3-2 at First National Bank Field on Saturday night. With Eli Wilson at third base after Ernny
Hoppers' Domingo Gonzalez picks up ninth win
Hoppers pull even in "Battle of I-40" season series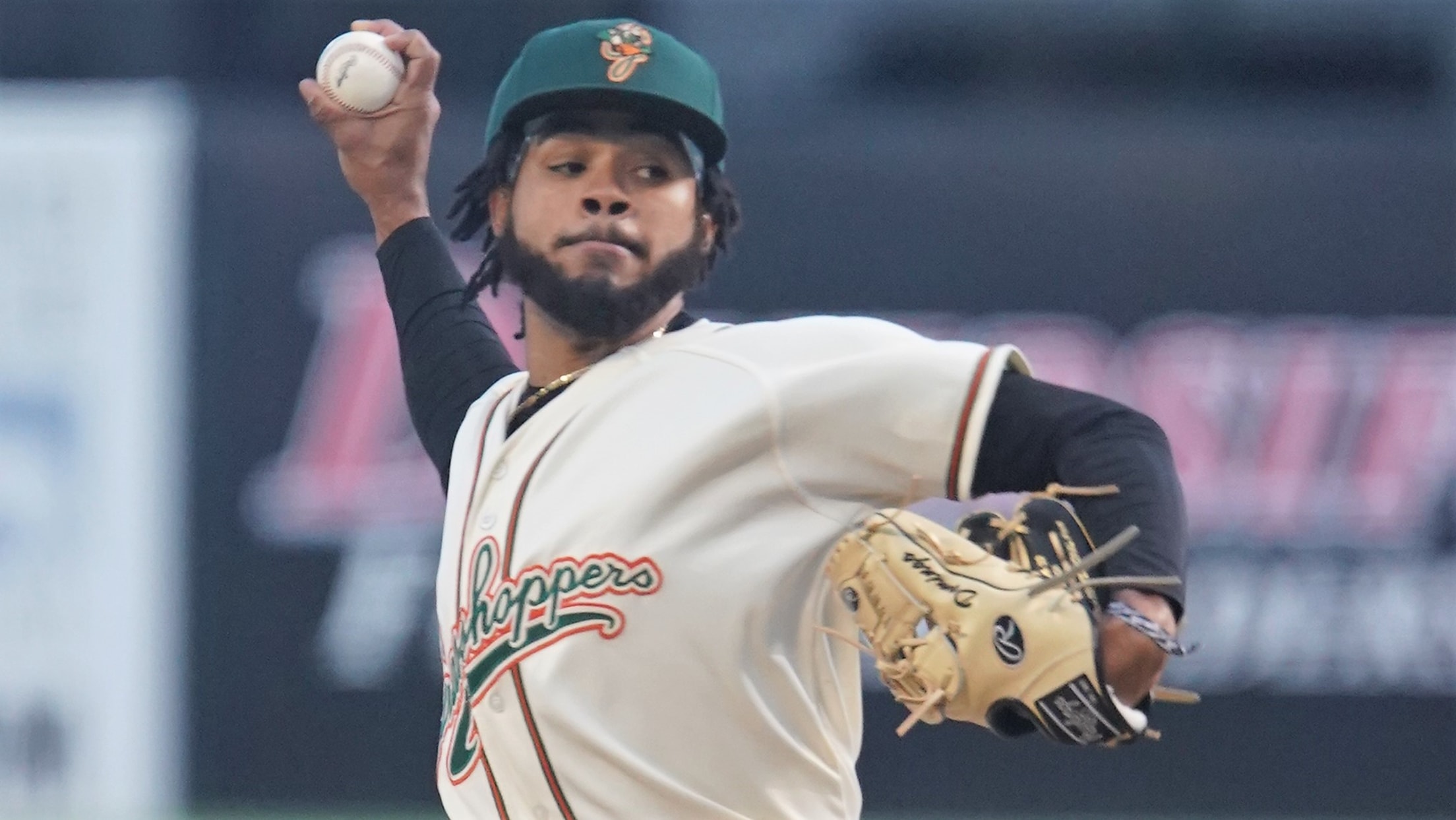 GREENSBORO ― Ernny Ordoñez went 2-for-4 with two RBIs, and Domingo Gonzalez picked up his team-leading ninth win of the season as the Greensboro Grasshoppers defeated the Winston-Salem Dash 7-1 at First National Bank Field on Friday night. Domingo Gonzalez (9-3) walked none and struck out five in four fine
Dash pitchers shut out Hoppers on 'Hoptoberfest'
Ricky DeVito fans 8 in 4 innings in losing effort, as Hoppers fall to 10-11 in 'Battle of I-40' rivalry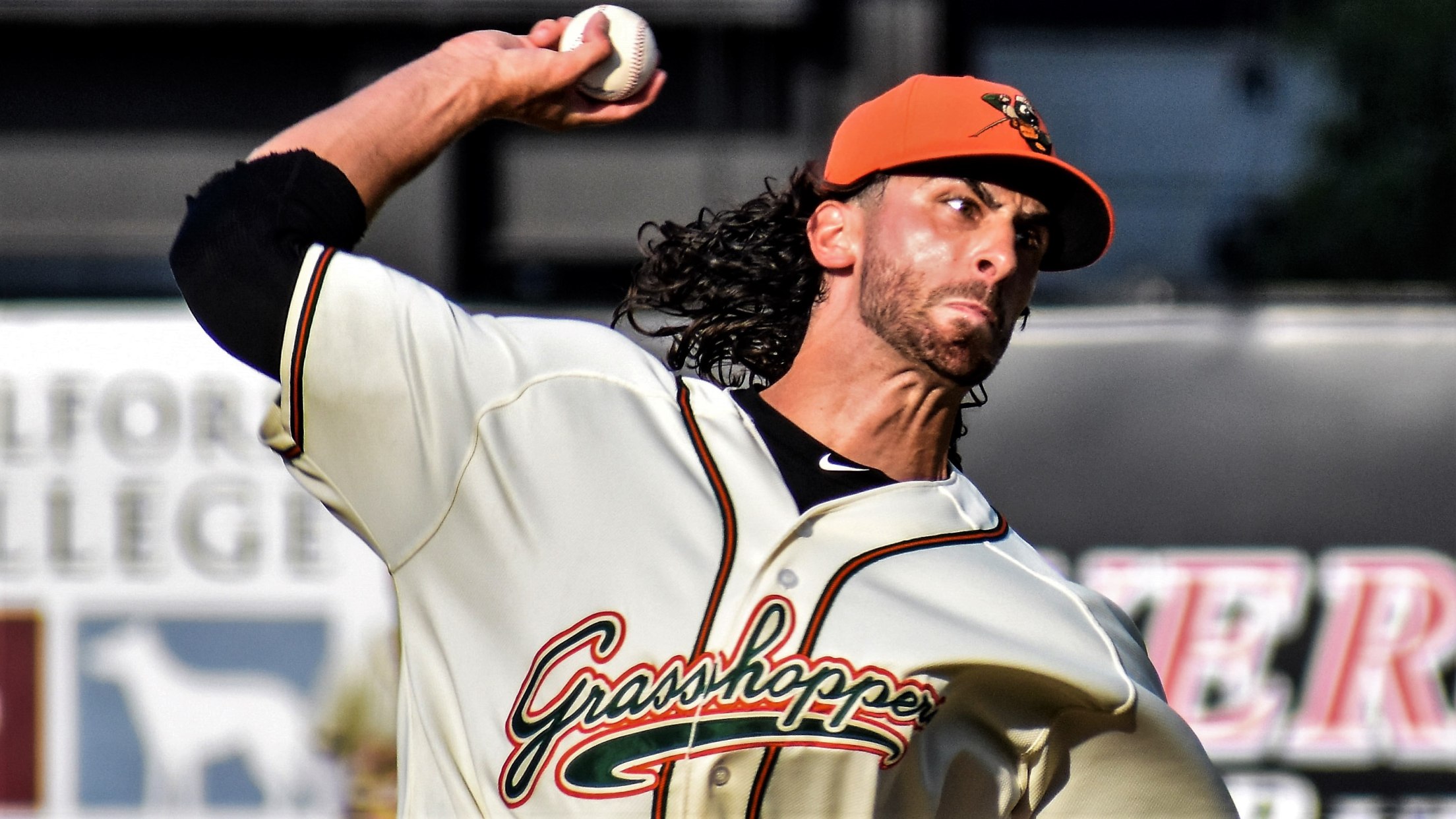 GREENSBORO ― The last Thirsty Thursday of the 2022 Grasshoppers season turned out to be a night to drown sorrows. Hunter Dollander and three relievers combined to strike out 14 in a four-hit shutout as the Winston-Salem Dash beat the Greensboro Grasshoppers 8-0 at First National Bank Field on the
Hoppers fall to Dash, waste Nick Garcia's fine start
Winston-Salem roughs up bullpen to even I-40 rivalry season series 10-10.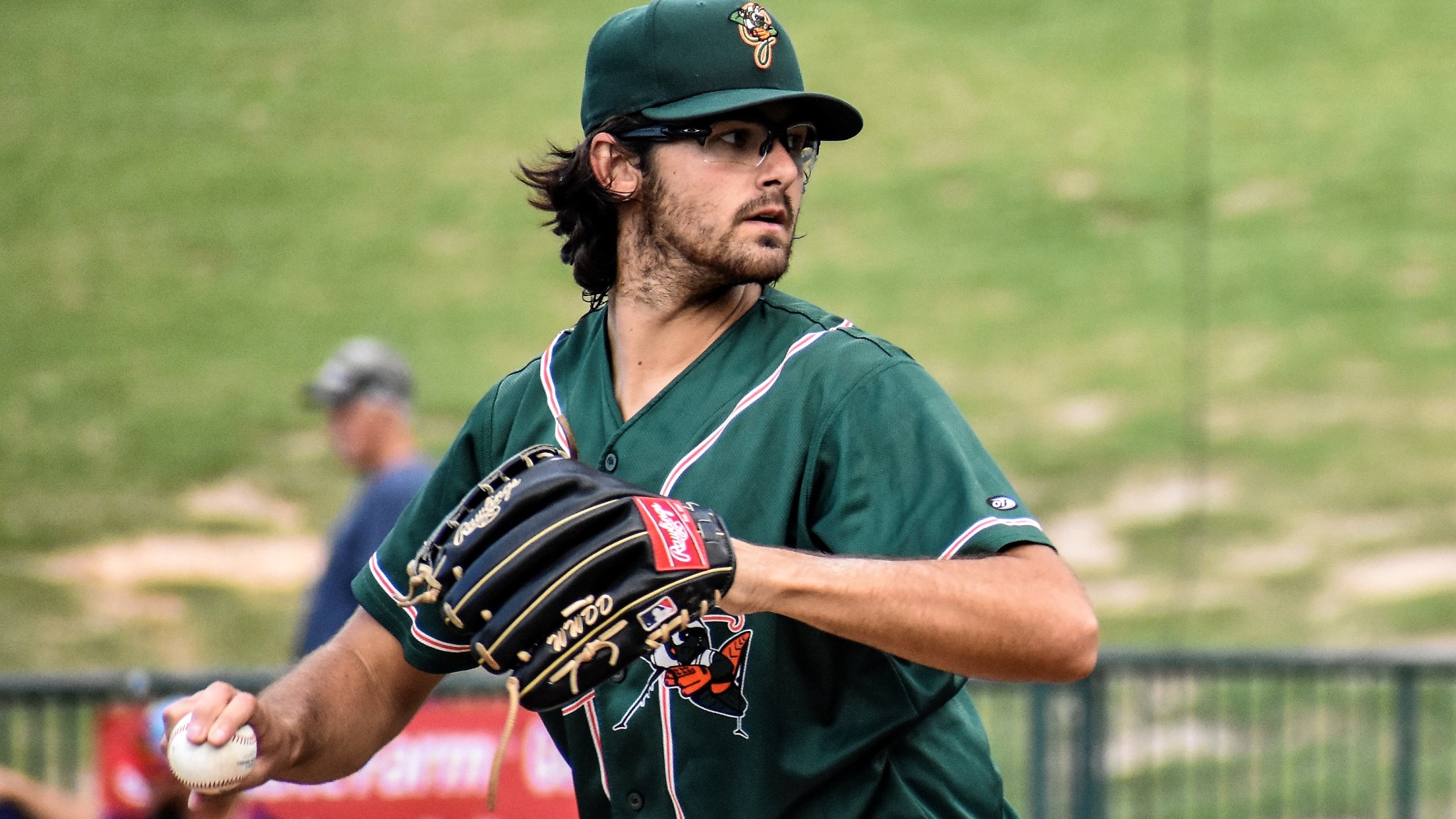 GREENSBORO ― Nick Garcia deserved better. Garcia pitched six shutout innings and left the game with a 2-0 lead, but Greensboro's bullpen struggled mightily and the Winston-Salem Dash rallied for a 10-3 victory over the Grasshoppers at First National Bank on Wednesday night. With the loss, Greensboro (54-65) slipped to
Prized prospect promoted after series finale
Pittsburgh moves star catcher Henry Davis to Class-AA Altoona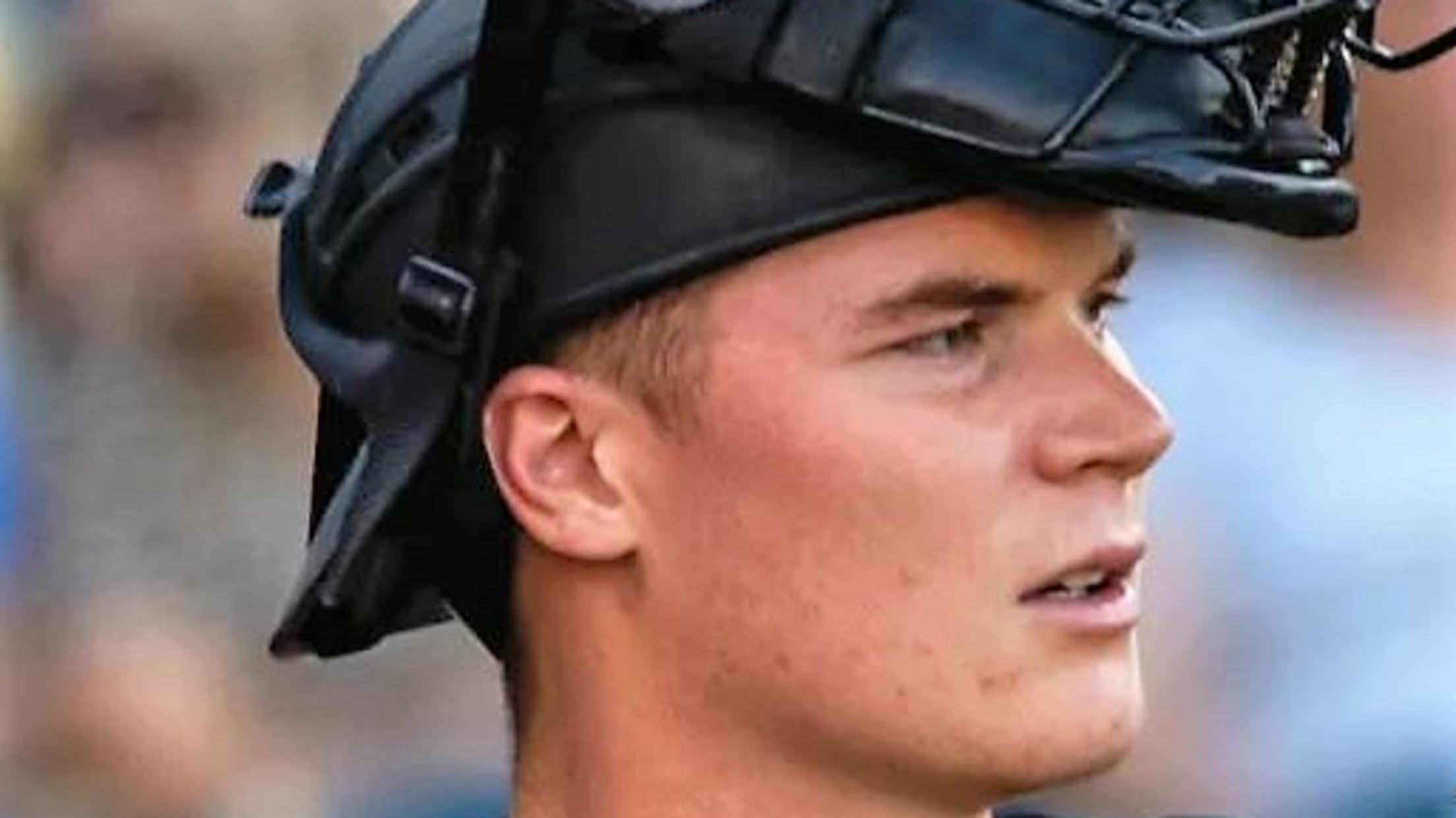 GREENSBORO ― Henry Davis' stay in our city was short and productive. Davis, the No. 1 overall pick in last summer's amateur draft, was promoted to the Class-AA Altoona Curve in the hours after the Greensboro Grasshoppers' series finale against the Asheville Tourists on Sunday afternoon. Jason Mackey, the Pirates
Justin Meis pitches Hoppers to lead in I-40 rivalry
Meis works 7 shutout innings in strong start as Greensboro takes 10-9 lead in season series against Winston-Salem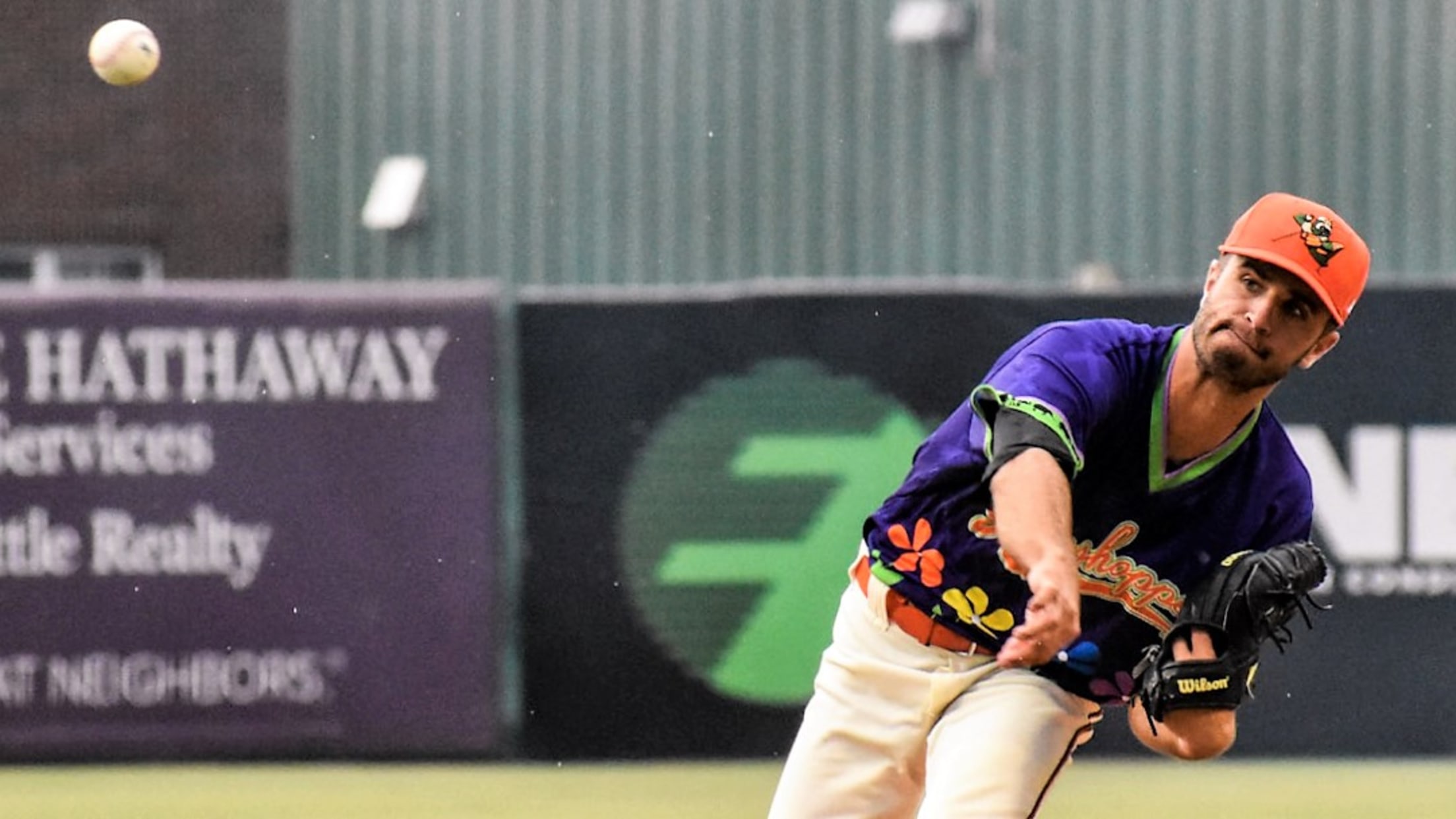 GREENSBORO ― Starting pitcher Justin Meis threw seven shutout innings, Mike Jarvis and Jase Bowen hit home runs, and the Greensboro Grasshoppers waited out a rain delay before beating the Winston-Salem Dash 7-1 at First National Bank Field on Tuesday night. With the win, the Hoppers (54-64) improved to 27-26
Hoppers' Herman hurts leg in loss to Renegades
Jack Herman taken off field on a stretcher after crashing into outfield wall making spectacular catch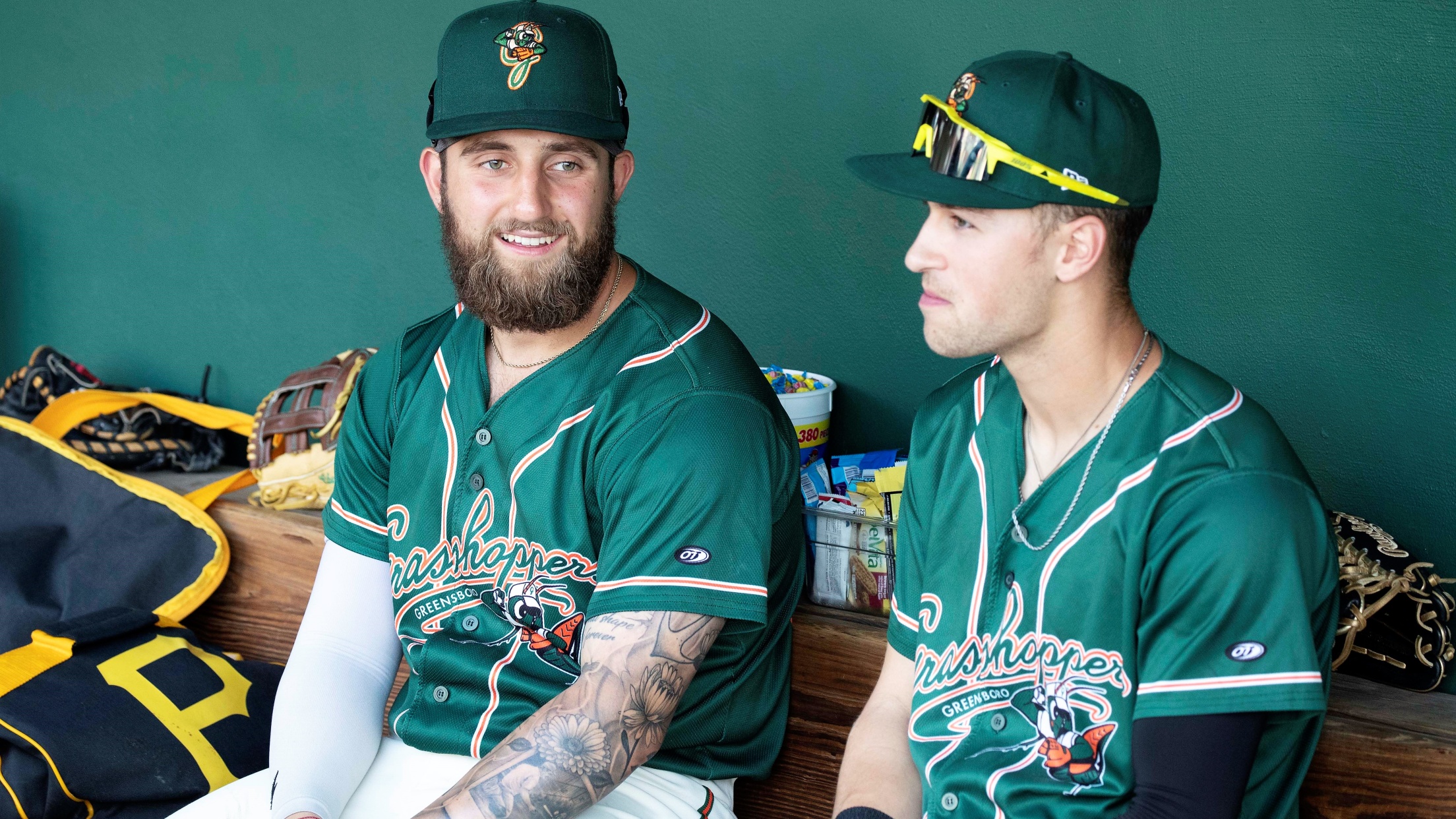 GREENSBORO ― Both of Jack Herman's superb catches at the left-field fence saved runs Tuesday night. But the second one cost more than it saved. Herman, a 22-year-old corner outfielder and perhaps the most popular player in the Greensboro Grasshoppers' clubhouse, suffered a leg injury and had to be carted
Hoppers win, return for last homestand at .500
Ernny Ordoñez hits two home runs to power hot Hoppers to win at Greenville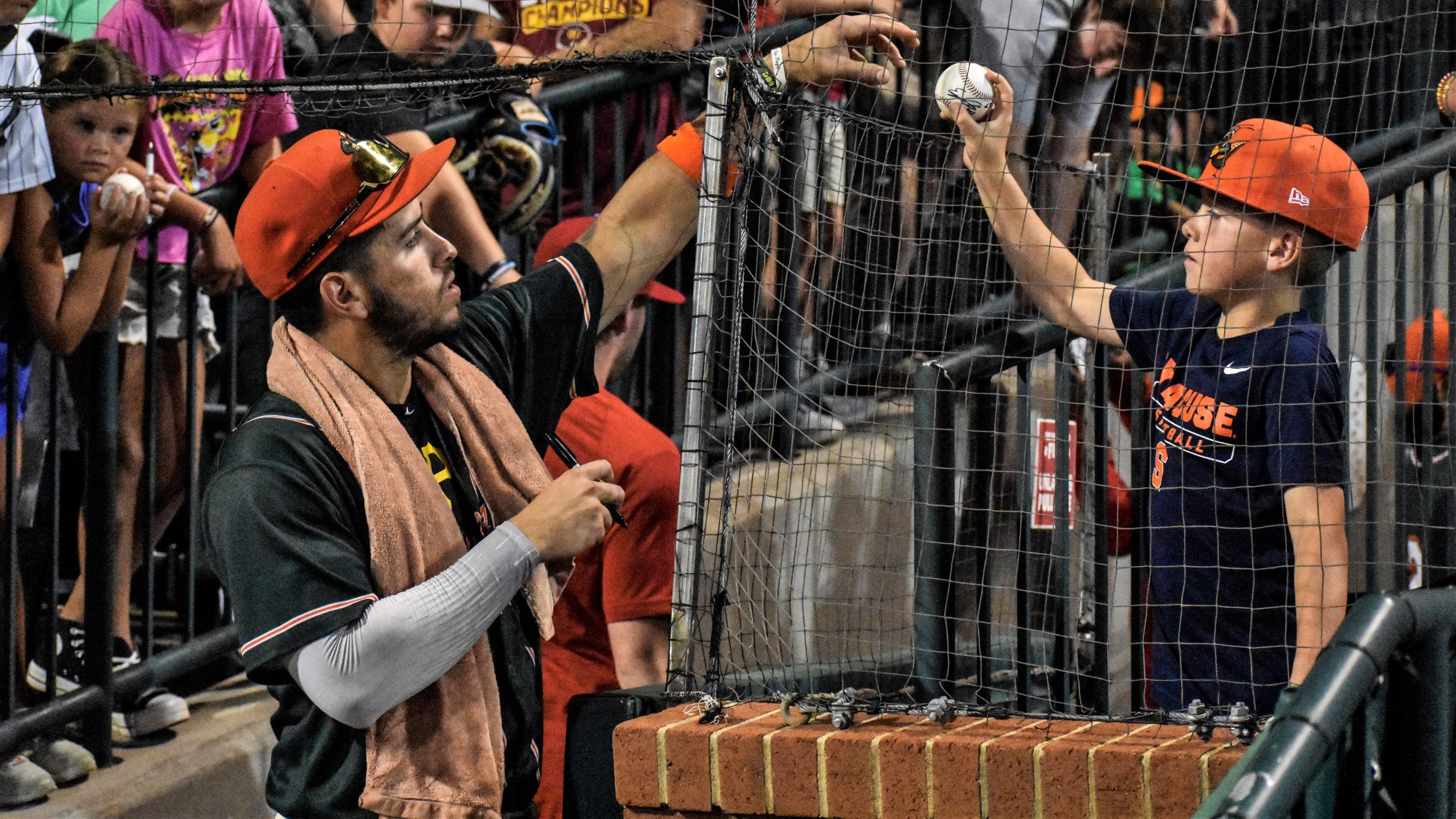 GREENVILLE, S.C. ― Ernny Ordonez hit two solo home runs and right-hander Domingo Gonzalez picked up his team-high eighth win of the season, leading the Greensboro Grasshoppers to a 5-3 victory over the Greenville Drive at Fluor Field on Sunday afternoon. The Hoppers won five games in the series at
Hoppers win streak at 3 after doubleheader sweep
Eli Wilson goes 4-for-7 with a home run, and Hoppers win three games in 24 hours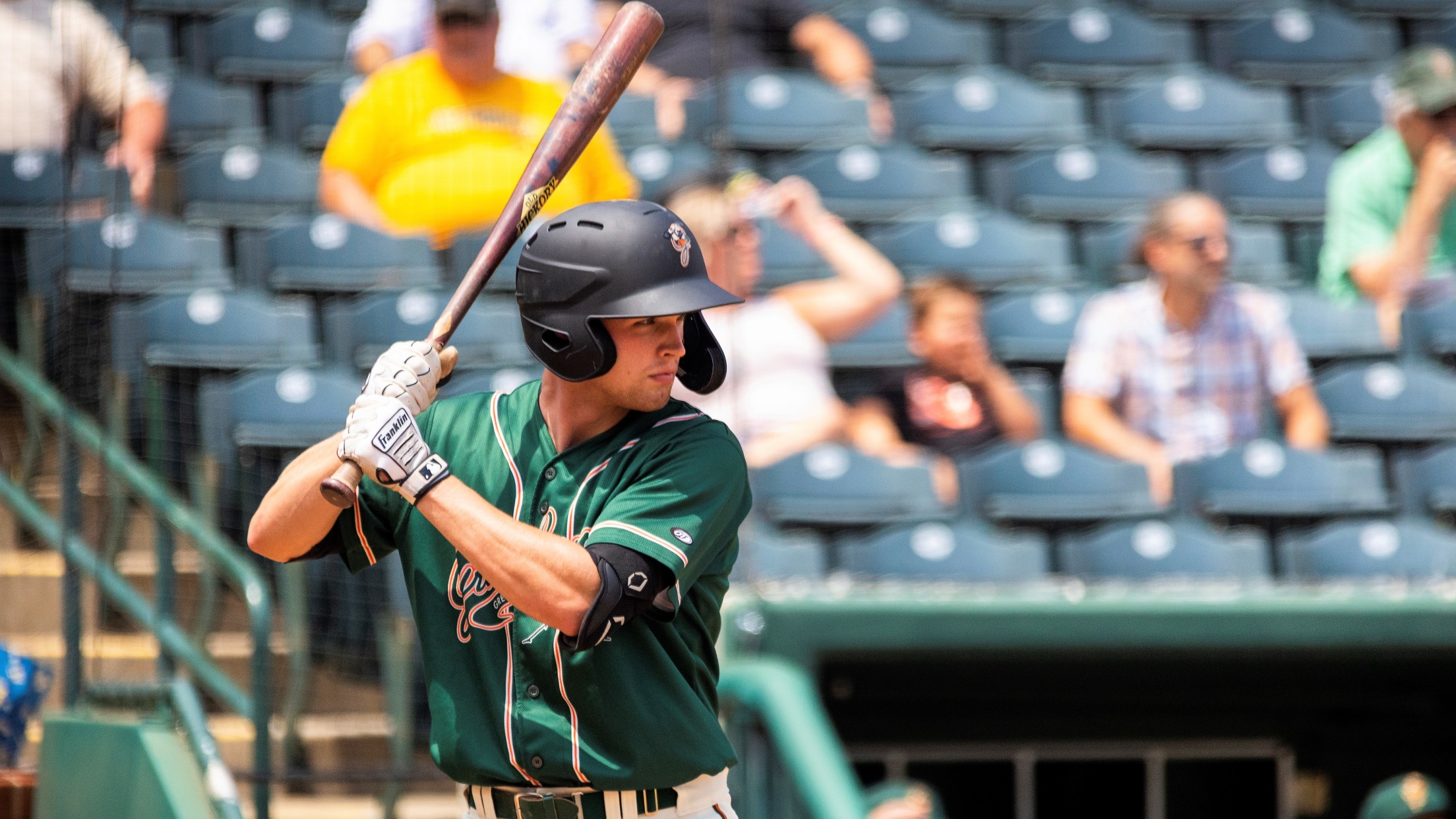 GREENVILLE, S.C. ― Mike Jarvis hit a game-winning two-run single in the first game, and right-handers Christian Charle and Ricky DeVito combined for 11 strikeouts in a shutout in the second game as the Greensboro Grasshoppers swept a doubleheader from the Greenville Drive at Fluor Field on Thursday. The 3-2
Hoppers lose series opener on Drive's 3-run homer
Greensboro's Yoyner Fajardo goes 4-for-4 in losing effort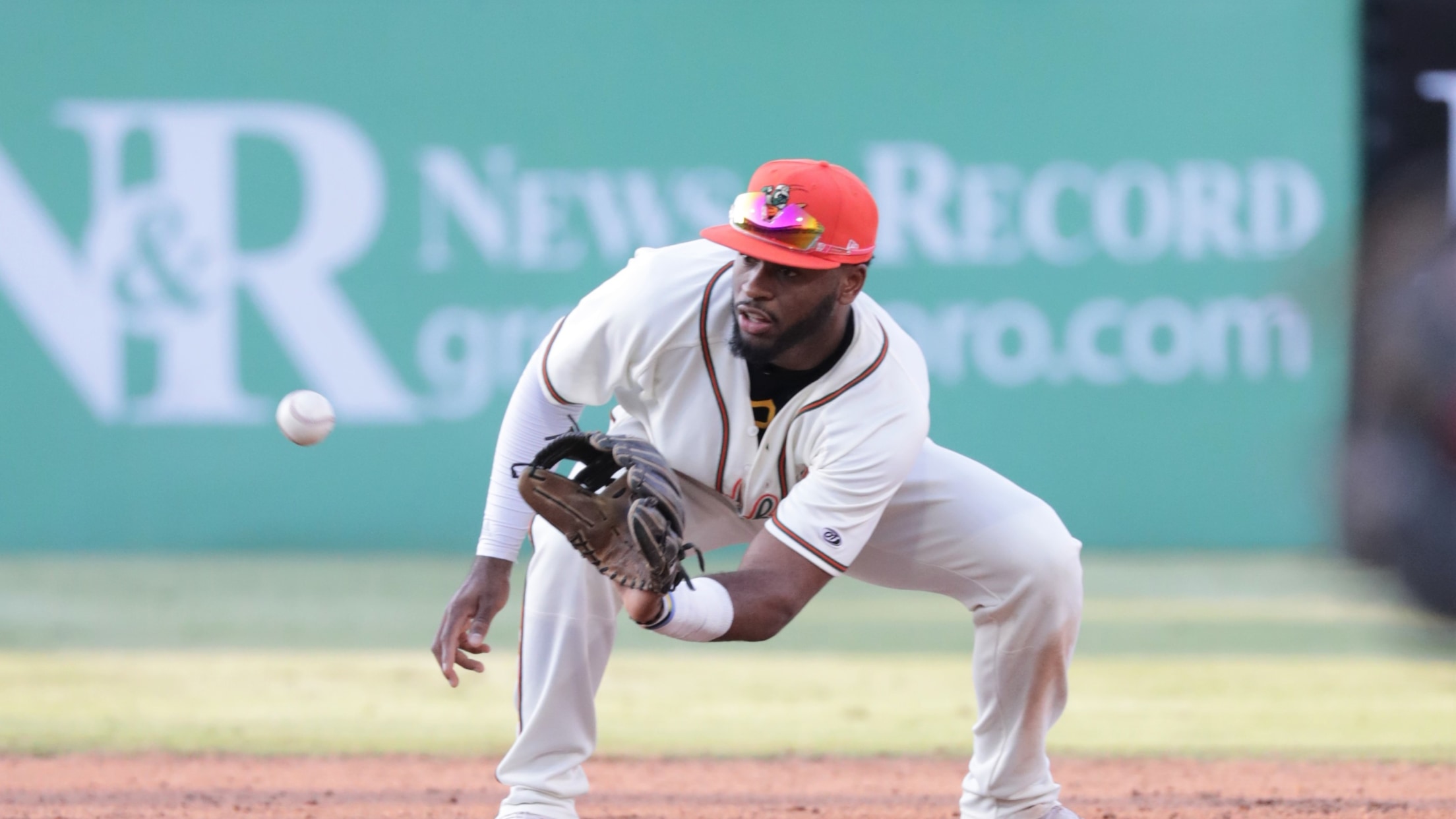 GREENSBORO ― Nathan Hickey hit a three-run home run to account for all of Greenville's offense, and the Drive hung on for a 3-2 victory over the Greensboro Grasshoppers at Fluor Field on Tuesday night. Yoyner Fajardo went 4-for-4 with two stolen bases to lead the Hoppers, who have lost
Abrahan Gutierrez leads offense in 12-5 win
Gutierrez goes 3-for-5 with two doubles, and the Hoppers ride a seven-run inning to win over BlueClaws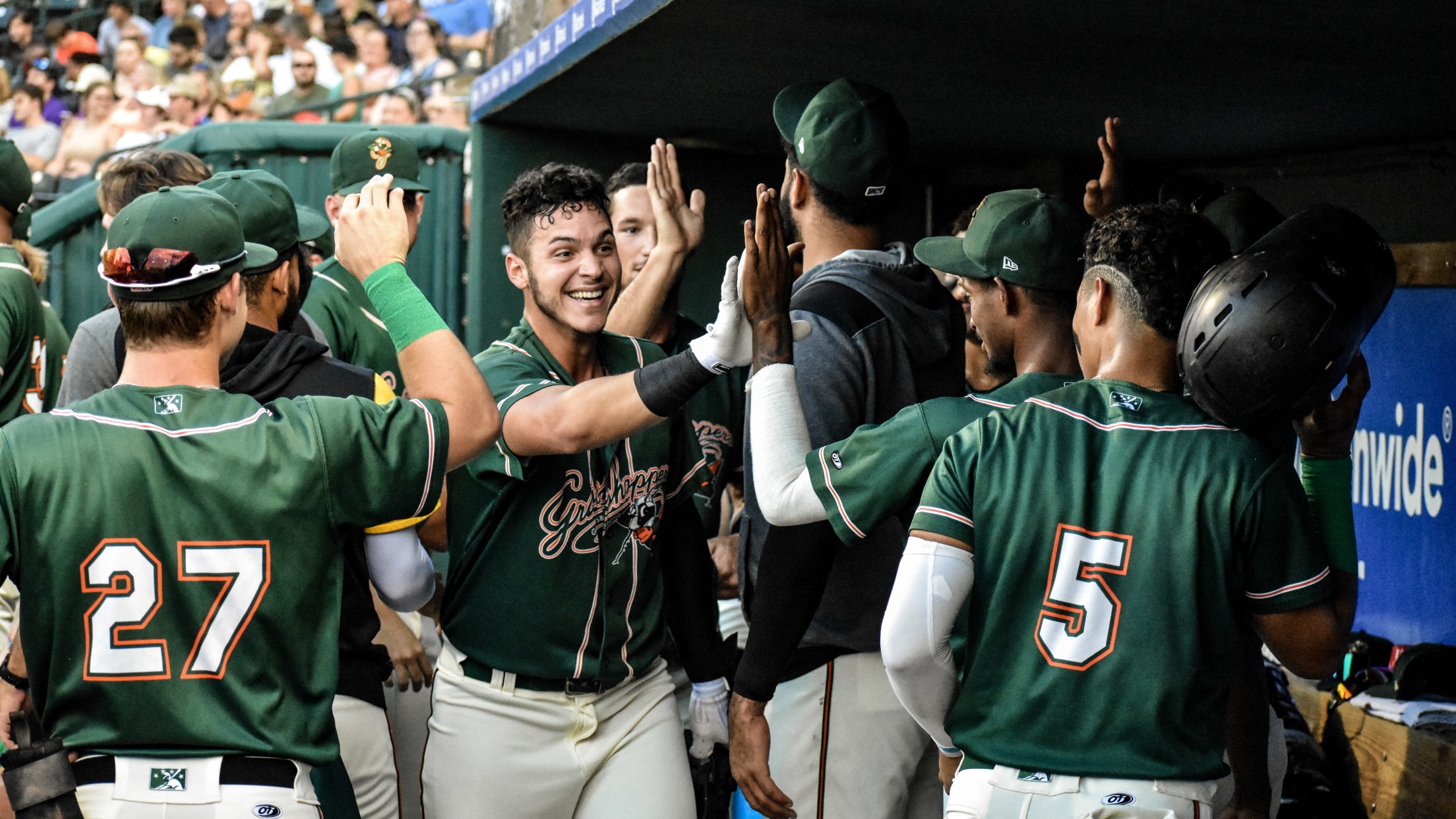 GREENSBORO ― Abrahan Gutierrez went 3-for-5 with two doubles, two RBIs and two runs scored, leading the Greensboro Grasshoppers to a 12-5 victory over the Jersey Shore BlueClaws at First National Bank Field on Friday night. Gutierrez's two-run double capped a seven-run rally in the bottom of the second inning
Hoppers snap slide with quick win over BlueClaws
Luke Brown and Jase Bowen hit back-to-back home runs to start 1 hour 55 minute game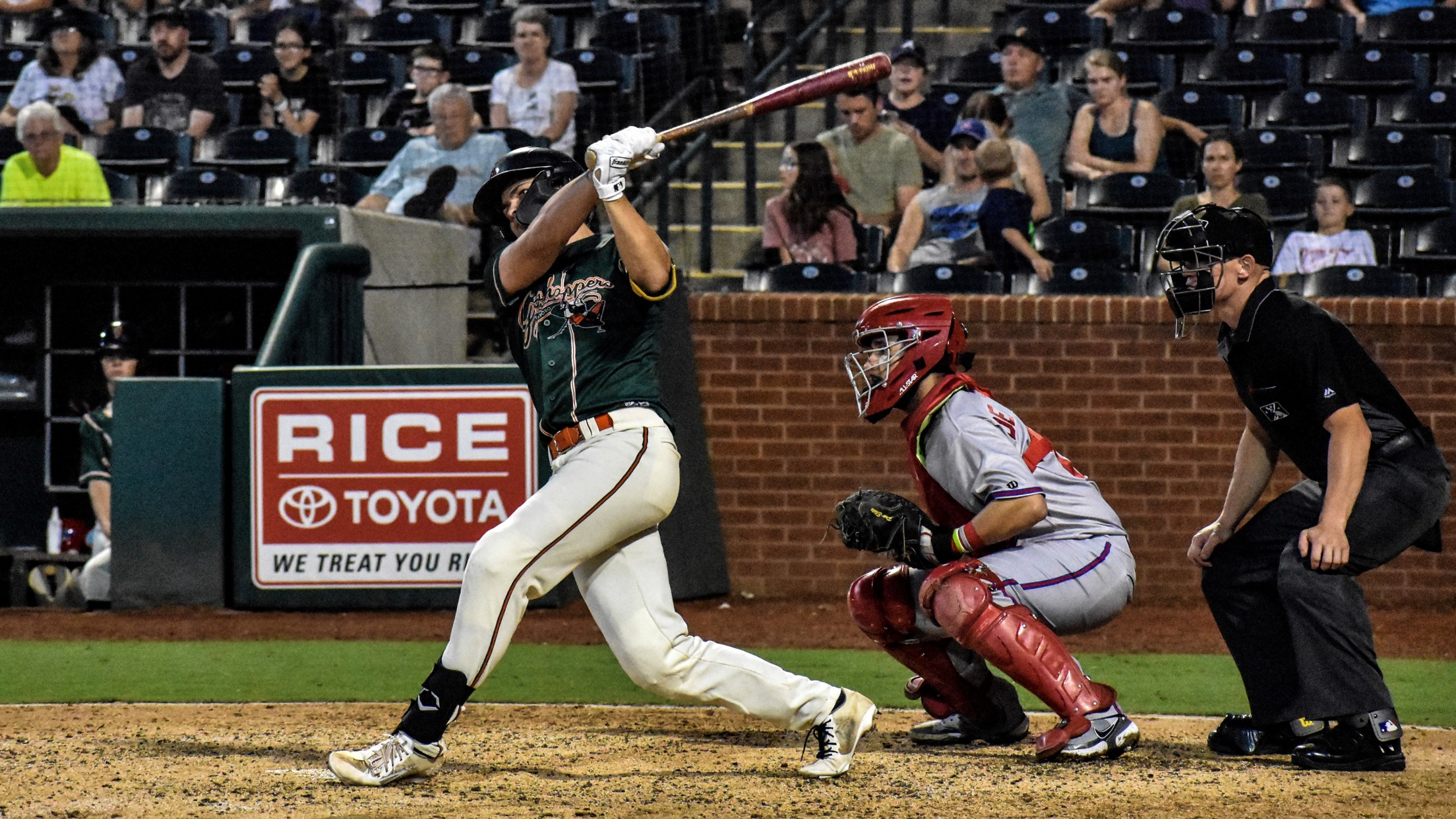 GREENSBORO ― Luke Brown went 2-for-3 with a home run and two RBIs, and Jase Bowen homered for his first hit since his promotion to Greensboro, as the Grasshoppers beat the Jersey Shore BlueClaws 6-3 at First National Bank Field on a brief Thirsty Thursday. Brown and Bowen hit back-to-back
Hoppers lose pitchers' duel to BlueClaws 4-1
Domingo Gonzalez strikes out five in a scoreless relief effort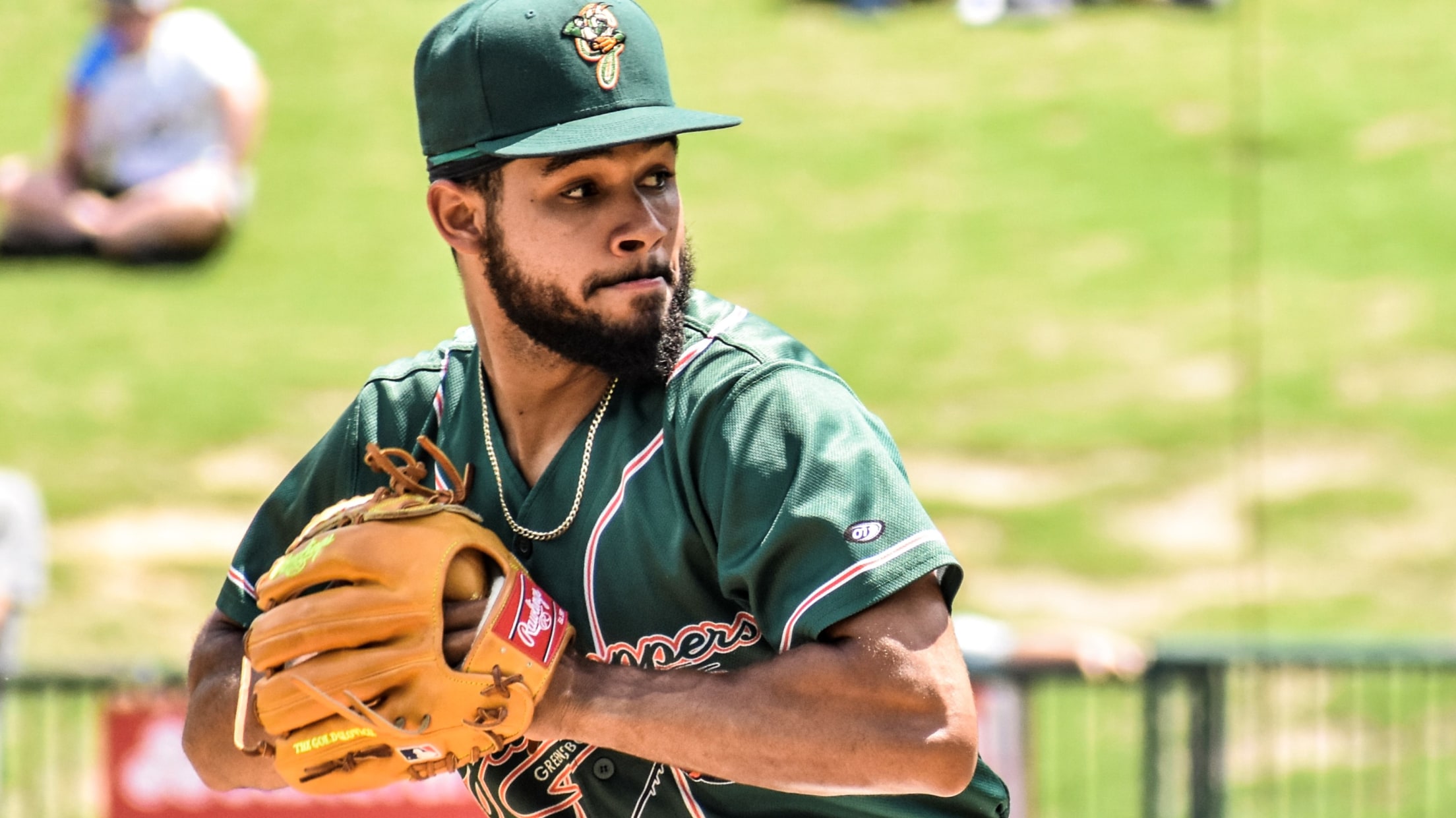 GREENSBORO ― Baron Radcliff struck out in his first plate appearance, winning everyone at First National Bank Field coupons for a free biscuit at Biscuitville. But from then on, Radcliff stopped playing nice. Jersey Shore's left fielder went 2-for-4 with a home run and three RBIs, leading the BlueClaws to
BlueClaws clobber Hoppers with one big inning
Yoyner Fajardo goes 3-for-5, but Greensboro loses for sixth time in last eight games.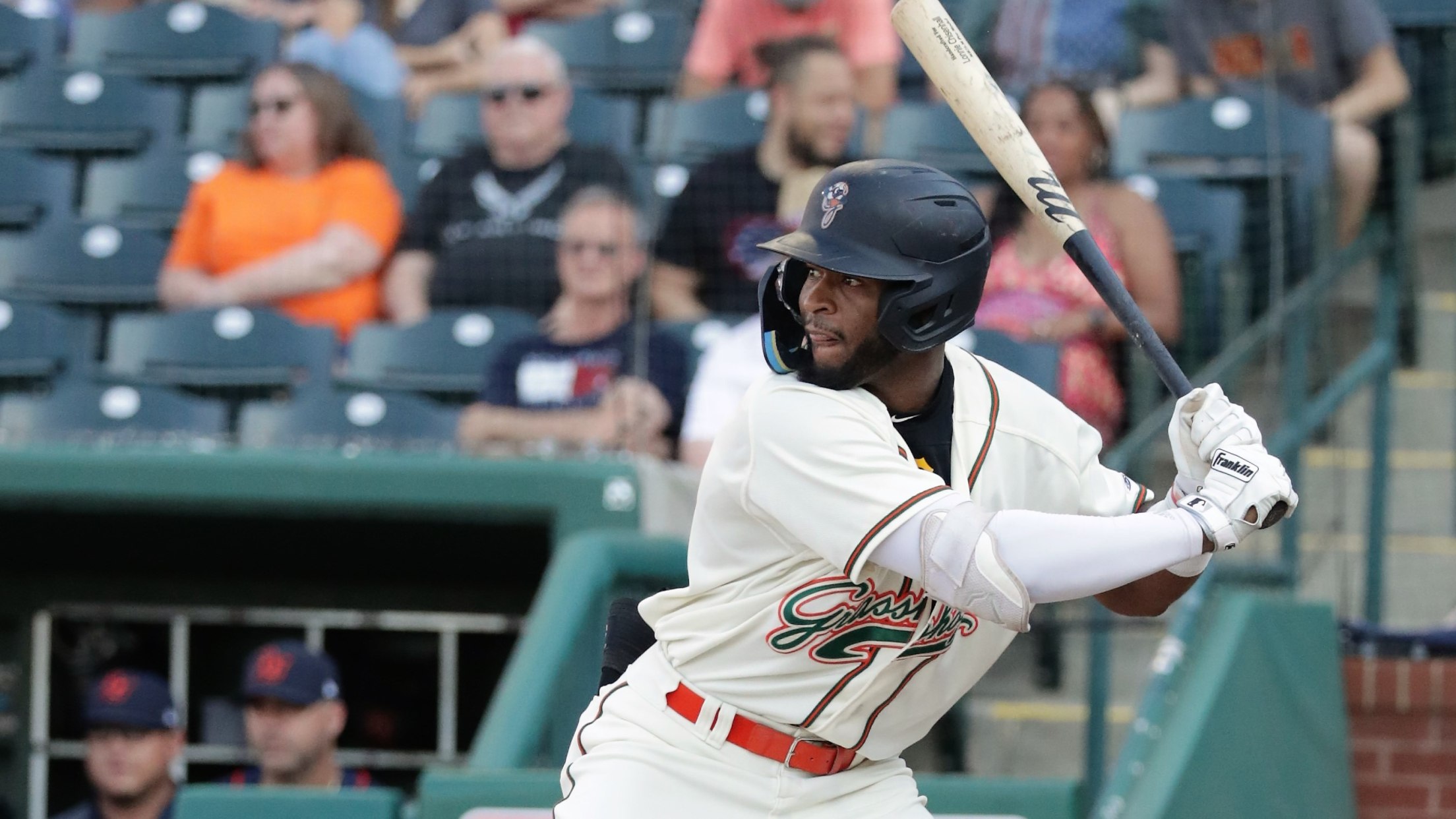 GREENSBORO ― Kendall Simmons went 2-for-5 with a three-run home run and three runs scored, and the Jersey Shore BlueClaws scored 13 runs in the decisive third inning en route to a 14-3 victory over the Greensboro Grasshoppers at First National Bank Field on Tuesday night. Andrick Nava went 3-for-4
Hoppers hit 2 sets of back-to-back HRs in loss
Dariel Lopez extends hitting streak to 14 games and hits two solo shots to take team lead with 18 homers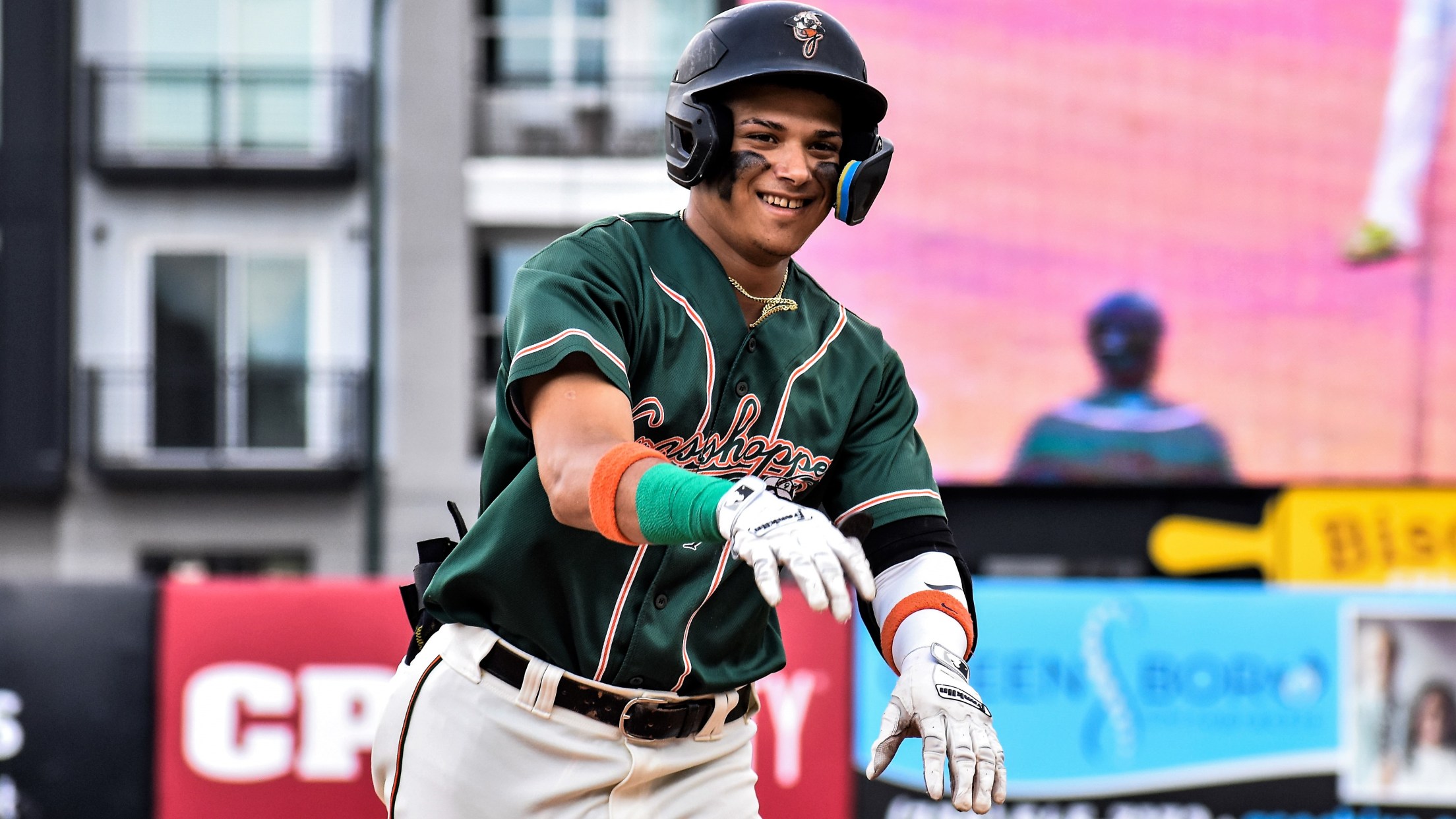 GREENSBORO ― Dariel Lopez went 3-for-4 with two solo home runs to take over the Grasshoppers' team lead, but Winston-Salem defeated Greensboro 8-4 at First National Bank Field in Sunday afternoon's series finale. The Hoppers won the series 4-2, but the Dash's victory Sunday evened the season-long "Battle of I-40"
Hoppers take 9-8 lead in 'Battle of I-40' rivalry series
Abrahan Gutierrez's towering home run pushes Greensboro ahead of Winston-Salem in season series
GREENSBORO ― Abrahan Gutierrez hit a towering three-run home run and winning pitcher Cristian Charle worked three strong innings of relief, leading the Greensboro Grasshoppers to a 7-3 victory over the Winston-Salem Dash at First National Bank Field on Friday night. Endy Rodriguez went 2-for-4 and stole home on the
Hoppers' pitchers combine for I-40 rivalry win
Jared Jones, Ricky DeVito and Cameron Junker help Hoppers pull even in 'Battle of I-40'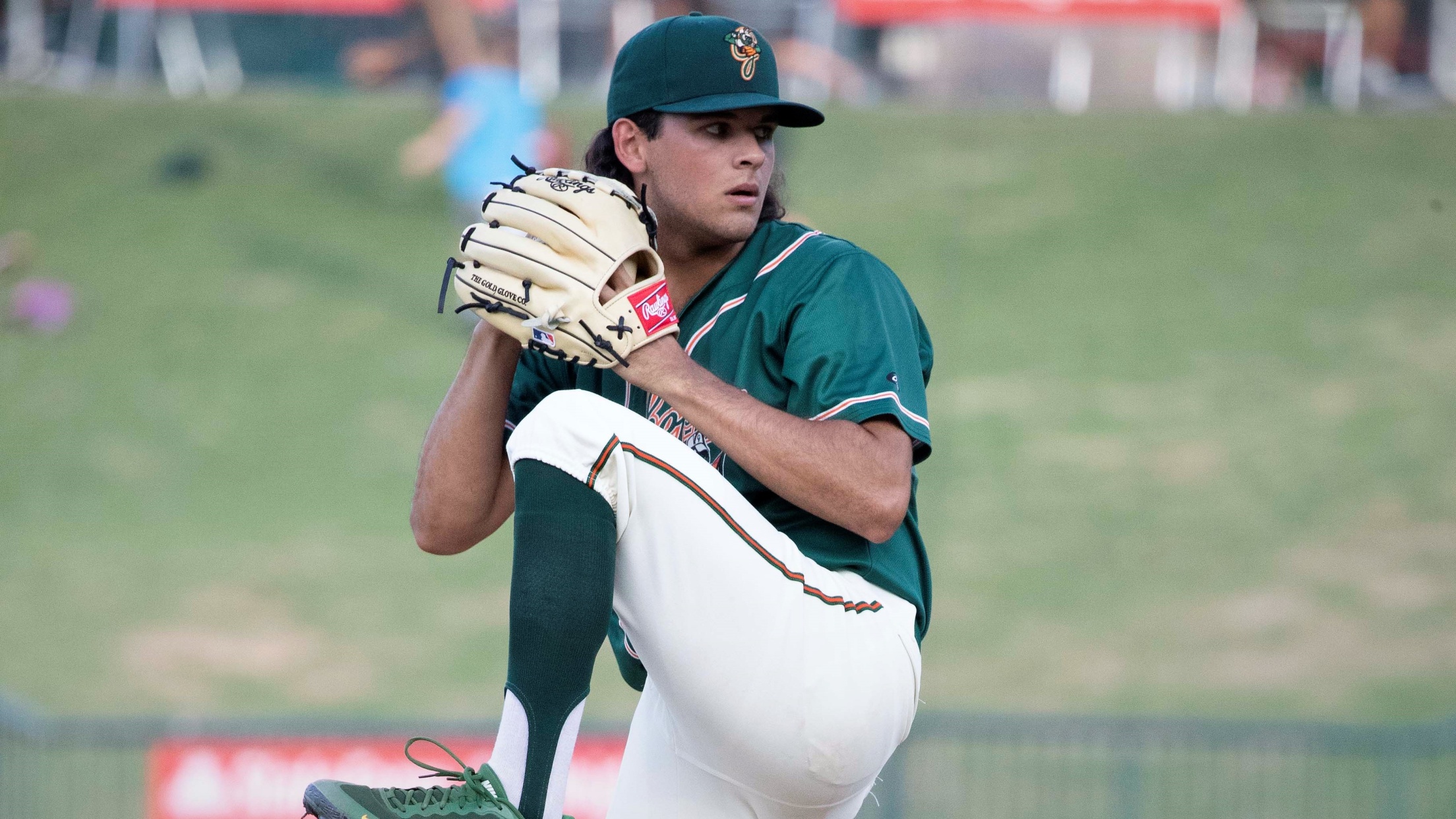 GREENSBORO ― Pitchers Jared Jones and Ricky DeVito combined for eight outstanding innings, and closer Cameron Junker doused a ninth-inning fire, lifting the Greensboro Grasshoppers to a 6-4 victory over the Winston-Salem Dash at First National Bank Field on Friday night. Hudson Head, Dariel Lopezand newcomer Angel Basabe hit home
I-40 rivalry swings from Hoppers to Dash
Endy Rodriguez and Jacob Gonzalez hit home runs, but Winston-Salem rallies to win in 11 innings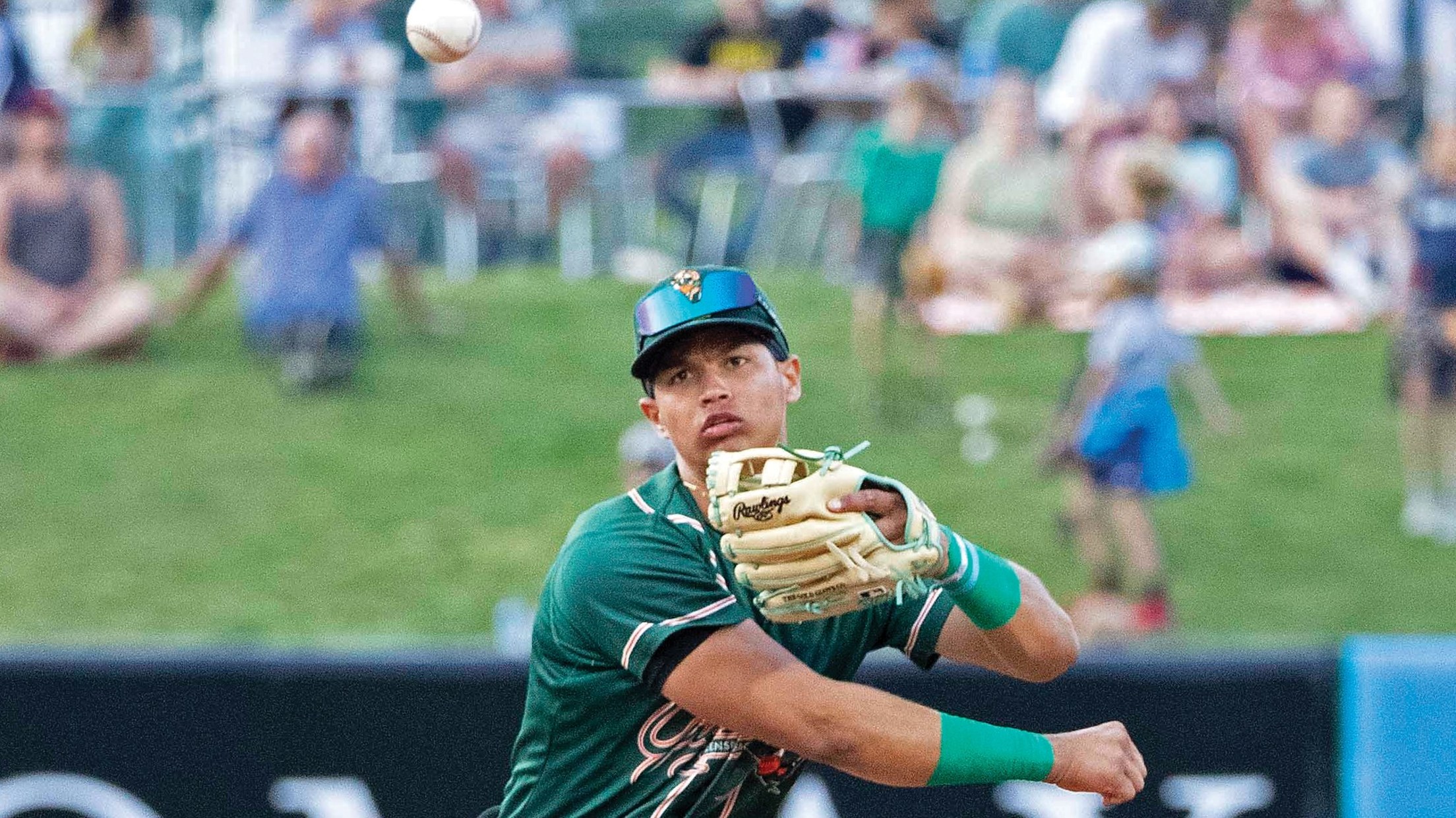 GREENSBORO ― The back-and-forth "Battle of I-40" rivalry swung back in Winston-Salem's favor late Thursday night. Ben Norman hit a three-run home run in the top of the 11th inning, and the Dash held off the Greensboro Grasshoppers for a 7-5 victory at First National Bank Field. Norman finished 3-for-4
Hot-hitting Hoppers pull even in I-40 Rivalry
Jacob Gonzalez goes 4-for-6 and hits one of four Greensboro home runs, including Mike Jarvis' grand slam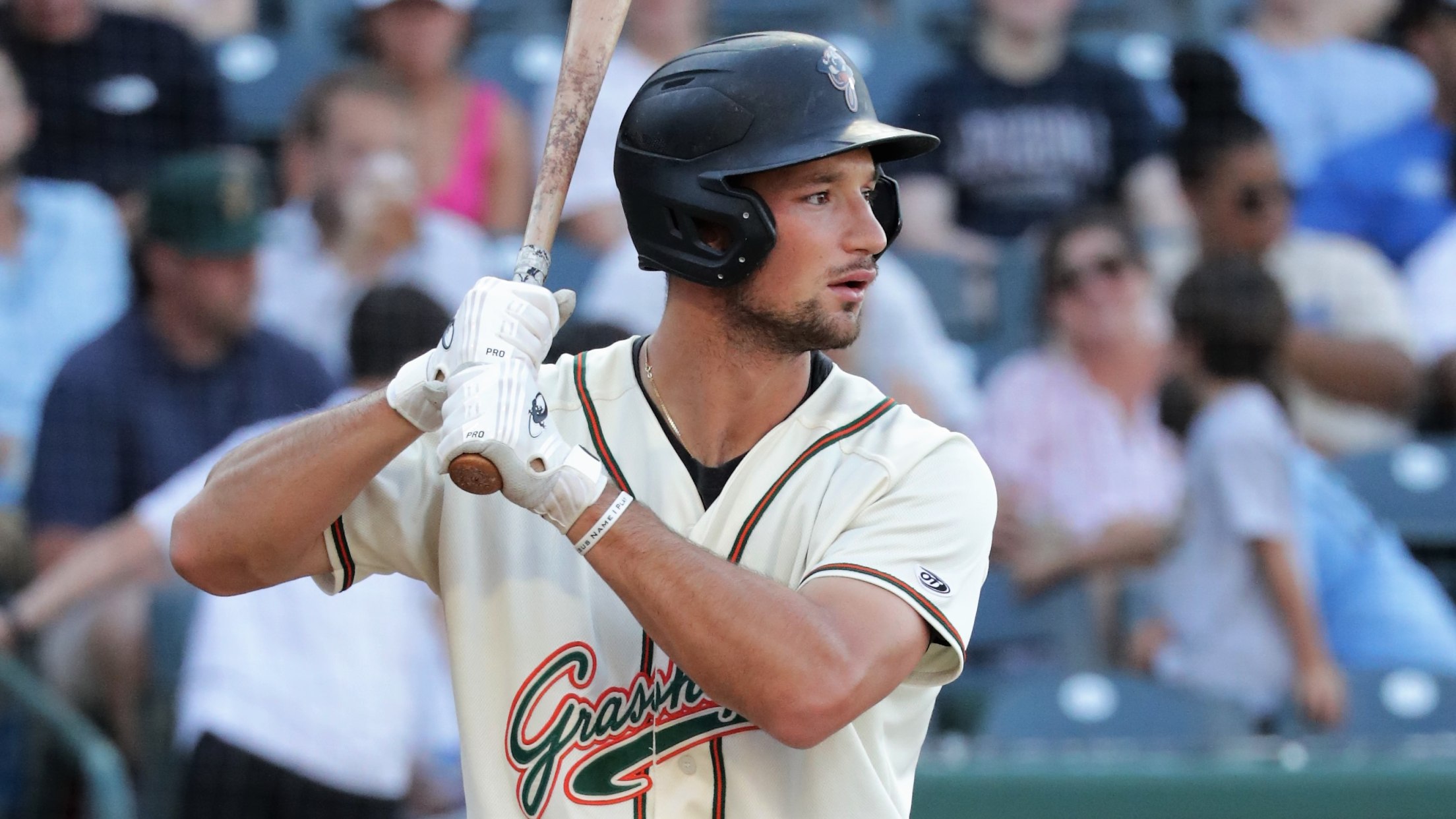 GREENSBORO ― Jacob Gonzalez went 4-for-6 with a home run and two RBIs, and Mike Jarvis hit a grand slam as the Greensboro Grasshoppers clobbered the Winston-Salem Dash 19-5 at First National Bank Field on Wednesday afternoon. The Hoppers pulled even in this year's "Battle of I-40" rivalry series with