Hoppers' pitchers combine for I-40 rivalry win
Jared Jones, Ricky DeVito and Cameron Junker help Hoppers pull even in 'Battle of I-40'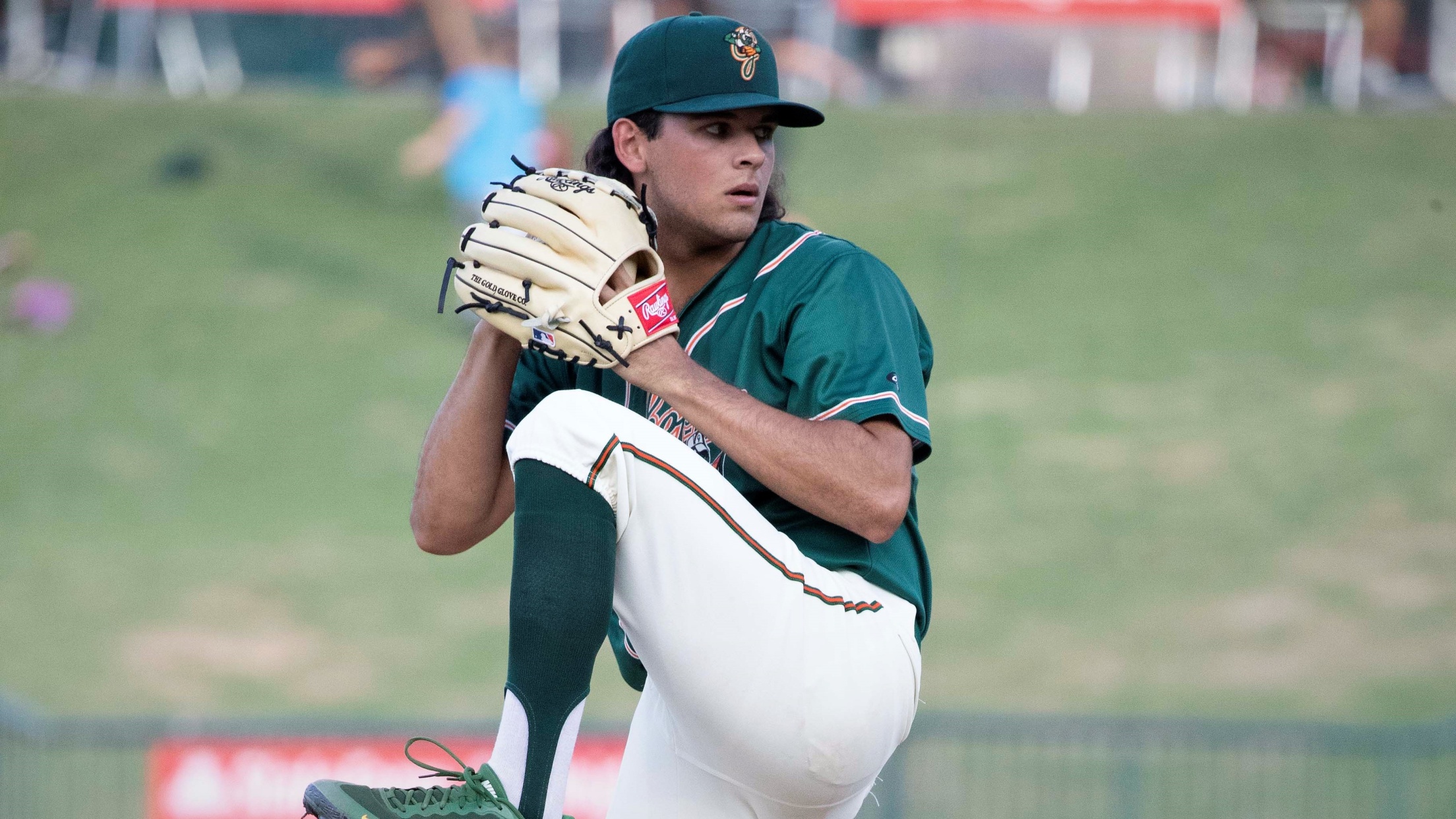 Greensboro Grasshoppers starting pitcher Jared Jones is rated by MLB Pipeline as the No. 11 prospect in Pittsburgh's farm system. (Derrick Brady/bcookmedia)
GREENSBORO ― Pitchers Jared Jones and Ricky DeVito combined for eight outstanding innings, and closer Cameron Junker doused a ninth-inning fire, lifting the Greensboro Grasshoppers to a 6-4 victory over the Winston-Salem Dash at First National Bank Field on Friday night. Hudson Head, Dariel Lopezand newcomer Angel Basabe hit home
GREENSBORO ― Pitchers Jared Jones and Ricky DeVito combined for eight outstanding innings, and closer Cameron Junker doused a ninth-inning fire, lifting the Greensboro Grasshoppers to a 6-4 victory over the Winston-Salem Dash at First National Bank Field on Friday night.
Hudson Head, Dariel Lopezand newcomer Angel Basabe hit home runs for the Hoppers, who built a 6-1 lead and hung on in the ninth inning to win.
With the victory, Greensboro pulled even in the "Battle of I-40" rivalry series with Winston-Salam. The Hoppers and Dash have both won eight head-to-head games. Greensboro has won four of the last five matchcups, while Winston-Salem is 5-2 in the series' one-run games.
Head went 2-for-3 with a walk and three RBIs, and he hit a towering two-run home run that somehow stayed fair on its way to Eugene Street beyond the right-field foul pole.
Lopez, Jackson Glenn, Jacob Gonzalez and Endy Rodriguez all had two hits apiece for the Hoppers.
But the pitching told the story of this game.
Winning pitcher Jones (5-4) made arguably his best start of the season, working five gritty innings and allowing just one run on a solo homer. He allowed baserunners in all five innings, but he pitched out of trouble each inning, striking out four.
DeVito was even better. The hard-throwing right hander worked three scoreless innings, walking none and striking out five. He faced just one batter over the minimum, and he left the game with a 6-1 lead.
But the Dash rallied for three earned runs in the ninth off Oliver Mateo and Wandi Montout on a single, two hit batsmen and two walks.
Junker came on with two outs and runners at first and third, and he coaxed Alsander Womack into a game-ending groundout to notch his league-leading ninth save.
NOTES
Right-hander Jared Jones, a 20-year-old rated by MLB Pipeline as the No. 11 prospect in Pittsburgh's farm system, has made 19 starts and ranks fourth in the South Atlantic League with 111 strikeouts in 91⅔ innings.
Shortstop Francisco Acuña batted in the leadoff spot and had a productive 0-for-3 night. Acuña walked twice in his five plate appearances, and he flied out to the fence in another. In between, he made Winston-Salem's pitchers work hard. Acuña saw 32 pitches Friday, and he fouled off 12 of them to extend at-bats
In the seven games since the All-Star break, Endy Rodriguez is 12-for-24 (.500) with six home runs, eight walks, 12 runs scored and 11 RBIs, raising his season batting average to .294. The versatile 22-year-old is rated by MLB Pipeline as Pittsburgh's No. 6 prospect, and he has played four positions ― catcher, first base, second base and left field ― this season.
In his career at the News & Record, journalist Jeff Mills won 10 national and 12 state writing awards from the Associated Press Sports Editors, the Society for Features Journalism, and the N.C. Press Association.