Hot-hitting Hoppers pull even in I-40 Rivalry
Jacob Gonzalez goes 4-for-6 and hits one of four Greensboro home runs, including Mike Jarvis' grand slam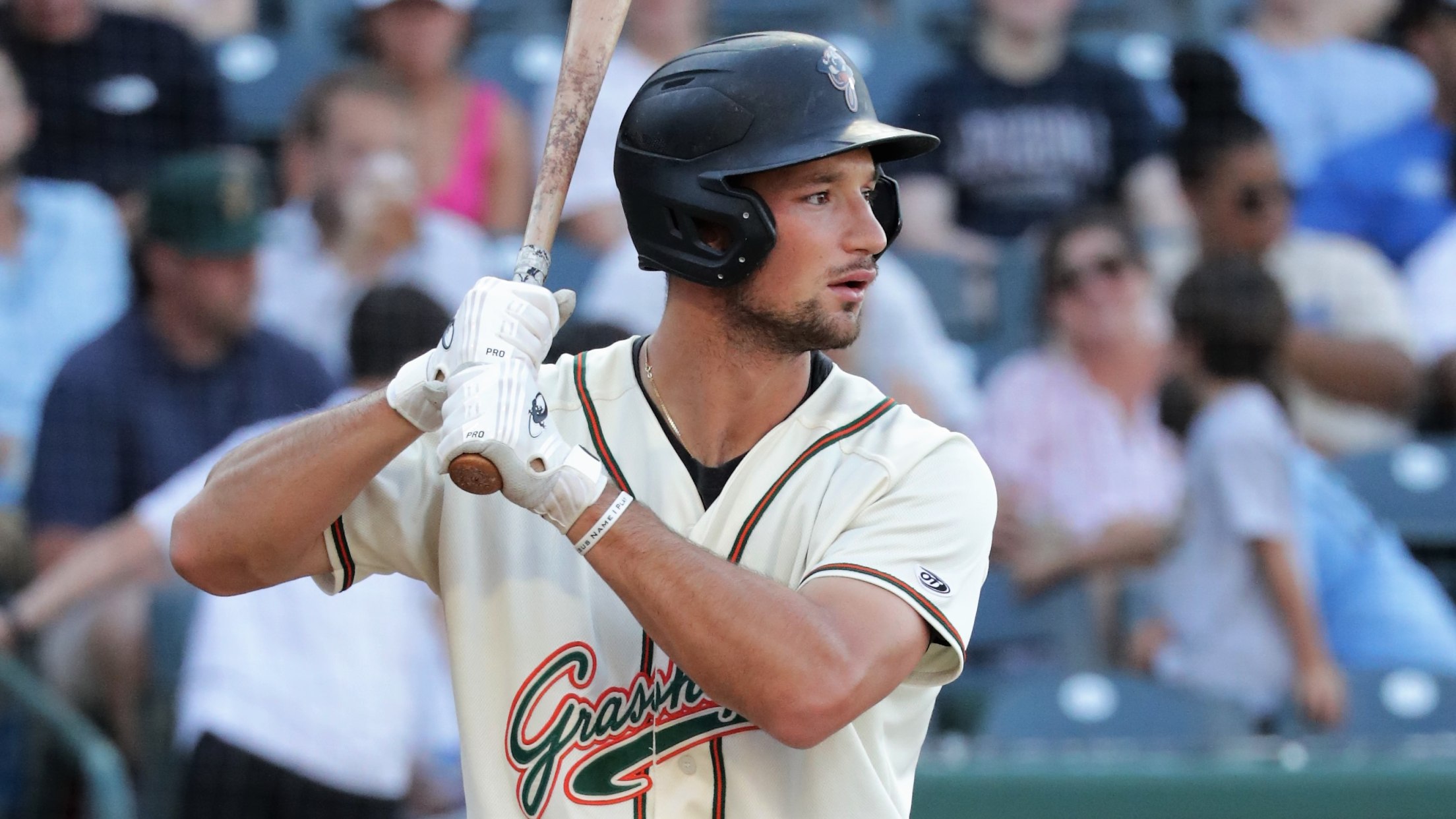 Greensboro Grasshoppers first baseman Jacob Gonzalez. (Derrick Brady/bcookmedia)
GREENSBORO ― Jacob Gonzalez went 4-for-6 with a home run and two RBIs, and Mike Jarvis hit a grand slam as the Greensboro Grasshoppers clobbered the Winston-Salem Dash 19-5 at First National Bank Field on Wednesday afternoon. The Hoppers pulled even in this year's "Battle of I-40" rivalry series with
GREENSBORO ― Jacob Gonzalez went 4-for-6 with a home run and two RBIs, and Mike Jarvis hit a grand slam as the Greensboro Grasshoppers clobbered the Winston-Salem Dash 19-5 at First National Bank Field on Wednesday afternoon.
The Hoppers pulled even in this year's "Battle of I-40" rivalry series with the Dash. The teams are 7-7 head-to-head this season. Greensboro has outscored Winston-Salem 99-75, but the Dash is 5-2 in one-run games against the Hoppers.
But on this warm afternoon's onslaught was far from a one-run game.
Yoyner Fajardo was 3-for-5 with three RBIs, and Dariel Lopez hit his 15th home run of the season for the Hoppers, who have won four out of five games since the All-Star break.
Greensboro improved to 13-12 in the second half of the South Atlantic League season. The Hoppers are two games behind first-place Hudson Valley in the North Division standings.
Abrahan Gutierrez went 2-for-4 with a home run, two walks and two RBIs for the Hoppers, who pounded out 18 hits in the game and scored 16 runs in the fifth and sixth innings to break open a close game.
Right-hander Domingo Gonzalez (6-2) picked up the win with three scoreless innings of middle relief. He faced just two batters over the minimum, walking none and striking out five.
NOTES
Greensboro went 9-for-15 with runners in scoring position. The Hoppers drew eight walks to go along with their 18 hits
In the five games since the All-Star break, Endy Rodriguez is 8-for-15 (.533) with five home runs, seven walks, 11 runs scored and eight RBIs, raising his season batting average to .289. The versatile 22-year-old is rated by MLB Pipeline as Pittsburgh's No. 6 prospect, and he has played four positions ― catcher, first base, second base and left field ― this season.
Big right-hander Matt Eckelman made his Hoppers debut Wednesday, getting the start and allowing one earned run in two innings. He walked one and struck out two. The 28-year-old Eckelman joined the team Tuesday after going 0-3 with a 7.67 ERA in 24 games as a reliever with Class-AAA Indianapolis.
Eckelman replaced outfielder Sammy Siani on the roster. Siani, who leads the Hoppers with 22 stolen bases, was sent to the rookie level Florida Complex League. Siani batted .203 with 97 strikeouts in 67 games in Greensboro.
In his career at the News & Record, journalist Jeff Mills won 10 national and 12 state writing awards from the Associated Press Sports Editors, the Society for Features Journalism, and the N.C. Press Association.