I-40 rivalry swings from Hoppers to Dash
Endy Rodriguez and Jacob Gonzalez hit home runs, but Winston-Salem rallies to win in 11 innings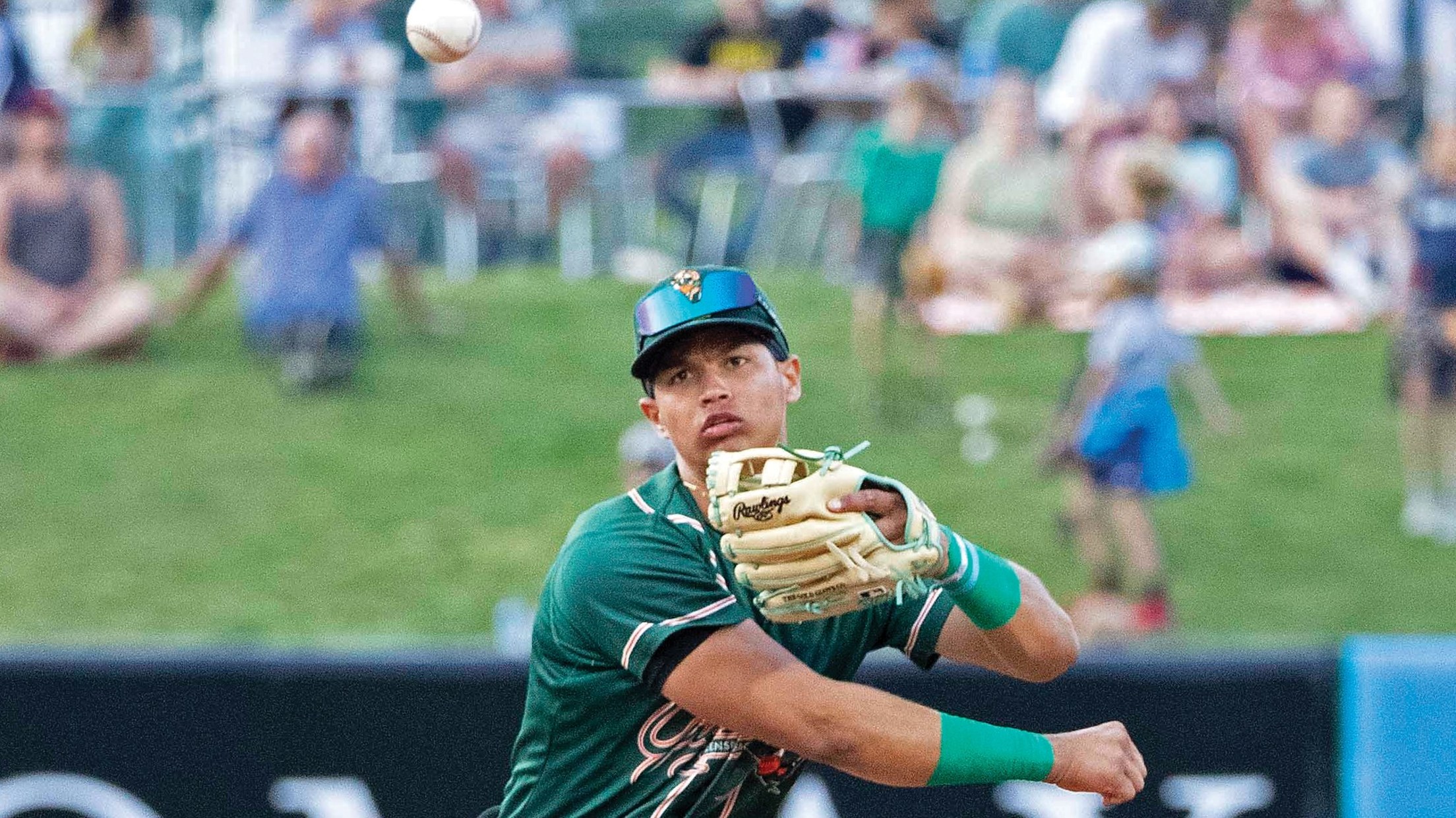 Greensboro Grasshoppers second baseman Endy Rodriguez. (Derrick Brady/bcookmedia)
GREENSBORO ― The back-and-forth "Battle of I-40" rivalry swung back in Winston-Salem's favor late Thursday night. Ben Norman hit a three-run home run in the top of the 11th inning, and the Dash held off the Greensboro Grasshoppers for a 7-5 victory at First National Bank Field. Norman finished 3-for-4
GREENSBORO ― The back-and-forth "Battle of I-40" rivalry swung back in Winston-Salem's favor late Thursday night.
Ben Norman hit a three-run home run in the top of the 11th inning, and the Dash held off the Greensboro Grasshoppers for a 7-5 victory at First National Bank Field.
Norman finished 3-for-4 with four RBIs, and Greensboro native Alsander Womack went 3-for-6 with an RBI double in the 11th. Womack is the son of former big leaguer Tony Womack, who starred collegiately at Guilford College.
With the win, Winston-Salem took an 8-7 lead in the season series against Greensboro. The Hoppers had won the last three games to tie the rivalry, and they've outscored the Dash 104-82 in the 15 games.
Jacob Gonzalez and Endy Rodriguez had two hits apiece and home runs for Greensboro, combining to drive in all five Hoppers runs.
Greensboro had a chance to win in regulation.
Gonzalez's RBI single in the eighth inning gave the Hoppers a 3-2 lead, but the Dash tied the game in the top of the ninth.
Big right-hander Eddy Yean got a groundout to start the ninth, but he hit the Dash's Duke Ellis with a two-strike pitch. Ellis, who leads the South Atlantic League with 40 stolen bases, swiped second, took third on Norman's soft single and scored the tying run on Bryan Ramos' sacrifice fly.
Cameron Junker pitched a scoreless 10th for the Hoppers, who missed a chance to win when Gonzalez's grounded out with two outs and runners at second and third.
Rodriguez hit his 15th home run of the season in the bottom of the 11th, a deep two-run shot onto the left-field concourse. Greensboro brought the tying run to the plate, but pinch-hitter Eli Wilson grounded into a double play to end it.
NOTES
The Hoppers used eight pitchers in the game. Right-hander Sean Sullivan came off the injured list and made the start. He worked only one inning, throwing 14 of his 22 pitches for strikes, allowing one run on two hits and striking out three. … Reliever Dante Mendoza (0-1) started the 11th inning and was tagged for four runs in ⅔ of an inning.
Greensboro went 3-for-12 with runners in scoring position, stranding seven.
In the six games since the All-Star break, Endy Rodriguez is 10-for-20 (.500) with six home runs, seven walks, 12 runs scored and 11 RBIs, raising his season batting average to .291. The versatile 22-year-old is rated by MLB Pipeline as Pittsburgh's No. 6 prospect, and he has played four positions ― catcher, first base, second base and left field ― this season.
In his career at the News & Record, journalist Jeff Mills won 10 national and 12 state writing awards from the Associated Press Sports Editors, the Society for Features Journalism, and the N.C. Press Association.