Stripers Stifled by Rodriguez, Tides in 9-2 Loss
Grayson Rodriguez works 6.0 one-hit innings for Norfolk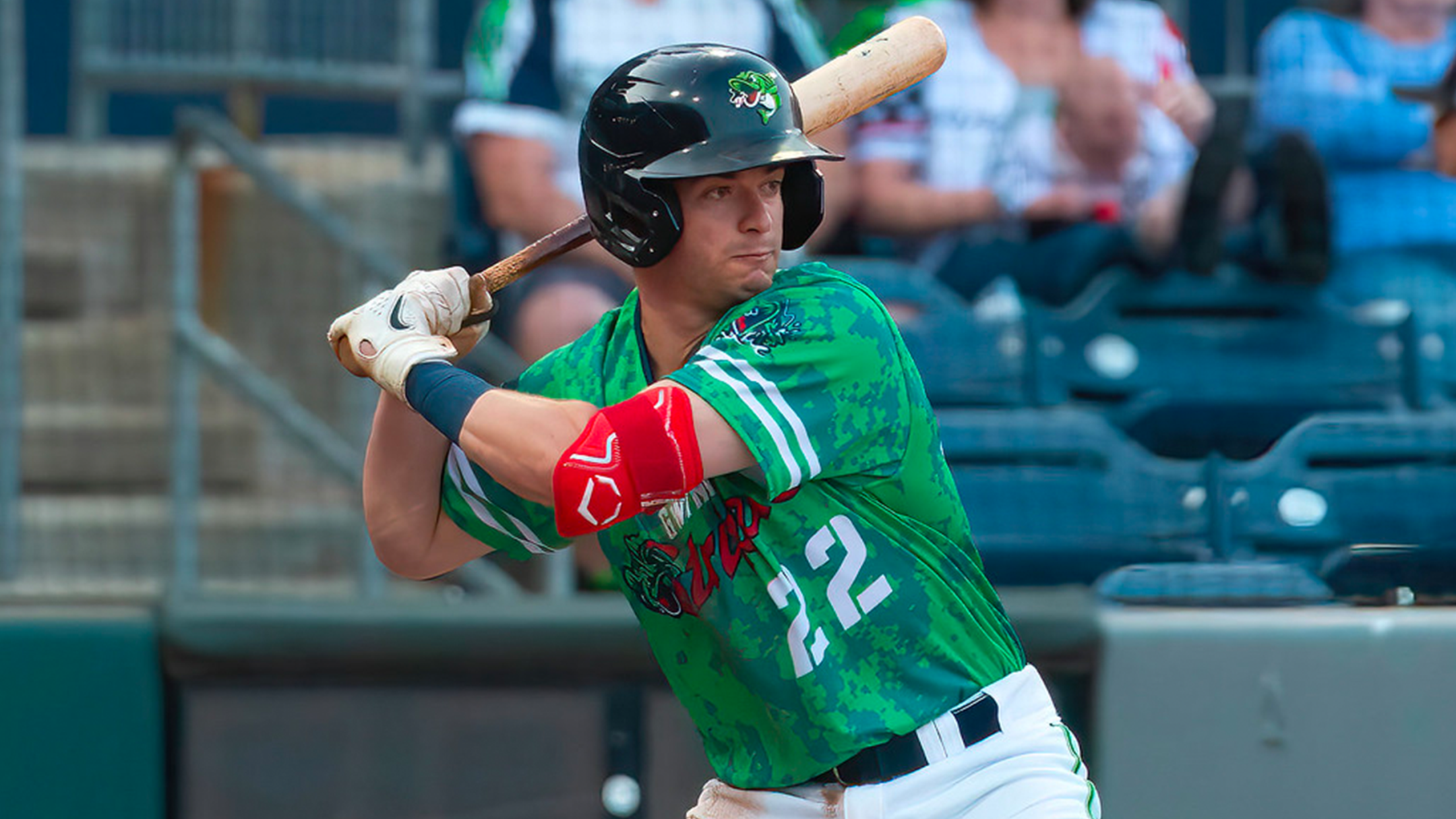 Nick Solak snapped Norfolk's shutout bid in the ninth with a two-run homer, his sixth of the year. (Bernie Connelly)
NORFOLK, Va. – Norfolk starter Grayson Rodriguez, making his first Triple-A start since March 31, held the Gwinnett Stripers (24-32) to one hit over 6.0 scoreless innings as the Tides (39-17) won 9-2 on Saturday night at Harbor Park. Forrest Wall broke up the no-hit bid with an infield single
NORFOLK, Va. – Norfolk starter Grayson Rodriguez, making his first Triple-A start since March 31, held the Gwinnett Stripers (24-32) to one hit over 6.0 scoreless innings as the Tides (39-17) won 9-2 on Saturday night at Harbor Park. Forrest Wall broke up the no-hit bid with an infield single in the sixth, and Nick Solak ended the shutout with a two-run homer in the ninth.
Decisive Plays: Spot starter Nolan Kingham (L, 0-4) yielded four runs in the second inning as Norfolk took a 4-0 lead. Ben DeLuzio, Shayne Fontana, and Colton Cowser all tallied RBI hits in the frame. Lewin Diaz (11) and Connor Norby (6) each added solo home runs as the Tides increased the lead to 7-0. Two more runs on a single by Norby extended the gap to 9-0 in the seventh. In the ninth, Vaughn Grissom singled and Solak (6) slugged a two-run homer to right-center off Joey Krehbiel to make it 9-2.
Key Contributors: Norby (2-for-5, homer, 3 RBIs) and Cowser (2-for-3, 2 RBIs) combined to drive in five of Norfolk's nine runs. Rodriguez (W, 1-0) worked 6.0 innings of one-hit baseball, walked five, and struck out six. Krehbiel (S, 3) allowed two runs over 3.0 innings. For the Stripers, Solak went 1-for-3 with the homer and two RBIs.
Noteworthy: The Stripers avoided being shut out for the third time this season (4-2 in shutout decisions). Solak raised his team-leading RBI total to 28. Wall swiped his 31st base of the season (now 31-for-31), and now has the sixth-most single-season steals in Gwinnett history.
Next Game (Sunday, June 4): Gwinnett at Norfolk, 1:05 p.m. ET at Harbor Park. RHP Beau Burrows (2-1, 5.50 ERA) for the Stripers vs. RHP Spencer Watkins (2-1, 7.11 ERA) for the Tides. Radio Broadcast: 12:50 p.m. on MyCountry993.com.
Next Home Game (Tuesday, June 6): Gwinnett vs. Charlotte, 7:05 p.m. ET at Coolray Field. Radio Broadcast: 6:50 p.m. on MyCountry993.com and Bally Live. It's Family Value Tuesday presented by Coolray Heating and Cooling at Coolray Field, featuring $2 hot dogs and $1 desserts.