Double Whammy: Renegades drop pair to BlueClaws
HV falls 1-0 in game one, 2-1 in game two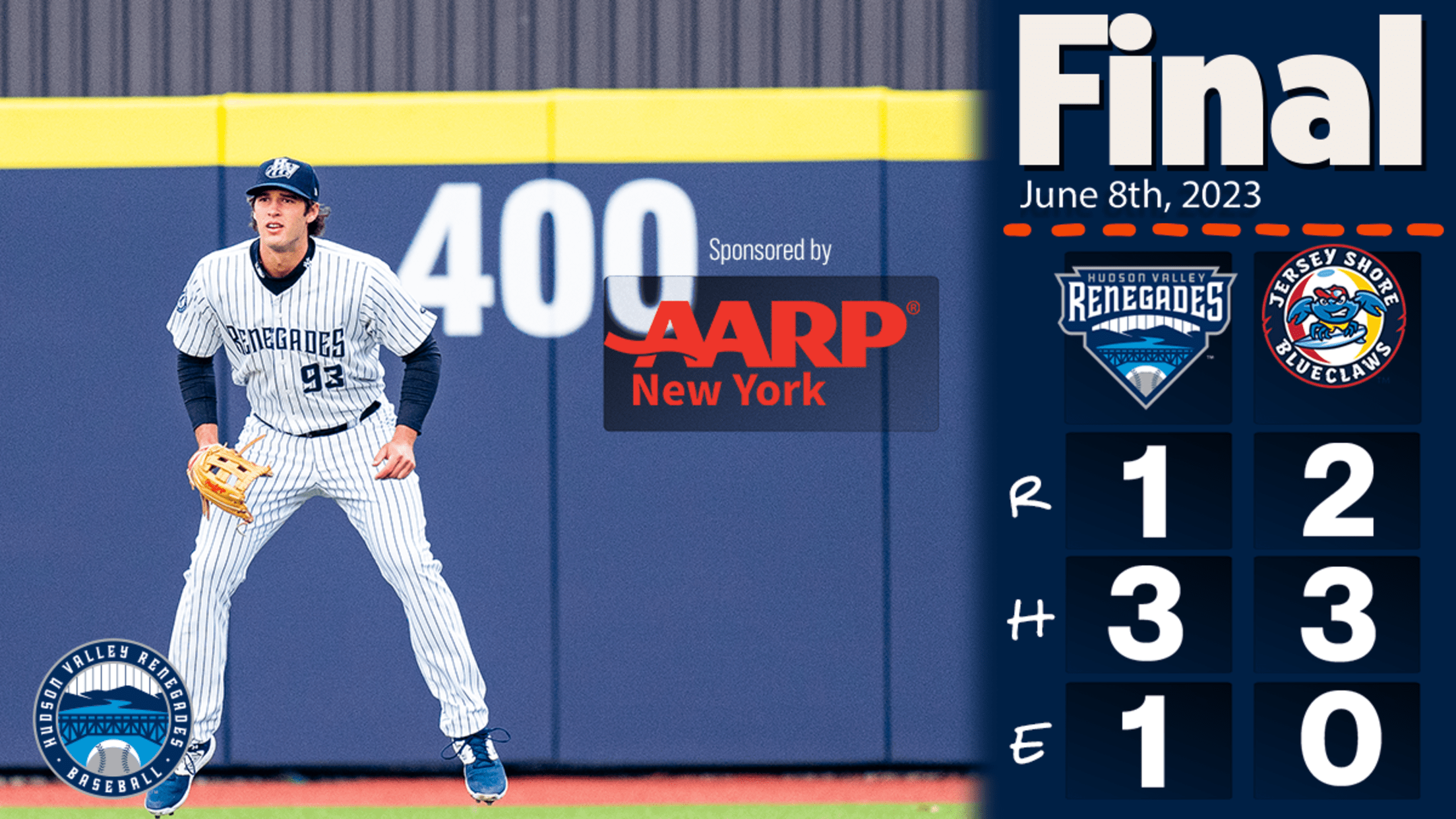 Spencer Jones singled and walked in game two of Thursday's doubleheader in Jersey Shore. (Dave Janosz)
Lakewood, N.J. (June 8, 2023) — The Hudson Valley Renegades were swept in a doubleheader by the Jersey Shore BlueClaws on Thursday night at ShoreTown Ballpark. They fell 1-0 in game one, and 2-1 in game two. In the opener, the Renegades got a great pitching performance by Zach Messinger
Lakewood, N.J. (June 8, 2023) — The Hudson Valley Renegades were swept in a doubleheader by the Jersey Shore BlueClaws on Thursday night at ShoreTown Ballpark. They fell 1-0 in game one, and 2-1 in game two.
In the opener, the Renegades got a great pitching performance by Zach Messinger (0-4), who allowed just one run on three hits across 5.0 innings, striking out six and walking two. However, in the bottom of the fourth, he allowed a solo home run to Casey Martin that stood up as the game's lone run.
Matt Osterberg (2-3) and Tommy McCollum shut out Hudson Valley while limiting the team to only three hits in the game, all singles.
It was the sixth time the Renegades have been shutout in a game this season, and their second 1-0 defeat. The Renegades previous 1-0 defeat came last Thursday, June 1 against Aberdeen in a game also started by Messinger.
In the nightcap, the Renegades struck first in the top of the third inning. Luis Santos ripped a double down the left field line and scored after two passed balls advanced him to third and then home.
Tyrone Yulie turned in one of his better performances of the season, but allowed a run on a Jared Carr RBI double in the bottom of the fifth to tie the game at 1-1. Yulie (1-4) allowed two runs on three hits in 5.2 innings, walking three and striking out three.
In the bottom of the sixth, Jersey Shore took the lead on an RBI single by Casey Martin scoring Marcus Lee Sang from second base to give the BlueClaws a 2-1 lead. Carlos Francisco closed out the win with a 1-2-3 ninth inning to complete the sweep.
Hudson Valley was swept in a doubleheader for the first time this season, and for the first time since Aug. 6, 2022, also at ShoreTown Ballpark.
Ben Cowles was the only Renegade to record a hit in both games of the twin bill, finishing 2-for-6 between both contests.
Hudson Valley continues its series with Jersey Shore on Friday night at ShoreTown Ballpark. First pitch is scheduled for 7:05 p.m., with pregame coverage beginning at 6:45 on the Renegades Baseball Network. The Renegades send RHP Juan Carela (2-2, 3.09) to the mound, while the BlueClaws counter with RHP Gunner Mayer (0-3, 5.02).