Extra Extra: Gades drop 2-1 heartbreaker in 12 innings
Carela fans career-high 10 in loss to Aberdeen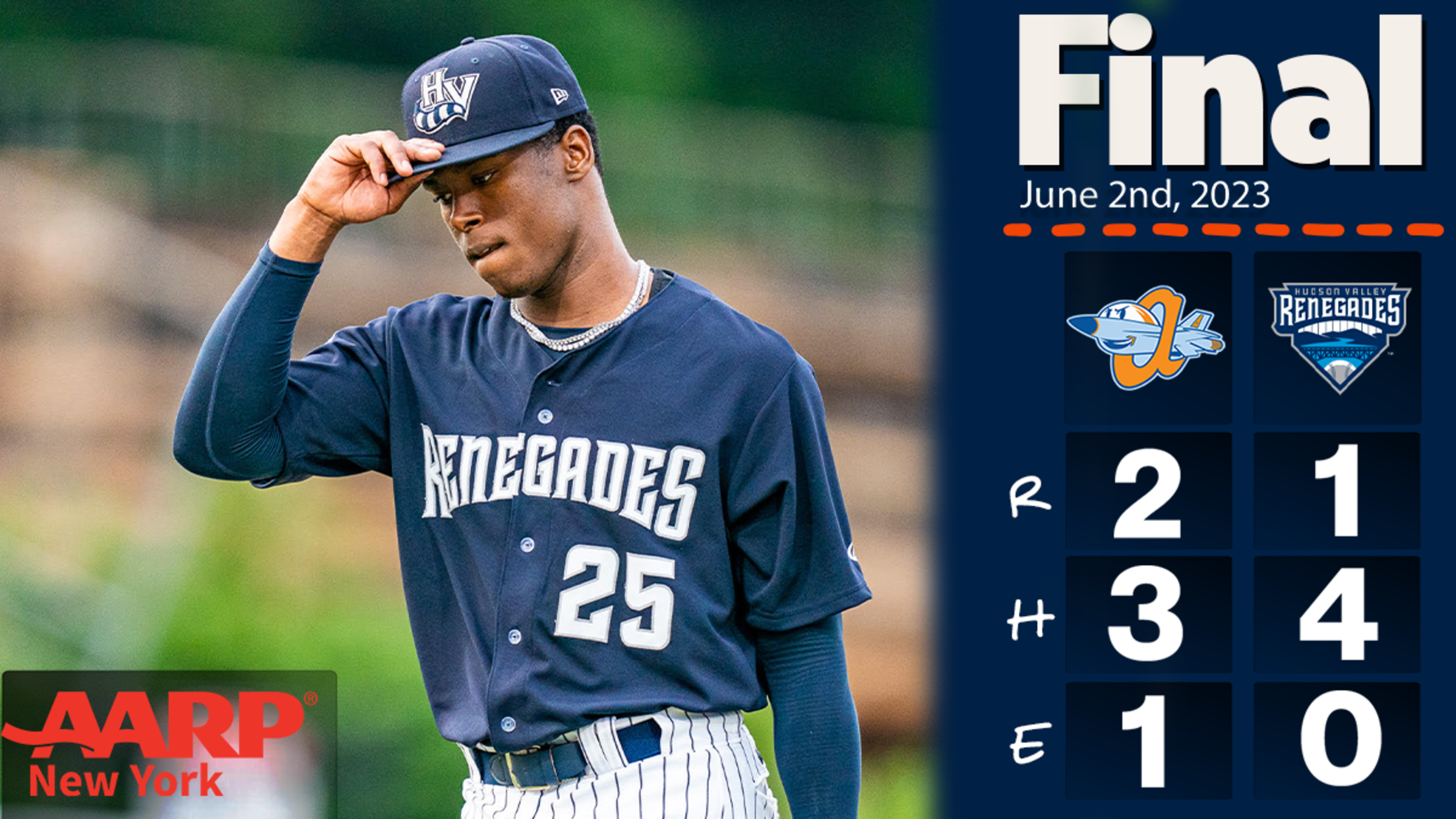 RHP Juan Carela strikes out a career-high 10 in seven innings. (Dave Janosz)
Wappingers Falls, N.Y. (June 2, 2023) — The Aberdeen IronBirds outlasted the Hudson Valley Renegades 2-1 in 12 innings on Friday night at Heritage Financial Park, delivering the Renegades their fourth straight loss. Hudson Valley struck first in the third inning off Daniel Lloyd. Marcos Cabrera began the frame with
Wappingers Falls, N.Y. (June 2, 2023) — The Aberdeen IronBirds outlasted the Hudson Valley Renegades 2-1 in 12 innings on Friday night at Heritage Financial Park, delivering the Renegades their fourth straight loss.
Hudson Valley struck first in the third inning off Daniel Lloyd. Marcos Cabrera began the frame with a single before stealing second and advancing to third base on a throwing error from Creed Willems. With the infield in, Spencer Jones singled home Cabrera to take a 1-0 lead.
Spencer Jones brings in Marcos Cabrera from 3rd to give us a 1-0 lead! 💪🌟 pic.twitter.com/DoTKuM0OOH

— Hudson Valley Renegades (@HVRenegades) June 2, 2023
Juan Carela retired the first nine hitters of his outing before allowing a leadoff single to Max Wagner in the fourth. The 21-year-old established new career highs by tossing 7.0 innings and striking out 10 in while getting no-decision.
The lone tally against Carela came in the seventh inning when a sinking line drive from Dylan Beavers rolled past the sliding effort of Aldenis Sánchez in right field. The ball rolled to the wall and Beavers raced around the bases for an inside-the-park home run that tied the game at 1-1.
The Renegades had one last chance in regulation in the ninth after Rafael Flores worked a two-out walk against Reese Sharp. Flores advanced to second on a wild pitch and was pinch run for by Kyle Battle. Sharp struck out Spencer Henson to force extra innings.
After Ryan Anderson (1-3) blanked the IronBirds in the tenth, Hudson Valley loaded the bases with one out in the bottom half of the frame. Dylan Heid (1-2) induced a pair of groundouts from Luis Santos and Spencer Jones to end the threat.
Jud Fabian delivered the go-ahead blow in the 12th inning with a sacrifice fly to left field that scored Wagner from third, giving the IronBirds a 2-1 advantage. Heid struck out the Renegades in order in the bottom half of the inning to end the contest.
Hudson Valley and Aberdeen will continue their six-game series on Saturday night. First pitch is scheduled for 6:05 p.m., with coverage on the Renegades Baseball Network beginning at 5:45 p.m. The Renegades will send RHP Chase Hampton (1-1, 3.15) to the mound opposite of RHP Trace Bright (2-1, 2.21) for the IronBirds.