Giving HOPE: Renegades celebrate HOPE Week 6/13-18
2023 HOPE Week programming includes VA Hospital visit, Disability, Dream, & Do (D3)/ThinkDIFFERENTLY Camp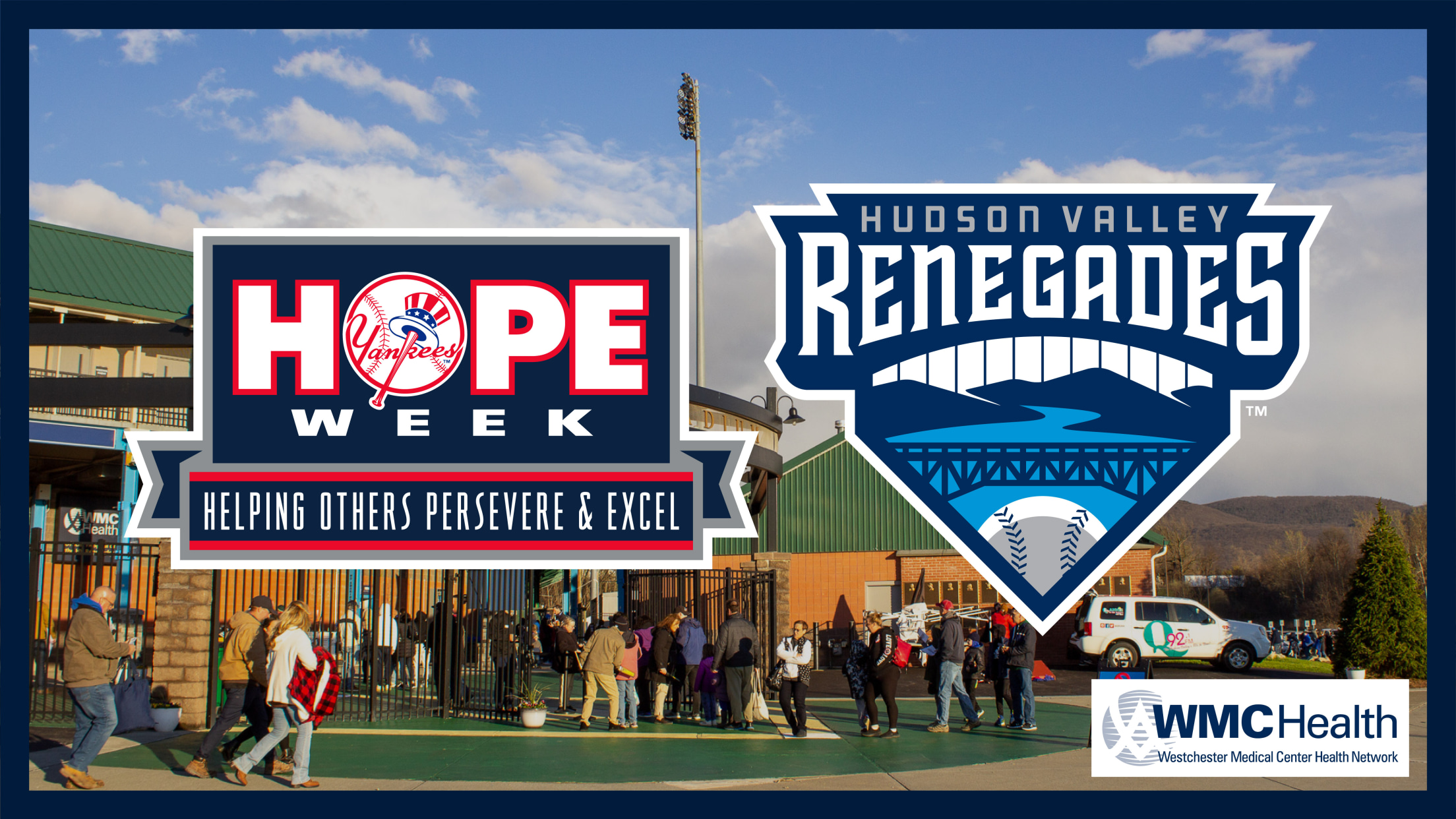 The Hudson Valley Renegades are once again participating in HOPE Week.
Wappingers Falls, N.Y. (June 5, 2023) – The Hudson Valley Renegades announced today that they will be celebrating HOPE Week from June 13-18, 2023. This is the third year the Renegades are participating in the Yankees' highly-impactful HOPE Week initiative. Introduced in 2009 and starting its 14th edition in 2023
Wappingers Falls, N.Y. (June 5, 2023) – The Hudson Valley Renegades announced today that they will be celebrating HOPE Week from June 13-18, 2023. This is the third year the Renegades are participating in the Yankees' highly-impactful HOPE Week initiative.
Introduced in 2009 and starting its 14th edition in 2023 (including a pause in 2020 due to the COVID pandemic), the Yankees' HOPE Week initiative (Helping Others Persevere & Excel) is rooted in the fundamental belief that acts of goodwill provide hope and encouragement to more than just the recipient of the gesture.
Renegades players, coaches, and front office staff will participate in community events each day throughout the week aimed at giving back. The Renegades' participation in HOPE Week is presented by Westchester Medical Center Health Network (WMCHealth).
"This is one of the most special and impactful initiatives that we get to take part in. We remain committed to making a difference, and there is no greater way than HOPE Week to impact so many lives within our community," said Marcella Costello, Community Relations Manager of the Renegades. "We look forward to working with numerous members of our community, shining the spotlight on some of the special individuals and organizations that make the Hudson Valley an extraordinary place to live, work, and play."
The schedule of events for the Renegades' HOPE Week in 2023 is as follows:
Tuesday, June 13 – Happy Life Animal Rescue, Pawling, N.Y. – 10 a.m. to 12 p.m.
Happy Life Animal Rescue is dedicated to rescuing animals left homeless due to overpopulation in shelters, being given up by their owners, and those in danger of abuse and neglect. HLAR saves the lives of animals who have run out of time in shelters, and brings people and animals together to enrich each other's lives. Ultimately, HLAR strives to work with other rescues and humane organizations in finding forever homes. They aim for loving homes where no animal will suffer from animal abuse or neglect. The vision of HLAR is to educate people about the importance of spay and neuter, and the hope of no further need for kill shelters.
The Renegades will help organize goods and supplies at the rescue, as well as play with the animals.
Wednesday, June 14 – Panichi Family Center for Communication and Learning, Beacon, N.Y. – 10 a.m. to 11 a.m.
The Panichi Center for Communication and Learning in Beacon is the Hudson Valley's only hospital-affiliated special needs preschool, welcoming students with medical conditions requiring interventions and therapy to address developmental disabilities and delays. The Center provides programs for children aged 18 months to five years with a variety of disabilities including: Autism, Speech Delays, Gross and Fine Motor Delays, Hearing Impairment, Pervasive Development Disorder, Attention Deficit Hyperactivity Disorder (ADHD), Attention Deficit Disorder (ADD), Down Syndrome, and Cerebral Palsy. The center is affiliated with WMCHealth Medical Services.
The Center features a satellite office for adults as well as children to treat communication disorders such as speech, hearing, and problems with swallowing.
The Renegades will participate in activities for children with special needs, rotating through four classrooms for 15-minute sessions.
Thursday, June 15 – Castlepoint VA Medical Center, Wappingers Falls, N.Y. – 11 a.m. to 1 p.m.
The VA provides primary care and specialty health services. Health services offered at Castlepoint VA Medical Center include: Audiology and Speech, Cardiology, Caregiver Support, Dental/Oral surgery, Dermatology, Gastroenterology, Gynecology, Homeless Veteran care, Mental Health care, Nutrition, Food, and Dietary care, Optometry, Orthopedics, Palliative and Hospice care, Pharmacy, Podiatry, Primary care, Rehabilitation and Extended care, Returning Service Member care, Telehealth, Urgent care, Urology, and Women Veteran care.
Mission of the VA: To fulfill President Abraham Lincoln's promise to care for those who have served in our nation's military and for their families, caregivers, and survivors.
The Renegades will visit and engage with both inpatient and outpatient veterans, participating in meet and grets, signing autographs, playing games, and an ice cream social with patients.
Friday, June 16 – Zach Attack's Childhood Cancer (ZACC ATTACK) & Gold Together – Heritage Financial Park – 4 p.m.
Zach Schwartz created ZACC (Zach Attack Childhood Cancer) Attack before he passed away as a way to gather his friends and collectively fight back against childhood cancer with the American Cancer Society through research, advocacy and patient support programs. Even as he suffered, his heart was with others. Unfortunately, he lost his battle with Leukemia and passed away at the age of 14. In 2023, he would have graduated high school. "It is our hope that Zachary's story continues to inspire others to take up the cause to fight this dreaded disease. No child and their family should ever have to suffer through this," said Joelle Schwartz.
The Renegades will host a team meet and greet with the Schwartz family, and ZACC Attack and Gold Together supporters will have special access to the field during batting practice before that night's game.
Saturday, June 17 – Disability, Dream & Do (D3)/ThinkDIFFERENTLY Camp – Heritage Financial Park – 8:15 a.m. to 1 p.m.
Disability Dream & Do (D3) is a pro style practice with professional players at stadiums across the country. D3 participants have an opportunity to hit, throw, catch and run the bases with instruction from the best regardless of anyone's limitations.
The Disability Dream and Do (D3 Day) sports camps were created by Dave Clark, the only pitcher in professional sports history to pitch on crutches, and Doug Cornfield, a former NCAA medal winning runner at Georgia, who himself had a child born with no arms. These camps allow professional players to interact with children with special needs in various drills and compete in sports with no limitations. In 2016, Dave Stevens, who was born without legs but played college football and minor league baseball, came on board as the D3 Day camps expanded to other cities in the US. Dave, Dave and Doug now put on camps all over the country and share their amazing stories as well as inspire others to look past a disability and turn it into an ability.
"ThinkDIFFERENTLY"is a call to action, a genuine challenge to determine if we have it within ourselves to look past our differences and treat others the way we would hope to be treated. Too often, too many with special needs are overlooked and their unique abilities ignored. Instead, we seek to lift each other up and embrace all residents of all abilities. Launched by Dutchess County Executive Marc Molinaro in 2015, the "ThinkDIFFERENTLY" initiative seeks to change the way individuals, businesses, organizations and communities relate to our neighbors with special needs.
Participants and their families are invited back to the game on Sunday, 6/18, where they also take part in the High Five Tunnel during the pregame.
Saturday, June 17 – 2nd Annual Teddy Bear Toss for Cuddles from Cassidy – Heritage Financial Park – Game Time
During Saturday's game, the Renegades will host their 2nd annual Teddy Bear Toss! All fans are encouraged to bring Teddy Bears that will be donated to Cuddles from Cassidy Pediatric Cancer Foundation that will help support Cassidy's mission, to provide comfort and joy to children battling life-threatening illnesses by providing cuddles (care packages with stuffed animals, toys, and tokens of love) to put smiles on their faces.
Cassidy is a happy, vibrant little girl who has a heart of gold! Cassidy is a 7-year-old cancer survivor who has made it her mission to help other children experiencing pediatric cancer by providing toys and stuffed animals to them to bring them joy. Cassidy's stuffed animals were a source of comfort for her while undergoing treatment and she wants to make sure that other children are comforted as well.
Sunday, June 18 – D3 Day Recognition/Magic Wheelchair – Heritage Financial Park – 2 p.m.
Magic Wheelchair is a nonprofit organization that builds epic costumes for kiddos in wheelchairs – at no cost to families. Their mission is to bring communities together to create unforgettable moments for children around the world by transforming their wheelchairs into magic. They will be participating in a pregame ceremony with a special surprise!
Before the game, the Renegades will highlight D3 Day and recap Saturday's event. D3 will present their Pulling Each Other Along Award, and the Renegades will present a check to D3. All D3 participants will take part in a High Five Tunnel during pregame player introductions.
The Renegades are at home hosting the Rome Braves in a six-game series throughout the week of June 13-18.
Media wishing to cover any HOPE Week event should contact Renegades Director, Public Relations & Broadcasting Joe Vasile at [email protected].
ABOUT THE HUDSON VALLEY RENEGADES
The Hudson Valley Renegades are the High-A affiliate of the New York Yankees in the South Atlantic League. The Renegades are back at home on Tuesday, June 13 as they host the Rome Braves at Heritage Financial Park at 7:05 p.m. To buy tickets now, slide to www.hvrenegades.com or call (845) 838-0094.
ABOUT DIAMOND BASEBALL HOLDINGS
Diamond Baseball Holdings (DBH) was formed in 2021 to support, promote and enhance Minor League Baseball Clubs affiliated with Major League Baseball through professional management, best practices, innovation and investment (DiamondBaseballHoldings.com).