July 1 Game Notes: Iowa vs. Columbus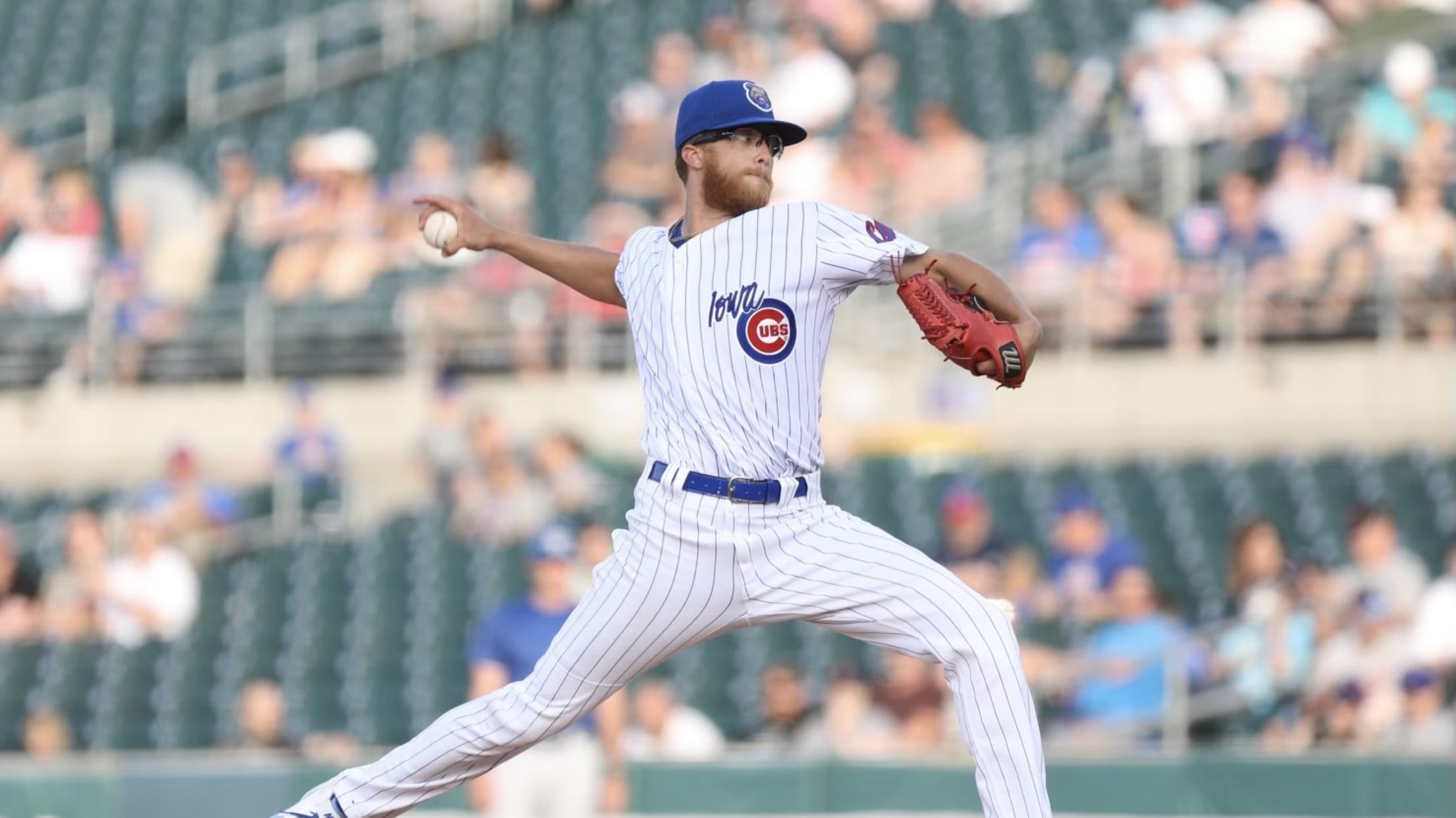 IOWA CUBS (34-40) vs. COLUMBUS CLIPPERS (43-32) Friday, July 1, 2022 • 7:08 PM • Principal Park • Des Moines, IA RHP Cam Sanders (0-3, 2.93) vs. RHP Xzavion Curry (0-0, -.--)
IOWA CUBS (34-40) vs. COLUMBUS CLIPPERS (43-32)
Friday, July 1, 2022 • 7:08 PM • Principal Park • Des Moines, IA
RHP Cam Sanders (0-3, 2.93) vs. RHP Xzavion Curry (0-0, -.--)
TONIGHT'S GAME: Iowa will send righty Cam Sanders to the mound looking to end their two-game losing streak to the Clippers. Sanders is still in search of his first Triple-A win, holding an 0-3 record with a 4.36 ERA through eight games with the I-Cubs. He has allowed 16 earned runs on 24 hits over 33.0 innings, striking out 30 compared to 19 walks over that span. The righty will make his second start against the Clippers, allowing two earned runs over four innings in his first matchup against them. Opposite of Sanders will be Xzavion Curry toeing the rubber for Columbus. Curry is set to make his Triple-A debut tonight, after going 5-3 with a 3.65 ERA in 13 games with Double-A Akron. The 23-year-old was drafted by Cleveland in the seventh round in 2019, pitching professionally for just the second season of his young career. He pitched over three levels last season, ending the year with Akron, where he has played all 13 of his games this year prior to his promotion to Columbus.
STOP THE MADNESS: Over the past two games, Columbus has shown why they are in second place in the International League West with a 43-32 record on the year. In those two games, their offense has scored 28 runs on 31 hits while taking 19 walks. They have had a six-run inning in each of the two games, in the second inning on Wednesday and the sixth inning last night. They also added a five-run eighth inning to their performance on Wednesday, while scoring three runs in a single frame in each game as well. On Wednesday, all nine starters for the Clippers scored at least one run and collected one hit, while six players scored two or more times and six players registered multi-hit games. Last night, eight of the Clippers nine starters scored a run while seven of the nine registered at least one hit. Out of the 11 pitchers Iowa has used in the two games, just two have thrown scoreless innings and just one has not allowed a single walk. Sean Newcomb was the only pitcher to not allow a run on Wednesday, throwing one inning of scoreless relief, while Aneuris Rosario accomplished the same feat in last night's game. Last night's starter Luke Farrell has been the only pitcher to not walk a single batter, throwing four innings without a free pass. Seven of the 11 pitchers Iowa has used have walked two or more batters.
OUT OF ROTATION: On Sunday, tonight's starter Cam Sanders made an appearance out of the bullpen, marking his first relief outing of the year. Sanders had made 13 combined starts between Double-A Tennessee and Iowa to start 2022 after starting all 18 games he appeared in in 2021. In fact, Sunday's relief appearance broke a streak of 49 consecutive starts for Sanders that began on April 24, 2019. In 69 total Minor League appearances, the righty has made 18 relief appearances, but 16 of them came in Rookie League and Short-Season A in 2018. Since then, Sanders has gone 1-1 as a reliever with a 3.52 ERA (3ER/7.2IP), compared to a 4.05 mark (108ER/240.0IP) as a starter.
BACK IN THE LINEUP: After back-to-back days off, Jared Young is back in the lineup for Iowa, hitting fourth for just the second time this season. In the first game of the series against Columbus, Young went 3-for-4 with a home run and two runs batted in. He leads the team in home runs with 12, runs batted in with 40 and is third in doubles with 11.
STACK IT UP: Each of the top three hitters in the Clippers lineup had multi-hit games last night, with their three-hitter Will Brennan leading the way with a 3-for-5 effort. The three hitters combined for seven of Columbus' 12 hits. All three of them reached base in the first with two doubles and a single, while all three also recorded a single in the sixth inning as the team batted around. In three games against Iowa, Brennan is hitting .462 (6-for-13) with four runs scored, a double, a home run, three runs batted in and three walks.
SEIYA SAID SEE YA: In the third and final at-bat of his first Major League rehab game last night, Seiya Suzuki went deep. He started the game with an RBI single in the first inning to put Iowa on the board and struck out in his second at-bat. His solo blast in his third at-bat put Iowa up 6-2 and gave him a 2-for-3 night with two runs scored and two runs batted in. Suzuki hit the injured list back on May 27 with a left ring finger sprain and has been making his way back ever since. Prior to his injury, the outfielder was hitting .245 (34-for-139) with 12 doubles, a triple, four home runs and 21 runs batted in through 41 games.
THE I-CUB KILLER: Nolan Jones continued his success against Iowa yesterday with a grand slam, part of a five-RBI day. The outfielder, who is listed as Cleveland's No. 7 prospect by MLB.com, missed Columbus' first series against Iowa as part of a two-month stint on the injured list. Jones has picked up right where he left off last year against the I-Cubs, however, going 6-for-13 with four extra-base hits and 11 RBI through the first three games of this series. In 15 games against Iowa over the past two seasons, Jones has now hit .358 (19-for-53) with seven doubles, a triple and seven home runs. He has taken 12 walks, driven in 21 runs, scored 16 runs and stolen three bases. In 2021, the extra-base power gave him a team-high .850 slugging percentage against the I-Cubs, which contributed to a 1.321 OPS. That was good for the fourth-highest OPS of any opposing player against Iowa last season (min. 15 AB's). This year, he is slugging 1.154 against Iowa with a 1.687 OPS, which is the highest by any player against the I-Cubs.
AGAINST COLUMBUS: Iowa and Columbus are set to play game four of their six-game series tonight, with the Clippers currently holding a 2-1 series lead. After winning game one of the series, Iowa has now lost back-to-back games, going down one game in both the current series at 2-1, and the season series at 5-4. Columbus is now leading the season scoring by seven runs, at 53-46. They lead the all-time series with a 13-8 record, going 10-5 here at Principal Park.
SHORT HOPS: Iowa's pitching staff had an ERA of 6.10 in the month of June, their worst ERA in a single month since July of 2019 when their ERA was 6.60…the I-Cubs dropped to 3-4 when scoring six runs this year, moving to 14-37 when they score less than seven runs…Nolan Jones' five runs batted in tied the most RBI by a single player in a game against Iowa this year.