July 2 Game Notes: Iowa Cubs vs. Columbus Clippers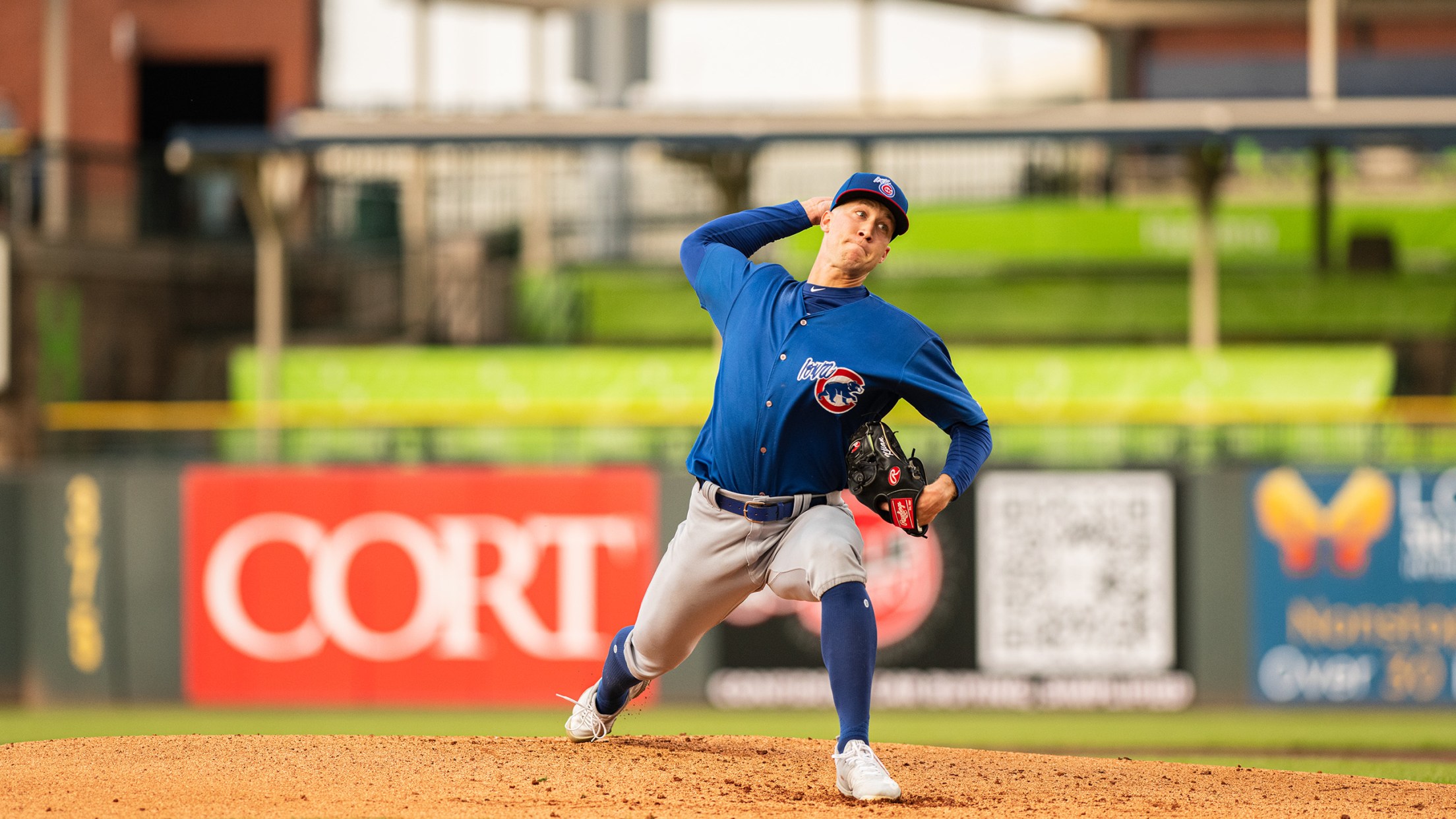 IOWA CUBS (34-41) vs. COLUMBUS CLIPPERS (44-32) Saturday, July 2, 2022 • 7:08 PM • Principal Park • Des Moines, IA RHP Caleb Kilian (2-0, 2.93) vs. RHP Peyton Battenfield (5-4, 3.08)
IOWA CUBS (34-41) vs. COLUMBUS CLIPPERS (44-32)
Saturday, July 2, 2022 • 7:08 PM • Principal Park • Des Moines, IA
RHP Caleb Kilian (2-0, 2.93) vs. RHP Peyton Battenfield (5-4, 3.08)
TONIGHT'S GAME: Caleb Kilian takes the mound tonight for Iowa looking to end their losing streak at three games. Kilian is 2-0 with a 2.93 ERA through 11 starts with Iowa this year, striking out a team-high 54 batters over his 46.0 innings pitched. The righty is set to face Columbus for the second time this year, earning a win with 5.2 innings while allowing just two unearned runs in his first outing against the Clippers. Toeing the rubber for Columbus will be right-hander Peyton Battenfield set to make his 16th start of the year. Battenfield is 5-4 with a 3.08 ERA through his first 15 starts, allowing 29 earned runs on 74 hits over 84.2 innings. He has struck out 54 compared to 27 walks, allowing opponents to hit .234 against him. In two games against Iowa, the righty has combined to throw 10.1 innings, allowing just two earned runs on 10 hits.
KNOCKED AROUND: Over the past three games, Columbus' offense has put on quite the display, scoring 41 runs on 49 hits while taking 28 walks. Counting just hits, walks and hit by pitches, they have accumulated 78 base runners over those three games and 85 total in the series. Through the first four games, the Clippers are hitting .351 against Iowa pitching. Out of the 16 pitchers Iowa has used through the three games played, just three have not allowed a run and just one has not surrendered a free pass. The three-through-seven hitters in last night's game all collected multiple hits, with two of the five batters notching four-hit games. Columbus has scored six runs in a single inning in each of the last three games, recording a six-run second inning on Wednesday, a six-run sixth on Thursday and six runs in the third inning last night.
GETTING TO FULL HEALTH: In his first Major League rehab game with Iowa on Thursday, Seiya Suzuki went 2-for-3 with two runs scored, a home run and two runs batted in. He started the game with an RBI single and hit a solo home run in his final at-bat. Last night, in his second game, he added a double, going 1-for-3 with a double and a walk. Through his first two games with Iowa, the outfielder is now 3-for-6 with two runs scored, a double, a home run, two runs batted in and a walk. Suzuki signed with Chicago this year and played in 41 games with the Cubs prior to his left ring finger sprain that landed him on the injured list back on May 27.
HITTING MACHINE: Darius Hill has been a bright-spot for the I-Cubs lineup since getting assigned here back on May 31, hitting .379 (36-for-95) with eight doubles, a triple, a home run and five runs batted in. He is an aggressive hitter, only recording five walks over that span, but still makes plenty of contact, striking out just 11 times through his first 23 games. Hill had a season-long 10-game hitting streak back on June 10-24 in which he hit .489. Through his first 23 games with the I-Cubs, the outfielder gone hitless in just four games and did not record an at-bat in one of those games, so really just three games in which he has not hit safely. On the other side, he has 11 multi-hit performances including five games with three or more hits. Two of those multi-hit games have come in this series against Columbus, going 2-for-5 on Wednesday and 2-for-4 last night.
THE I-CUB KILLER: Nolan Jones continued his success against Iowa last night with a 4-for-5 night and a walk. The outfielder, who is listed as Cleveland's No. 7 prospect by MLB.com, missed Columbus' first series against Iowa as part of a two-month stint on the injured list. Jones has picked up right where he left off last year against the I-Cubs, however, going 10-for-18 with four extra-base hits and 12 RBI through the first three games of this series. While he has played just four games against Iowa out of 20 total so far this season, half of Jones' RBI and nearly half of his hits have come against the I-Cubs. In the 16 games he's played against Iowa in the past two seasons, Jones has now hit .397 (23-for-58) with seven doubles, a triple and seven home runs. He has taken 13 walks, driven in 22 runs, scored 20 runs and stolen five bases. In 2021, the extra-base power gave him a team-high .850 slugging percentage against the I-Cubs, which contributed to a 1.321 OPS. That was good for the fourth-highest OPS of any opposing player against Iowa last season (min. 15 AB's). This year, he is slugging 1.056 against Iowa with a 1.675 OPS, which is the highest by any player against the I-Cubs.
KILIAN VS. THE CLIPPERS: Caleb Kilian will take on Columbus for the second time this season in tonight's game. Last time he faced off with the Clippers, Kilian came just one out shy of a quality start. In his 5.2 innings, the righty limited Columbus' lineup to two unearned runs on six hits and one walk. Not only was it Kilian's longest start of the year, he also recorded a season-high eight strikeouts, which came just two shy of his career high. Though he didn't complete the sixth to earn the quality start, Kilian did enough to earn his second win of the year. That start, which came on May 15, was his last win, as he has gone 0-2 in six combined outings for Iowa and Chicago since.
HAVE A SERIES: Will Brennan has either led or tied for the team lead in hits in three of the four games so far this series, recording two on Tuesday, three on Thursday and four last night. Through four games against Iowa, the outfielder is now hitting .526 (10-for-19) with six runs scored, two doubles, a home run, four runs batted in and three walks.
AGAINST COLUMBUS: Iowa and Columbus are set to play game five of their six-game series tonight, with the Clippers currently holding a 3-1 series lead. After winning game one of the series, Iowa has now lost three in a row, going down two games in both the current series at 3-1, and the season series at 6-4. Columbus is now leading the season scoring by 16 runs, at 66-50. They lead the all-time series with a 14-8 record, going 11-5 here at Principal Park. **
SHORT HOPS:** Iowa's bullpen allowed 12 hits last night, the most they have allowed in a single game all season…Levi Jordan extended his hitting streak to five games with his single in the fifth inning; the infielder is now just one game away from his longest hitting streak of the year with Iowa… Cam Sanders allowed six earned runs last night, tying the most allowed in a single game by any starter this year; it has happened four times this year including twice in this series against Columbus.