Late Game Rallies, Stephens' Homer Lift M-Braves Past Barons, 13-7
M-Braves score final eight runs, collect 12 hits and 11 walks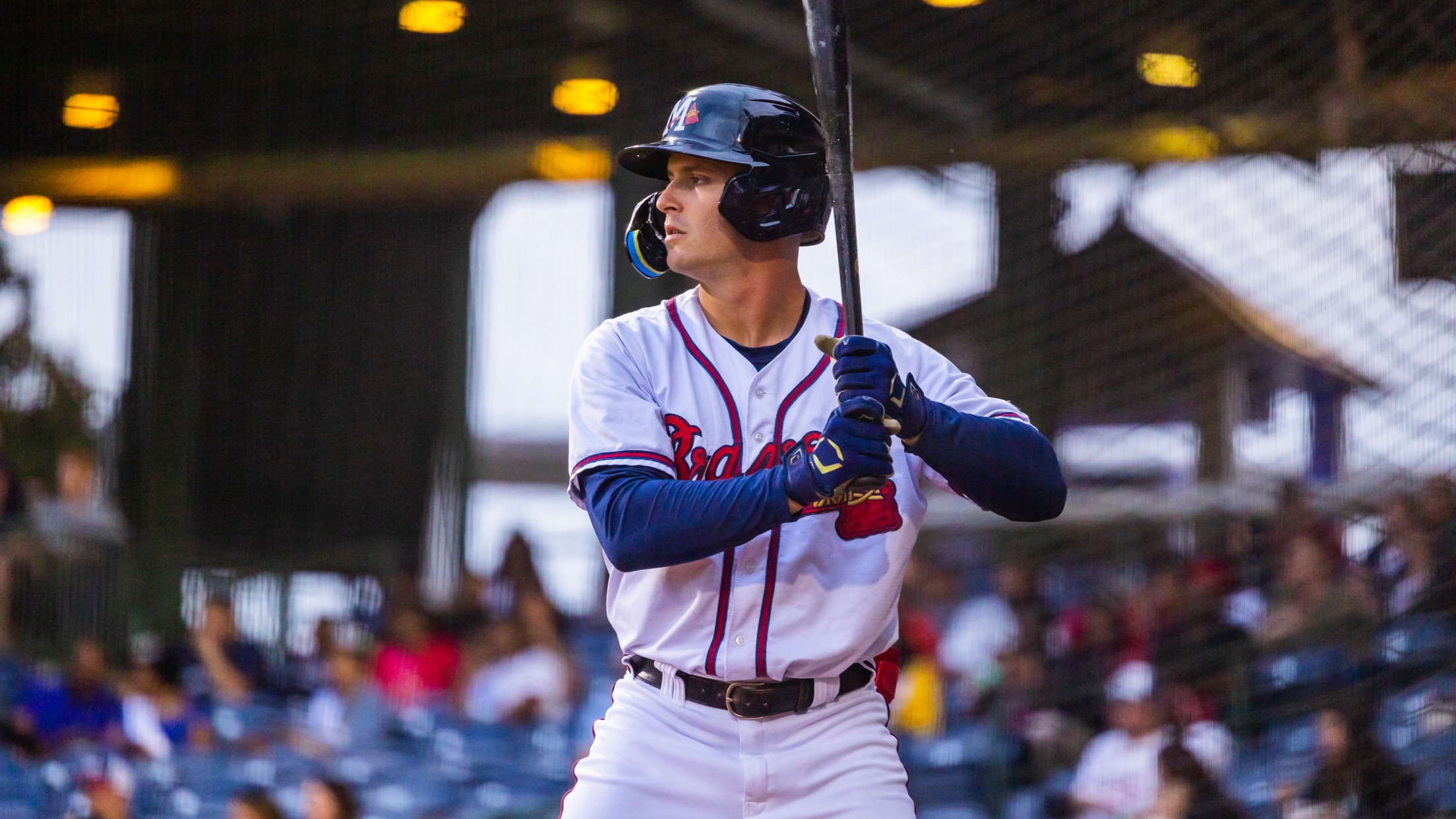 Photo by Tate Nations BIRMINGHAM, AL – The Mississippi Braves scored the final eight runs of the game, including a three-run homer from Landon Stephens, in a 13-7 win over the Birmingham Barons on Friday night at Regions Field. Stephens went 2-for-5 with a home run and three RBI. In
Photo by Tate Nations
BIRMINGHAM, AL – The Mississippi Braves scored the final eight runs of the game, including a three-run homer from Landon Stephens, in a 13-7 win over the Birmingham Barons on Friday night at Regions Field.
Stephens went 2-for-5 with a home run and three RBI. In the series, the outfielder is 8-for-14 with two home runs, two doubles and eight RBI. The series is tied at two games apiece. The M-Braves collected 12 hits and 11 walks in the win.
After a pair of scoreless innings, the scoring opened up for both teams. The M-Braves loaded the bases in the third, and a wild pitch and a throwing error scored two runs to put the M-Braves up 2-0. A two-run homer from Alsander Womack got both runs back in the bottom of the inning to tie the game at 2-2.
Cade Bunnell led off the fourth with a solo homer to right field, his fifth of the season. The Barons responded with a run in the bottom of the inning, tying the game at 3-3 through four innings.
Bunnell went 3-for-5 with a home run, a double and two RBI. Bunnell is batting .223 with five home runs and 23 RBI this season.
Jesse Franklin V doubled in two runs in the fifth to put the M-Braves ahead 5-3. Franklin V reached base four times, drawing three walks in the contest. Yet again, the Barons responded with four runs in the bottom of the inning and led 7-5 through five innings.
The M-Braves dominated in the final four innings.
After neither team scored in the sixth, the M-Braves loaded the bases in the seventh. Drew Campbell scored a run on a base hit, and Bunnell scored on a wild pitch to tie the game at 7-7.
Stephens blasted a three-run homer to the bullpen in right field to give the M-Braves a 10-7 lead in the eighth. The club added three insurance runs in the ninth, with RBI from Justin Dean, Luke Waddell and Bunnell to make it 13-7. Dean and Waddell each walked three times, and Dean extended his hitting streak to six games with a ninth-inning hit for the second straight game.
Down the stretch, RHP Alec Barger pitched two shutout innings and struck out three. RHP Kyle Wilcox pitched the final inning, extending his scoreless streak with the M-Braves to 9 1/3 innings.
The fifth game of the series is on Saturday at Regions Field. LHP Luis De Avila (2-4, 3.89) will make the start for Mississippi while LHP Tommy Summer (1-0, 5.49) makes the start for Birmingham. The first pitch is at 6:30 pm CT, with coverage starting 15 minutes before on 102.1 The Box, First Pitch App, and Bally Live.