M-Braves Hold on Late to Split Series with Pensacola, 6-5
M-Braves collect ten hits, put up four-run third inning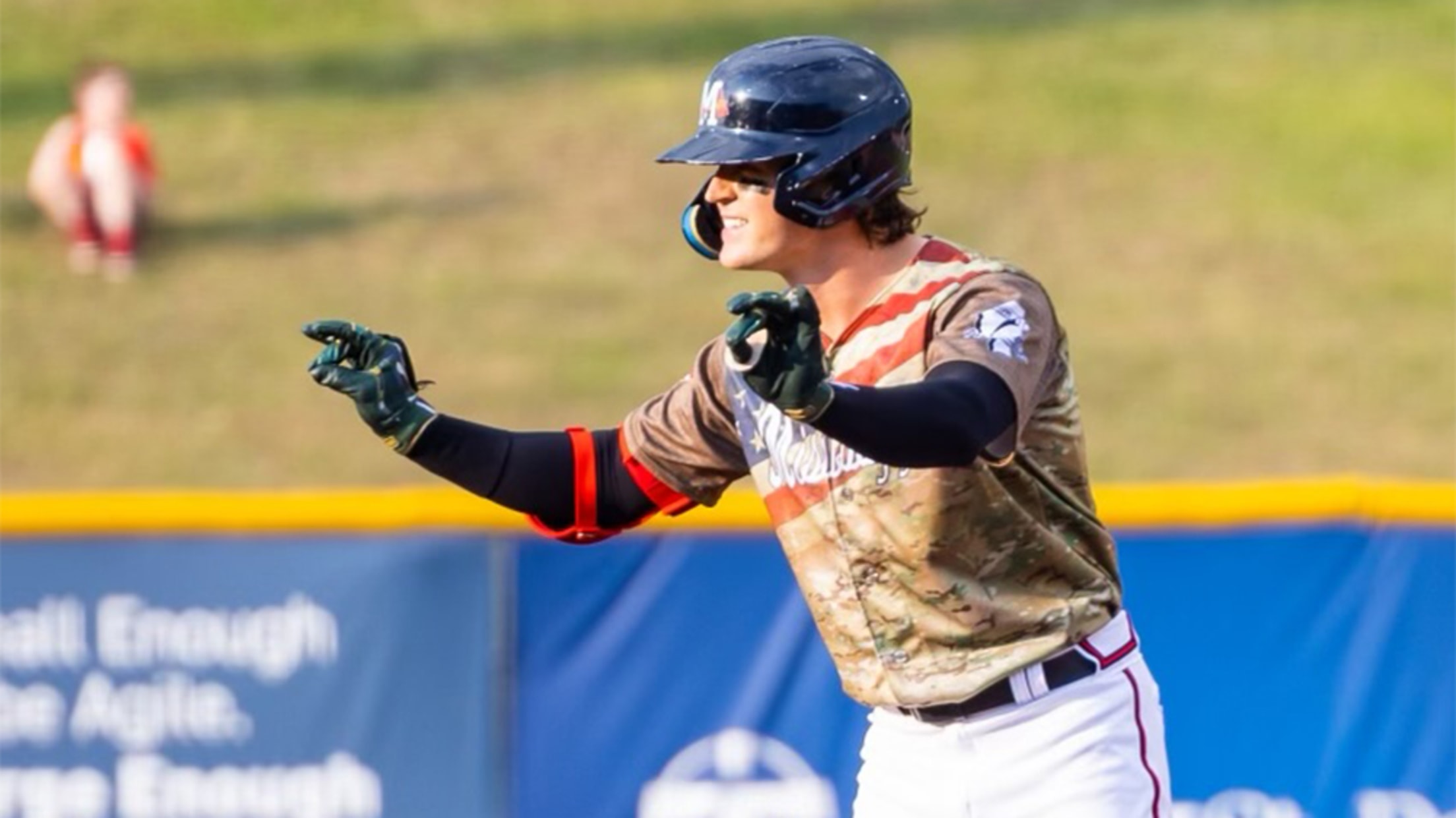 Photo by Tate Nations PEARL, MS – The Mississippi Braves (20-24) held on late to win 6-5 and split a six-game series with the Pensacola Blue Wahoos (28-17) on Sunday evening at Trustmark Park. The M-Braves played in front of a crowd of 4,041 fans, wearing special Armed Forces jerseys
Photo by Tate Nations
PEARL, MS – The Mississippi Braves (20-24) held on late to win 6-5 and split a six-game series with the Pensacola Blue Wahoos (28-17) on Sunday evening at Trustmark Park. The M-Braves played in front of a crowd of 4,041 fans, wearing special Armed Forces jerseys to honor Memorial Day.
The M-Braves scored all six runs in the second and third innings and staved off the tying run in the ninth inning. The tying run was stranded on third base after Pensacola scored two runs in the ninth.
LHP Luis De Avila went five innings and allowed three runs. The left-hander picked up his second win and has a 3.89 ERA in 37 innings over nine starts this season.
After Pensacola scored a run in the top of the second, Cade Bunnell hit an opposite-field, two-run homer to give the M-Braves a 2-1 lead. The homer was Bunnell's fourth this season and scored a double from Jesse Franklin V. After three days off, Franklin V went 2-for-4 with a double and a run.
The Blue Wahoos scored two runs in the top of the third to retake the lead 3-2. Again, the M-Braves responded.
Cal Conley, Justin Dean, and Luke Waddell each singled to start the bottom of the third. Waddell drove in a run to tie the game. The winning run scored on a double steal where Dean stole home. Then, Javier Valdes bounced a ground-rule double off the warning track to bring in another run. Beau Philip capped off the four-run inning with an RBI base hit.
Valdes extended his on-base streak to 17 games, going 1-for-3 with a double, a walk and an RBI. The streak started on April 23. Waddell and Philip each went 2-for-4 with two singles and an RBI.
After the third, neither team scored for the next five innings. RHP Domingo Gonzalez struck out the side in order in the sixth. RHP Victor Vodnik pitched 1 1/3 scoreless innings.
Pensacola scored two runs in the ninth, bringing the tying run to third base. RHP Trey Riley came in with two outs in the ninth and retired the first batter he faced to secure the 6-5 win. The out gave Riley his first save of the season.
The M-Braves have a scheduled off day tomorrow before a six-game road series against Birmingham from May 30 to June 4. The club will return to Trustmark Park for a six-game homestand against the Biloxi Shuckers from June 6-11. For information on tickets and promotions, visit www.mississippibraves.com.