M-Braves, Mississippi School For the Deaf hosting baseball/softball equipment drive on February 4th
MSD is forming their first ever baseball and softball teams this spring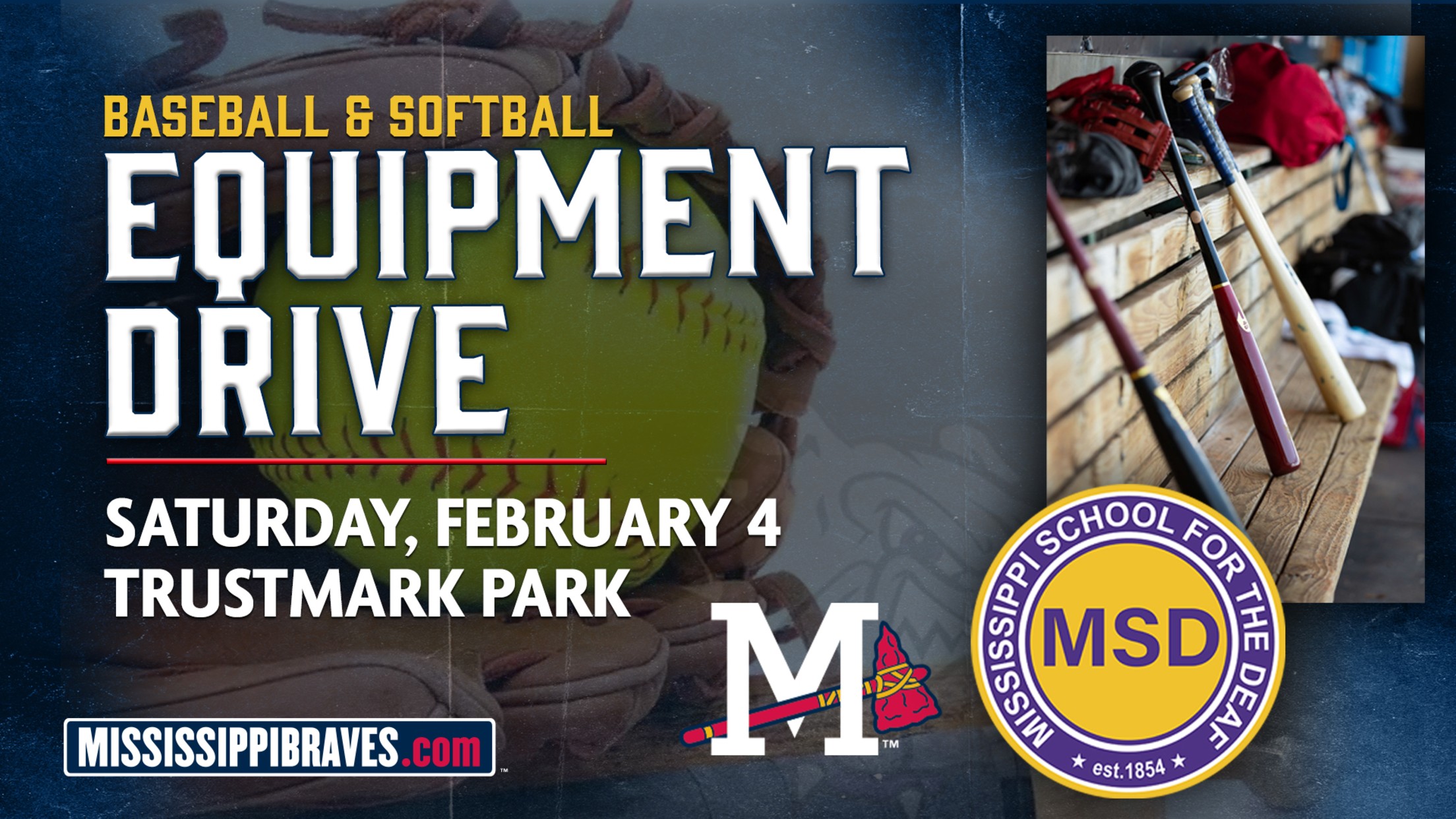 PEARL - The Mississippi Braves have partnered with the Mississippi School for the Deaf (MSD) to host a softball and baseball equipment drive on Saturday, February 4, from 10 am to 2 pm at Trustmark Park. The M-Braves are asking fans for donations of new or slightly-used baseball and softball
PEARL - The Mississippi Braves have partnered with the Mississippi School for the Deaf (MSD) to host a softball and baseball equipment drive on Saturday, February 4, from 10 am to 2 pm at Trustmark Park.
The M-Braves are asking fans for donations of new or slightly-used baseball and softball equipment, including baseballs, softballs, gloves, bats, bases, helmets, etc. Monetary donations will also be accepted. In addition, all fans that donate will receive a voucher for two tickets that can be used for any game or throughout the 2023 season.
"The M-Braves are proud to partner with the Mississippi School for the Deaf on this initiative," said Mississippi Braves vice president and general manager Pete Laven. "We encourage those in the central Mississippi community that can assist in this great cause to participate on February 4 in any way they can. Together we can all watch this program grow."
"I am excited the students at Mississippi School for the Deaf are going to learn to love the game of baseball and all that goes with it," said Paula McClain, Principal of Mississippi School for the Deaf. "I am thankful for the partnership with The Mississippi Braves organization and for the community's support in such a tangible way. Now, let's PLAY BALL!"
As the program begins in mid-February, they will have access to Trustmark Park for practices and attend a game during the 2023 season. Those unable to bring equipment on February 4 may drop off items at the Mississippi Braves front office or MSD.
ABOUT MSD
Established in 1854, the Mississippi School for the Deaf (MSD) is the state's official school for children who are deaf or hard of hearing. MSD currently serves 78 students on-campus from pre-K through 12th grade and 70 students from birth to age 3 in our Ski*Hi Early Intervention Program. MSD uses a bilingual education approach, instructing in American Sign Language (ASL) and English. This maximizes a child's linguistic development and opens doors to their full capacity for academic excellence.