Trey Harris Homers on Night of his T-Shirt Giveaway, M-Braves Fall to Blue Wahoos 6-4 in 11 Innings
Rangel sets career-high with 11 strikeouts, Atlanta Braves 2021 World Champions Trophy Tour Stops in Pearl, MS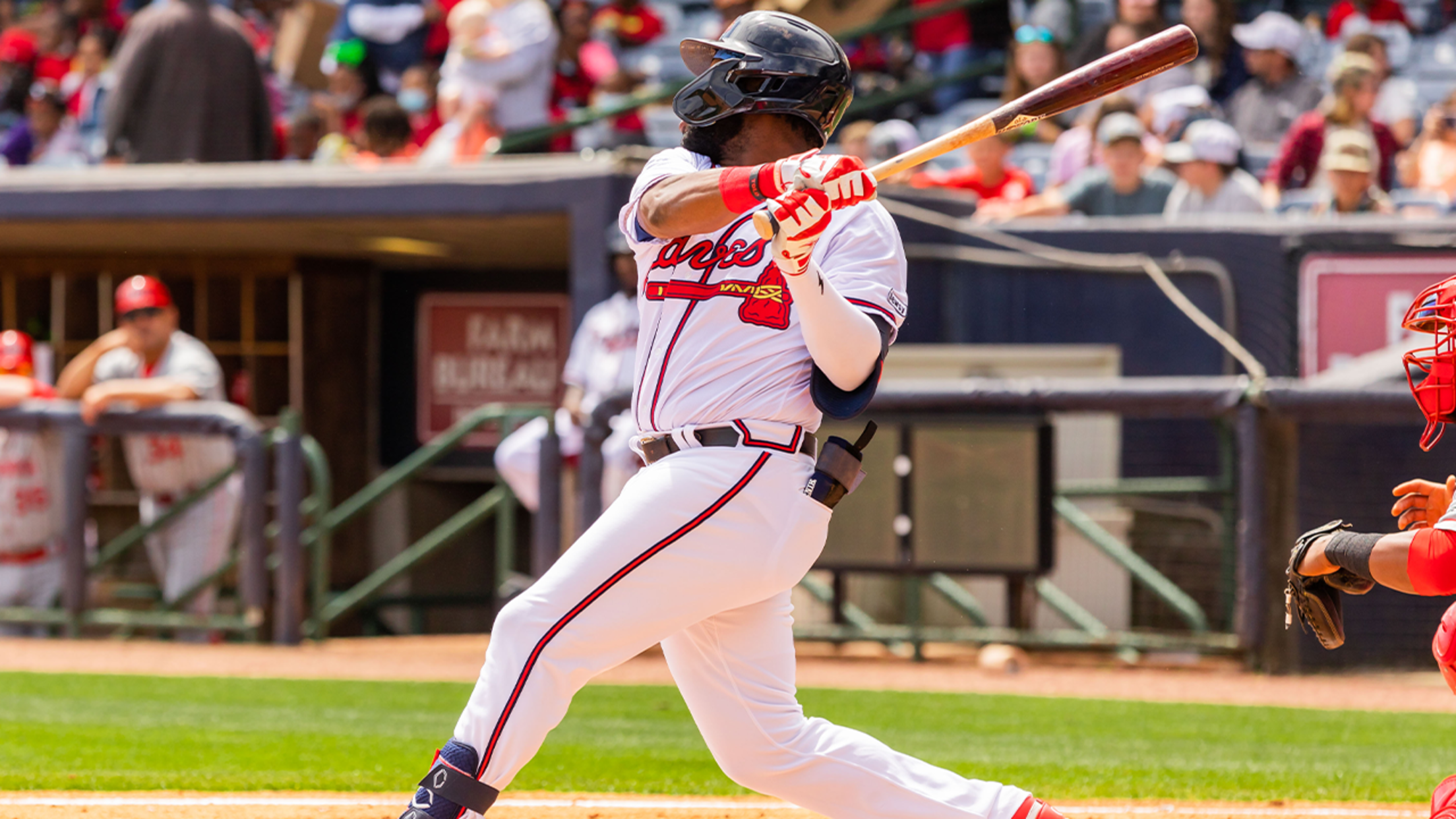 PEARL, MS - On the night of his t-shirt giveaway, Trey Harris homered over the bullpen in left field, and the Mississippi Braves (10-15) fell in the 11th inning 6-4 to the Pensacola Blue Wahoos (11-14). The entire team wore their Trey Harris t-shirt jersey during batting practice, and fans
PEARL, MS - On the night of his t-shirt giveaway, Trey Harris homered over the bullpen in left field, and the Mississippi Braves (10-15) fell in the 11th inning 6-4 to the Pensacola Blue Wahoos (11-14).
The entire team wore their Trey Harris t-shirt jersey during batting practice, and fans received shirts as a giveaway before the game.
Before the game, the 2021 Atlanta Braves World Series Trophy Tour stopped in Pearl, MS. 2021 M-Braves front office, coaching and team staff received Atlanta Braves World Series rings in front of 3,756 fans on Friday night at Trustmark Park.
RHP Alan Rangel started by striking out the first six hitters he faced. Atlanta's No. 22 prospect cruised through four innings, allowing one run off three hits and a walk with a career-high 11 strikeouts. Rangel topped his previous career high of 10 strikeouts from an outing against Biloxi on August 11, 2021.
Michael Harris II extended his on-base streak to 25 games with an RBI double to left field that scored Hendrik Clementina to tie the game at 1-1 in the fifth.
Atlanta's top prospect is currently on a 12-game hit streak, his longest of the season. Harris II is hitting .314 with four home runs and 20 RBI.
The M-Braves took their first lead of the game at 2-1 when Clementina lined a single into center field to bring in Drew Lugbauer.
Clementina went 2-for-4 with two singles, an RBI and a run.
Pensacola tied the game at 2-2 with a run in the seventh. The Blue Wahoos scored four runs in the 11th to lead 6-2.
With thousands of fans wearing his t-shirt jersey, Harris smashed a 391-foot two-run homer over the left field bullpen to make it 6-4. The M-Braves brought the tying run to the plate but ultimately fell short in the 11th.
Harris finished 2-for-5 with a home run and two RBI. Harris stayed for nearly 45 minutes after the game to sign autographs for a mob of clamoring kids.
The fifth game of the six-game series is on Saturday at Trustmark Park. RHP Freddy Tarnok (0-0, 5.17) makes the start for Mississippi against RHP Zach McCambley (0-2, 9.35) for Pensacola. The first pitch is at 6:05 pm, with coverage starting at 5:50 pm on 103.9 WYAB, TuneIn Radio, First Pitch App, and MiLB.tv.
Fans can purchase tickets by visiting mississippibraves.com or by calling 888-BRAVES4.