Biscuits Can't Mount Comeback, Fall 10-9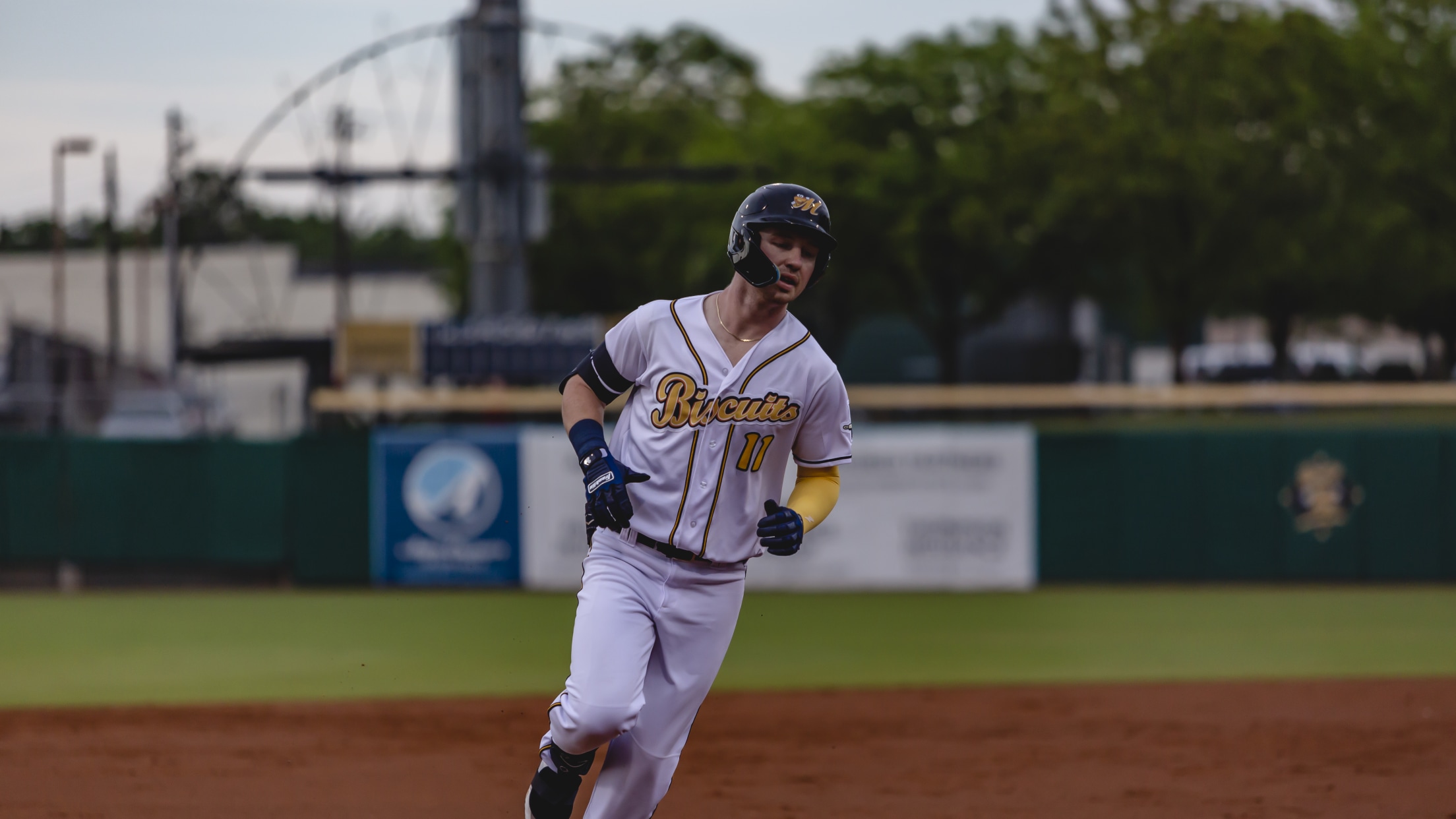 MONTGOMERY, Ala. – The Biscuits (9-10) closed out the month of April with a tough loss in a comeback that slipped away late, falling to the Mississippi Braves (7-13), 10-9, in an unpredictable nail-biter Saturday night at Riverwalk Stadium. The M-Braves got off to a hot start as they rolled
MONTGOMERY, Ala. – The Biscuits (9-10) closed out the month of April with a tough loss in a comeback that slipped away late, falling to the Mississippi Braves (7-13), 10-9, in an unpredictable nail-biter Saturday night at Riverwalk Stadium.
The M-Braves got off to a hot start as they rolled in four runs in the second inning to take a commanding 4-0 lead. Biscuits starter Michael Mercado had a tough start, surrendering five hits and four runs in the first two innings. The offense would be quick to make up for it as Grant Witherspoon connected on a solo home run to left-center to get the Biscuits on the board in the bottom of the second to make it 4-1 M-Braves.
In the top of the fourth, Yariel Gonzalez waited patiently and smacked a two-run double on a two-out full-count that grew the lead to 6-1. After a walk by Mississippi starter Freddy Tarnok put Kameron Misner on base, Jordan Qsar hit a two-run home run to right in the bottom of the fourth to close the gap and make it 6-3 M-Braves.
In the bottom of the fifth, the Biscuits found themselves in prime position with the bases loaded and one out. Witherspoon delivered with a two run single that brought Curtis Mead and Austin Shenton home, and the Biscuits were within one at 6-5.
Jake Higginbotham walked Erik Ostberg which loaded the bases again for the Biscuits. Catcher Blake Hunt made sure to take advantage as he slapped another two-run single to give the Biscuits their first lead of the game at 7-6. Johan Lopez reached base on a throwing error by third baseman Riley Delgado that also sent Ostberg home and made the score 8-6 Montgomery.
After an RBI-single by Luke Waddell, who finished the game five-for-five, made it 8-7 in the sixth, Biscuits first baseman Austin Shenton crushed a deep home run 426 feet to right-center that appeared to put the game away at 9-7 in the bottom of the sixth.
Jose Lopez took over for Carlos Garcia in the eighth, and worked a one-two-three inning. Lopez was back on in the ninth, and had two outs with a runner at second when he allowed a single to C.J. Alexander, and then a walk to Jacob Pearson. Lopez then walked Logan Brown with the bases loaded to make it 9-8, before Sean Hunley relieved the lefty and served up a two-run single by Riley Delgado to hand the 10-9 lead back to Mississippi. Justin Maese closed things out in the bottom of the ninth to earn his third save.
The series concludes when Caleb Sampen (0-1) duels A.J Puckett (0-2) for Kids Lunchbox Giveaway pres. by the Montgomery Area Food,Bank on Sunday, May 1st at 3:33 pm.
The Biscuits return for their homestand series against the Biloxi Shuckers that will include an All-You-Can-Eat on Tuesday, May 3rd at 6:05 pm, Grand Slam School Day, on Wednesday, May 4th at 11:00 am, First Responders Night feat. Cinco de Mayo T-Shirt Giveaway, May 5th at 6:35 pm, Nurses & Healthcare Appreciation Night feat. Stress Ball Giveaway on May 6th at 6:35 pm, Marvel's Defenders of the Diamond Night feat. Military Appreciation Jersey Auction & MAX Fireworks May 7th at 6:05 pm, and Kids Kitchen Set Giveaway pres. by Baptist Health on Sunday May 8th at 3:33 pm.